Chickpea curry that is loaded with vegetables is easy healthy (vegan + gluten free) weeknight dinner you will not bother having every single day. A curry that you can use to clean out your fridge the next time you find yourself stumped with odds and ends.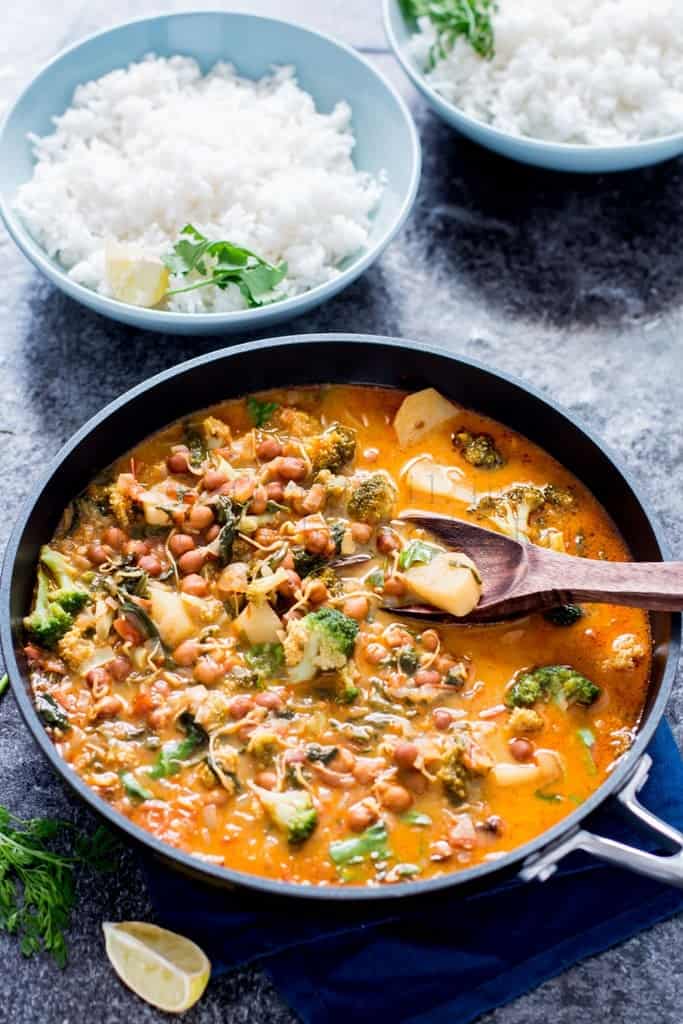 Recipe originally posted in 2016, re-posting it. No I wouldn't dare to change the recipe, it's just perfect!
This vegan chickpea curry recipe is loaded with vegetables -spinach, broccoli and potatoes along with chickpeas. It's coconut-y, creamy well balanced, I bet it's going to be your best family dinner.
Curry is the most essential part of our family. This chickpea curry is made to suit your palate and convince.
The best part of any curry is they are very forgiving. You can use whatever vegetables/meat you have or prefer and even add different proportions of the masala/spices, and you will still end up with a good tasting meal.
Can I Make Vegetable Chickpea Curry in Crock Pot?
Of course you can, that's the best thing about curries. You can cook them in crock pot, pressure cooker or in a pan and still get finger licking good curries! Slow cooking in crock pots will make the masala blend really well with in the dish. So crock pot is one of the best options to make chickpea curry.
Can I Freeze Vegetable Chickpea Curry?
I personally haven't stored them in freezer for simple reason the entire batch is wiped clean the same day every time I cook vegetable chickpea curry .
Yes, you can freeze the curry. I would generally reheat in the microwave after defrosting because sometimes the sauce tends to dry up a bit but is fine after microwaving, I guess.
Other Vegetables Substitutions for Chickpea Curry?
Not everybody loves all vegetables, right? Each one of us have a favorite vegetable and we love to use that more and more in our cooking. So my version of this vegetable curry was basically created with dump-all-those-leftover-vegetables-from-the-fridge type of curry.
I wanted to use all those little bits of vegetables lying in my fridge crying to be used. Other vegetables that would work great for this curry is –
–butternut squash, yellow pumpkin or sweet potato instead of normal potatoes
–cauliflower instead of broccoli
–kale instead of spinach
-and any lentils or beans like black lentils, lobia beans instead of chickpea.
I'm Not Vegan, I'd Like to Add Meat to this Chickpea Curry?
Lamb and chickpea is one classic delicious combo. Yes you can add lamb or if you prefer pork or beef into this curry.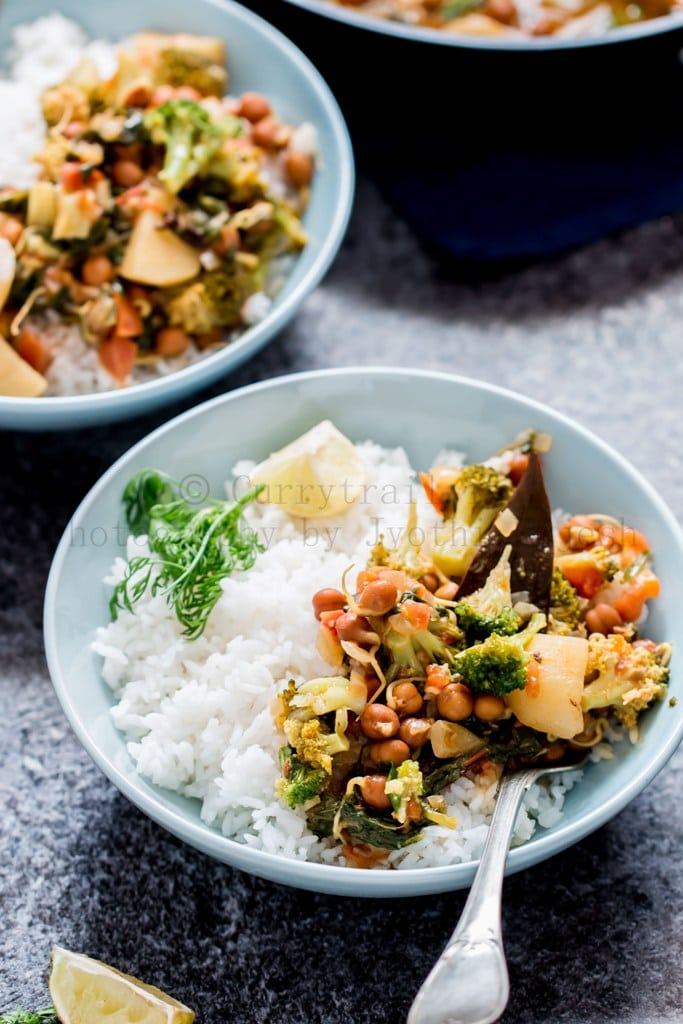 This crazy creamy chickpea curry is vegan, gluten free and would be your best weeknight family dinner. Cause the recipe is very easy to make. It's hearty, delicious and satisfying meal. Usually Indian curry is made rich by adding cashew cream along with coconut cream.
I'll leave that choice up to you. If you like richer, fuller curry add some fresh group cashew cream(soak cashews in water for few hours and then blend it). Addition of cream would definitely makes the curry mild , go for it if that is your choice of curry.
I personally would amp up the heat by adding extra chili powder and use coconut cream alone, so I got the heat and the creaminess.
We have used sprouted chickpeas, along with spinach, broccoli and potatoes for the vegetables in this stew like vegetarian curry. You can use any combinations of vegetables that you have handy. I suggest carrots, cauliflower, even cashews, sweet potatoes(any kind of potatoes will do), lobia beans, pumpkin.
Serve this delicious vegetable chickpea curry with rice. And for low card, healthy options serve it with a bowl of quinoa and few lime wedges on the side. One of your best quick and mild curry for your family dinner.
Make this everyday Chickpeas Broccoli Spinach Potato Curry in Coconut Milk and let me know how you liked it. Tag us on Instagram @currytrail. We love it if you try our recipe and share your feedback.
And don't forget to show some love to our other favorite chickpea recipes on currytrail
Channa Aloo Curry (Chickpea Potato Curry)
Are you a curry lover?! We're sure you'll love these delicious curry recipes from currytrail-
Instant Pot Spinach Curry Chicken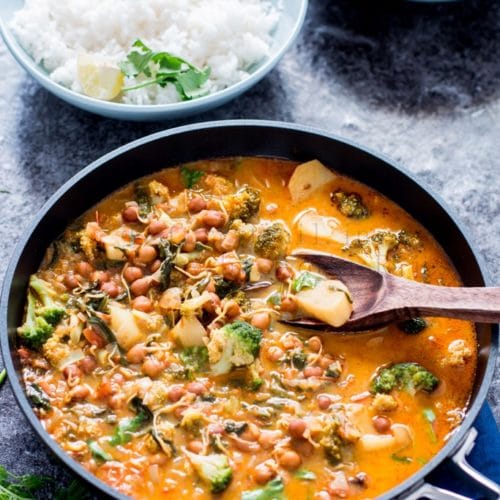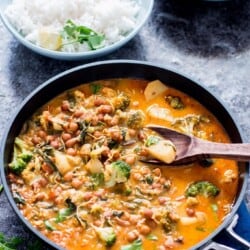 Vegetable Chickpea Curry
Make this easy healthy (vegan + gluten free) vegetable chickpea curry for your next weeknight dinner. It's loaded with all your most favorite vegetables -chickpeas, spinach, broccoli and potatoes all in one dish. It's coconut-y creamy well balanced curry, I bet it's going to be your best family dinner any day.
Ingredients
1 cup sprouted chickpeas (channa) (you can soak chickpea over night and use that as well, if you don't have sprouted chickpeas)
1 medium broccoli
3 potatoes
½ bunch spinach(palak)
2 onions, finely chopped
2 tomatoes, finely chopped
2 green chilies slit
1 teaspoon ginger-garlic paste
1 tablespoon red chili powder (adjust as per spice preference)
½ teaspoon turmeric powder
1 teaspoon roasted coriander powder
3 cloves
1 inch cinnamon
1 bay leaf
1 cup thick coconut milk
Salt to taste
2 teaspoon oil
fresh coriander leaves for garnish
Instructions
How to make sprouted chickpeas
Rinse chickpeas well. Soak in enough water over night.

Next morning, drain water and transfer soaked chickpeas into a white cotton cloth(cheese cloth or muslin cloth) and cover it loosely and set it aside for a day or 2.

Sprinkle some water over the cloth a few times as required whenever the cloth turns too dry and shake the sprouts so they spread evenly and starts to sprouts uniformly. The moisture helps the sprouts to grow well.
Get those vegetables ready -
Par boil sprouted chickpeas, potatoes separately with pinch of salt.
Making the curry -
Heat oil in a wok. Add cloves, cinnamon stick and bay leaf. Add finely chopped onions along with green chilies and fry till onions turn translucent.

Add ginger-garlic paste and cook till raw smell of the paste is gone.

Add finely chopped tomatoes and cook until tomatoes turn soft and mushy.

Add the spice powders, mix.

Add the par boiled chickpeas and potatoes, sauté for about 3 minutes. Add the broccoli and sauté again. Add salt to taste.


Pour about 1 cup water (you'll need to adjust the amount of water, start with half cup first and then add little by little as needed) bring it to boil. Cover and continue to cook until the vegetables and chickpeas are cooked fully and the curry reaches thick consistency.


We will add coconut milk and that will make the curry a bit runny so make sure you have a thick consistency curry before you add coconut milk. DO NOT add too much water.

When vegetables are fully cooked, add chopped spinach and cook for 3 to 4 minutes.

Finally add coconut milk, give it a stir. Let it cook on low flame for about 2 minutes until you see one or 2 bubbles.


Turn off the flame. Do to boil the curry after adding coconut milk, this will make the split. We just want to heat it up after adding coconut milk.

Garnish with fresh coriander leaves and serve hot with steamed rice.

Notes
Vegetable choice - This vegan chickpea curry is totally adaptable. You add on any vegetables of your choice. Cauliflower florets instead of broccoli, sweet potatoes instead of regular potatoes and use canned chickpeas instead of sprouted chickpeas! Totally works.
Substitutions for spice powders - Instead of different spice powders, use store bought curry powder. Taste might not be the same, but it still tastes delicious! Use about 1 ½ teaspoon of curry powder in the recipe.
Spice levels - I prefer my curry spicy and I always combine green chilies and red chili powder (green chilies are small chilies that resemble jalapenos, you can find it in Indian stores. Feel free use Jalapenos instead of green chilies. For every 2 green chilies, use 1 small jalapeno). The flavors from green chilies and the heat tastes amazing in curry. If you can't handle heat, please skip green chilies and adjust red chili powder(can use cayenne pepper) to suit your heat tolerance levels.
Meat lovers - And if you want to try with meat, go ahead and add chicken. Lamb or beef can be used as well.
Nutritional Info – Please keep in mind that nutritional information provided is only a rough estimate and can vary greatly based on products used.
Nutrition
Calories: 263kcalCarbohydrates: 36gProtein: 10gFat: 11gSaturated Fat: 7gSodium: 148mgPotassium: 1209mgFiber: 10gSugar: 6gVitamin A: 3856IUVitamin C: 119mgCalcium: 145mgIron: 7mg