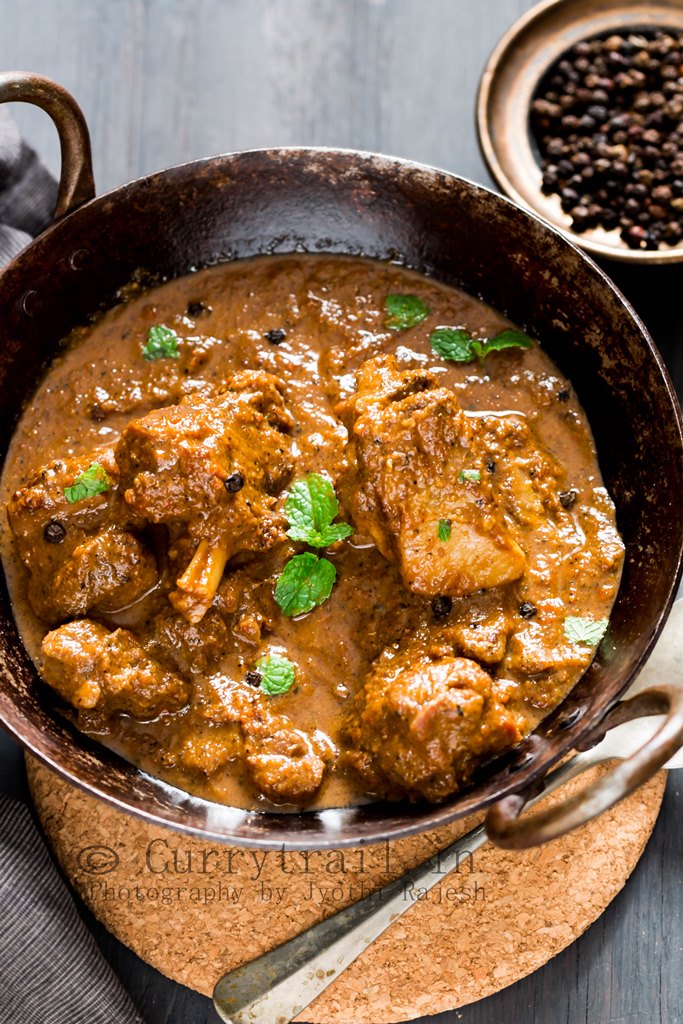 This fiery mutton curry made with black pepper corns is one delicious dish that pairs beautifully with steamed rice, rotis, dosas, idlis and many more. It's a wonderful treat for all the spice lovers. This South Indian style is very easy to make and tastes delicious. It's one of the spiciest and the most aromatic curry.
Ingredients
For marination
400 grams Mutton
1 teaspoon cumin powder
1 teaspoon red chili powder
1 teaspoon coriander powder
½ teaspoon turmeric powder
1 teaspoon salt
2 teaspoon lime juice
1 onion, finely chopped
5 cloves garlic, finely chopped
1 inch ginger, thin slices
10 curry leaves
4 tablespoon pepper powder
¾ teaspoon salt
¼ cup water
2 tablespoon oil
Instructions
Wash mutton pieces well and marinate it with all the spices mentioned in the list.
Heat coconut oil in a pan. Add garlic and ginger pieces. Fry for 1 minute.
Add finely chopped onions and curry leaves. Cook till onions turn soft.
Add marinated mutton and ¾ teaspoon salt.
Add pepper powder, coconut pieces, mix well. Continue to cook for 4 minutes.
Add 2 cups water and mix well. Cover and let it cook until mutton gets cooked well. Once curry reaches desired consistency turn off flame and serve hot with rice.