Rose cookies aka achu murukku is a traditional South Indian snack made during festivals in India. The pretty flower shape makes these murukku or cookies a very popular snack and goes perfectly with your evening tea.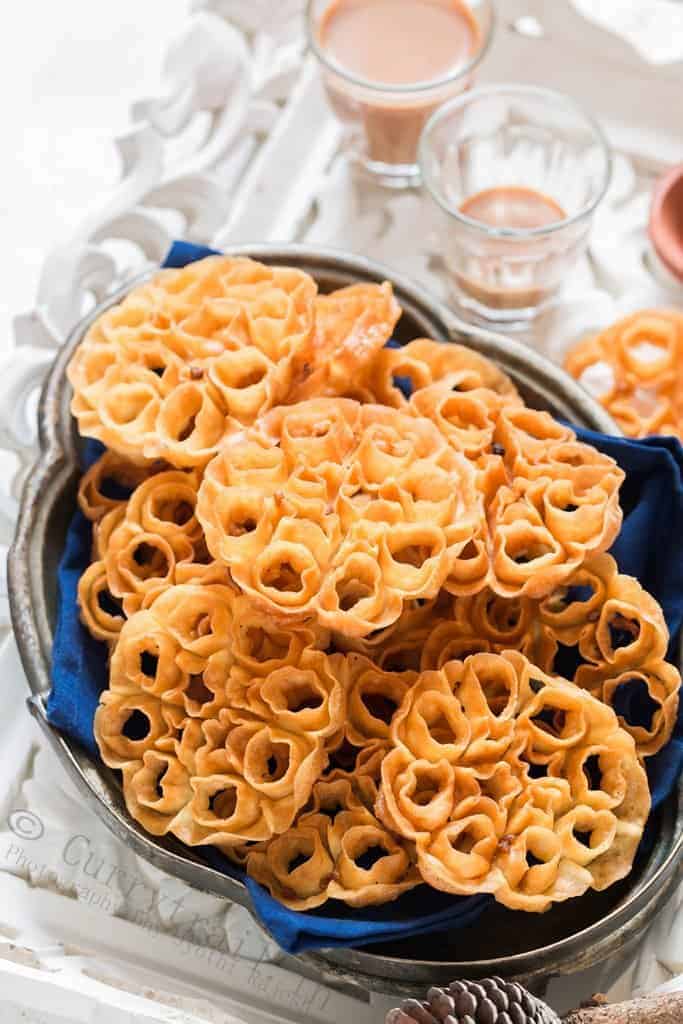 Festivals in India are always grand and colorful. That goes not just for clothes and decorations but for all the festive delicacies as well. Deepavali/Diwali is one of the grandest festival of lights in India and downright it's one of my most favorite festival. I literally wait all year long for this time of the year when we are all suited up with new traditional dress with loads of goodies to eat and when you just don't bother about the calories intake, yeah that day I really long for. With all the deliberation that goes into Diwali boils down to whether you want to go down the new path or the traditional old ones.
Video Recipe –
I definitely go down the traditional ones. I cook and store a whole lot of festive special fried food and sweet dishes specially made during deepavali, we dress up in our traditional clothes and we celebrate our rich culture.
Deepavali always brings a lot of special memories back from my childhood. The festival not just lights up our homes but our hearts and kitchen too. All the delicious special traditional munchies that comes from my mom's kitchen is something is beyond words to explain. I follow the tradition passed on by mom and hope my kids will see, learn and respect our tradition and continue to follow it when they grow up.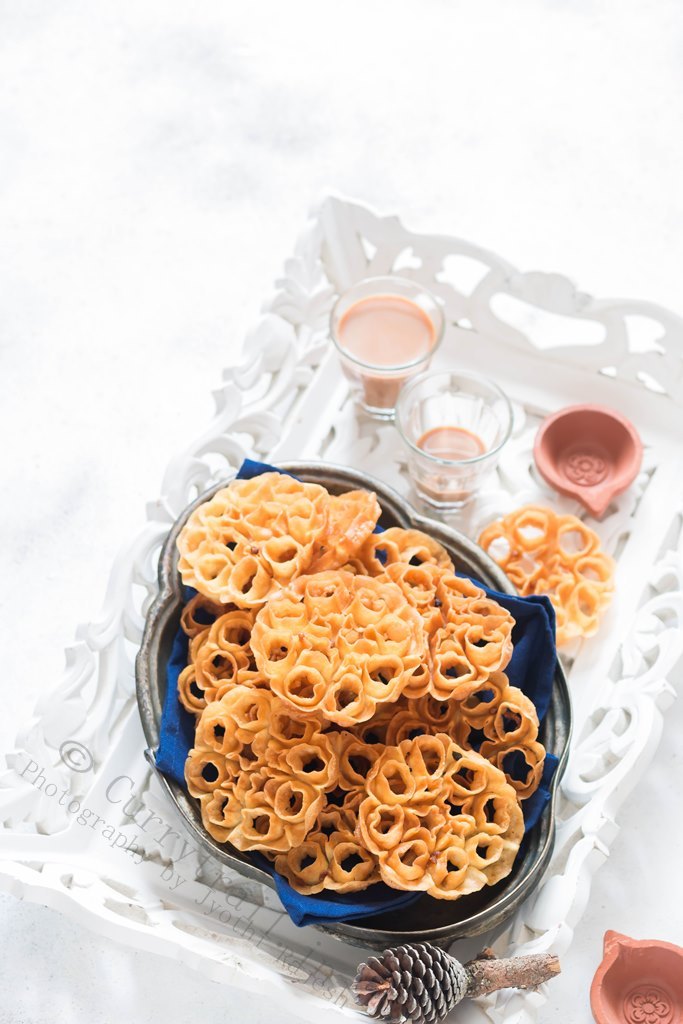 Achu murukku or achappam (as called in Kerala) or Rose cookies is one of the super cool and fun cookie to make. These cookies takes time and patience to make, but it's all totally worth.
Some add eggs to the batter and some recipe calls for rice flour. But today I'm sharing with you my mom's recipe which gives perfectly crisped achu murukku made using maida and with no eggs at all. It's tested for ages in mom's kitchen and been tried for many years in my kitchen. So that's 100% guarantee on this recipe.
The special traditional cookie mould does all the fun work of shaping these cookies into a shape of a beautiful flower. There are certain tips and tricks that you need to know before you make these cookies.
Can I make achu murukku without these moulds?
No you can't.
Where can I find these moulds?
Find a local shop owned by a person from Kerala, they should definitely have it. You can try online too, there are few online stores selling it but I'm not too sure how good they are.
Can I start using the moulds soon as I buy it from a shop?
No. You need to treat the mould and get it ready(unless that has already been done by the seller, which is less probability). My mom soaks the mould in rice water/kanji thanni(the water leftover from cooking rice) for a day or 2. Use fresh batch of rice water every day. Rinse it off well. Apply oil thoroughly all over the mould and let it rest. Wash it again just before making the cookies.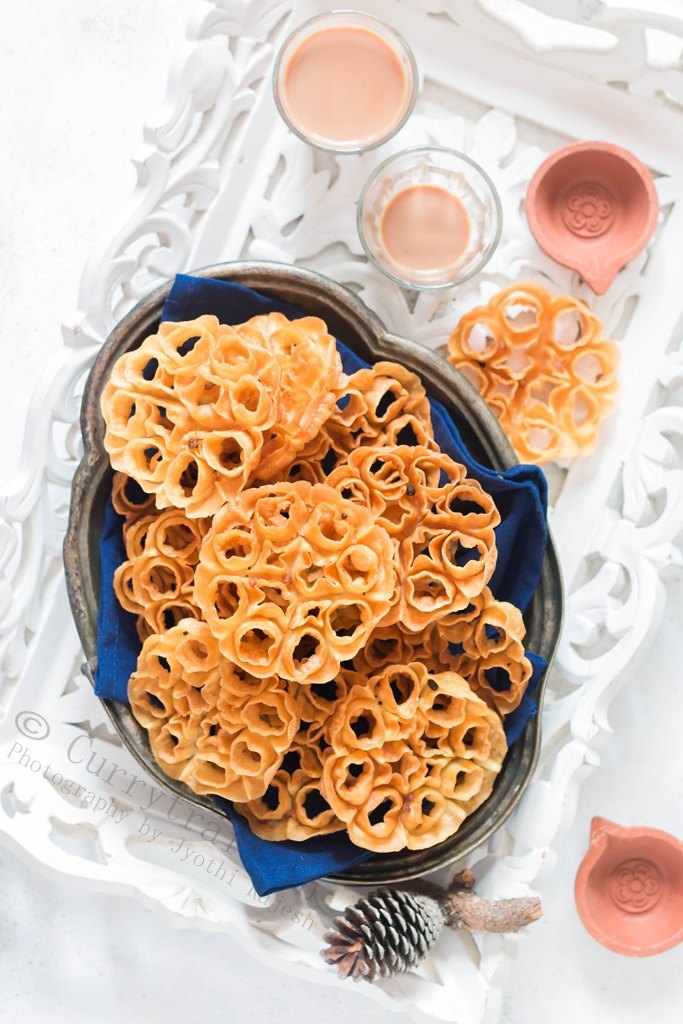 Tips and tricks in making perfect rose cookies-
Now that your mould is ready to use, here are few more points you need to keep in mind.
Leave the mould inside hot oil until the mould heats up enough as well. The batter won't stick to the mould if the mould is not hot enough.
While dipping the mould into the batter, make sure only ¾th (about 80%) of the mould is dipped in the batter. If you dip the whole mould inside the batter, the cookies will get stuck to the mould and you won't be able to release it.
The consistency of the batter is important as well. It should be dosa batter consistency. Too thick batter – achu murukku won't turn crispy. Too thin batter – the batter won't stick to the mould.
Ingredients
1 cup maida(plain flour)
1 ¼ tablespoon butter(melted) (I used ghee)
1 teaspoon cooking soda
1 teaspoon salt
½ cup sugar
Water as required
Oil for deep frying
Instructions
Whisk together maida, butter, cooking soda, salt, sugar. Add little water at a time, whisk to get batter of dosa batter consistency.
Heat oil in deep bottom pan. Once oil turn hot, leave the achu murukku mould in hot oil for 7 to 10 minutes.
Carefully remove mould from hot oil and dip in batter. While dipping the mould into the batter, make sure only ¾th (about 80%) of the mould is dipped in the batter. If you dip the whole mould inside the batter, the cookies will get stuck to the mould and you won't be able to release it.
Hold the mould in hot oil. Gently shake it until the murukku releases from the mould. If your mould doesn't release the cookies by itself, use a sharp edge of a knife and carefully push the cookies out.
Fry until golden brown. Remove cookies into kitchen towel.
Repeat the same process for rest of the dough. Make sure to dip the mould in hot oil again before dipping it in batter. You have to do this for each and every murukku.
Store in dry air tight container once completely cooled. You can store it for a month.