Instant Mysore Pak (gram flour fudge) that can be made in literally 5 minutes and that too in a microwave. Isn't that tempting enough to give this recipe a try? You should! When you are pressed for time, when you want to make something sweet for a festival or to treat unannounced guests this would be just perfect.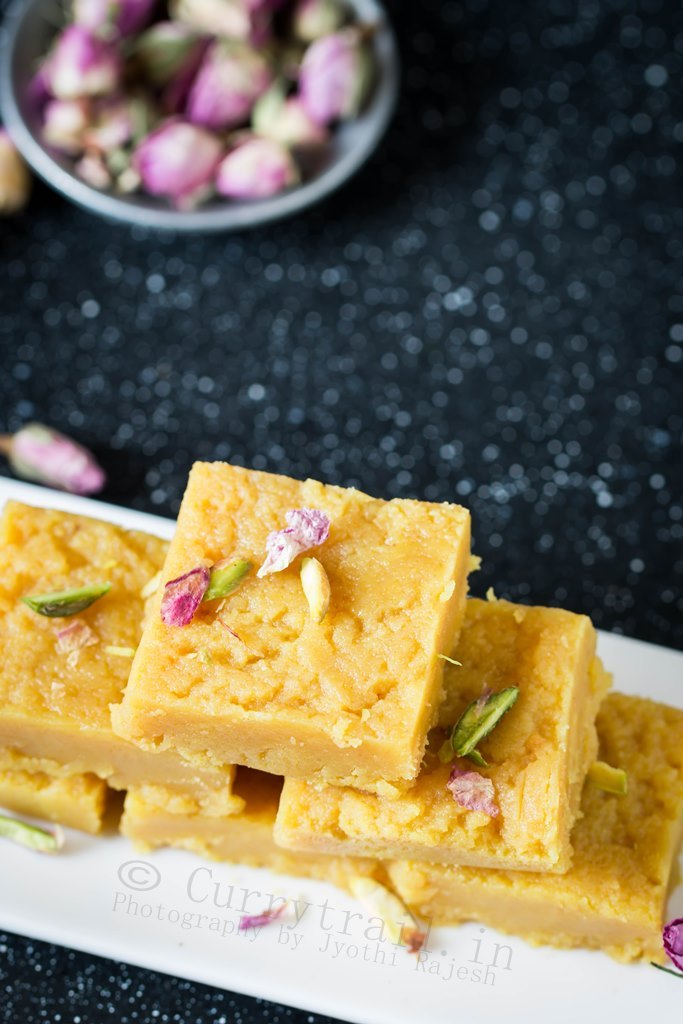 Mysore pak was first prepared in the kitchens of the Mysore Palace. The cook at the Mysore Palace kitchen simply made a concoction of gram flour, ghee and sugar. When asked its name, he obviously didn't have its name in mind, so he simply called it the 'Mysore pak'. Pak (or paka, more precisely), in Sanskrit and other Indian vernaculars, means sweet. It is traditionally served in weddings and other festivals of southern India. -Info courtsey Wiki.
My first post in 2015, and I decided it to be a sweet dish. We have a tradition in India, a new begining, it must be with a sweet. As I'm still in the mood for holidays and didn't want to spend a lot of time cooking, I was searching for simple recipes that can be fixed in a jiggy, that's when I came across this YUMMY Mysore Pak that's made in microwave in about 5 mins!! Yes, you heard me right!  🙂 .
Festivals are incomplete without sweets and there is always a big crowd who welcomes ideas that are innovate and unique. And when the method is an instant version, we all are definitely drawn to it. Considering the busy life schedule, it is worthy to lean towards instant version of the classic dishes, well i'm saying sometimes. It's definitely not a crime you see. 😀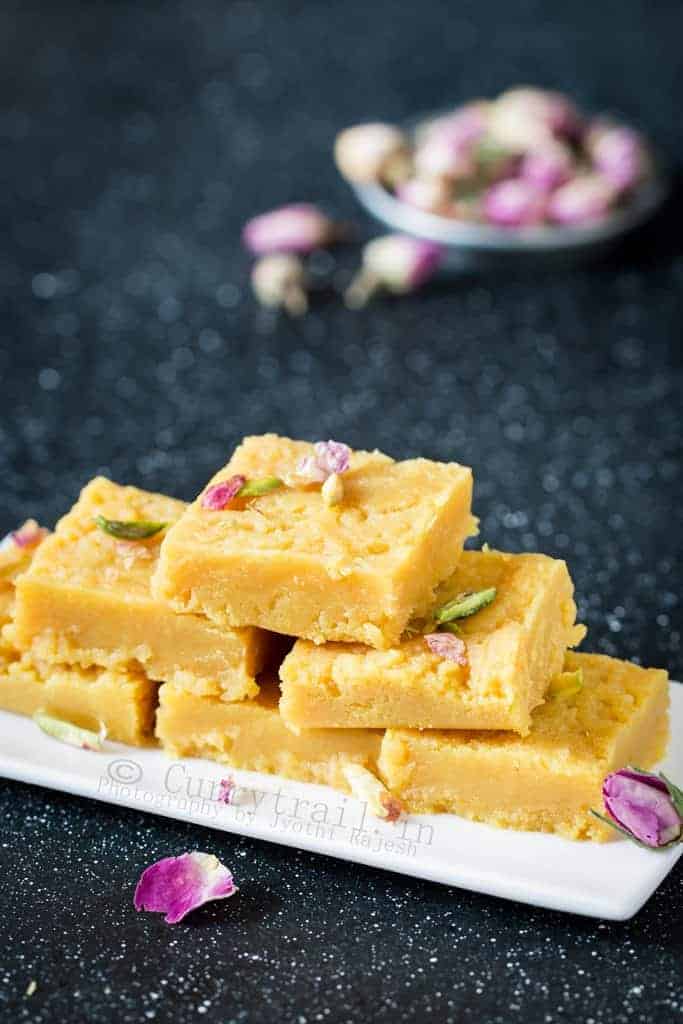 Traditional methods are gem of our tradition and culture. Some of the traditional cooking methods needs a whole lot of patience and time when it comes to cooking a delicious mouthwatering sweets. Like for a traditional Mysore Pak(gram flour fudge) needs time in preparation. But this instant microwave version of the Mysore Pak takes ridiculously lesser time, we're talking about 5 minutes here, like for real 5 minutes to make these. Isn't that interesting enough for you to give this recipe a try? I'm sure you would try it.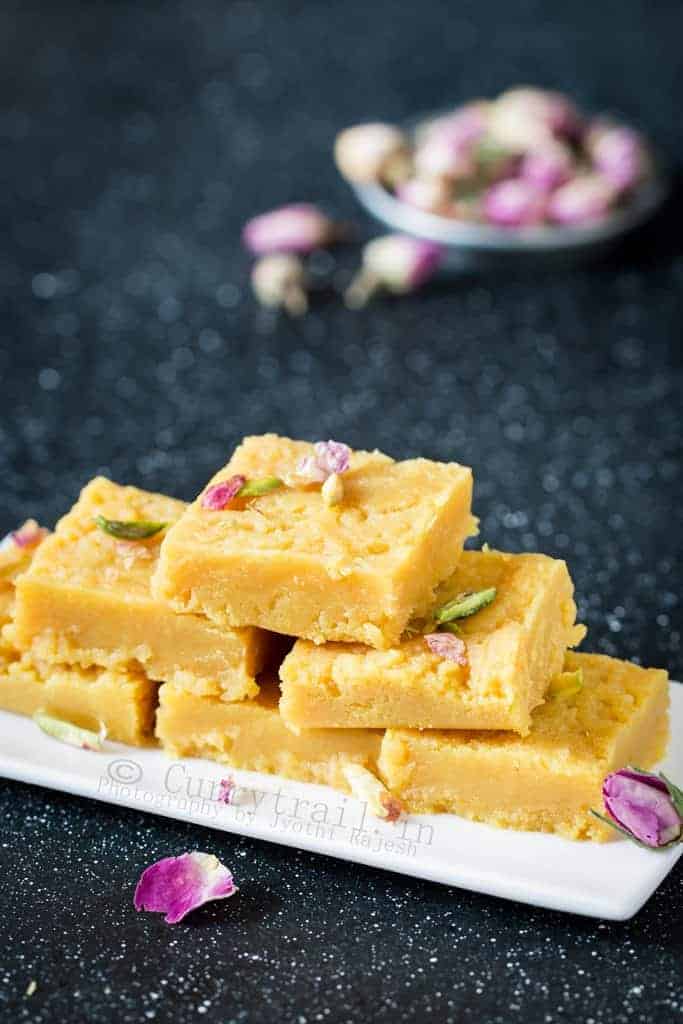 If you love instant version of Indian sweets, i have one more perfect recipe for you guys. The most popular on our blog. It's instant kesar peda. You should try this as well.
Here's microwave Mysore Pak recipe -Ingredients:-
Recipe source – yummytummyaarthi
Besan/Gram Flour – 1 cup
Ghee/Clarified butter – 1 cup
Icing Sugar – 1 cup
Milk – 1 tbspn(optional)
Instructions-
1. Grease a pan with sufficient ghee, keep it aside.
2. Sieve gram flour, add 1 tbspn of ghee to the flour, rub the flour and ghee together using your finger tips until well combined which will resemble like crumbs. Sieve again and keep aside.
 3. Heat a non-stick pan. Add gram flour to it and dry roast on medium flame until nice aroma of the flour getting cooked is released. Make sure not to let the flour to change it's color(brown it) or burn it. Remove from flame and keep it aside to cool.
4. In a microwave safe bowl, add ghee and microwave it for 30 secs on high or until ghee melts.
5. To melted ghee add icing sugar and give it a good mix so no lumps are formed.
6. Add milk and roasted gram flour and mix well again until no lumps are left.
7. Now pop this in the microwave and cook for 1 min on high power. Remove it and give a mix and put this again the microwave for 1 min.
8. You will see that the mix will be little foamy. If you find it not that foamy and airy, pop that in microwave for 30 sec to 1 min more.
9. Once the mix turns completely foamy and airy, the correct consistency has reached. Remove from microwave, mix again and immediately pour it in a grease dish and smooth it slightly.
10. Allow it to cool completely before cutting(I popped into the fridge for about 45 mins). Once cooled, use a sharp knife and slice them into shapes.
11. I garnished with sugar crystals and few saffron strands before serving. You can serve them as it is. Delicious and luxurious royal treat is all your to relish 🙂