This Mexican quinoa salad will blow you away with all Mexican flavors to it. While quinoa cooks prep most ingredients so you have it ready in 20 minutes. It might not be traditional Mexican salad, but it is for sure one healthy Mexican-flavor inspired salad. It's loaded with veggies and dressed in the simplest salad dressing – cumin lime dressing.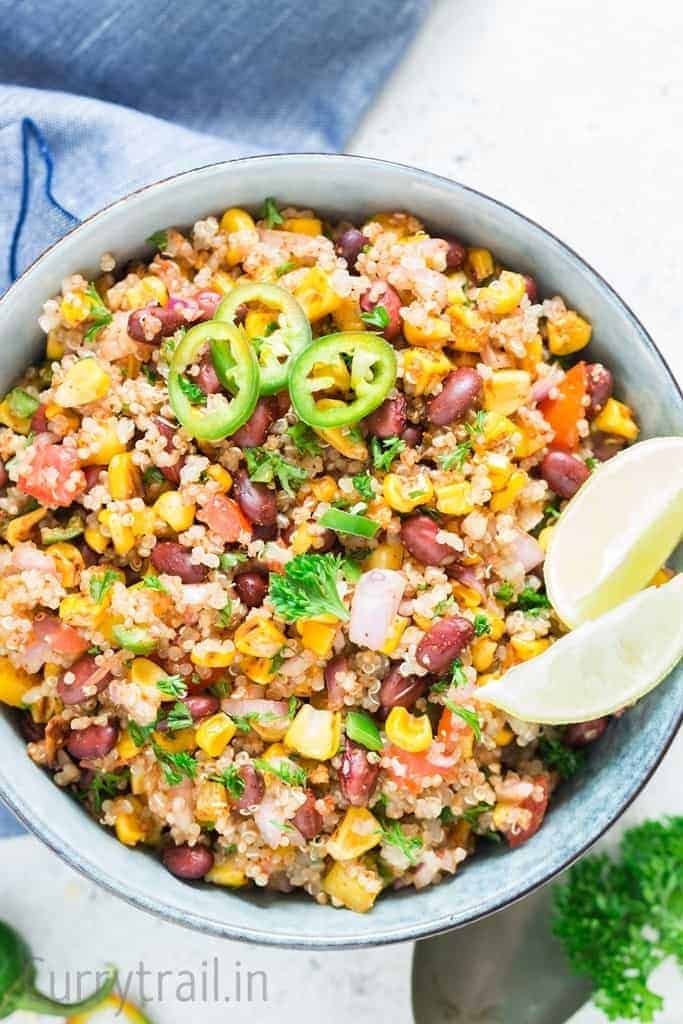 Mexican quinoa salad mimics 3 words – Easy, Healthy, Delicious!
Those days when you feel the urge to eat clean, eat healthy light lunch/dinner Mexican quinoa bowl will be golden. It all comes together easily in very less time, so that gives a perfect reason to cook this salad even on days when you are lazy to enter the kitchen.
While the norm is to always put a dollop of sour cream on any of your Mexican dish, to keep it light and healthy we said bye-bye to sour cream or any kind of added fats. Just telling you how healthy this salad is for you.
It has the ultimate superfood superstar – Quinoa.
It's loaded with vegetables, pause and look at the salad bowl, the ratio of veggies is sure to dominate here.
A salad with bursting flavors in your mouth.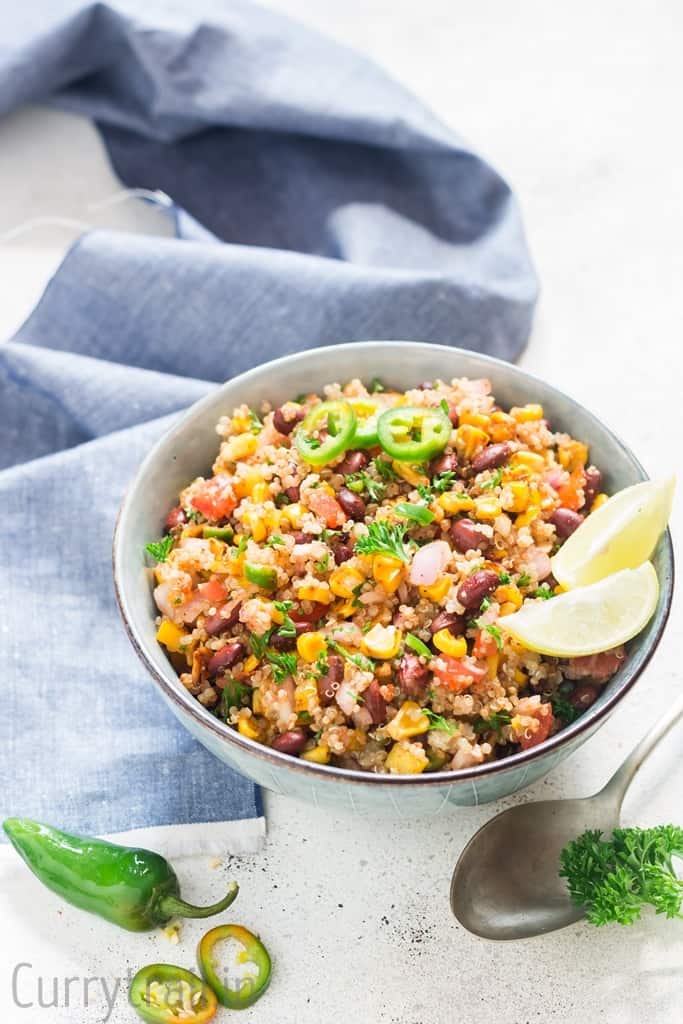 Mexican style quinoa salad bowl recipe needs few ingredients from your pantry and about 20 minutes to bring it to the table. To make it a little but exciting we charred corn kernels and mixed it up in this salad. That smoky charred corn ups the flavors in Mexican quinoa bowl.  It's like a flavor enhancer to the salad. This is definitely the opposite of boring healthy salad don't you think?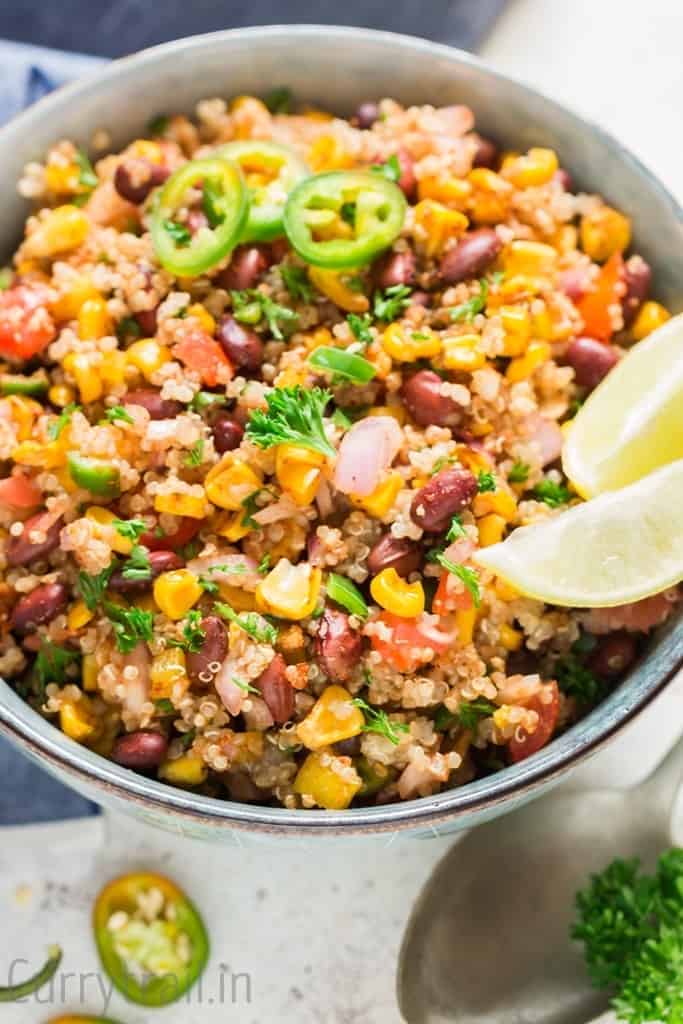 Like most people, my quinoa journey began very recently. If you'd asked me what quinoa was about a year back I would have given you a embarrassing "I have no idea" answer.  I wont say I was blown away with the texture of quinoa the very first time, NO! My mind was confused with the bite. I was trying to relate it to something familiar I knew and have tasted before. The crunchy, nutty some what cross between rice and oatmeal, you get that uninspiring soapy or funny taste to it. I was determined to give in and tried it few time by adding flavors to it. Slowly but surely I started to find it interesting and I was happy how versatile quinoa is. It was inspiring to try more new dishes with more new flavors to it. Thus Mexcian quinoa salad bowl was born.
Remember those Mexican rice you commonly get on the sides with your grilled meat or seafood in restaurants? That red colored flavour packed rice is absolutely delicious. Being a rice eater (btw if you don't know me, I LOVE my rice) Mexican rice was one of my favorite all time dishes. But since I started watching my waist line, I've been searching for alternate seeds/grains to replace rice. Quinoa is one of them and it tops the list of super food, super seed for sure.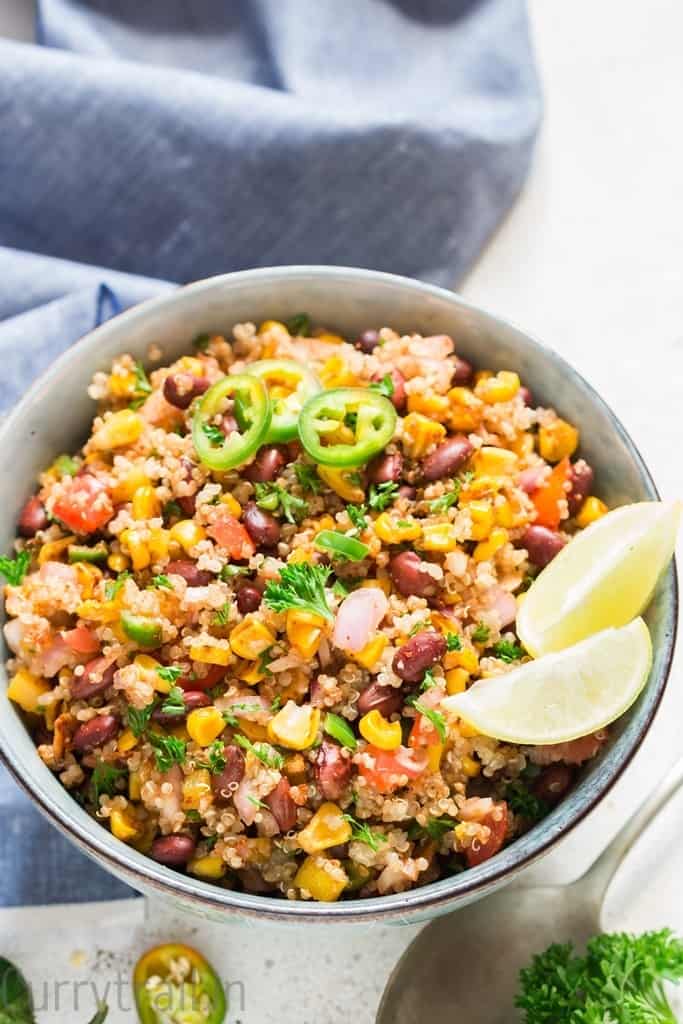 What is quinoa?
Pronounced as KEEN-WAH, it's a super seed that is gluten-free, high in protein and the grains contains all amino acids.  It's  a gluten-free seed that is a great substitute for rice and other grains. It's a complete protein, that's why you should be adding it more in your diet.
How to cook quinoa?
It all depends on the type and form of quinoa you are cooking. Typically quinoa takes 15 minutes to cook. The time to cook black quinoa would be slightly longer. Whereas quinoa flakes that is greatly used as breakfast takes no more than a minute and a half to cook.
For 1 cup of quinoa add 2 cups liquids – vegetable or chicken stock. Bring it boil reduce heat, cover and cook for 15 minutes or until done. Remove from heat and fluff the quinoa with fork.
Alternatively you can cook it in an instapot or pressure cooker.  1 cup quinoa , 2 cups water(or stock). Set it to 1 minute on high pressure.
What goes in Mexican quinoa salad?
Quinoa
Bell peppers
Red onions
Tomatoes
Black beans
Corn
Cilantro
Jalapenos
Lime juice
Salt and pepper
Cojita cheese (we skipped cheese)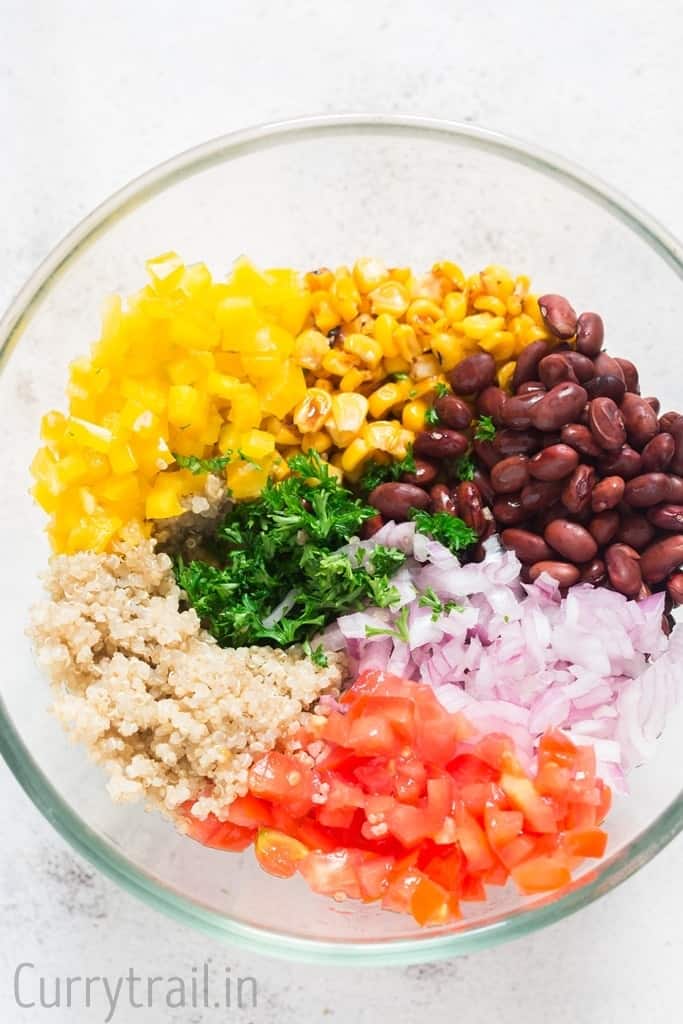 How to make Mexican Quinoa Salad:
Let's start with quinoa – always rinse and drain quinoa before cooking. This will get rid of the funny soapy taste it might get. Quinoa has a bitter saponin coating that gives it the funny taste.
In a pot – add 1 cup quinoa and 2 cups vegetable or chicken stock. Bring to boil. Then reduce heat cover cook for 15 minutes or until done. Remove from heat, fluff quinoa with fork gently.
You need to multi-task to get this salad ready in the set 20 minutes time. While quinoa cooks, get in prepping all other ingredients.
On a dry pan roast corn kernel until it gets nice brown charring on it. Or you could also use grilled corn on cob and use the corn kernels from it.
Finely chop red onions, tomatoes, bell peppers, cilantro.
Prep the dressing by whisking cumin powder, cayenne pepper,  lime juice, garlic, salt and olive oil.
In a salad bowl add cooked quinoa, cooked black beans, chopped veggies along with charred corn, cilantro, salt.
Pour the dressing and mix well.
Honestly it all comes together so quick, you won't believe it until you try it. The steps might read long and elaborate process to make this quinoa salad, but it makes a fast, healthy lunch.
Seriously  you guys, that dressing will steal your heart away.  We gobbled a bowl full of salad. And it was filling and satisfying. For most people, salads cannot be called a meal. Because you don't feel full after a bowl of salad.
High protein quinoa = A quinoa salad that will that is filling enough.
Tips to make BEST Mexican quinoa salad
Quinoa –  Always rinse quinoa before starting to cook. Use fine mesh sieve to rinse quinoa that will get rid of the bitter saponin coating from it. Cook quinoa in vegetable or chicken stock. This infuses more flavor to quinoa. Cook quinoa nice and fluffy, not mushy, not bitter.
Charred corn (Roast the corn) – for enhancing the flavors in the salad.
Veggies –you can mix it up with any of your favorite vegetable in this salad. While black beans makes this salad more Mexican, you can swap with other beans if you like. Despite I'd recommend you not to leave out black beans, after all we are making Mexican inspired salad, it's not Mexican if there's no black beans right!
Add meat – grilled chicken in Mexican quinoa salad makes the best salad in the world. Go ahead and add few pieces of grilled chicken to the bowl.
Dress it in the end(just before serving) – Always pour the dressing only just minute before serve. Dressed salad unfortunately doesn't sit well for very long. And the texture of quinoa changes.
Spinach, avocado – more veggies options. Make sure to serve the salad the same day if using spinach or avocado.
More salad inspiration for you guys Easy Greek Pasta Salad
More Mexican inspired dish – Grilled Chicken Mexican Fajitas  Mexican Grilled Corn
LOVE THIS RECIPE? KEEP IN TOUCH AND DON'T MISS OUT ON ANY OF CURRYTRAIL RECIPES! FOLLOW ME ON INSTAGRAM, PINTEREST, FACEBOOK, TWITTER, GOOGLE+.
HAVE YOU TRIED ONE OF MY RECIPES? I'D LOVE TO SEE WHAT YOU'VE MADE! TAKE A PICTURE AND USE THE HASHTAG #CURRYTRAIL ON INSTAGRAM SO I CAN SEE! I'LL DO A HAPPY DANCE IF YOU TRY MY RECIPE AND SHARE IT WITH US!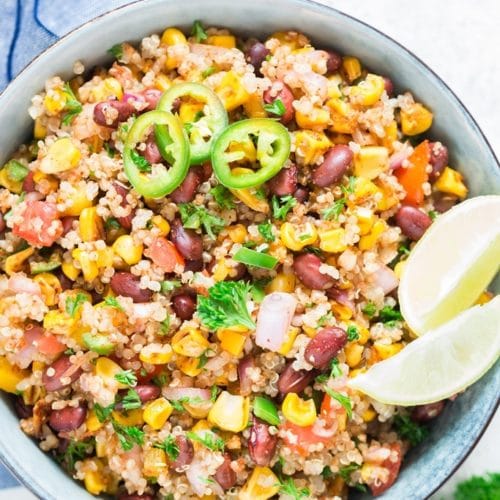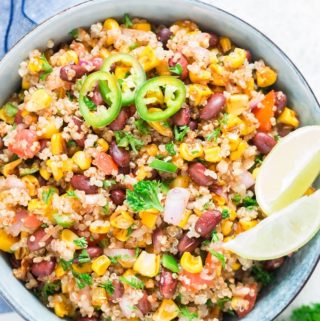 Mexican Quinoa Salad
This Mexican quinoa salad will blow you away with all Mexican flavors to it. While quinoa cooks prep most ingredients so you have it ready in 20 minutes. It might not be traditional Mexican salad and quinoa might not be Mexican at all, but it is for sure one healthy Mexican-flavor inspired salad. It's loaded with veggies and dressed in the simplest salad dressing – cumin lime dressing.
Print
Pin
Rate
Ingredients
1

cup

uncooked quinoa

2

cups

vegetable or chicken broth

or any low sodium broth

1

can

15 oz sweet corn kernels

¾

can black beans

1/3

cup

red onions

diced

3

medium ripe tomatoes

diced

1/3

cup

bell peppers

diced (mix of red and yellow bell peppers)

1

or 2 jalapenos

adjust as per spice tolerance level

¼

cup

cilantro

chopped

Salt to taste

¼

cup

Cojita cheese

crumbled (we skipped cheese)
For dressing
3

tablespoon

olive oil

1

teaspoon

cumin powder

2

teaspoon

cayenne pepper

1

clove

garlic

Juice of 1 lime

¼

teaspoon

salt
Instructions
Place quinoa in a fine mesh sieve. Rinse thoroughly under running cold water. Rub and swish quinoa with your hand while rinsing. Add quinoa into the broth with a pinch of salt. Bring it to boil. Turn down the heat, cover and cook until done, about 15 minutes. Uncover, you should see tiny spiral around the quinoa seeds. Gently fluff it with fork and let it cool.

While quinoa cooks let's prepare rest of the ingredients for the salad. Dice onions, tomatoes, bell peppers. Roast corn kernels until it gets charred. Finely chop jalapenos, cilantro. Whisk all ingredients for dressing in a small bowl and set aside.

In a salad bowl mix prepped black beans, corn kernels, tomatoes, onions, cilantro, jalapeños, salt. Add cooled quinoa lime dressing and mix well.

Serve immediately at room temperature.
Nutrition
Serving:
0
g
|
Carbohydrates:
0
g
|
Protein:
0
g
|
Fat:
0
g
|
Saturated Fat:
0
g
|
Polyunsaturated Fat:
0
g
|
Monounsaturated Fat:
0
g
|
Trans Fat:
0
g
|
Cholesterol:
0
mg
|
Sodium:
0
mg
|
Potassium:
0
mg
|
Fiber:
0
g
|
Sugar:
0
g
|
Vitamin A:
0
IU
|
Vitamin C:
0
mg
|
Calcium:
0
mg
|
Iron:
0
mg
"Pin it"  for later!