Lamb is the most popular meat used in Kashmiri cuisine and this Yogurt Lamb Curry is a marriage between rich flavors of different spices and well cooked meat sure enough a treat to the taste buds.
Growing up chicken was very rarely cooked at home. Mom believed it causes a lot of body heat (which is true btw, I believe) and dad never bought chicken on Sunday's. Mutton and lamb became our weekly non vegetarian affair. For a typical meat eater the smell of mutton chops, lamb curry, liver fry was just enough to lift them up to cloud nine. But I was a pseudo meat eater. I loved mutton and especially biryani and never liked lamb, yes I was able to differentiate the difference in the meat, and I never liked any liver fry or mutton leg soups, and the others which were typically the most common Sunday meals in any South Indian home.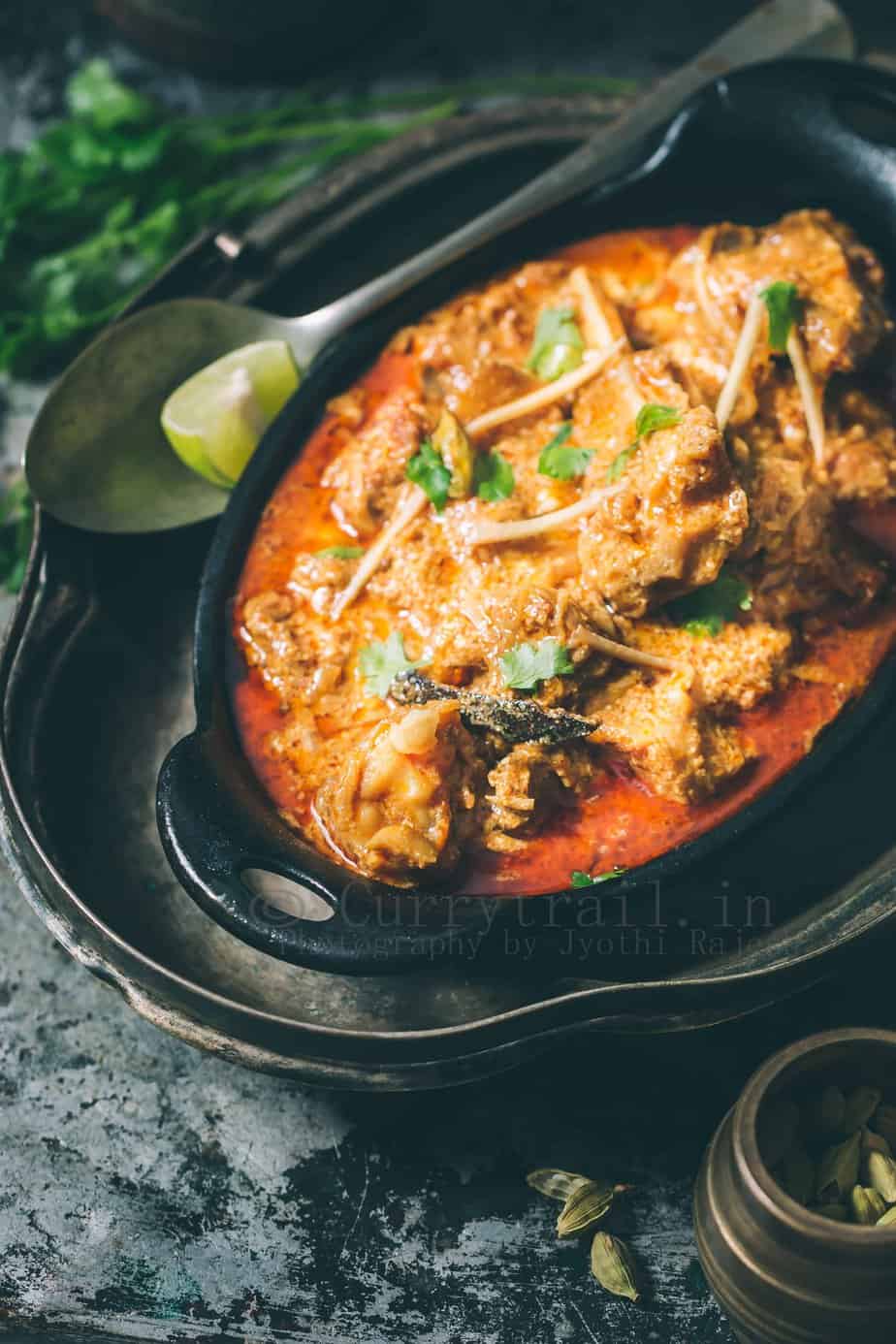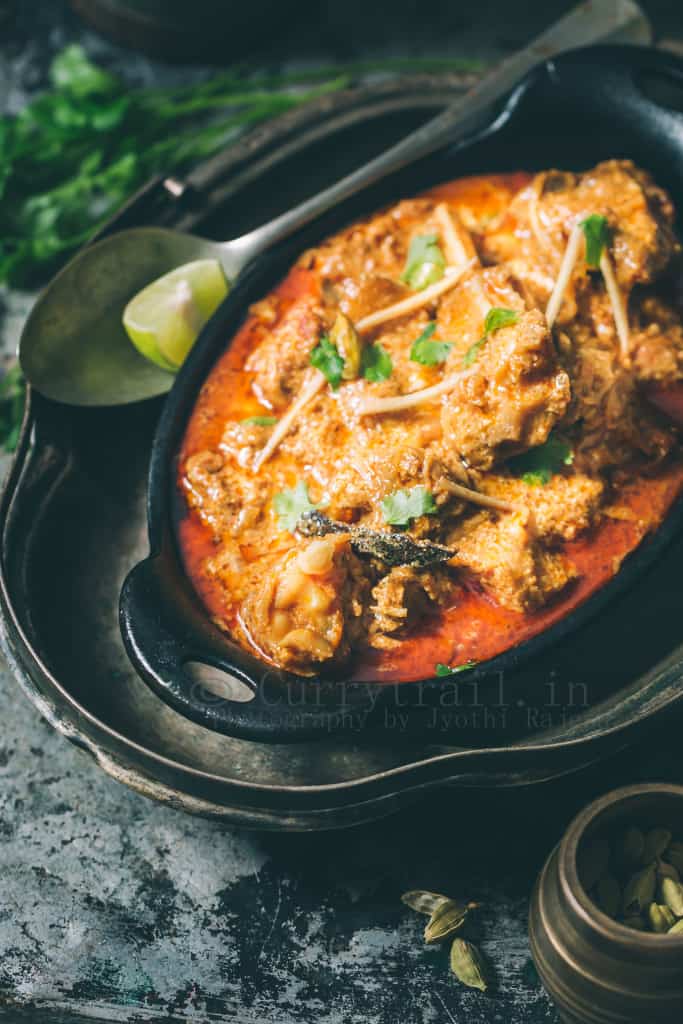 Thanks to the metabolism that I had as a kid, I eat like a machine, nonstop. And my mom was very happy to feed me non-stop. She only hoped atleast by eating 5 to 6 meals a day I may put on mass and look like a human being and not a skeleton cover in brown skin. 😛 . She never felt tired of cooking and feeding us, now I wonder how she managed to do all work with so much energy throughout the day and not complain even once.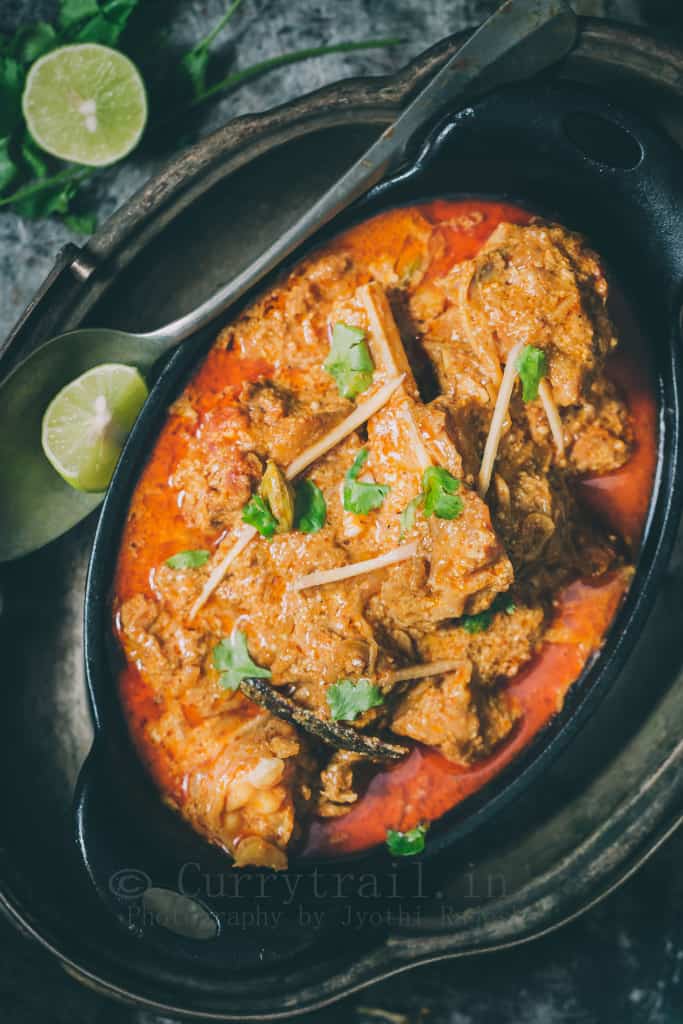 Then, later a few years after, dad started rearing chicken at home and then slowly it got included in our Sunday meals. It took me a couple of tries to start develop a liking towards the white meat. And since I started liking chicken, I never wanted to eat mutton.
Now I eat chicken for my Sunday non veg meal affair, but I do enjoy once in a way mutton or lamb too. And when the flavors combine so beautifully and the well cooked meat, it's sure a treat to taste buds.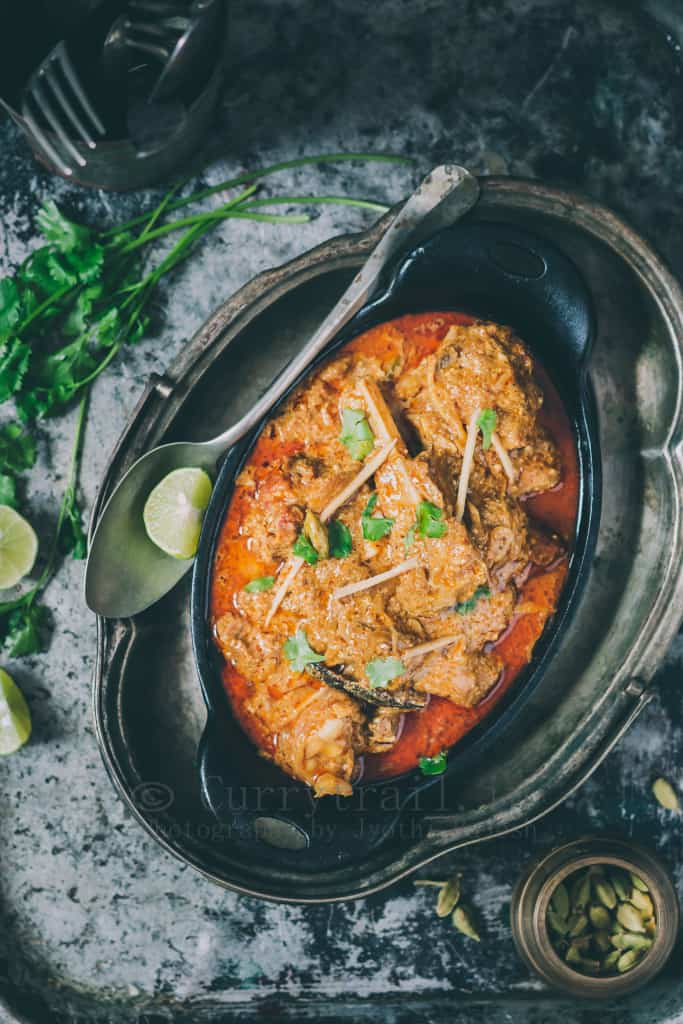 Lamb is the most popular meat used in Kashmiri cuisine. Wazwan, a royal feast, which is a multi-course meal spread consists mostly non vegetarian dishes. Most of the dishes are lamb based dishes, chicken is used too. It's a feast fit for kings and consists of an array of about more than 30-course banquet. Rogan gosh, goshtaba, saffron pulao, kahwa, phirnee being some of the most popular dishes.
In Kashmiri cuisine curd is used in most of the dishes, be it for gravy or in marinating. A range of aromatic spices, dry fruits, ghee, saffron, Kashmiri red chilies are used in cooking.
This is my version of yogurt lamb curry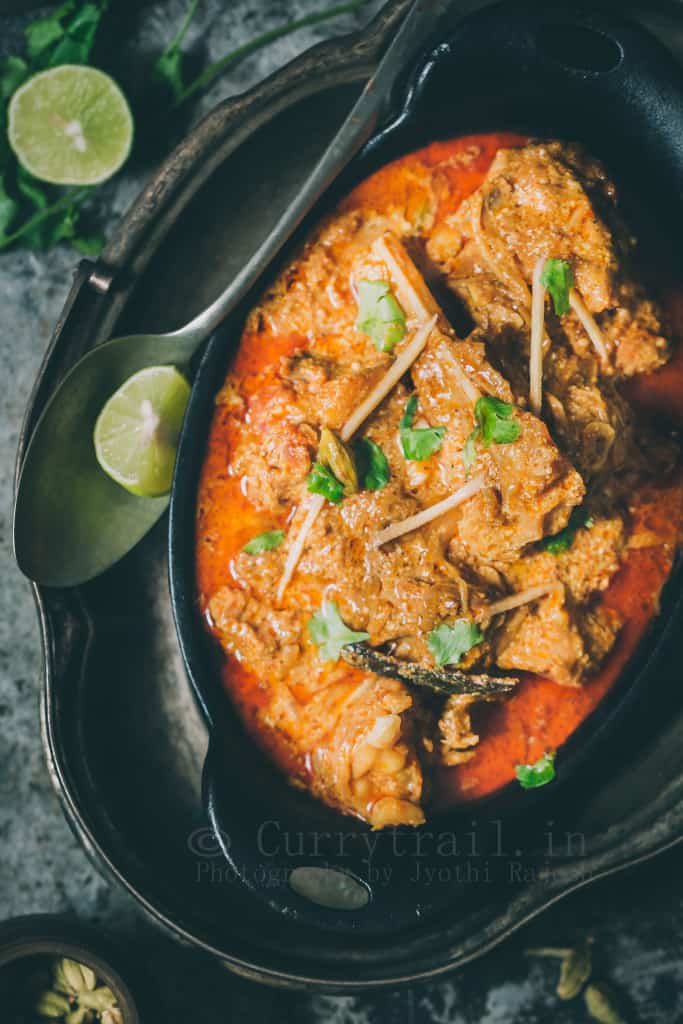 Ingredients
500 grams lamb
2 onions, ground to paste
2 teaspoon garlic, ground to paste
1 ½ teaspoon ginger powder
4 green cardamom
4 black cardamom
2 inch cinnamon stick
4 cloves
1 teaspoon cumin seeds
1 teaspoon garam masala powder
1 cup yogurt
5 Kashmiri dried red chilies
4 tablespoon ghee
Salt to taste
Water as required
1 tablespoon dried mint
Method
First soak Kashmiri red chilies in water for about 30 minutes. Then drain from water and grind into a paste.
Pressure cook lamb with little salt and a teaspoon of cumin seeds for 1 whistle.
In a wide deep bottom pan heat ghee. Add cumin seeds, green cardamom, black cardamom, cinnamon and cloves to hot oil. Then add onion paste and sauté until the paste turns golden brown.
Add the minced garlic and dry ginger powder(you can also add fresh grated ginger in place of dried ginger powder) and sauté for a minute. Add ground red chilies paste and cook for a minute.
Add cooked lamb pieces without the water and sauté for 3 to 4 minutes. Whisk yogurt well, add that to the curry, and give it a stir.
If required add about ¼ cup water, salt to taste cover and cook the lamb until tender.
Finally sprinkle garam masala, dried mint leaves, mix.
Serve hot with steamed rice.