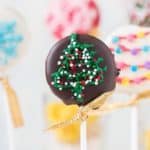 Print Recipe
Christmas OREO Pops
Super addictive, super cute and super easy to make, this is Christmas OREO pops. It's Christmas-y, it's got chocolate and it's made of one of the world's best cookie – OREOS! Create your own favorite Christmas designs to make beautiful gifts and delicious holiday treat!
OREO cookies sandwiches

as many as you want

Lollipop sticks

as many as OREO pops you make

12

ounce

white chocolate

12

ounce

dark chocolate

Blue

green and red candy melts (1 packet each)

2

teaspoon

coconut oil

optional
For decorations-
Christmas sprinkles

Peppermint candy canes

White sparkling sugar
Separately melt chocolate chips in microwave for 30 seconds interval, stirring in between to prevent chocolate from burning. Keep aside.

Pro-Tip – to make glossy smooth chocolate melt, add a teaspoon of coconut oil in each bowl. Oil makes working with chocolate much easier.

Gently twist and separate the OREO cookies. If you break a few cookie sandwich don't loose heart, just be patient and try to work on it as gentle as you can.

Spoon a drop of white chocolate melt over the cream filling mix. Dip lollipop stick in melted chocolate and place the stick over the cream cheese mix.

Place other half of the OREO on top and gently press and hold.

Lollipop stick will hold in it's place as it dries. Place all the lollipop stick inserted OREOs on a baking sheet lined with parchment paper. Let it sit for 10 minutes so the stick is secured in it's place.

Next place the OREO pops on a fork and coat it with chocolate. Spoon generous chocolate over OREO pops to coat OREO evenly on all sides.

Shake off to remove excess chocolate and place the OREO pops on baking sheet. Repeat this for rest of the OREO pops. You can dip few OREO pops in dark chocolate melt, few in white chocolate, few in blue candy melts, and few others in red. Just the way you like.
To decorate OREO pops –
a. Christmas sprinkles – as soon OREO pops are dipped or coated in chocolate, place it on baking sheet lined with parchment paper. Immediately sprinkle Christmas candies while still wet.

b. Peppermint candy cane – Dipped a few OREO pops in red candy melts. Then drizzled little white chocolate on top of red base. Finally sprinkle crushed peppermint candy canes on top.

c. Snowflakes – Use white chocolate melt in small piping bag, draw any snowflakes patter over the pops. Sprinkle with sugar and shake off excess sugar to give frozen snowflakes effect.

d. Christmas tree – Using green chocolate melt in small piping bag, make tree pattern over the pops. Sprinkle a little holiday sprinkle on top.

e. Ornament decoration – Use red candy melt in piping bag to form red ribbon pattern and some colourful sprinkles to make the lighting effect on the pop.

f. Other Christmas-y OREO pop designs you can try –

Santa OREO pop – Dip horizontally one half of the pop in white chocolate and another half in red chocolate. Place a white chocolate chip to make the "poof" at the end of Santa hat. And 2 candy eyes glued with white chocolate.

Rudolf OREO Pop – Break pretzel into 2 half. Press both the half at the top of dark chocolate covered OREO pop to form antlers. Place 2 small black pearl sprinkles for eyes and 1 mini red M&M's to form nose.

If making for gifting – package each pop in small lollipop bags and tie with cute Christmas-y ribbons.

10. Carefully store in large air tight boxes. These can stay good for several weeks.
Calories:
3936
kcal
|
Carbohydrates:
357
g
|
Protein:
46
g
|
Fat:
262
g
|
Saturated Fat:
156
g
|
Cholesterol:
81
mg
|
Sodium:
374
mg
|
Potassium:
3405
mg
|
Fiber:
37
g
|
Sugar:
282
g
|
Vitamin A:
235
IU
|
Vitamin C:
1.7
mg
|
Calcium:
925
mg
|
Iron:
41.3
mg