With Whole Wheat Vivatta Chakki Atta, this Spinach Paneer Lifafa Paratha is not just delicious, it's guaranteed to be healthy too. Lifafa is a paratha that has an envelope shape. Lifafa means envelope. This lifafa paratha is made by folding the roti dough in the shape of envelope with stuffing inside it. The most popular stuffing is paneer. Along with paneer add spinach to make it much healthier.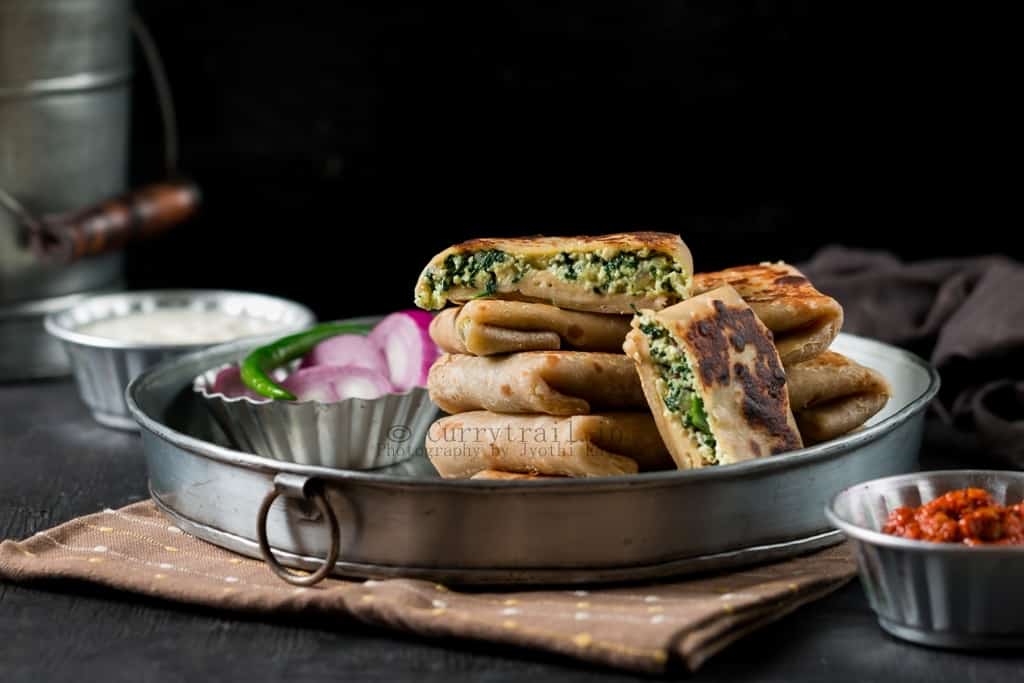 Lifafa Paratha is the paratha, which is in an envelope shape. Lifafa means envelope. This lIfafa paratha is made by folding it in shape of envelope with stuffing inside it. The most popular stuffing is paneer. Along with paneer add spinach to make it much healthier. Paneer and spinach encased inside whole wheat flour rotis makes this dish a wholesome and nutritious. To make soft and scrumptious paratha, I used milk and little ghee to knead the dough.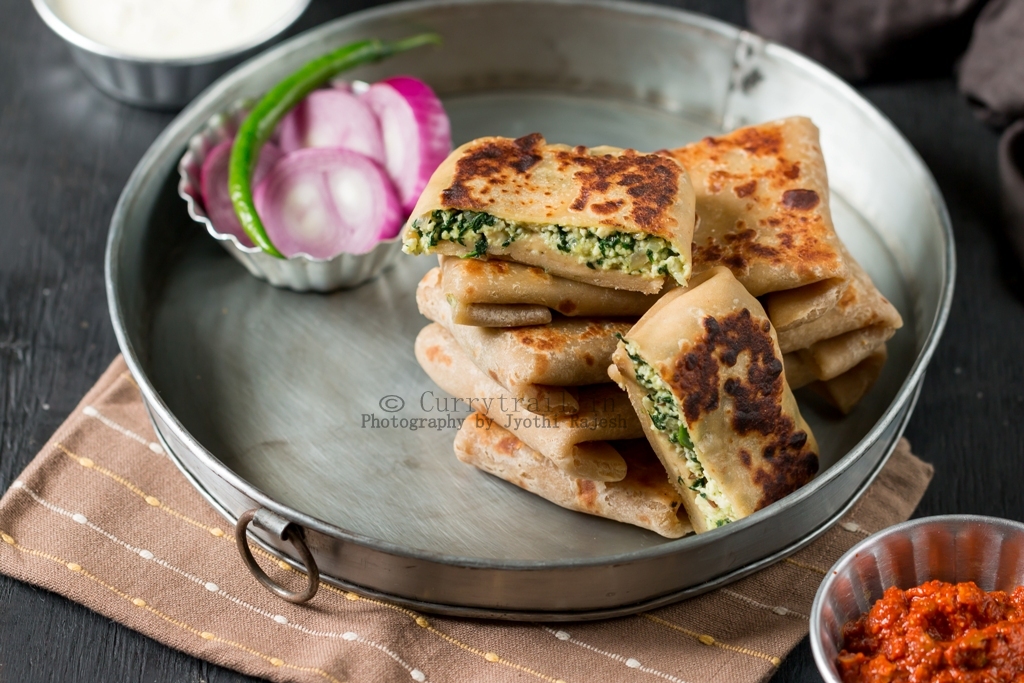 Making these spinach paneer lifafa paratha from Vivatta whole wheat flour is an added bonus. Vivatta is a pure & premium whole-wheat flour. Also known as "chakki-atta"
It is very delectable and mouth- watering dish. Best served with pickle and curd, this dish can be served for breakfast or add a bowl of salad to the side and serve it as main dish for your lunch. Stuffing parathas with a variety of healthy and delicious fillings is an excellent way to get added nutrients into the diet.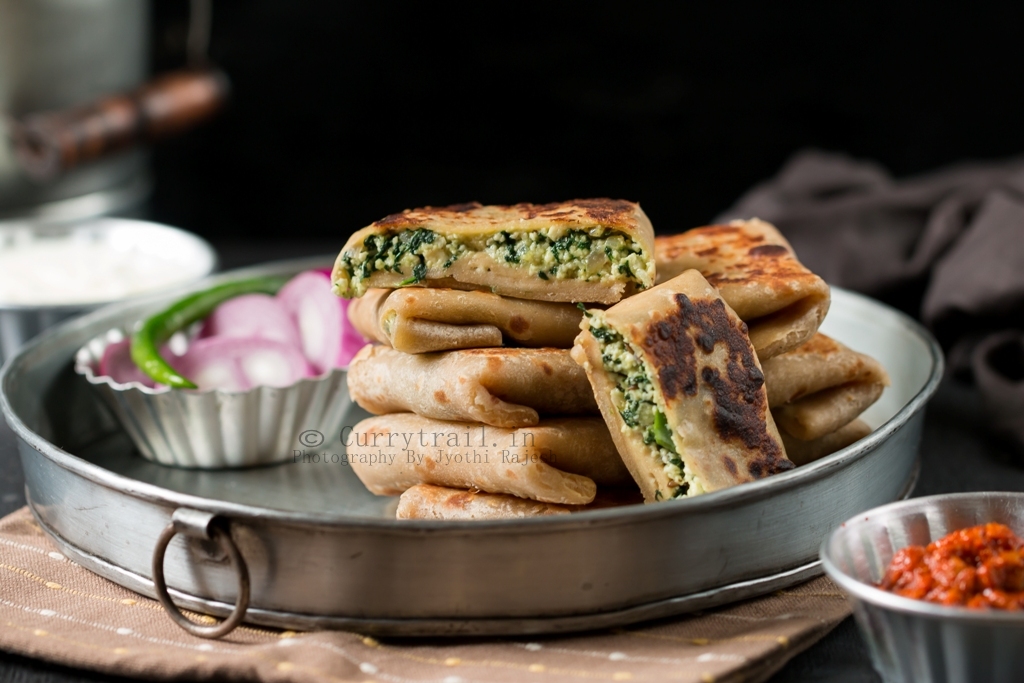 Ingredients
2 cups Vivatta whole wheat flour(to buy Vivatta Chakki Atta click here)
1 cup milk or as required
1 tablespoon ghee
Salt to taste
Oil/Ghee/Butter for cooking the parathas
1 tablespoon corn flour in 1 tablespoon water for sealing the edges
For stuffing
250 grams paneer/cottage cheese
1 ½ cup palak/spinach, tightly packed
1 teaspoon cumin seeds
1 teaspoon roasted cumin powder
½ teaspoon chat masala
1 onion
3 green chilies
Salt to taste
1 teaspoon oil
Instructions
In a mixing bowl add Vivatta whole wheat flour, salt, 1 tablespoon melted ghee and mix. Next add luke warm water little by little and start kneading the dough. If you are looking for softer texture add only milk to knead the dough and no water. Knead till you get soft, smooth dough. Cover and let it sit for 30 minutes.
While the dough is resting we can make the stuffing. Pick, wash the spinach fine as possible. Grate paneer and keep aside covered.
Heat oil in a pan. To hot oil add cumin seeds and wait till they turn slight brown. Add onions and green chilies and sauté till onions turn soft.
Add finely chopped spinach and cook until spinach looses all it's moisture. Add salt to taste. Once spinach is completely dry, turn off flame and keep it aside to cool down.
Add roasted cumin powder, chaat masala to grated paneer. Add cooked spinach mix and mix them all together. This mix should be dry. If you find any liquid in it, squeeze it out. Divide them into equal sized balls.
Knead once the dough. Divide them into equal sized balls(lemon sized). Roll it thin about 10 inch. Place it on hot griddle/tawa and cook for 10 seconds on each sides, without oil. Take it out of tawa. Repeat this for rest of the dough.
Now place half cooked rotis on a flat surface. Place once portion of spinach paneer stuffing in the center. Spread the stuffing all over leaving out the edges.
Apply corn flour paste on the edges of the roti. Fold the 2 opposite corners of the roti over the stuffing. Now fold the remaining 2 edges sealing the filling well. This will look like a folded envelope.
Updated – Some friends asked me about how to fold into an envelope shape. Their questions were, do you cut the edges? How do you do the fold with the filling? So, I thought I will try to explain the folding technique.
Place the filling in the center. Apply corn flour paste all over the edges. First, bring the 2 opposite ends over the filling and seal. In this fold the ends of the paratha will be overlapping each other. Next fold the other 2 ends. Please note that the folded ends will neither be touching the once already folded nor will they be overlapping. Just fold it over the filling making sure the filling is closed and intact in the center.
Place this over hot tawa, dribble oil/ghee and cook on both sides until they turn brown on both sides.
Serve immediately with some curd and pickle.