Whole Wheat Crepe with Eggs and Roasted Peppers – the name says it all!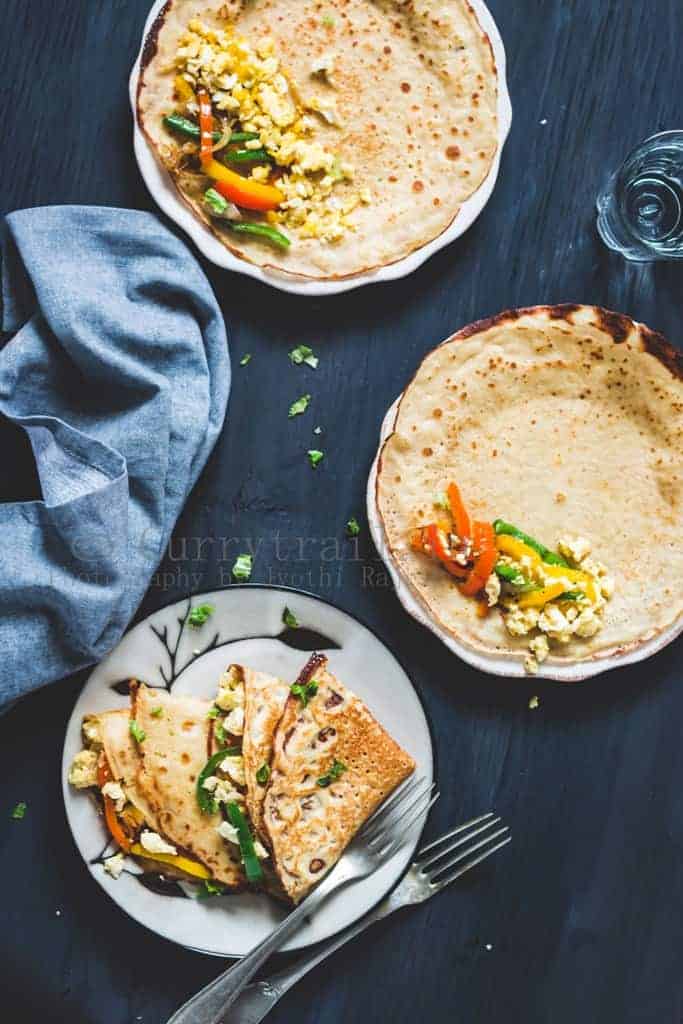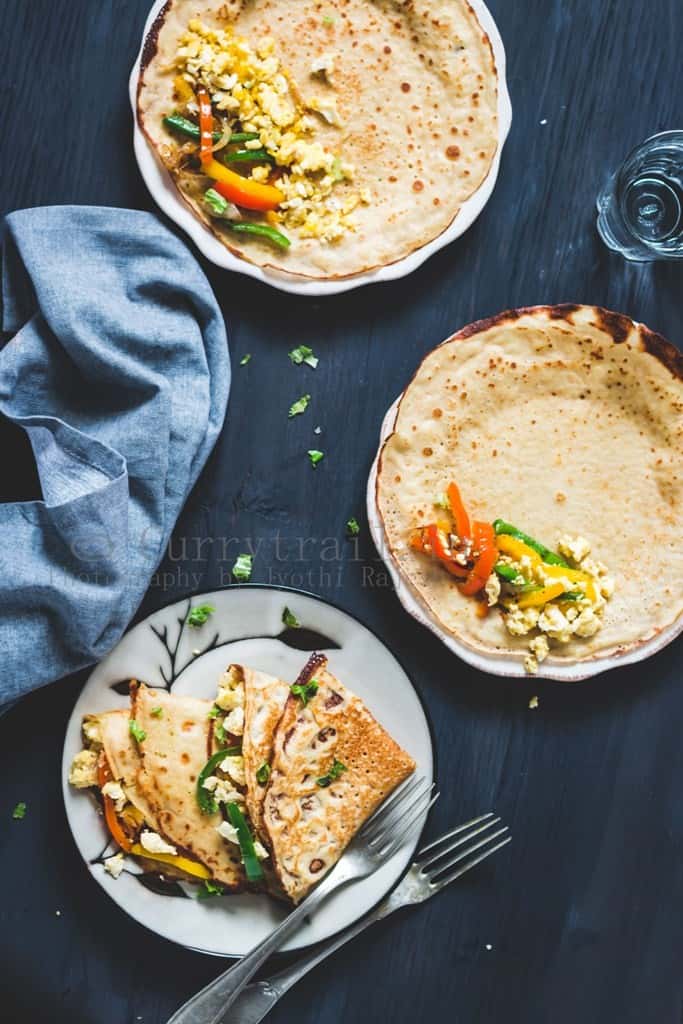 Crepes are the most liked breakfast dish by many. Crepes are so versatile and forgiving that you can fill them up with just about anything. When we talk about sweet crepes, the most popular fillings are with fresh fruits like berries, bananas, yogurt, fruit sauce whipped cream are the common choices.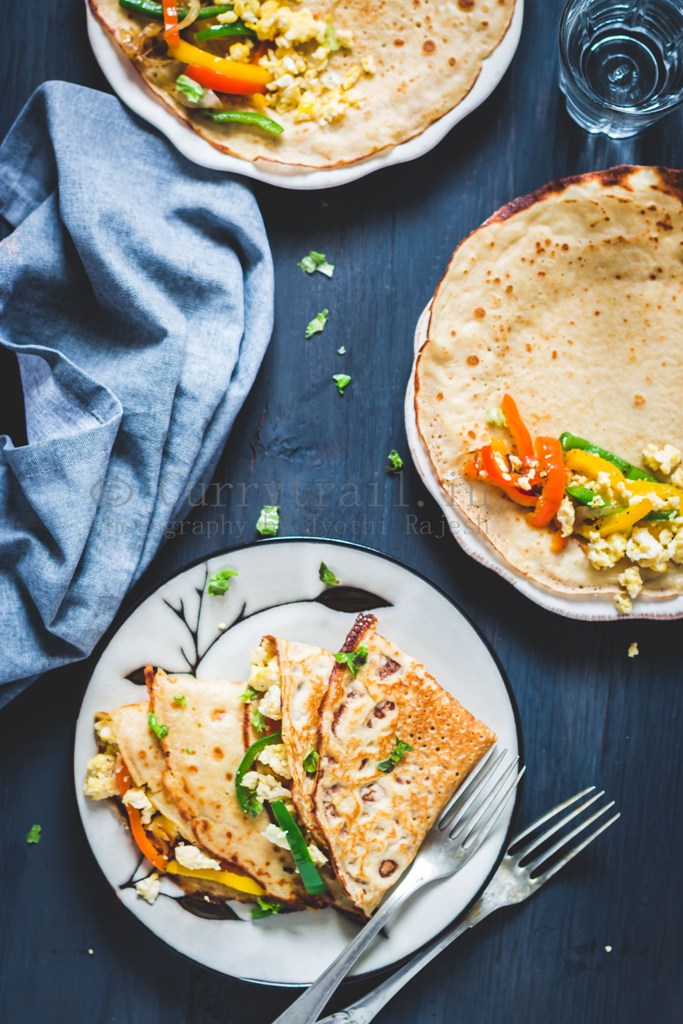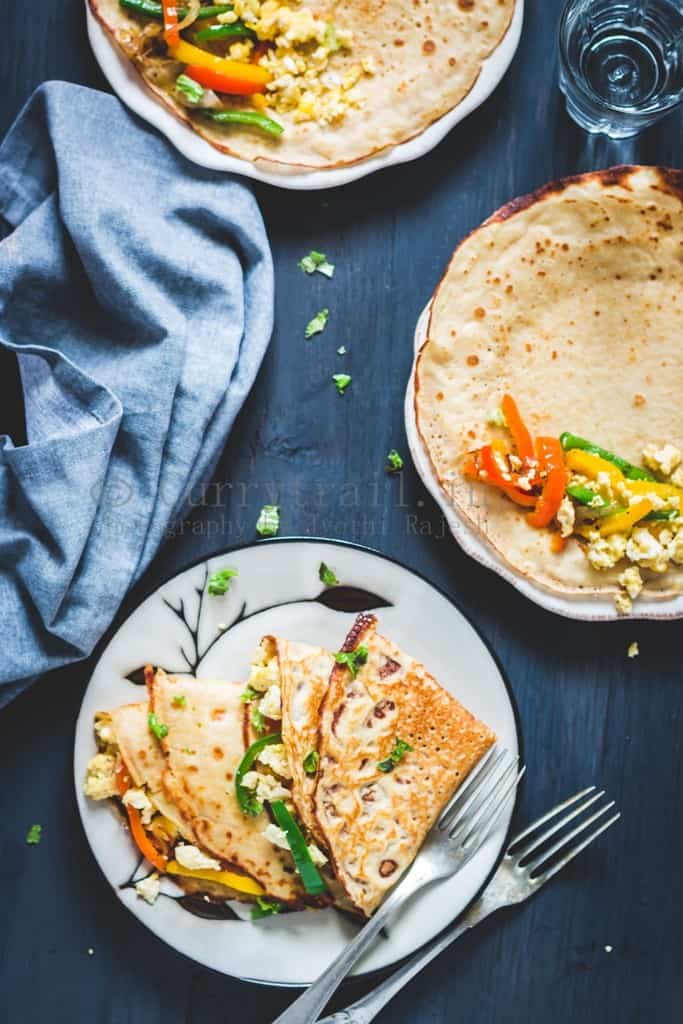 Savory crepes too have a filling option that is endless. Think of it! You can add scrambled eggs and veggies like mushrooms/bell peppers or even fill with stir fried veggies.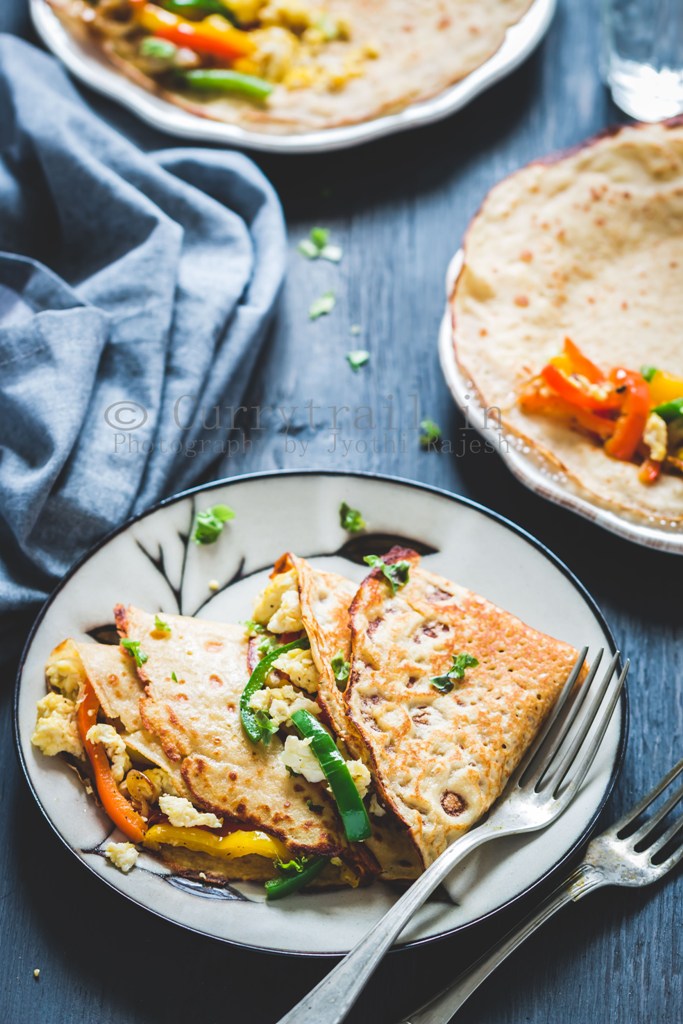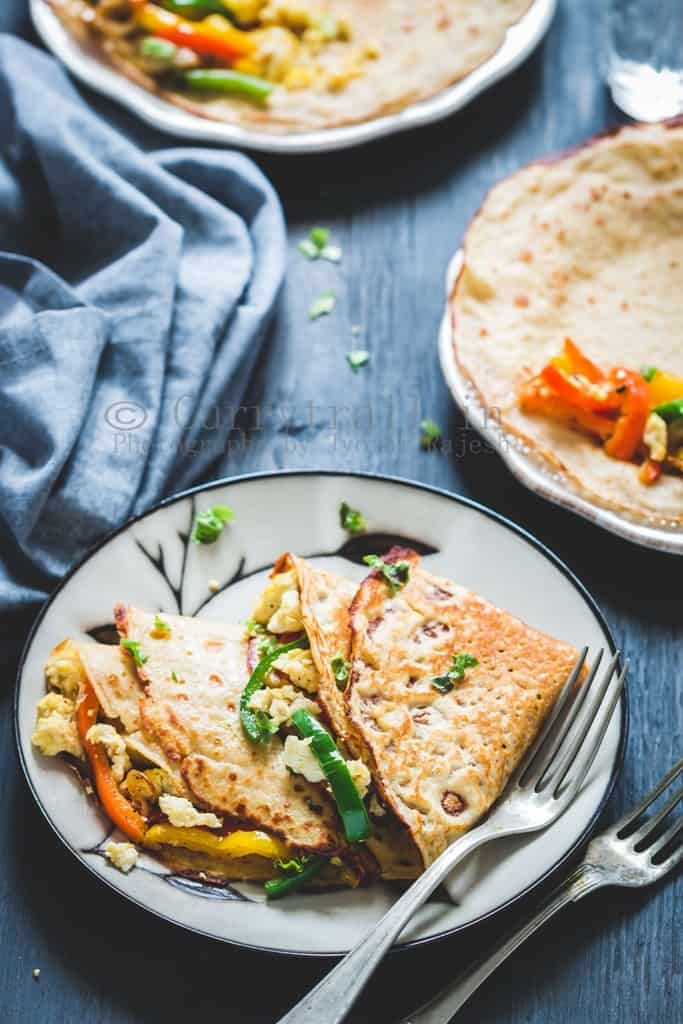 Today's crepe recipe is wholesome breakfast that is healthy and delicious. Using whole wheat flour for making the crepes gives you that extra fiber you need and eggs and roasted bell peppers adds a wonderful flavor and taste. If you are crepes fan or not, you just want to try this out.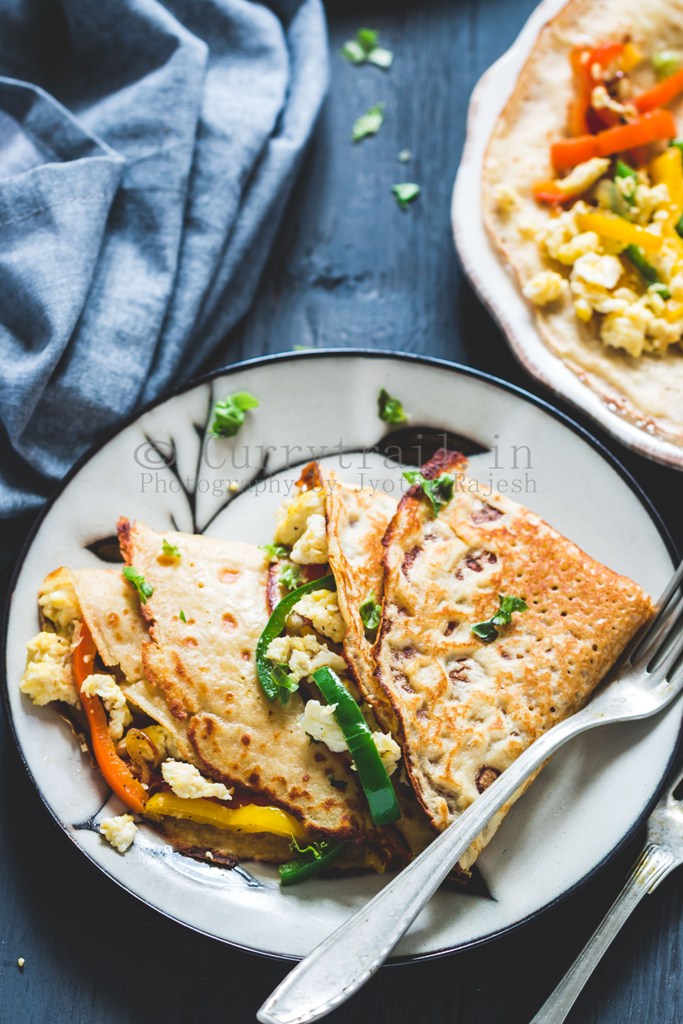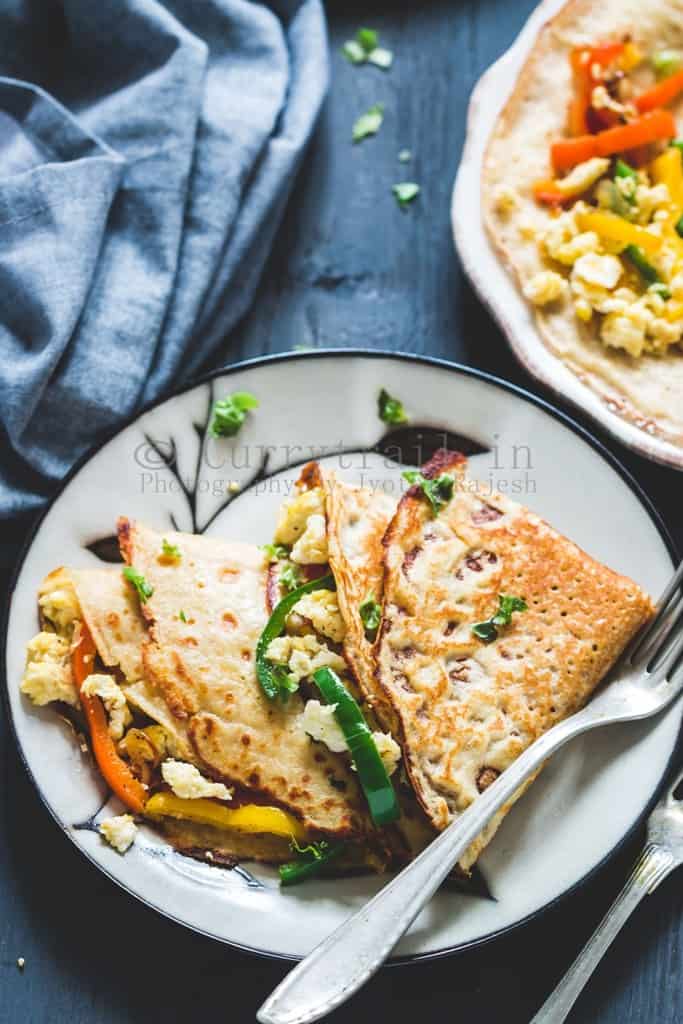 Ingredients
For crepes
½ cup whole wheat flour
1 egg
¼ cup milk
1 tablespoon fresh cream
A pinch of salt
Little softened butter
For filling
½ green bell pepper
½ red bell pepper
½ yellow bell pepper
1 small onion
1 teaspoon pepper powder
Salt to taste
4 eggs
1 teaspoon + 1 teaspoon olive oil
Method
In a bowl add milk, eggs and beat well. Add fresh cream and salt and beat again until well combined. Add wheat flour and beat until no lumps are left and you get a thin smooth batter. Cover and refrigerate it for about 1 hour.
To make the filling- Heat 1 teaspoon olive oil in a pan. Break eggs into the oil and mix well until cooked but still soft. Add a pin of salt and mix well. Remove cooked scrambled eggs from pan and set aside.
Into the same pan add remaining 1 teaspoon olive oil. Add sliced onions and sauté till onions turn translucent. Add thin sliced bell peppers and sauté. Cook for 3 to 5 minutes on low flame. Add salt and pepper mix well. Remove from stove and keep aside.
Now remove the crepes batter from fridge, whisk again. Lightly grease the bottom of a skillet with little butter using a brush or cotton cloth. Heat over medium heat until the pan is hot.
Pour a ladle full of batter in to hot pan and swirl the pan so the batter coats the bottom of the pan.
Cook the crepe for about 1 minute, then flip and cook for another 30 seconds.
Set aside and repeat with the remaining batter.
Place the cooked crepes on serving plate. Add the roasted bell peppers and eggs, fold into half and then again into another half. Repeat this for all the crepes.
Serve warm immediately.