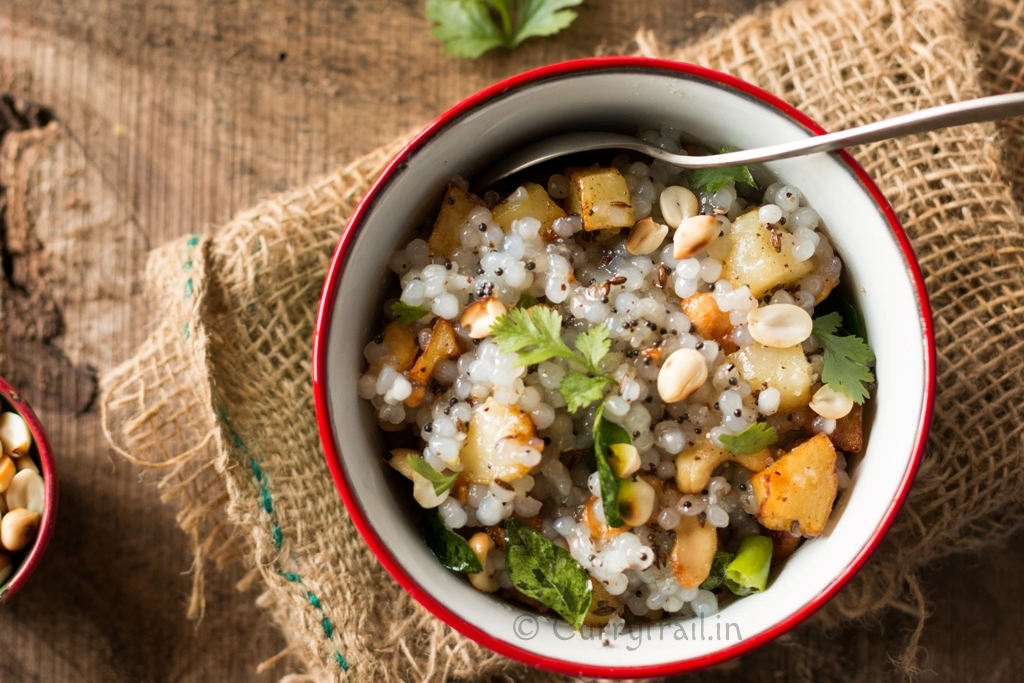 Vrat Wale Sabudhana Khichidi is Tapioca pearls cooked with potatoes and roasted peanuts. This is mostly eaten during fasting days, where people try to avoid consumption of onions, garlic, rice and of course non veg.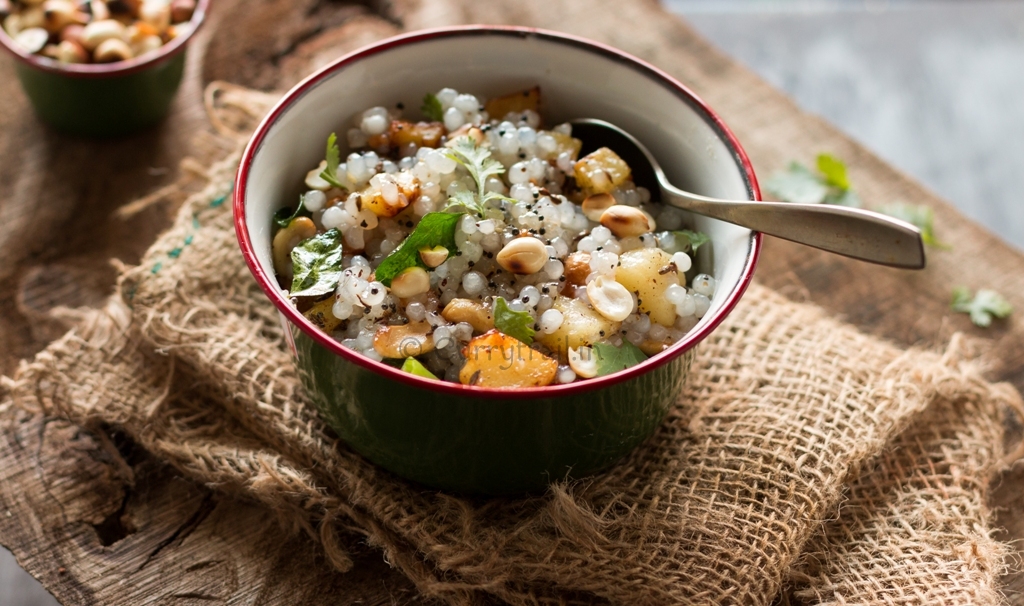 Navratri is all about worshiping goddess Durga and her 9 incarnations. Navratri literally translates to nine nights, Nav means durga and ratri means nights. Spread over 9 nights and 10 days, it is one of the most sacred festivals in Hinduism where Goddess Durga is worshiped, in her 9 beautiful forms with great reverence. During the 9 days, there is a feeling of festivity in the air. Many people fast during the entire period, and some avoid eating grains, onions, garlic and few other ingredients.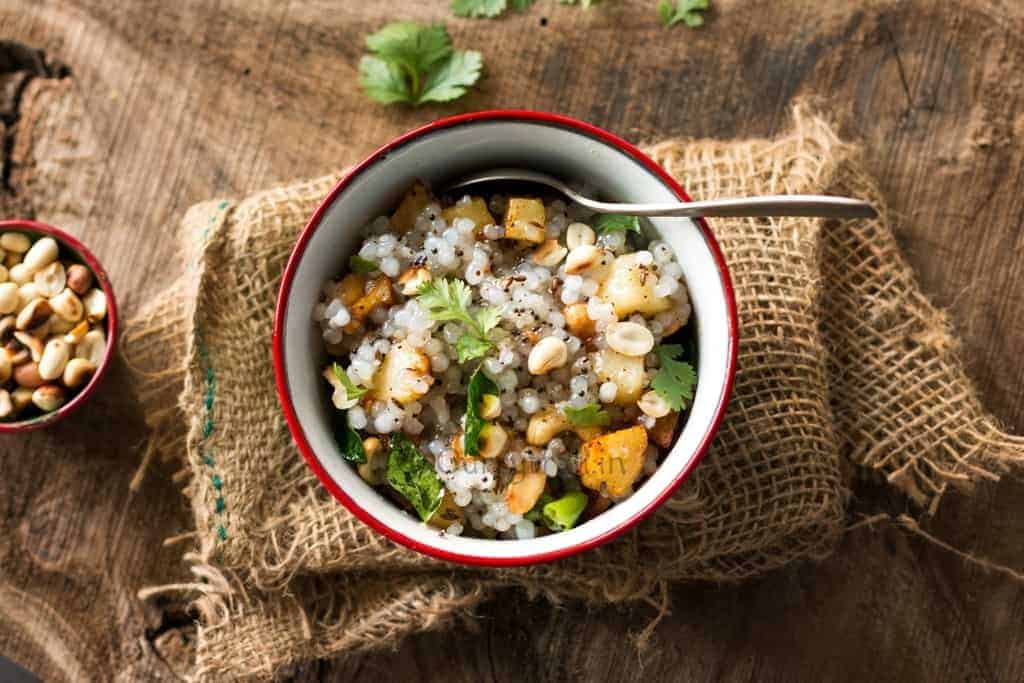 If you want to know more, click here.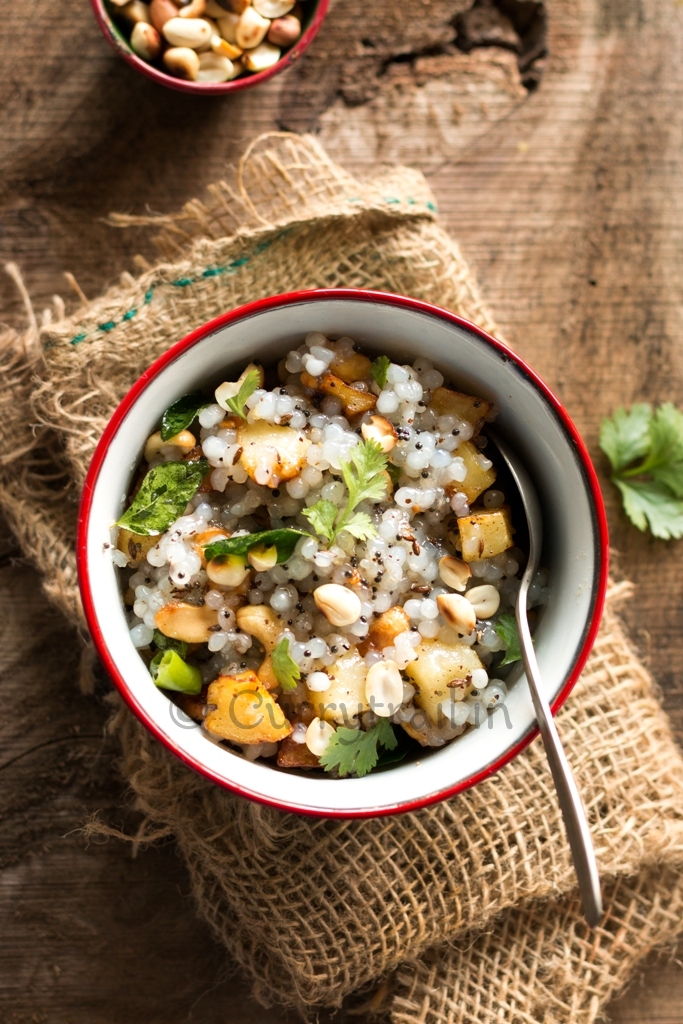 Ingredients
1 cup Sabudana or tapioca pearls
2 large potatoes
¼ cup roasted peanuts
1 tablespoon oil or ghee(clarified butter)
1 teaspoon mustard seeds
½ teaspoon cumin seeds
1 sprig curry leaves
2 green chilis
1 teaspoon pepper powder
salt to taste
10 cashew nuts
Few fresh coriander leaves for garnish
Instructions
Latest update : Some people do not take mustard seeds during fast, so please avoid using mustard seeds if you have to, we in South mostly avoid onions and garlic, so I have added mustard seeds in my khichidi. I was updated with this info by a reader from North, so thought will post here too.
1. Rinse sabudana 4 to 5 times, until you see clear water. Soak it for 4 hours, discard all water after 4 hours. Place it in fridge over night. Next day morning seperate the pearls gently using a fork. Keep aside.
2. Cook potatoes with a pinch of salt and cut them into small cubes.
3. Heat oil or ghee in a pan, to hot oil add mustard seeds and allow it to crackle.
4. Add cumin seeds, green chilis curry leaves and saute. Add cashew nuts and roasted peanuts and mix again.
5. Add cooked potato cubes, let it cook for 2 to 3 minutes on low flame.
6. Sprinkle pepper powder, salt to taste and mix well.
7. Add sabudana and mix them all to gather very gently without trying to break the pearls. Cook for just 30 seconds. If you cook for longer time the pearls will tend to stick to gather and turn mushy.
8. Garnish with fresh coriander leaves and serve immediately hot.