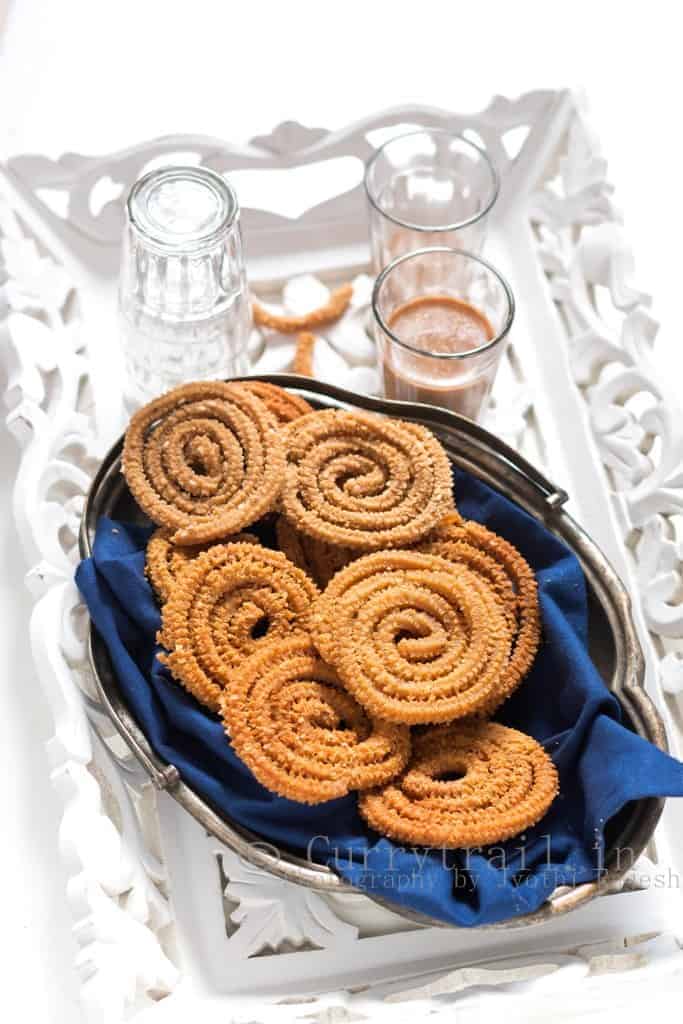 Kids summer vacation is on and I am in constant search for a lot of different snacks for them to keep their hunger prangs away. Summer heat is not great to keep ourselves near the stove for long time. So I look for options like easy snacks, no cook snacks, fruit based snacks and cook and store longer snacks.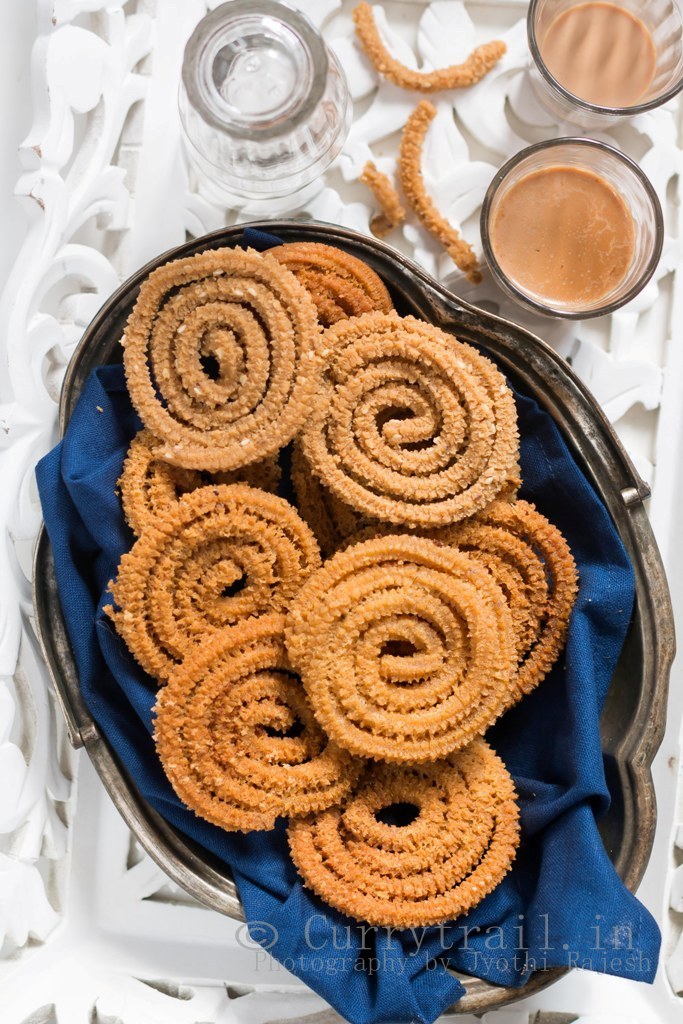 In cook and store snacks, a lot of fried snacks is what I make for kids and store them. Murrukku is one of most common deep fried delicacies we make at home. Murukku is also the most popular South Indian snack that is usually made of rice flour. No festival is complete without these delicious, crunchy, deep fried delicacies. While murukku is made usually with maida, rice flours, we will add a little twist to the traditional murukku and use whole wheat flour. With Vivatta premium atta, this murukku is definitely going to turn into one delicious, flavorful snack. For best results, use Vivatta chakki atta, you will see the difference.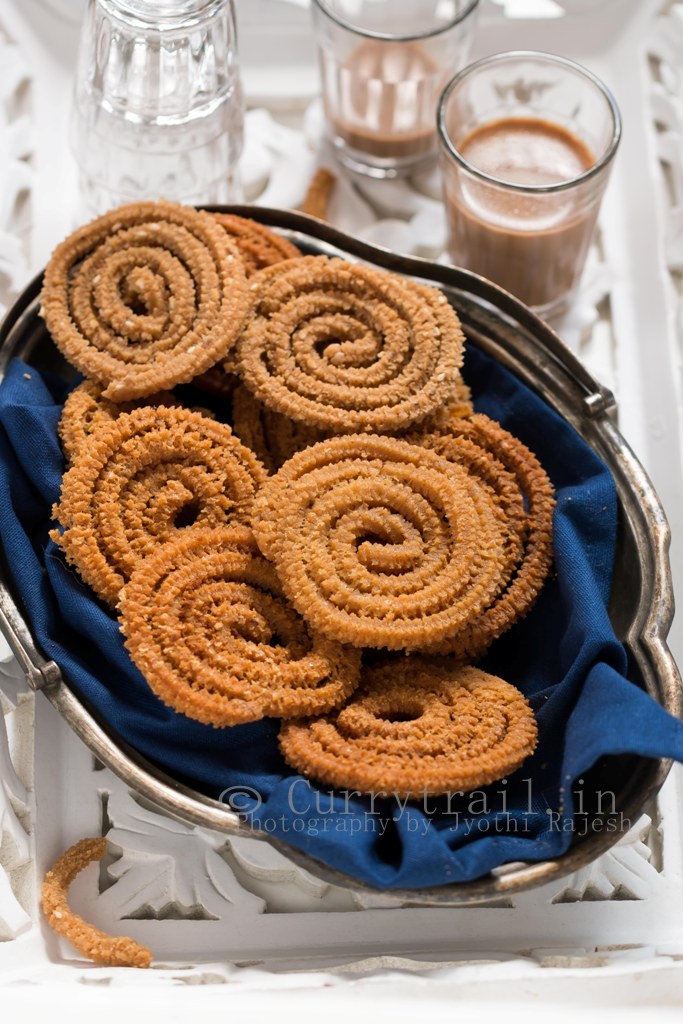 If you are wondering how the murukku will turn, don't worry, let me assure you, you will not get the smell or taste of atta at all. Steaming the wheat flour does the magic. Also this vivatta whole wheat flour murukku turns out crispy and melt in your mouth by adding a little hot butter to the whole wheat flour.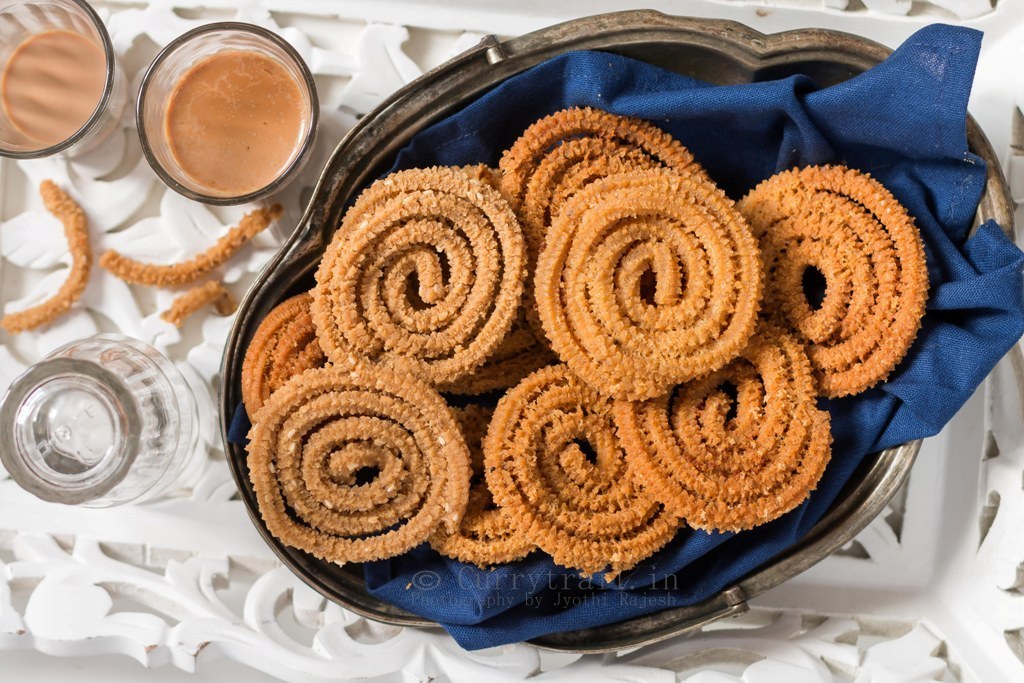 Ingredients
2 cups Vivatta chakki atta(click here to buy Vivatta chakki atta)
1 teaspoon salt
1 tablespoon unsalted butter, melted
2 teaspoon while sesame seeds
1 teaspoon ajwain
1 teaspoon red chili powder
Water as required
Oil for deep frying
Method
In a cotton cloth place the Vivatta chakki atta, bring 2 opposite ends of the cloth and tie them together. Now bring the other 2 opposite ends and tie them too. The flour should be completed covered by the cloth. Place this cloth in a bowl and place that inside a steamer making sure cloth does not turn the water. Steam the atta for about 15 to 20 minutes.
After steaming, remove the cloth from the steamer, open the ends and leave it open for few minutes until it cools down so you can handle the flour.
Now break the flour as fine as you can and then sieve it to make sure no lumps are present.
To the fine flour, add red chili powder, salt, white sesame seeds, ajwain, and hot melted butter. Mix everything with your finger tips until it resembles bread crumb like texture.
Add water little at a time and knead. Make a soft and stiff dough. Keep the dough covered and away from stove, else the dough will turn too dry.
Heat oil in a wide pan. While oil is heating , fill the press with murukku mix.. I used single hole star in the murukku press.
Squeeze out the murukku over a greased ladle and drop them gently into the hot oil. ( or you can also directly press into oil ). Once you drop the murukku, turn flame to medium. Wait until the murukku release the ladle by itself(if you find that murukku is not leaving the spotted ladle, you can gently push the murukku using another ladle after it's cooked on one side, mine released by itself).
Fry them in oil until golden brown on both side. You will notice that the bubbles in the oil is reduced and the "isshh" sound stops , that indicate murukku is down. Remove from oil and place it on kitchen towel to absorb excess oil.
Once it completely cools, store in air tight container and enjoy them for longer time.