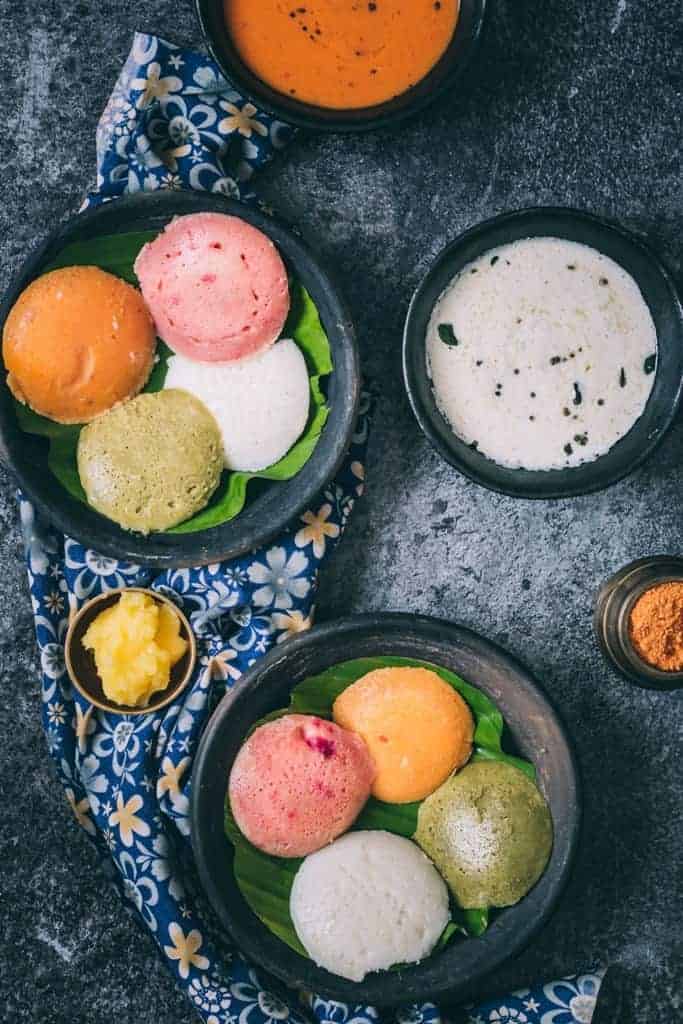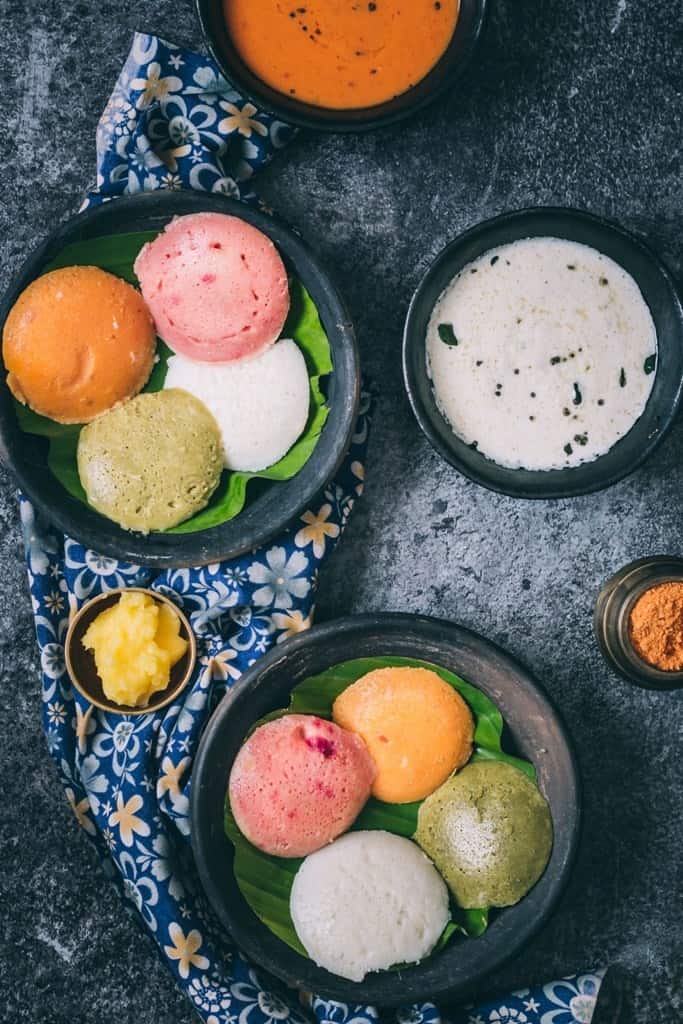 If you ever get an invite for breakfast into a South Indian home, you can be very assured that you will mostly see idli on the plate. 😀 We south Indians love idli very much. We can eat it for breakfast, lunch and dinner. I know a few relatives of mine who simply HATE idli! I guess they have over done the idli eating episode that now they sulk with the sight of idli.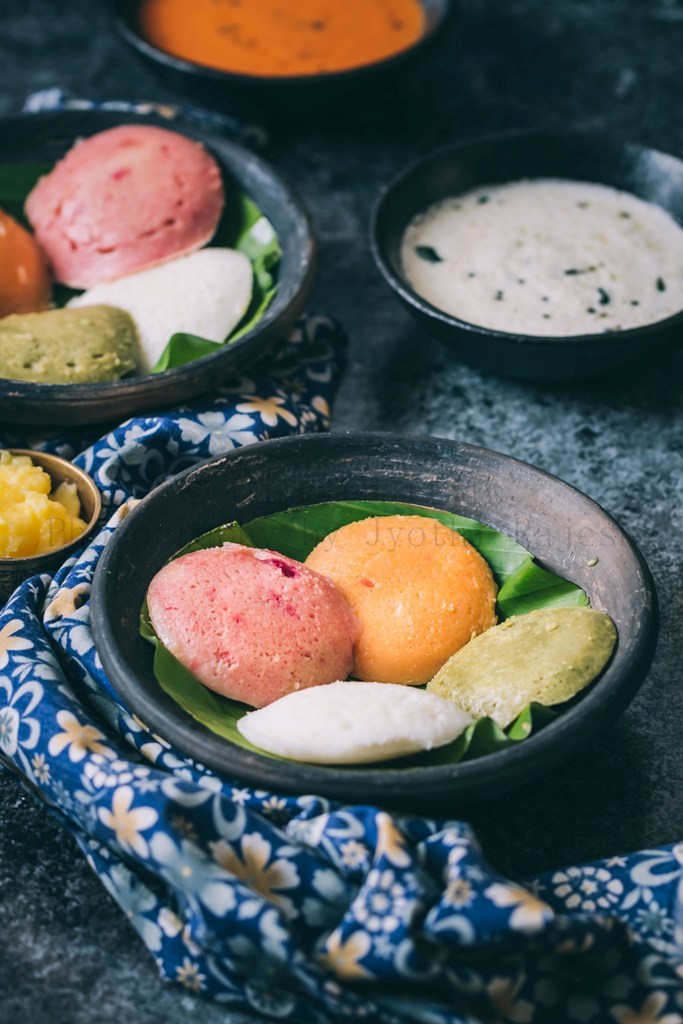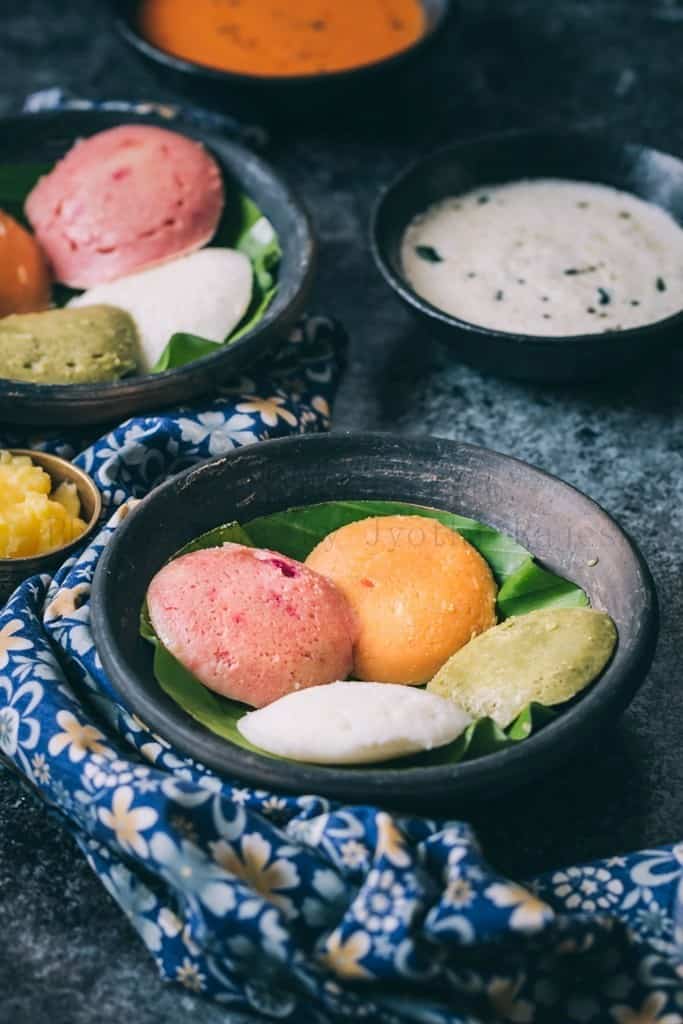 I guess if you eat the same dish every single day without a break you reach that sulking point. We eat idli for breakfast and sometimes for dinner like twice or max thrice a week. My kids mostly do not complain and haven't reached the point where they say "I Hate Idli". Touch wood. I really don't want to reach that point. Idli is a very soothing, healthy dish and something that I'd like to rely on when mind stops working and body demands not to enter the kitchen and a hungry family waiting on the dining table for food. At those times we do idlis. So idli is my comfort food, it's my life saver in many situations under many circumstances.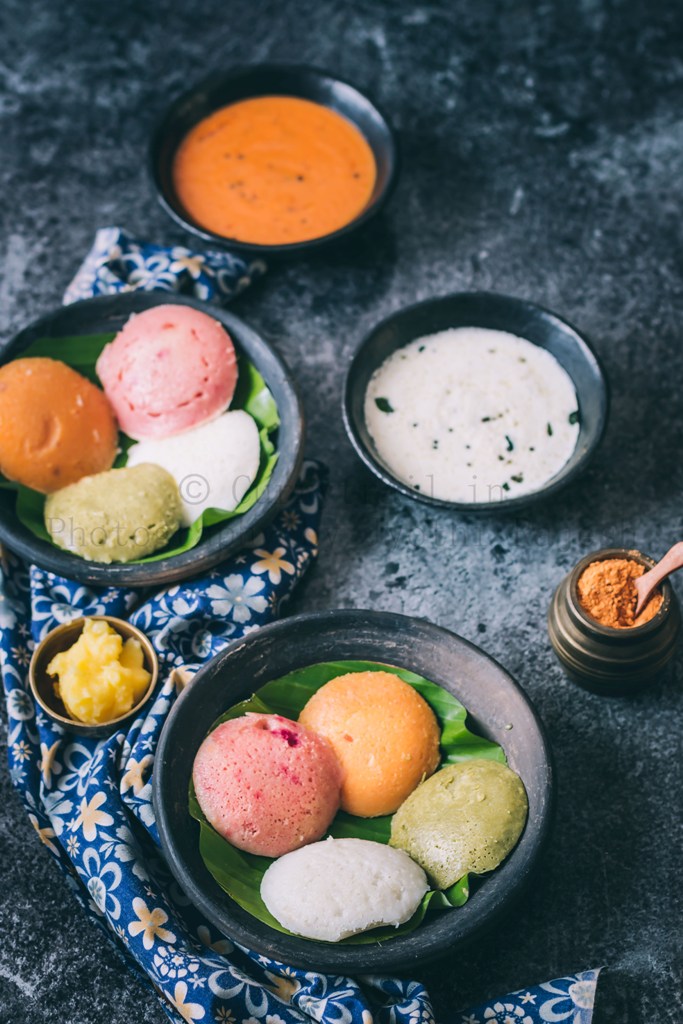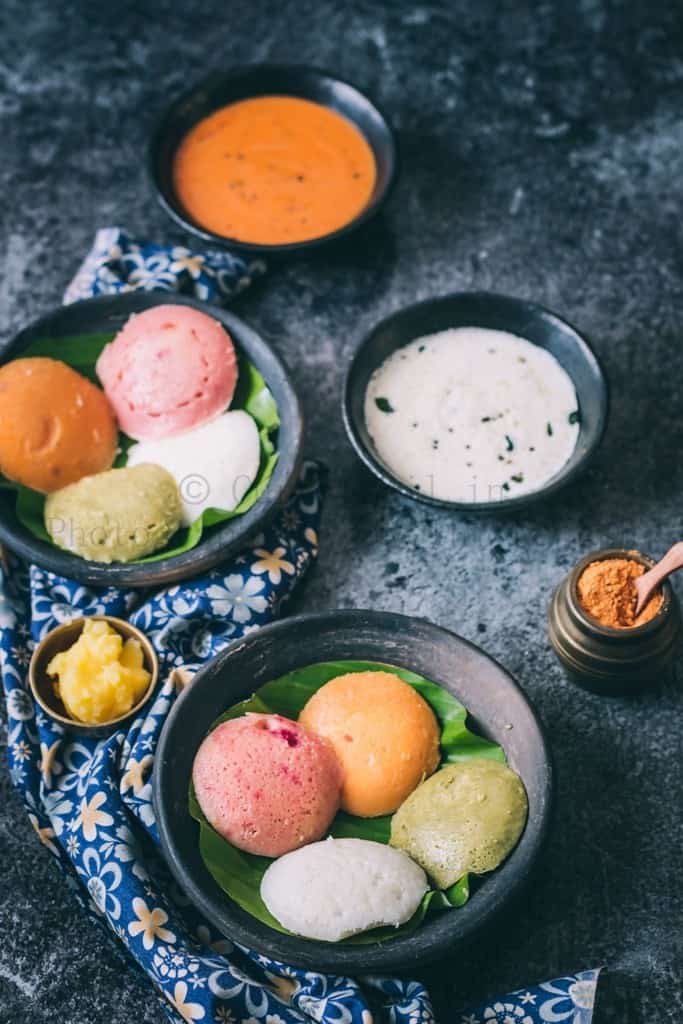 One day daughter shocked me when she said "amma, I'm bored of idli!" Atleast she didn't mention the "hate" word. But I was all set and ready to get the idli batter poured into the mould and steam it. I could not start prepping for another dish all together again. I had to put on my thinking cap and I had to come up with some plan very fast. I decided I will do idli, but I wanted my daughter to eat it without any complain. Opened the fridge and found some left over veggies. A brilliant idea struck in!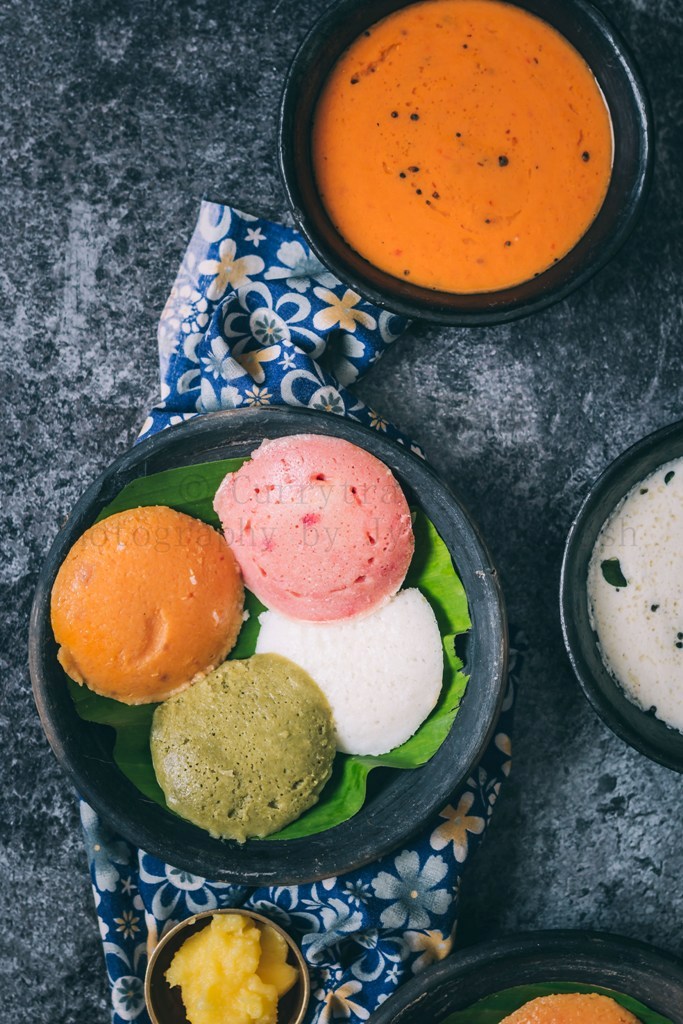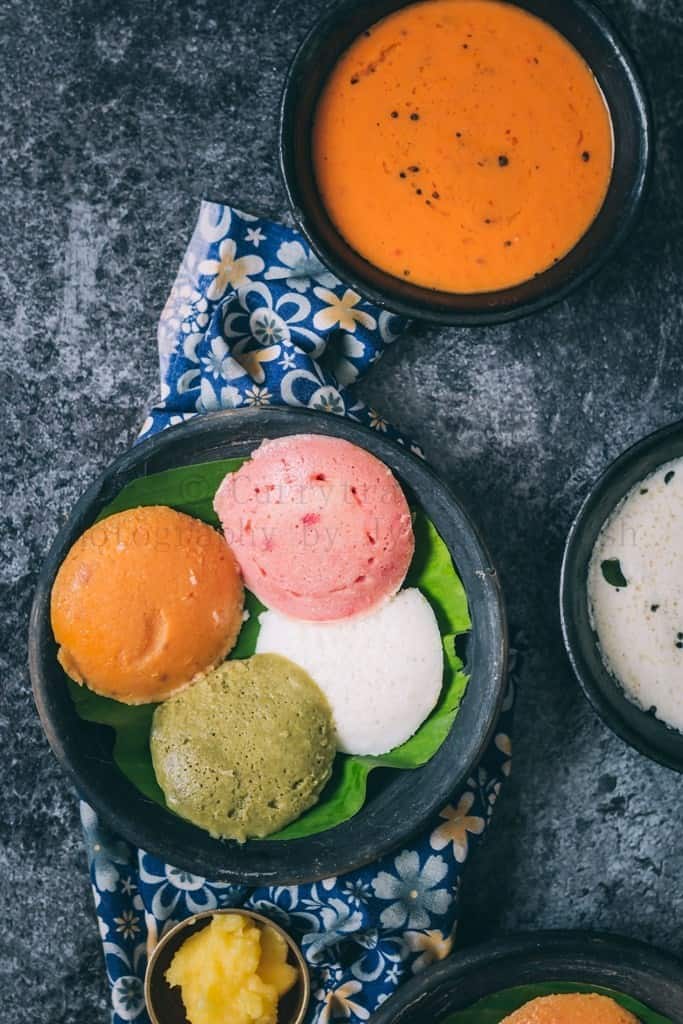 I blanched and pureed the vegetables and added that to the divided batter. I was ready with 3 colorful batter in less than 10 minutes. Poured the batter into idli pans and steamed it. When it came out, idlis looked so bright, colorful and so appealing.
I placed 3 idlis on daughter plate and gave it to her. Her eye brows raised and she was grinning. She was pleasantly surprised. She ate it and absolutely loved it. She demanded me that I pack the same for her school lunch box and I did as she said.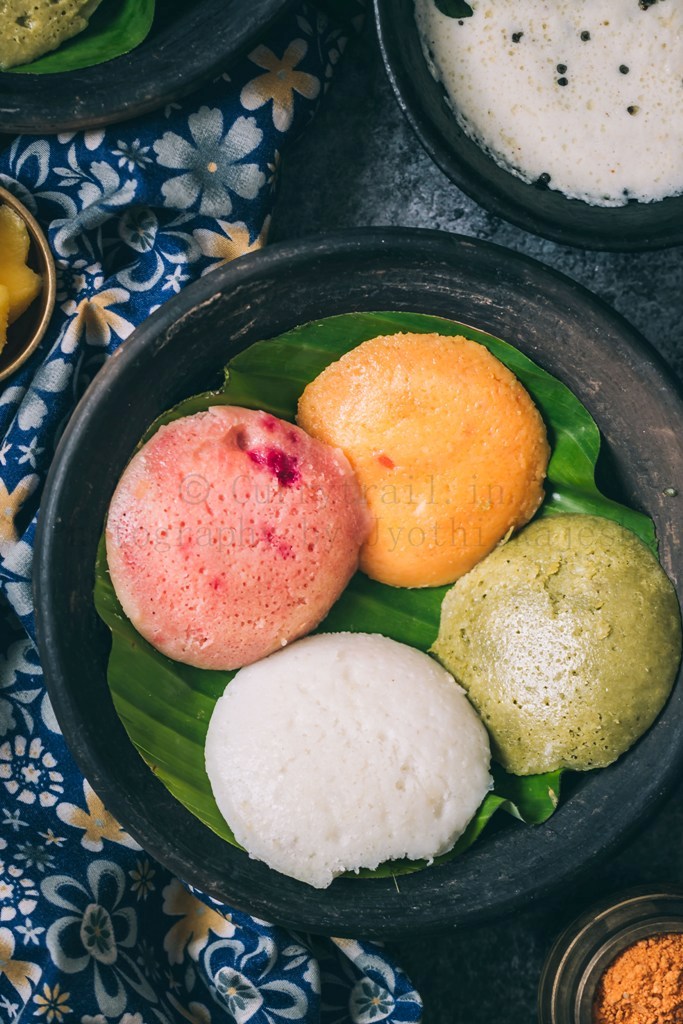 When she came back in the evening, the first thing she wanted to tell me was –"amma, my friends came and stared at my box for a long time during lunch break and they said I was very lucky to eat very colorful idli. I did not share it with anyone, as I wanted to eat them all!" And I was smiling! Mission accomplished!
If you are looking for ways to make idli interesting, you must try this easy method. I guarantee you, your folks will love it!
I have a fail proof recipe with all the tips and tricks to make that perfect idli in my other post. Check it out by clicking here.
Ingredients
2 cups idli batter (click here for the recipe)
1 bunch spinach (palak)
3 carrots
1 beetroot
Method
Divide the idli batter into 4 portions.
Pick spinach leaves and wash it clean. Chop them roughly. Blanch the spinach in enough water for about 3 minutes. Remove from water and immediately dip the leaves into ice cold water. Drain the leaves into a colander. Then puree it without any water. Make sure the puree is thick.
Peel the skin on carrots, chop roughly and blanch it for about 7 minutes. Remove from water and puree it.
Peel skin on beetroot and chop. Blanch for 7 minutes and puree into thick paste.
Now add a few teaspoons of the puree into separate portions of the batter and mix. Keep adding little at a time until you get the desired color in the batter and also make sure that the batter doesn't turn too runny. We want to keep the batter thick and get the color. I made carrot, beets and spinach colored batter and kept one of the portions plain.
Now grease the idli mould with oil. Pour each colored batter into a mould. Add into one of the moulds plain idli batter.
Steam it in a steamer for about 10 to 12 minutes. Remove from steamer and let the plates sit for a while. Then carefully scrape the idli out of the moulds and serve hot with spicy coconut chutney and tomato chutney.