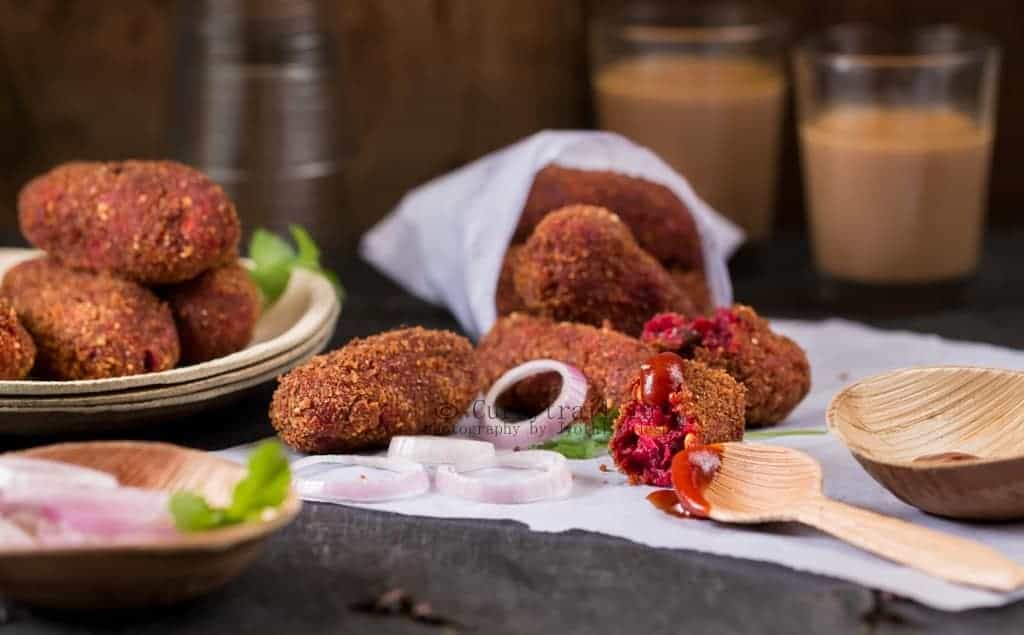 Every region in India has it's own famous street food and vegetable chops is one of the popular street food from Bengal. The road side foods are specialty of Indian cities and reflection of India's culture and tradition. Stall vendors of street offers different kinds of delicious and tasty food. With a variety that is unmatched, eating on the streets is a cultural tradition.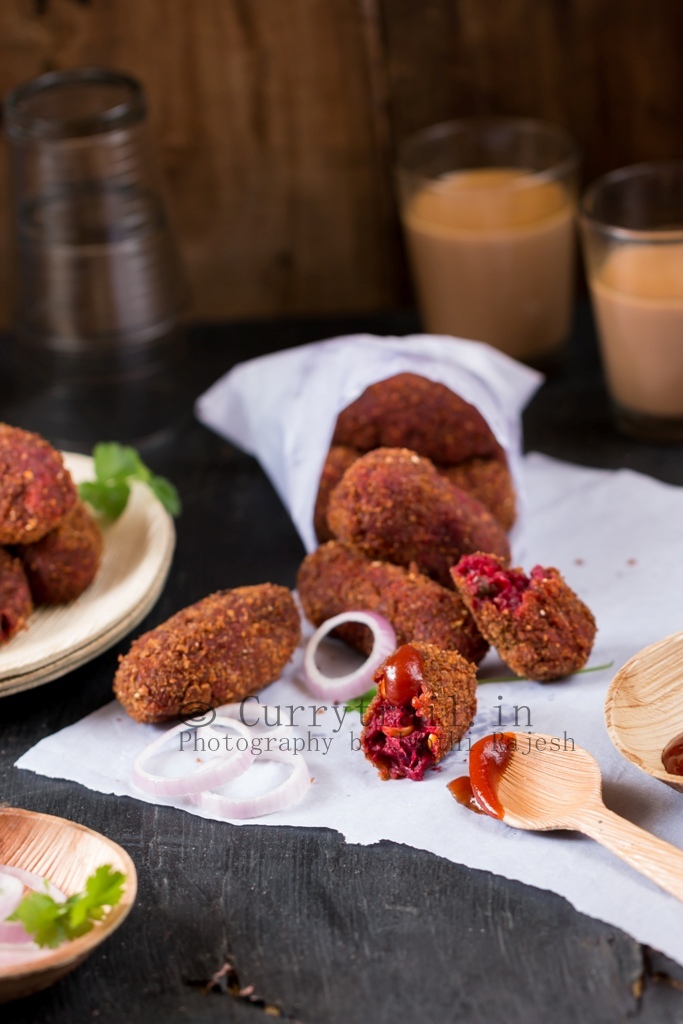 These vegetable chops belong to cutlet family. Chops are actually British food, and we adapted it to our very own taste buds. So chops is a fusion of British and Indian food styles.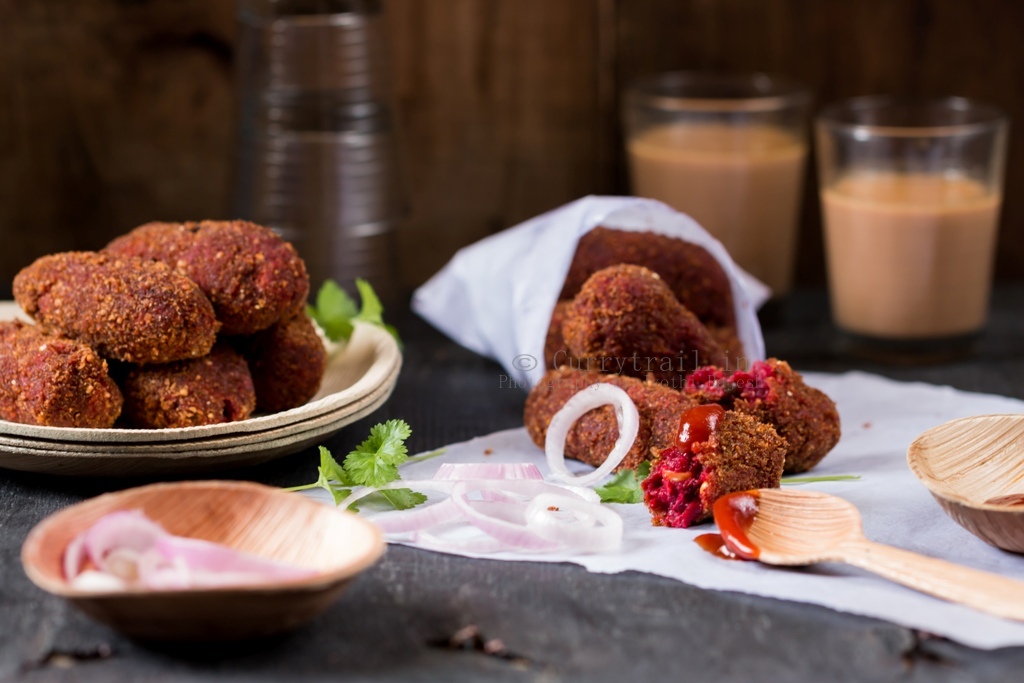 This vegetable chops is usually made with a combination of potatoes, beetroots, carrots, peas. You can add other vegetables too if you prefer. Sweet corn, cauliflower, beans would be the best choices. Chops actually mean cooked meat or vegetables that are deep fried. The vegetables are cooked and then coated in batter (corn flour batter and bread crumbs) and deep fried. These vegetable chops are commonly served in most of the Bengali households along with tea for tea time snacks.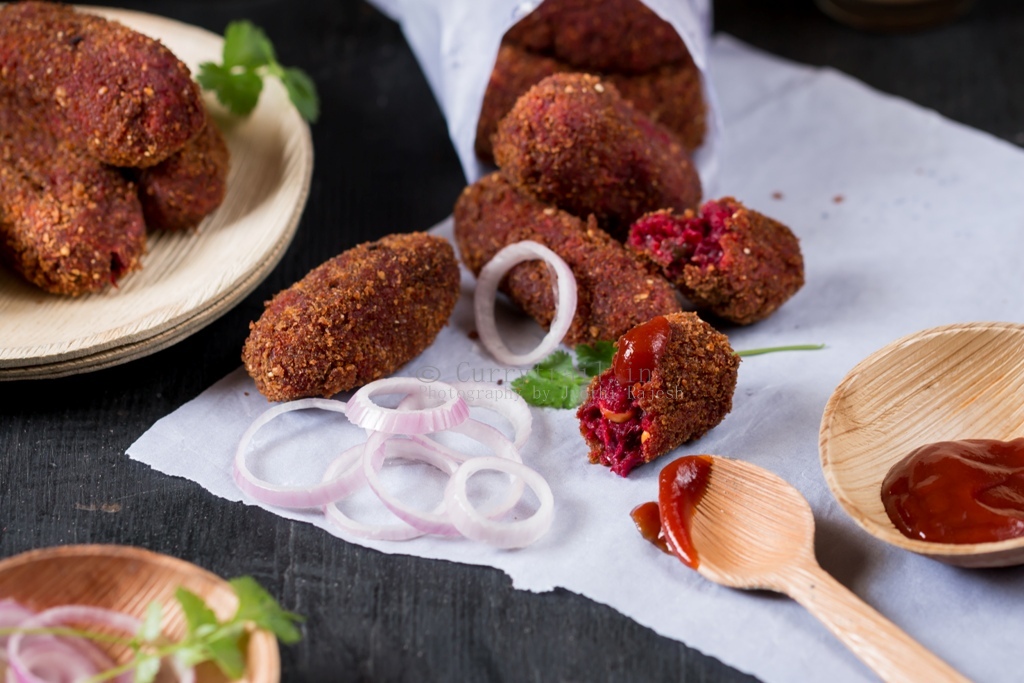 Ingredients
3 cups vegetables mixed(I used 2 beets, 2 carrots, 3 potatoes, 8 beans, ¼ cup peas, ⅓ cups sweet corn)
2 large onions
4 green chilies
1 teaspoon grated ginger
1 tablespoon roasted cumin powder
1 ½ teaspoon red chili powder(adjust as per preference)
Salt to taste
Oil for deep frying + for sautéing onions
2 tablespoon corn flour
1 tablespoon water
½ cup bread crumbs
Instructions
1.Rinse all the vegetables and peel their skin. Chop them into small pieces. Add 1 teaspoon cumin powder, salt to the vegetables. Pressure cook for 3 whistles.
2. Discard the water from the cooked vegetables and mash the vegetables. Keep aside.
3. Heat a teaspoon of oil in a pan. Add grated ginger, cook for 30 seconds. Next add onions and green chilies and sauté till onions turn slightly brown.
4. Add the mashed vegetables along with salt and the spice powders, mix well. Cook until all the ingredients combine well and the mixture should be dry. Remove from heat and set aside to cool.
5. Make small lemon sized balls from the vegetable mix. Shape them into oblong or cylindrical shapes.
6. Add corn flour to 1 tablespoon water and mix well.
7. Carefully dip the oblong shaped vegetable chops and then roll in bread crumbs. Repeat this for all the vegetable mixture.
8. Heat oil in a wide pan for deep frying. When oil turns piping hot, reduce the flame to medium and carefully transfer the coated vegetable chops into oil. Deep fry for about a minute or until all the sides turn golden brown. Drain on kitchen towel.
9. Serve these vegetable chops immediately with tomato sauce if you prefer along with tea.