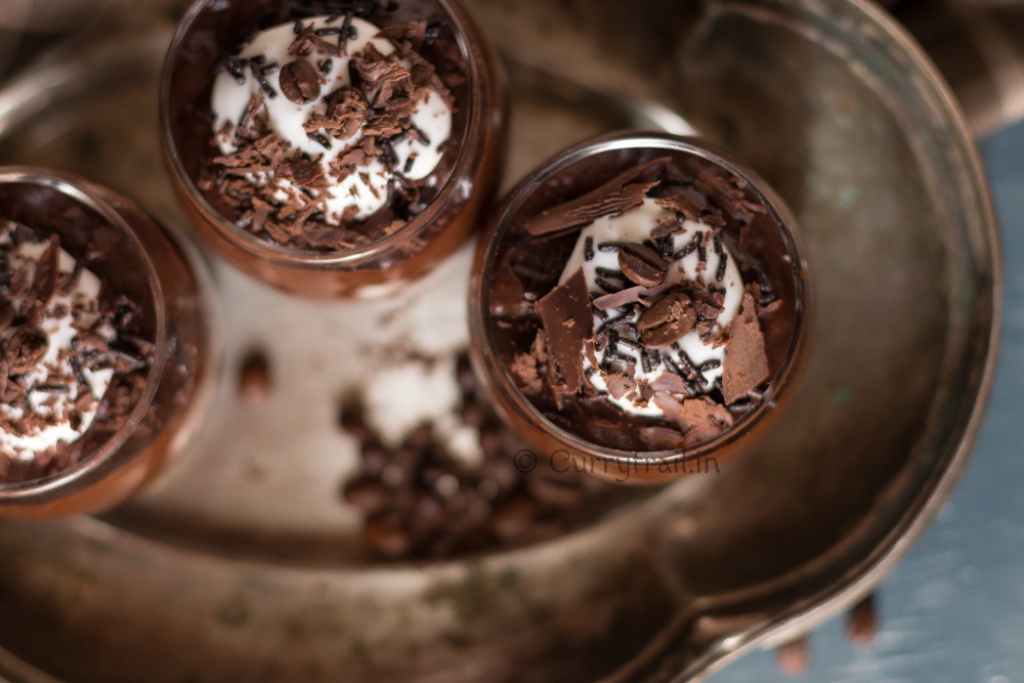 There is a funny story behind my 'Vegan Chocolate Espresso Mousse' post. Why did I even make a mousse? Well i'm not saying I don't like mousse, I love chocolate mousse, who doesn't right! But this recipe happened in a matter of 5 minutes.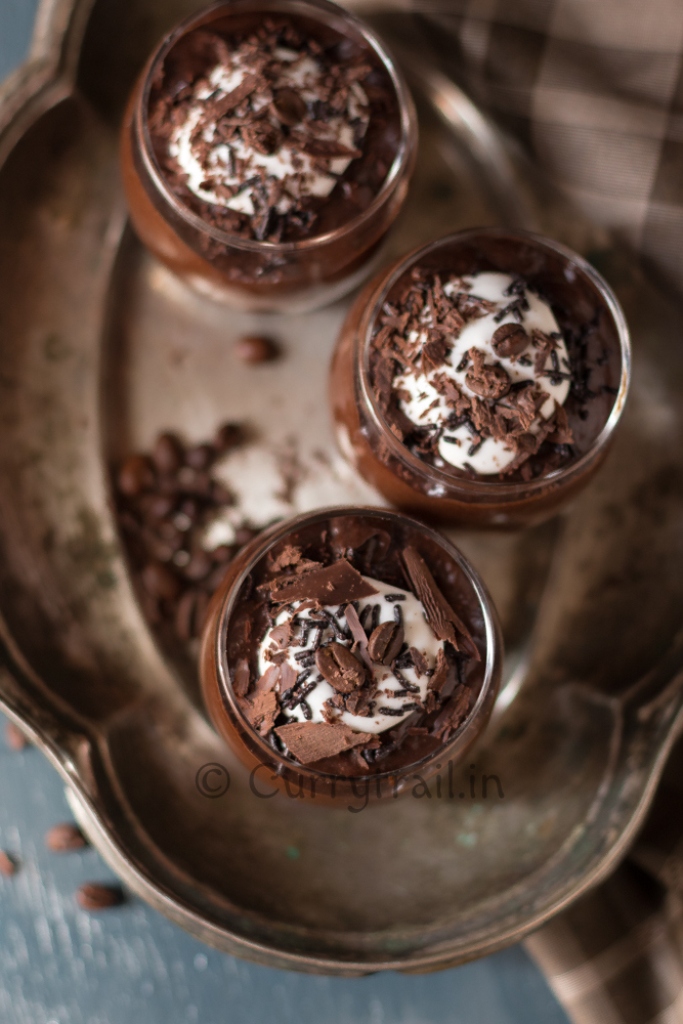 Did you check my previous post? where I posted "Red rice puttu recipe"! While making puttu I wanted to have banana's to be served along with the puttu. I always have a stock of fruits at home and usually have bananas too. But that day was out of any fruit that you would name, and I so badly wanted bananas, puttu is best served with bananas.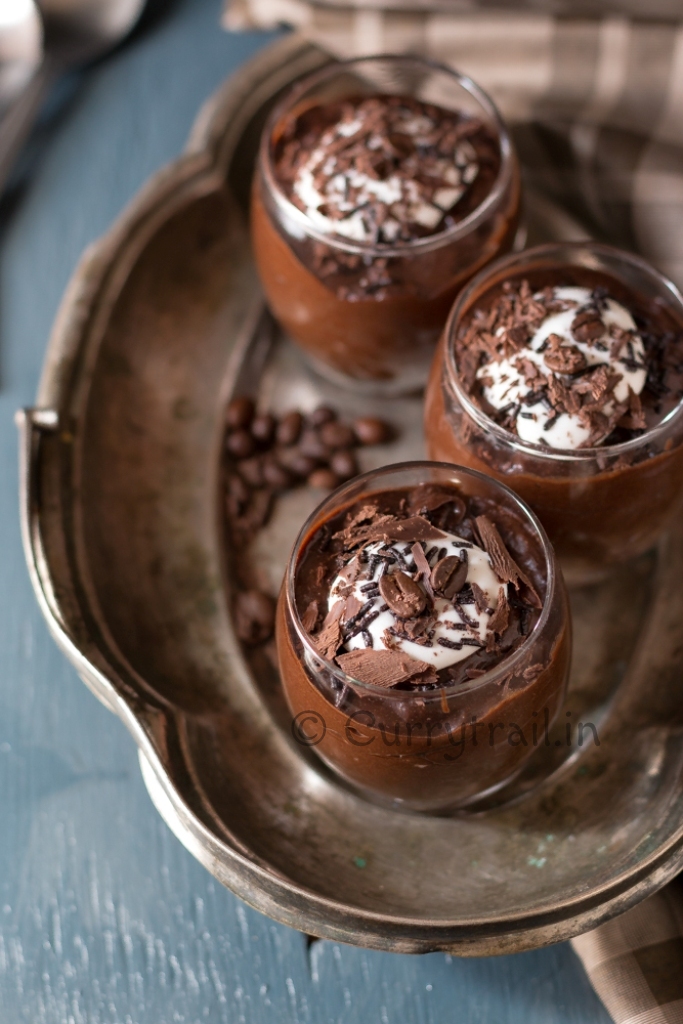 At home and friends call me "all rounder". I do everything from shopping, to everything at home. Hubby is not very good when it comes to shopping for home/kitchen. The other day I was preparing biryani and I wanted some mint leaves. I send him to shop to buy mint leaves, he comes back home with dill leaves! 😀 When I send him to shop to buy toor dal he comes back home with yellow moong dal.  :/
The problem is he can't make out the difference with all the types of herbs, dals, rice and when he goes to shop he finds it embarrassing to ask the shop assistant to show him where is toor dal or what is mint leaves. So he picks what he thinks is right which is mostly wrong and come home with a big smile, trying to convince himself that he did a job without assistance. But at home when he realizes that he again made a mistake he laughs and gives up, saying you go pick it up I can't do it!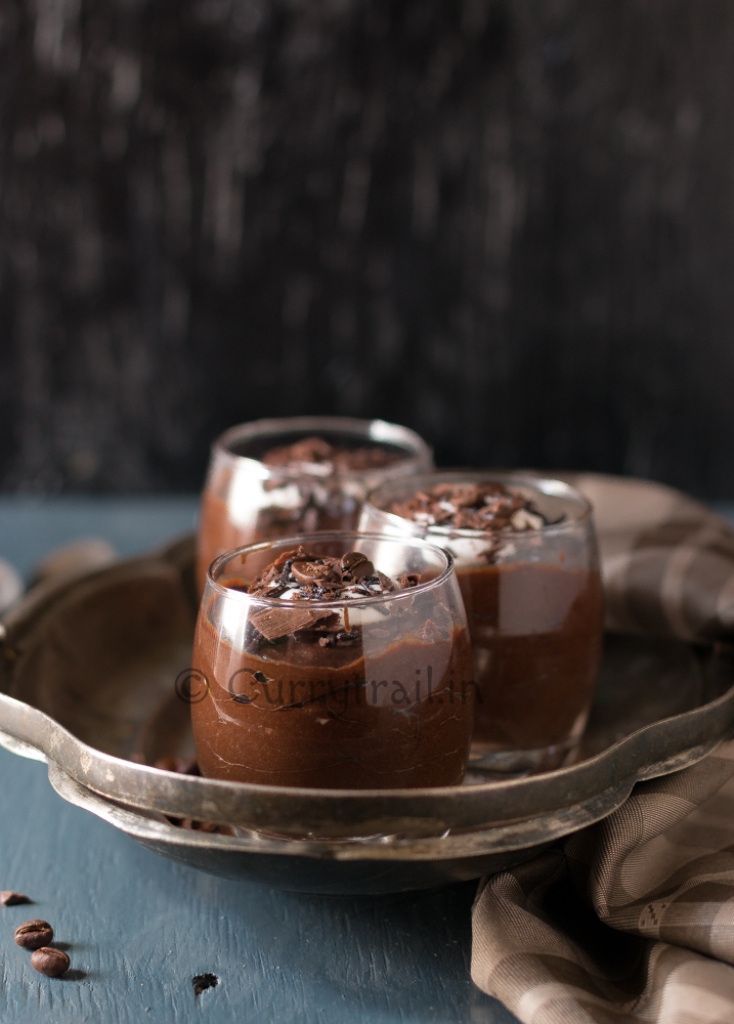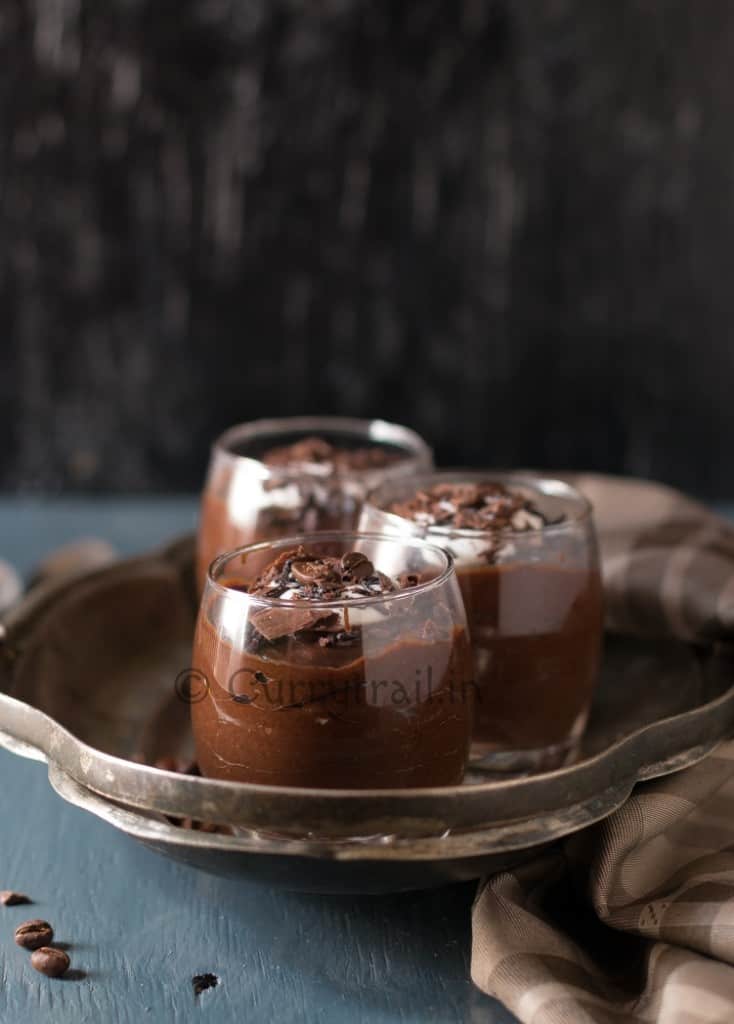 This weekend when I asked him to buy banana, he bought 2 varieties of bananas but none were what I was looking for. This time I couldn't laugh, I got really irritated as it was way past breakfast time and I had to serve breakfast. I gave up and decided to go to shop myself again and buy it and that's what I did!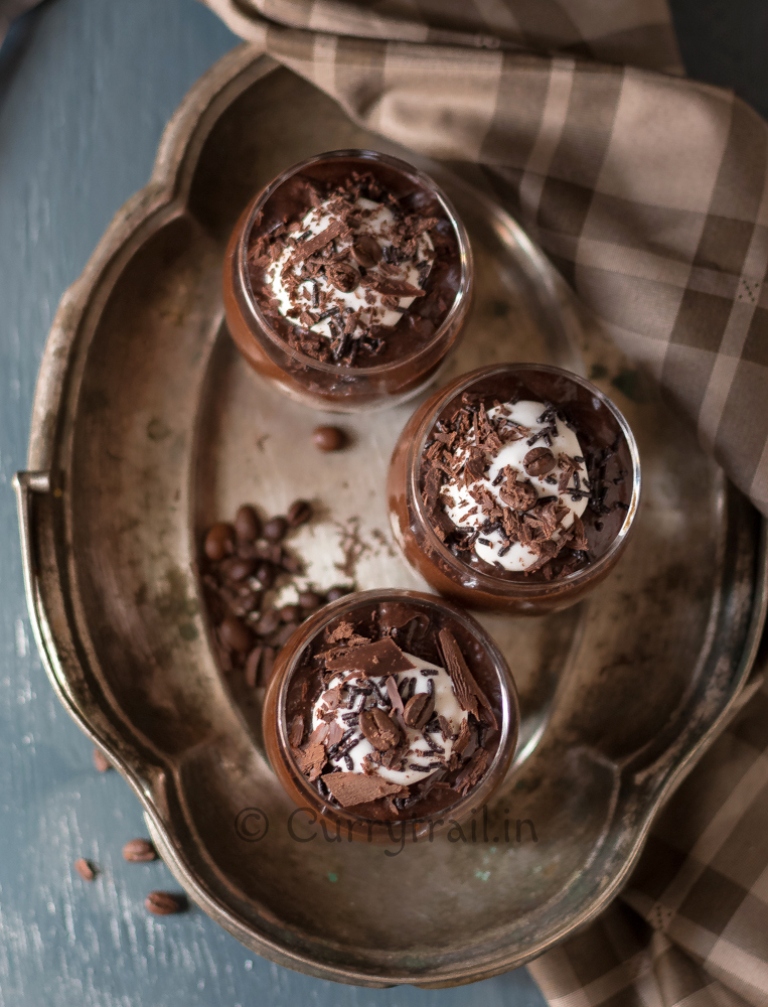 So the banana he bought was lying and were getting darker skins. It was time to use them immediately. Without much thought I decided to make chocolate mousse but without eggs. I used the very ripe bananas and some really ripe avocados that were in the fridge.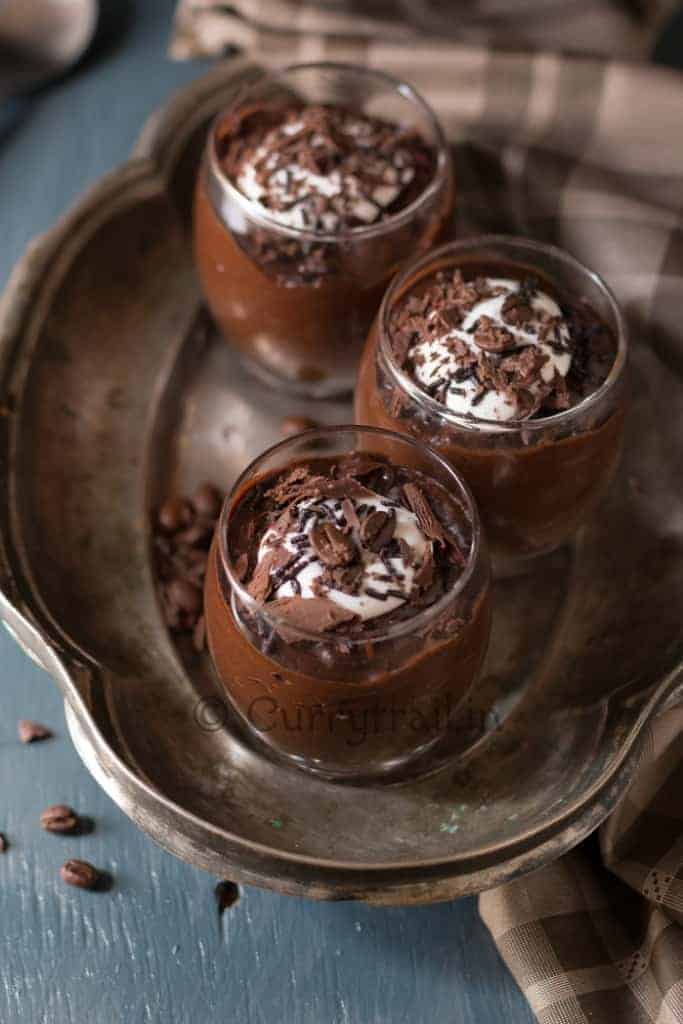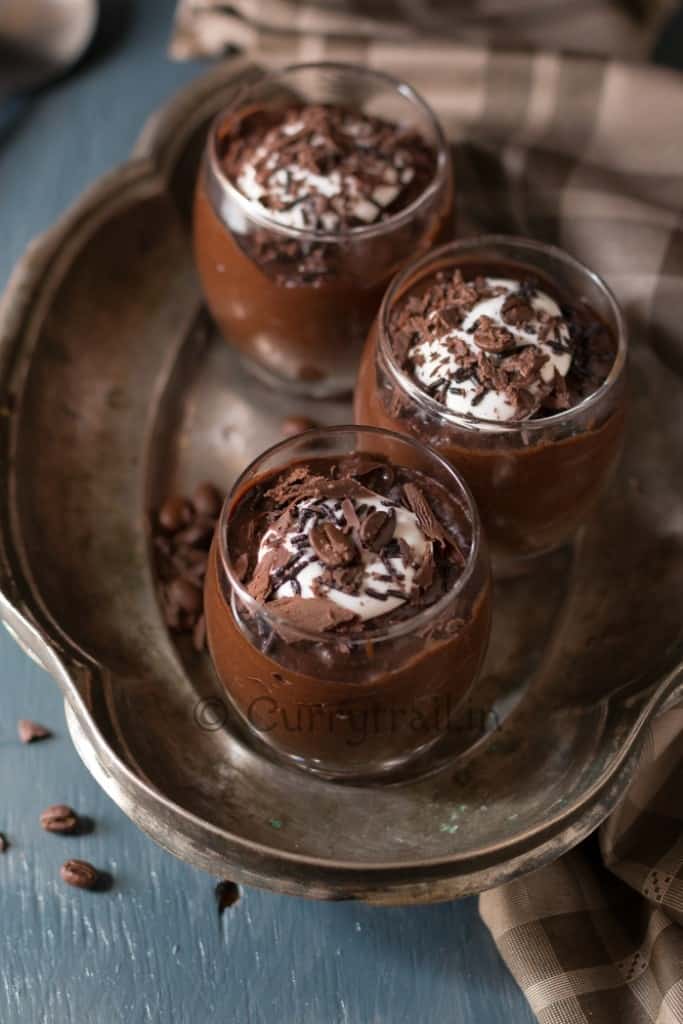 This vegan chocolate espresso mousse is so easy that you can whip it up in just 5 minutes. Ripe bananas, ripe avocados, dark melted chocolate, coffee decoction, and dark cocoa powder with 1 or 2 tablespoon of sugar if needed, blitz in a blender and your decadent guilt free vegan chocolate espresso mousse is ready to serve! The mousse turns out so thick that there is no need for gelatin to set and since I was making vegan mousse, I anyway decided not to use any gelatin.
A few months back I had bookmarked a vegan mousse recipe which was posted by one of my friend Linda of Veganosity. If you are a vegan or not you must definitely have to check her space. She has some amazing vegan/vegtarian recipes. My mousse recipe is adapted from Veganosity.
Here's vegan chocolate espresso mousse recipe –
Fully ripe bananas – 3 nos
Ripe Avocados – 2 nos
Dark compound chocolate – ½ cup
Dark cocoa powder – ½ cup
Coffee decoction – 4 tablespoons
Sugar – 3 tablespoons(reduce if your bananas are very sweet, I used about 1 ½ tablespoon only)
For garnish-
Vegan Whipped cream(made using coconut milk)
Chocolate vermicelli
Dark chocolate shavings
Instructions:-
1. In a microwave safe bowl, melt dark compound chocolate at 20 seconds intervals until all chocolate is just melted, do not over heat the chocolate. Remove from microwave, give it a quick mix and let it sit to cool down a bit!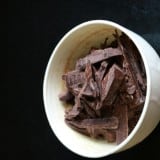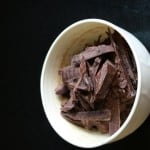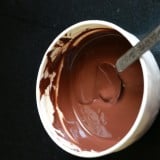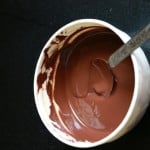 2. While the chocolate is melting, make a coffee decoction. I added 4 tablespoons of water to 3 tablespoons of coffee powder in a coffee decoction maker and waited until decoction was ready.
3. Add coffee decoction to melted chocolate and mix it well.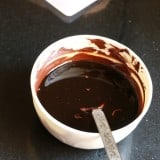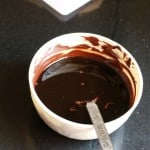 4. Now add all the ingredients – ripe bananas, ripe avocados, melted chocolate with coffee, cocoa powder and sugar and blitz until a smooth paste is formed. DO not add any water if you are looking for thick mousse just like the set mousse.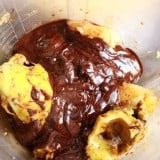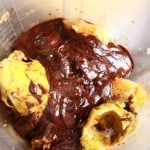 5. Transfer the chocolate espresso mousse into serving cups and chill it for some time if required.
6. Just before serving garnish the mousse with vegan whipped cream(made using chilled coconut milk which is whipped until stiff), chocolate vermicelli's, and some chocolate shavings.
Decadent vegan chocolate espresso mousse is ready to be served. Enjoy this guilt free dessert without any guilt! 😀