Silky, creamy, spicy, delicious Thai yellow curry with potatoes and pumpkin is all you need when you are craving for something curry, something refreshing, and something comforting!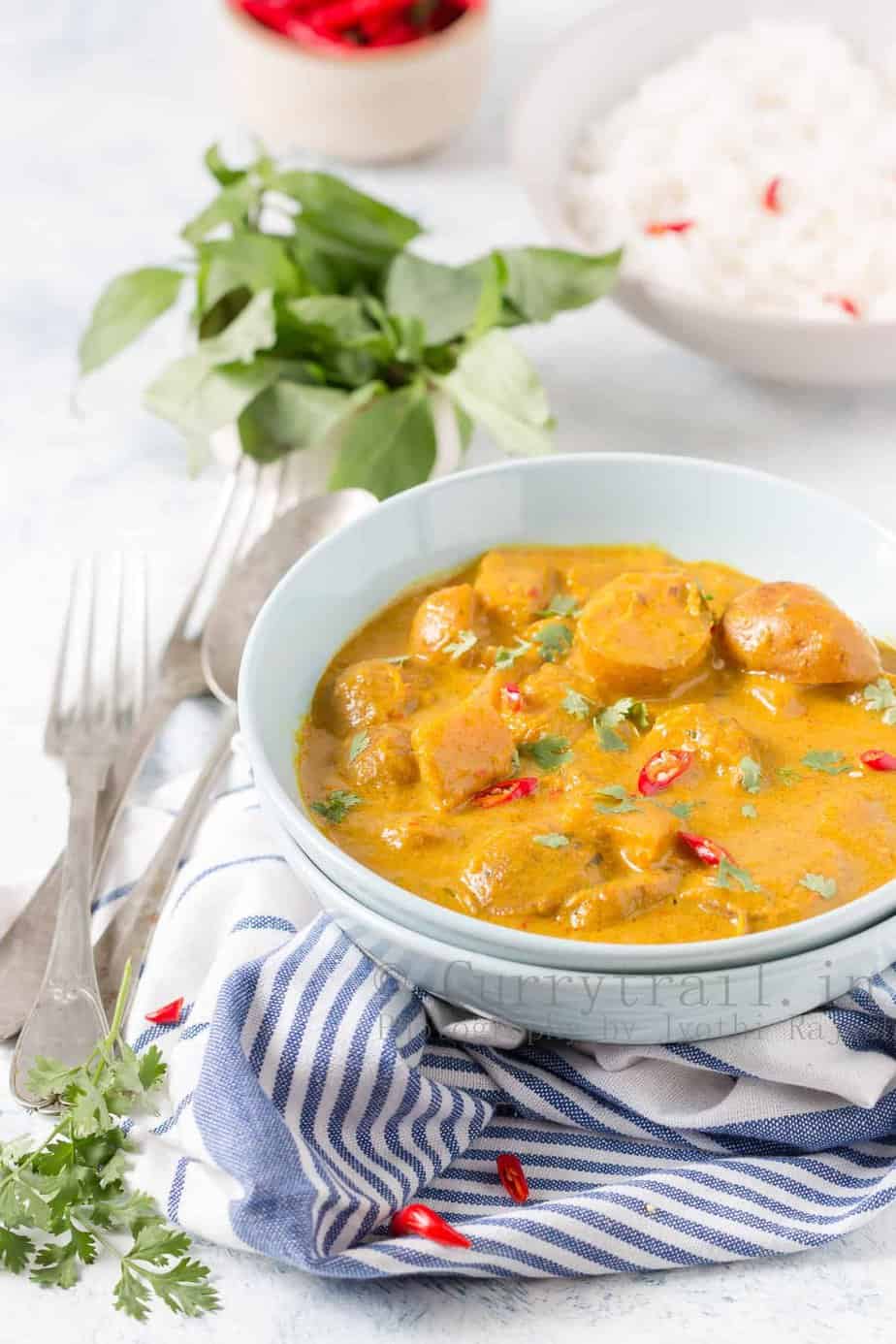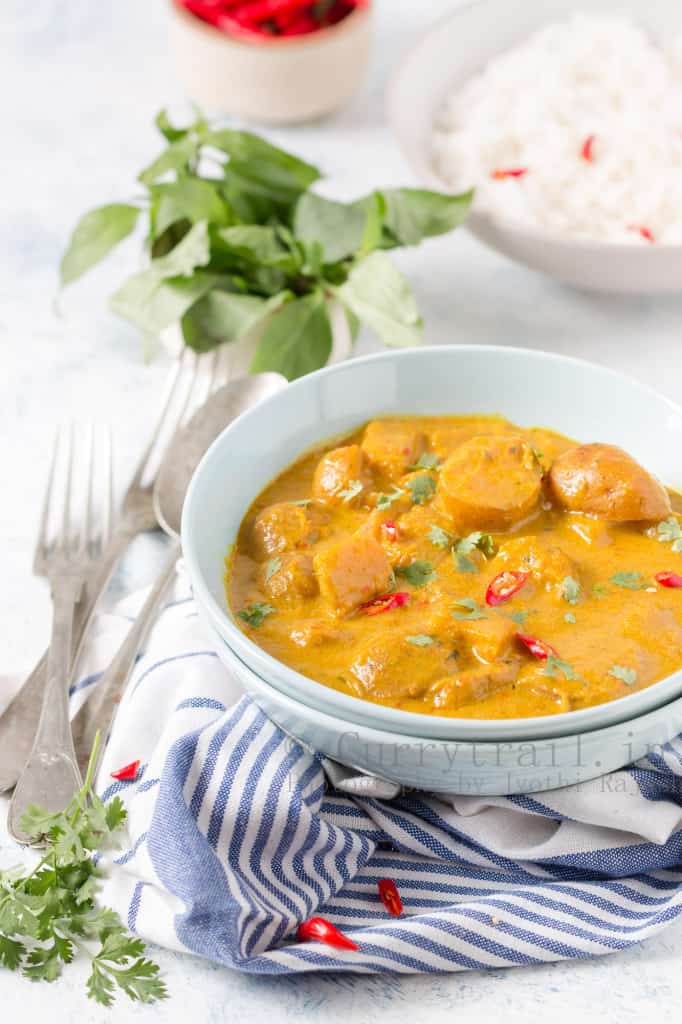 So kids have come back home (since last week) and daughter has started school. Though I am feeling sad about summer holiday being over, I think I really need to get back to routine work. So the change from holidays to routine work is refreshing and feels good. I am back to getting up early, back to cooking proper meals, back to sleeping on time and will get back soon on my workouts too.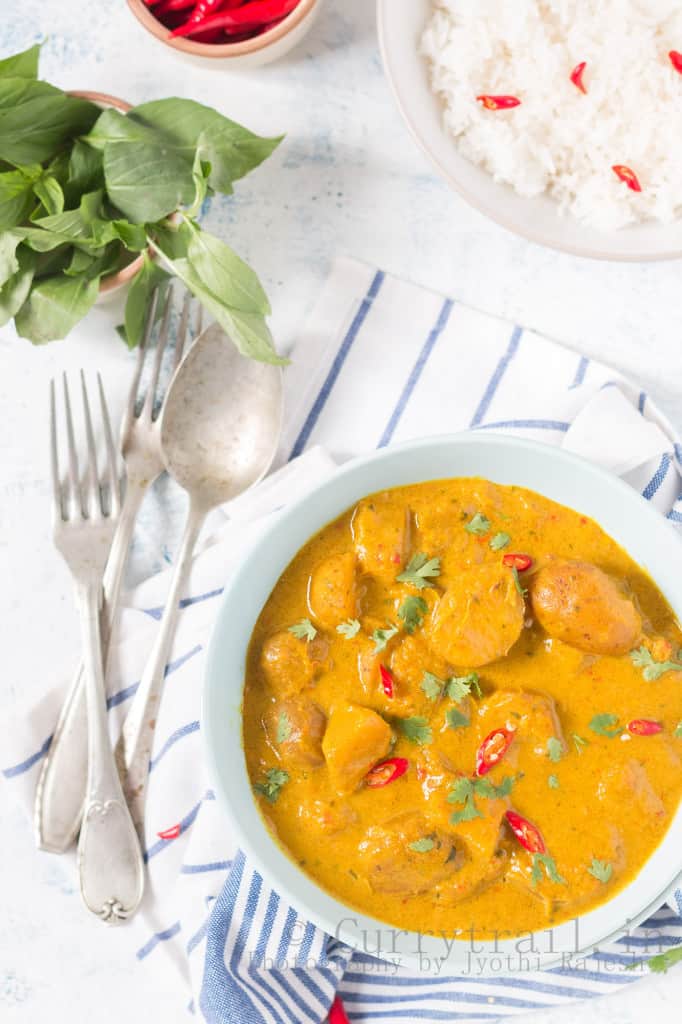 The holidays have surely turned me into one lazy bum. I slept for long hours; I cooked very little or rather most days I did not cook at all. And since kids stayed at mom's place for quite some time, the habit of sleeping for long hours and not cooking became like a habit. I survived on instant noodles, fruits and juices most of the days. And hubby ate food in office cafeteria.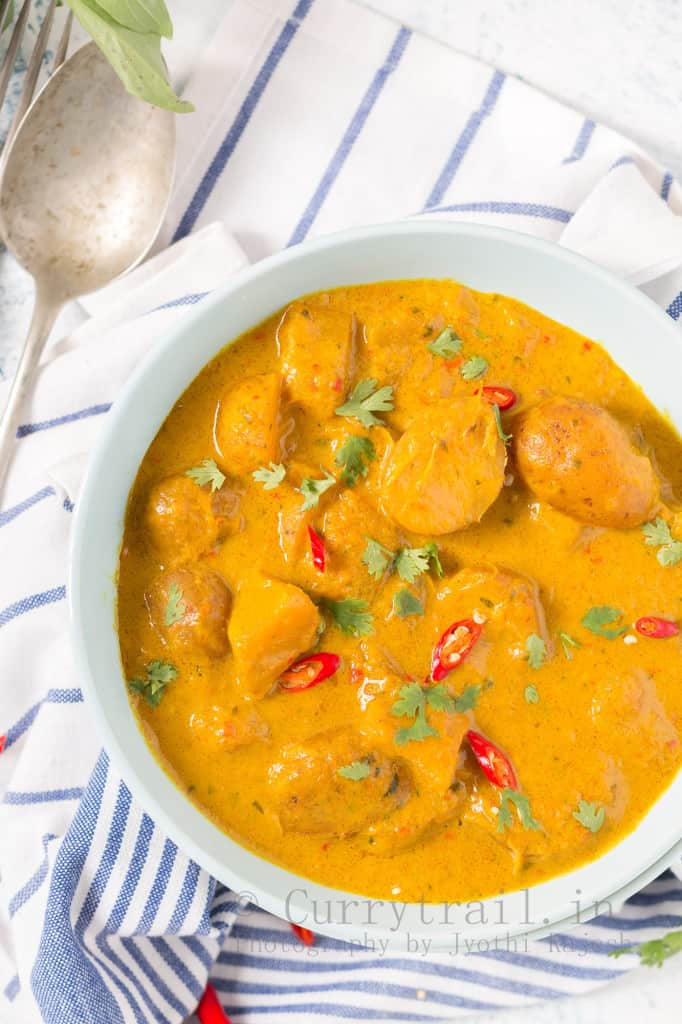 When one goes on a trip, they always make plans to take a break from everything they do as a routine, they plan to relax and sleep and eat. But after a few days of relaxation and rejuvenation, one longs to come back home, one longs to be back to routine work. And one definitely craves for some simple home cooked food. And if they "one" person is a food blogger like me, then she/he definitely will not only crave for home cooked food, but also be eagerly waiting to get back to kitchen, get back to cooking food for your loving family.
That was pretty much my situation now. Holidays were like a trip, I took a break as much as I can from everything I would usually do on day to day basis. I had also reduced the amount of cooking I did. As, I didn't have to worry about kids you see!
Now, that I am getting back to my routine work, which feels good, for now. I plan to explore a little more in terms of cooking. I have been planning to try out some Thai recipes for long time. Today I found the perfect reason to make a simple, flavor packed Thai curry with whatever vegetables I had stock.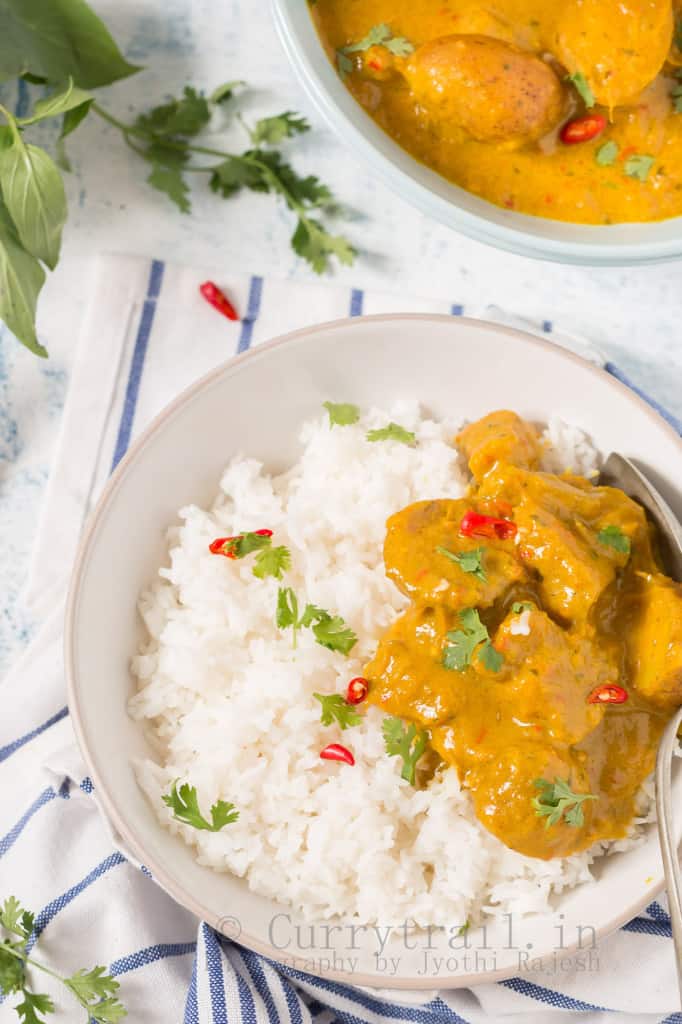 This Thai potato pumpkin curry is a yellow curry rather than the usual red Thai curries you would have tried. Read on to see how to make this Thai potato pumpkin yellow curry.
Ingredients
For Thai yellow curry Paste(slightly adapted from Pinch Of Yum)
Makes 1 small bottle (about 150 grams)
1 full bulb of garlic
3 inch ginger
3 shallots
12 to 15 small fresh red chilies(or Thai red chilies)
2 tablespoon turmeric powder
2 tablespoon coriander powder
2 tablespoon cumin powder
3 tablespoon roasted peanuts(without skin)
2 tablespoon lemon grass
1 kefir lime leaves
⅓ cup fresh coriander leaves
⅓ cup fresh Thai basil leaves
1 ½ teaspoon salt
1 tablespoon olive oil + extra
For the curry
12 number baby potatoes
¾ cup yellow pumpkin
½ cup Thai yellow curry paste
Salt to taste
1 cup coconut milk
Water as required
1 tablespoon olive oil
Method
Pre-heat the oven to 180 degree centigrade. Remove the skin on garlic, ginger and shallots. In a aluminum foil place the garlic, drizzle some olive oil and fold it to cove the garlic completely. Do the same with ginger and shallots. Place the 3 separate aluminum foil in the oven and roast them for 30 to 35 minutes.
Soak the Thai red chilies in water for about 30 minutes. If you are using fresh red chilies, you don't have to soak them.
Into a blender add the roasted garlic, ginger and shallots. Add roasted peanuts, coriander leaves, Thai basil leaves, kafir lime leaves, lemon grass, coriander powder, cumin powder, soaked (or fresh) red chilies, salt and a little olive oil. Blend into a paste. This is Thai yellow curry paste. You can store this in clean, dry, air tight container in freezer for months.
Now to make the curry, wash and chop the potatoes into half. Chop pumpkin into bite size pieces. Cook them separately in enough water with a pinch of salt. Once cooked remove and keep aside.
Heat 1 tablespoon oil in a wok. Add ½ cup of Thai yellow curry paste and cook till the raw smell is gone. It will take about 6 to 8 minutes.
Now add the cooked potatoes and pumpkin, continue to cook for 5 minutes.
Now add ¼ to ½ cup water and bring it to boil. Check for seasoning, add salt if required.
Once the curry reaches the desired consistency, add coconut milk, stir well and turn off flame in 1 to 2 minutes(on low flame).
Thai curry is ready. Garnish with fresh red chilies, coriander leaves and roasted and crushed peanuts(my peanut stock got over so I could not add it for garnish, I highly recommend you to add the roasted and crushed peanuts for garnish)
Serve hot with rice.