This best ever teriyaki sheet pan chicken recipe is a meal itself all made in one sheet pan, loaded with amazing flavors. We are talking about simple and best homemade Teriyaki sauce. This is your go-to simple, yet the most satisfying meal.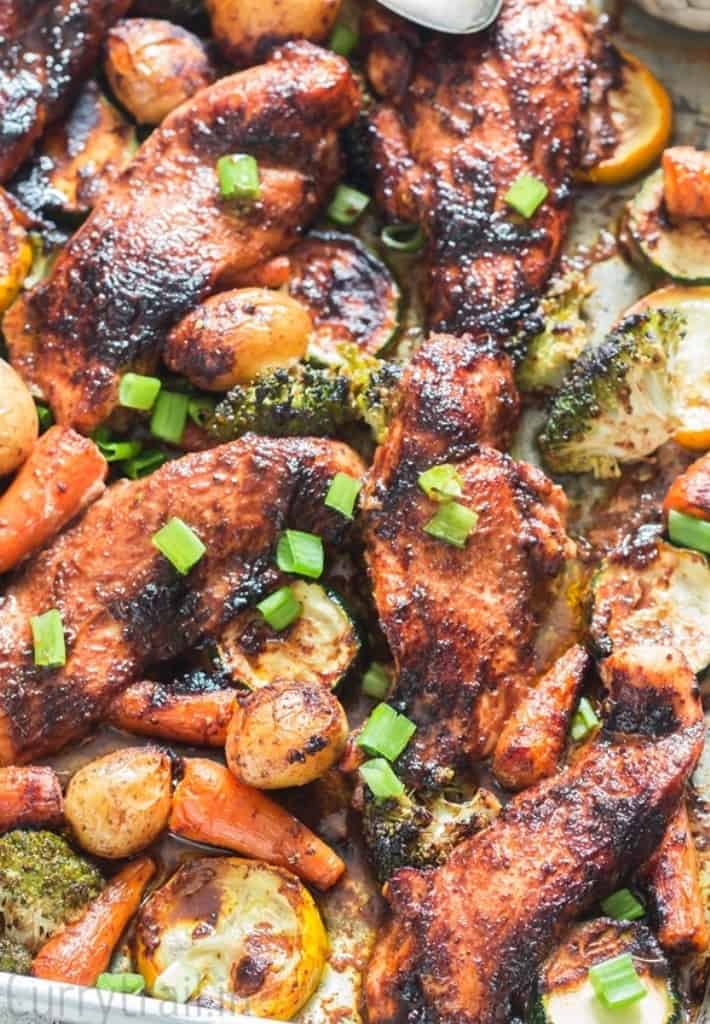 This one sheet pan teriyaki sheet pan chicken dinner is makes for a perfect easy weeknight dinner.
One pan is all you need to bake moist chicken breasts and crunchy vegetables all seasoned well with salivating homemade teriyaki sauce (drizzle some extra sauce after baking, it's magic!)
We bring to you today a perfectly balanced one pan chicken and teriyaki recipe that will become your new favorite family dinner for weeknights.
It's a fridge forage meal that can be made with all the bits and nobs in your fridge that you want to clean up/use up. And you get to clean just one pan.
You walk in home after a long day work and you wonder what dinner to cook for the hungry family! Do you relate to this? Oh yes story of my life, most days!
After a long day all I could do is cook a dinner that's fast, effortless and definitely less clean-up after cooking.  I hate the mess after cooking up a meal and more so I hate doing the dishes! I HATE IT!
If this is story of your life too then I got you guys covered, that too with one single pan. You use just one pan for cooking, and your chopping board and knife. Say hello to sheet pan meals.
If you are wondering about the Teriyaki sauce, guys don't fear. We are doing the most simple yet flavor packed teriyaki sauce and take my word, homemade teriyaki sauce is so much more better than the store bought ones.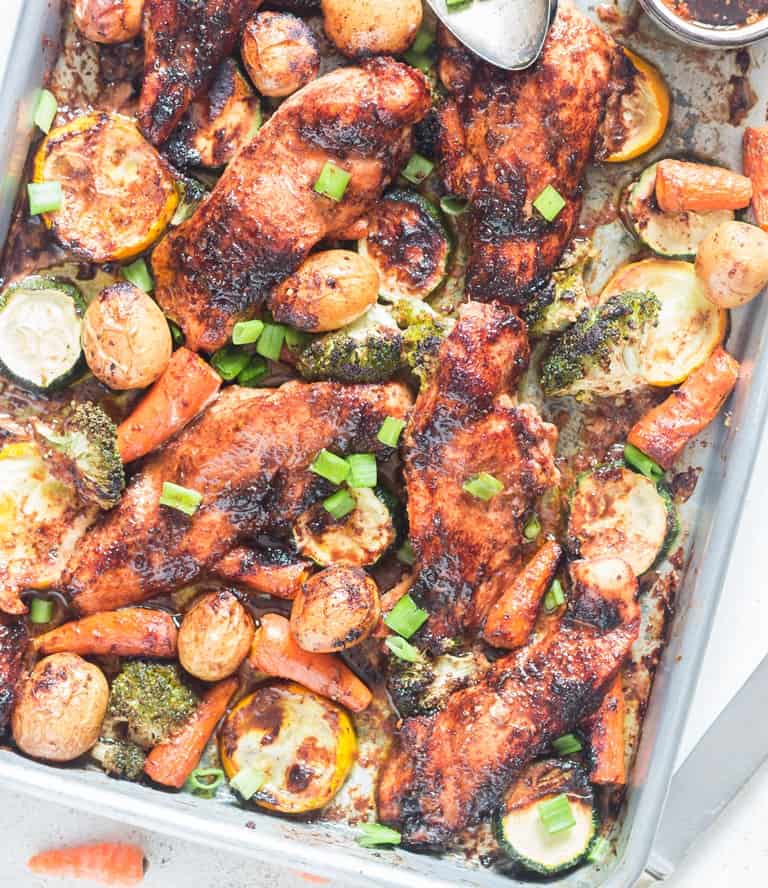 Like with everything else homemade is always the best.  So a simple homemade teriyaki sauce to do justice to this amazingly easy sheet pan chicken.
Just dump all the vegetables and chicken breasts, give a generous brushing of homemade teriyaki sauce, and bake! Since chicken breast is easy to cook it may have chances of turning dry. So watch your baking time. Do not over bake it.
Chicken thighs will work best here. But for some reason I always prefer chicken breasts. It could be that chicken breasts are so much cheaper than chicken thighs and since I'm mostly for easy and fast dinner,  chicken breasts for dinner is my pick.
You could use chicken thighs instead of breast easily, might have to watch the baking time.
Vegetables choice is entirely up to you. Like I mentioned earlier, this was fridge forage dish so I used up whatever I had in my fridge in bits and nobs. When you make a sheet pan chicken don't forget to add in few potatoes.
Chicken and potatoes are like the best things ever. Broccoli and chicken is another favorite. I've got baby potatoes, broccoli florets, baby carrots and few zucchini slices for the vegetables.
The goodness of the vegetables, flavors from the sauce and chicken for your protein. This is my number best teriyaki chicken recipe that I have ever made.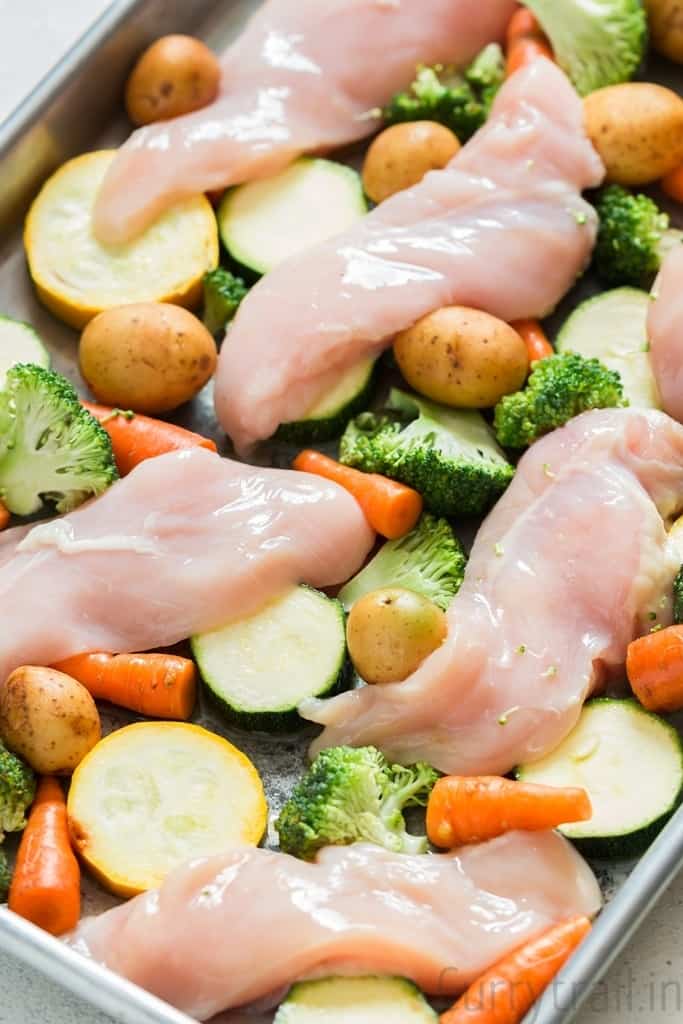 What is teriyaki sauce?
It's a Japanese sauce usually used for marinating meat and seafood for grilling. Teriyaki sauce is a mixture of soy sauce, sake, ginger, garlic and a few other flavorings.
It's used in Japanese cooking as a marinade or glaze for fish or meat dishes.
True teriyaki sauce is: Soy sauce, sugar, mirin or sake, optional ginger. A lot of homemade teriyaki sauce uses a few extra ingredients for added flavor and taste preference.
Also true Japanese mirin or sake is one ingredient that is hard to find atleast in my part of the world. So I have skipped that. If you can get your hands on true mirin or sake please use it.
How to make homemade teriyaki sauce
I won't deny, picking up a bottle of teriyaki sauce from the super market is convenient, but I say go homemade. Because homemade teriyaki sauce is sensational. It's a few more ingredients and a few more extra minutes to this chicken breast sheet pan dinner, but it's ALL WORTH it!
For one – homemade teriyaki sauce is sensational.
And two – you can whip up as much sauce as you want to. A small batch, a large batch…
A simple homemade teriyaki sauce is equal parts of light soy sauce, rice wine vinegar, brown sugar mixed with little Asian sweet chili sauce, ginger, garlic mince, lime juice, salt and little pepper.
For a little more depth of flavor I added few teaspoons of sriracha sauce. This is completely optional.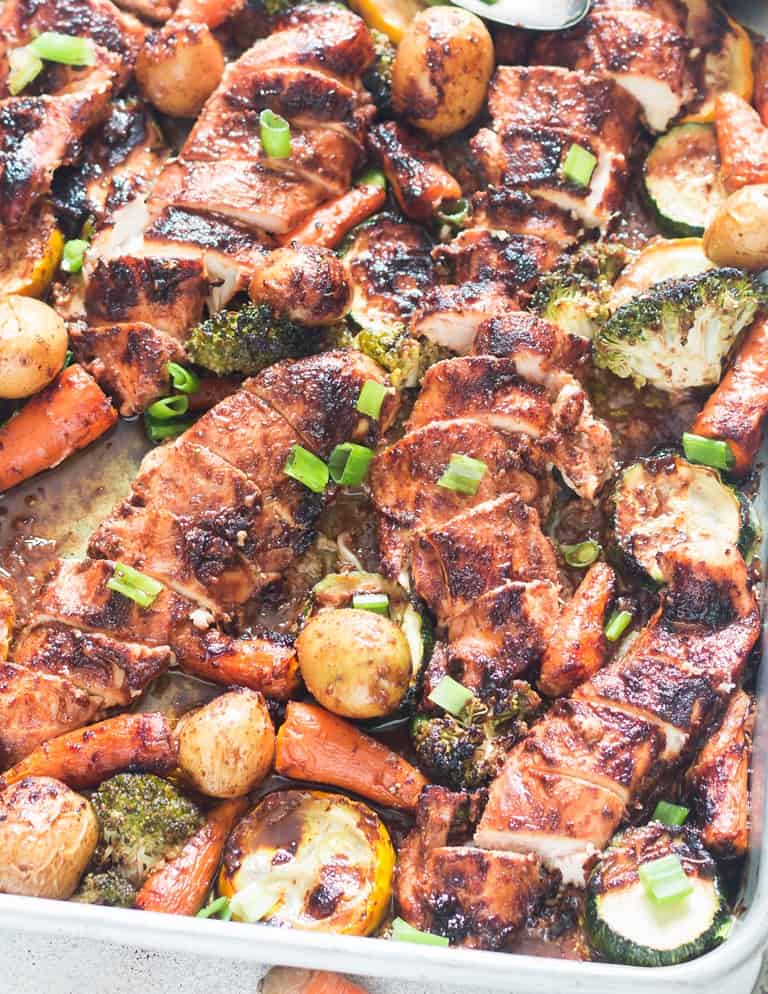 Vegetables to use for sheet pan chicken
The list of veggies that you can use in sheet pan chicken is long. Open you fridge and pick any or all vegetables from it. Because almost all vegetables will go perfectly with sheet pan chicken dinner recipe.
This is what I've used –
Baby potatoes
Broccoli
Baby carrots
Zucchini
Here's some more vegetables that can be used-
Mushrooms
Bell Peppers
Sweet potatoes
Cauliflower
Cherry tomatoes
And more…..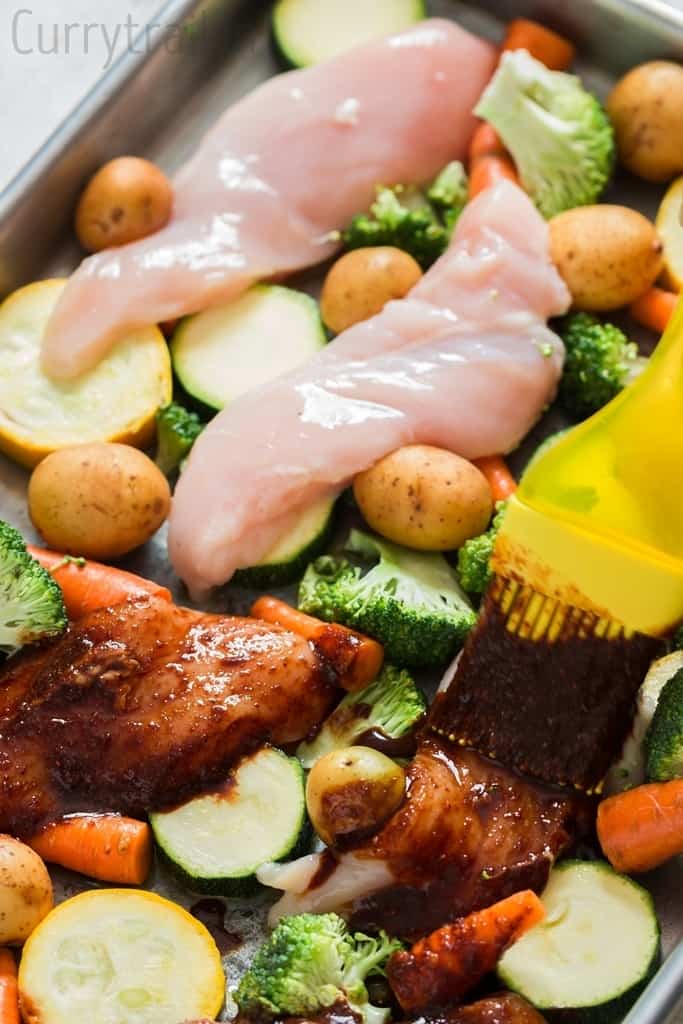 How to make teriyaki sheet pan chicken
To make teriyaki sheet pan chicken, first whisk all the ingredients to make homemade teriyaki sauce. Put all ingredients for the sauce in a small bottle with air tight container and mix it all together.
I use a container for the sauce, as I always make a batch of this terrific teriyaki sauce and keep it in fridge.  It's a life savior during meal preps.
Got few frozen meat balls, thaw and cook them in this terrific teriyaki sauce and serve it over rice. Salmon for dinner – yes! And what could be better way to cook salmon than with teriyaki sauce! Teriyaki sauce is a keeper.
Spray some olive oil over the sheet pan and roast baby potatoes for 10-12 minutes before adding in the chicken breasts and other vegetables so everything cooks at the same time.
Dump rest of the vegetables, chicken breasts onto sheet pan. Give a generous brush of teriyaki sauce over the chicken breasts on both sides. Coat the vegetables too with it.
Sprinkle salt, pepper powder and drizzle olive oil over.
Bake.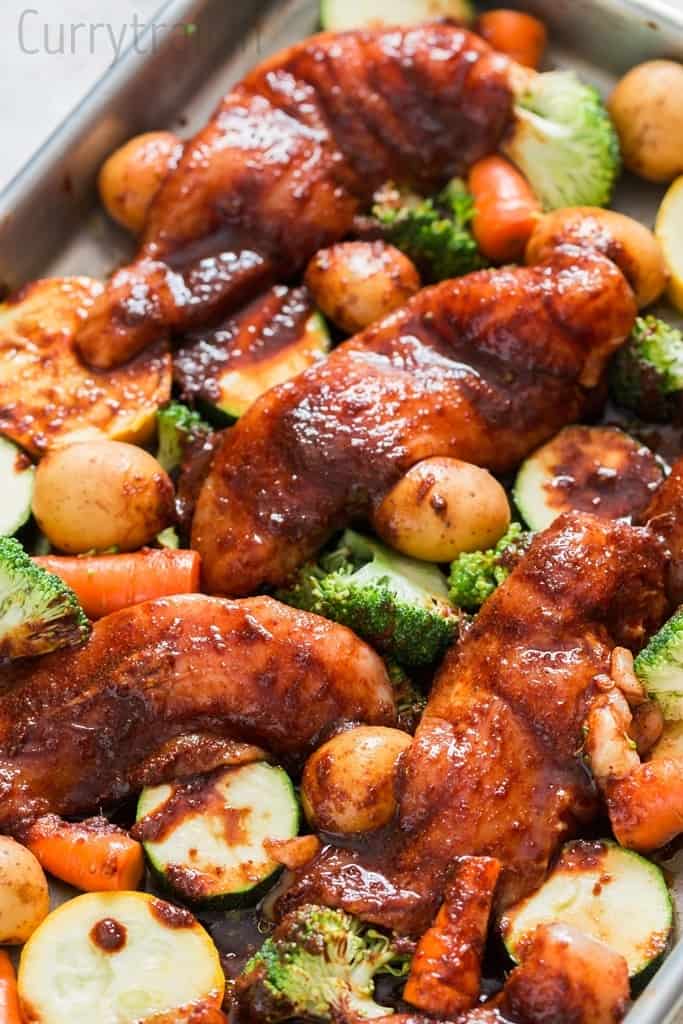 Chicken and vegetable suck up all the delicious flavors of the teriyaki sauce and come out juicy hot bursting with Asian flavors.
Soon the sheet pan chicken comes out of the over, give good drizzle of teriyaki sauce thickened with corn starch cooked for few minutes.  Not just enhances the flavors of the roasted chicken and veggies, but gives a beautiful glaze too.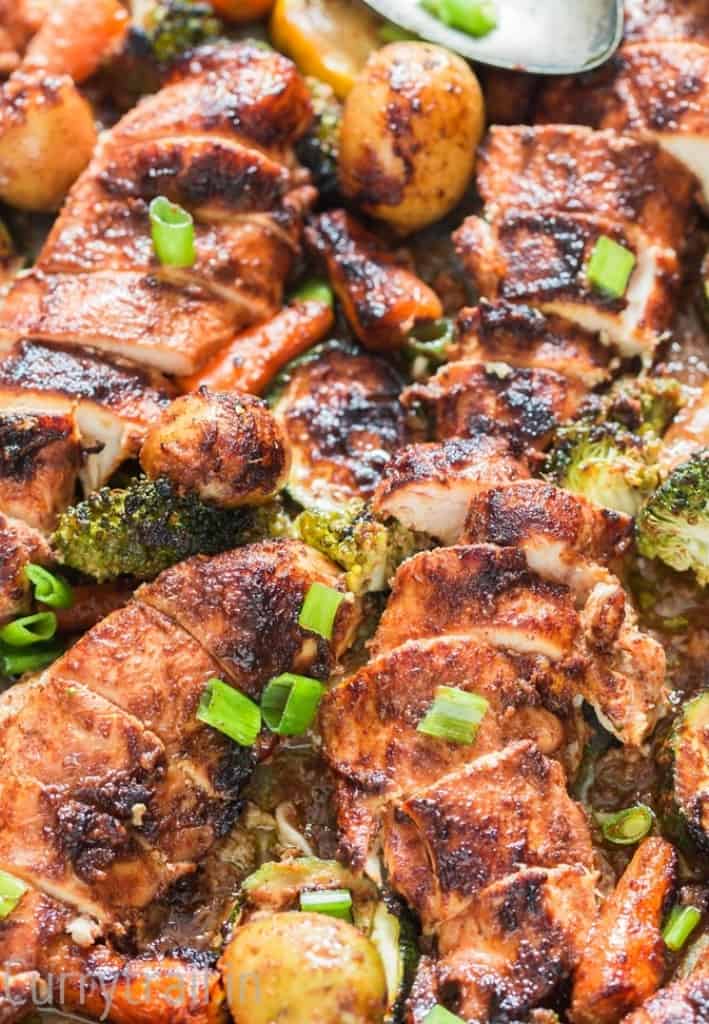 More easy Asian dinner ideas:
15 minutes chicken and broccoli stir fry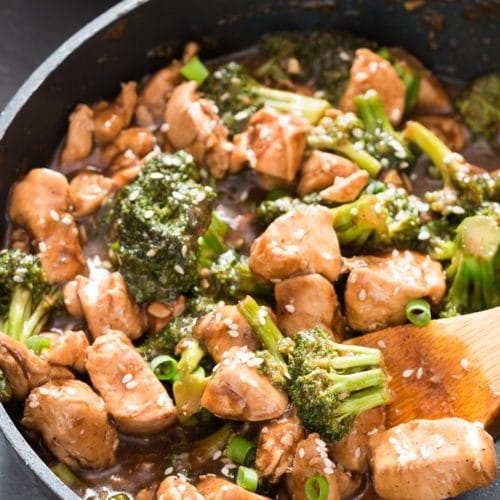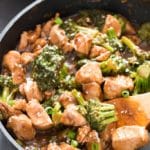 15 minutes shrimp pad Thai noodles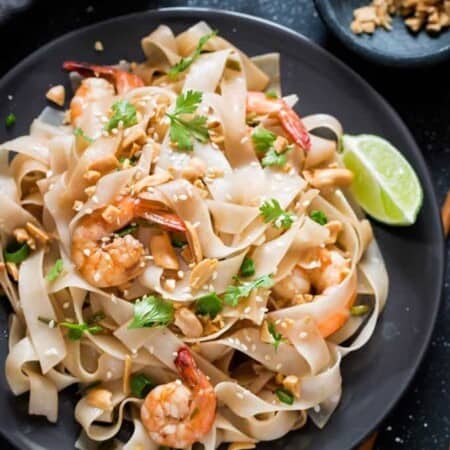 Cantonese chicken with mushrooms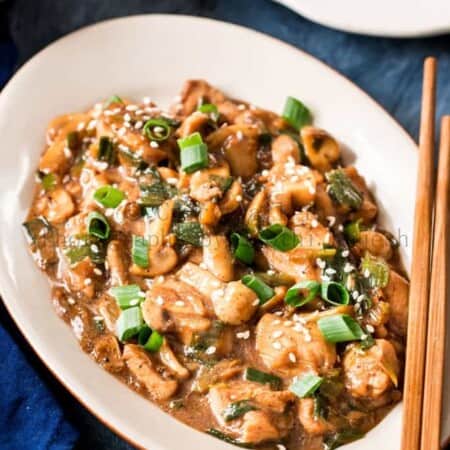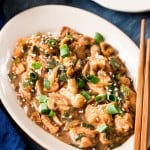 LOVE THIS RECIPE? KEEP IN TOUCH AND DON'T MISS OUT ON ANY OF CURRYTRAIL RECIPES! FOLLOW ME ON INSTAGRAM, PINTEREST, FACEBOOK, TWITTER.
HAVE YOU TRIED ONE OF MY RECIPES? I'D LOVE TO SEE WHAT YOU'VE MADE! TAKE A PICTURE AND USE THE HASHTAG #CURRYTRAIL ON INSTAGRAM SO I CAN SEE! I'LL DO A HAPPY DANCE IF YOU TRY MY RECIPE AND SHARE IT WITH US!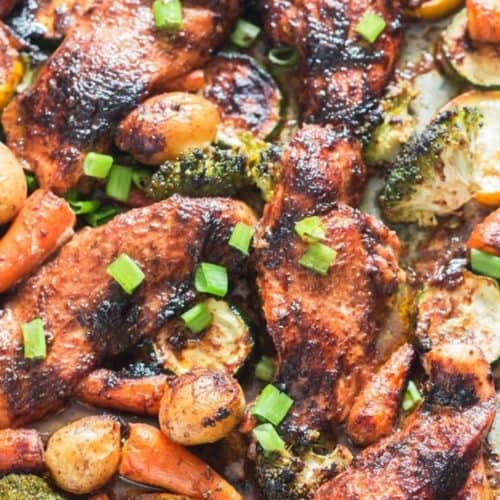 Teriyaki Sheet Pan Chicken Recipe
This one sheet pan teriyaki sheet pan chicken dinner is makes for a perfect easy weeknight dinner. One pan is all you need to bake moist chicken breasts and crunchy vegetables all seasoned well with salivating homemade teriyaki sauce (drizzle some extra sauce after baking, it's magic!)
Ingredients
2 chicken breasts
10-12 baby potatoes
⅓ cup baby carrots
1 small broccoli head
1 cup together green and yellow zucchini sliced
3 tablespoon olive oil
Salt to taste
Black pepper powder to taste
Extra – ½ teaspoon Corn starch
For homemade Teriyaki Sauce
½ cup low sodium light soy sauce
½ cup brown sugar
¼ cup rice wine vinegar
¼ cup sweet chili sauce
2 tablespoon sriracha optional
1 teaspoon black pepper
½ teaspoon salt
1 tablespoon minced garlic
1 tablespoon minced ginger
Instructions
Whisk together all the ingredients for homemade teriyaki sauce in small container. Keep aside.

Preheat oven to 400 F. Spray olive oil on baking sheet pan. Add baby potatoes, flavor with little salt and black pepper powder and bake for 10 minutes.

Add rest of the vegetables to the sheet pan along with chicken breasts sliced into half length-wise. Brush homemade teriyaki sauce on both sides of chicken breasts. Drizzle remaining sauce over the vegetables and mix it all up to ensure even coating of the flavorful teriyaki sauce.

Pop the sheet pan chicken and veggies into the oven and bake for another 15 minutes or until the chicken is cooked through and juices run out. Cooking time may vary depending on how big your chicken pieces are and on your oven.

While the sheet pan chicken is getting ready for dinner, you can simmer ½ cup teriyaki sauce whisked with ½ teaspoon corn starch stirring often until it slightly thickens. Use this to drizzle over the chicken once cooked.

Remove sheet pan from the oven and drizzle with extra teriyaki sauce if desired. Serve as it is for low carb dinner. For added carbs serve this teriyaki sheet pan chicken with rice or quinoa for healthy alternative.
Notes
1. If the chicken does not get cooked in 15 minutes, remove the roasted vegetables from the sheet pan and pop the chicken bake into the oven and cook further for few extra minutes. This will ensure chicken properly cooked and preventing the vegetables from turning dry due over roasting.
2. Avoid the temptation to use teriyaki sauce from the bottle picked from super market. Make you own homemade teriyaki sauce. The little extra time you put in is totally worth it!
Nutrition
Serving: 0gCarbohydrates: 0gProtein: 0gFat: 0gSaturated Fat: 0gPolyunsaturated Fat: 0gMonounsaturated Fat: 0gTrans Fat: 0gCholesterol: 0mgSodium: 0mgPotassium: 0mgFiber: 0gSugar: 0gVitamin A: 0IUVitamin C: 0mgCalcium: 0mgIron: 0mg