Tandoori chicken is one of the most delicious spicy chicken according to me. The flavors and spices that go in a tandoori dish are vast. Not to forget the amount of time that is required to preparing the tandoori spice mix – roast all the spices, blend them! If you get a suddenly craving for tandoori chicken then this fresh DelMonte's Tandoori Mayonnaise comes to rescue. Simply add the Mayonnaise to chicken to enhance it's flavors and give you that wonderful tandoori taste.  It is sure to refresh your taste buds.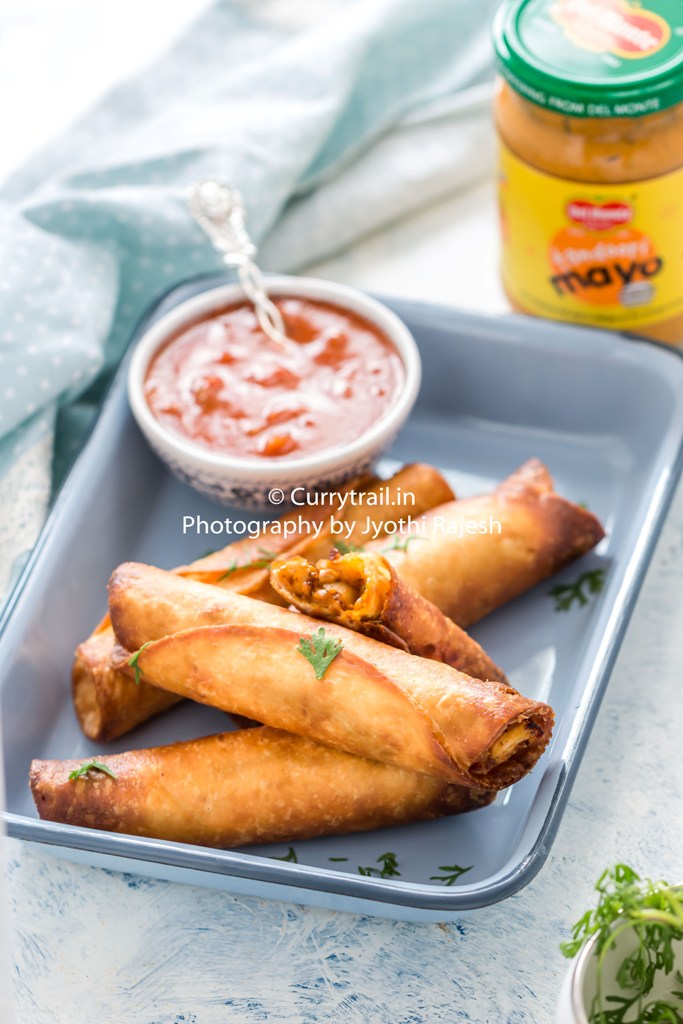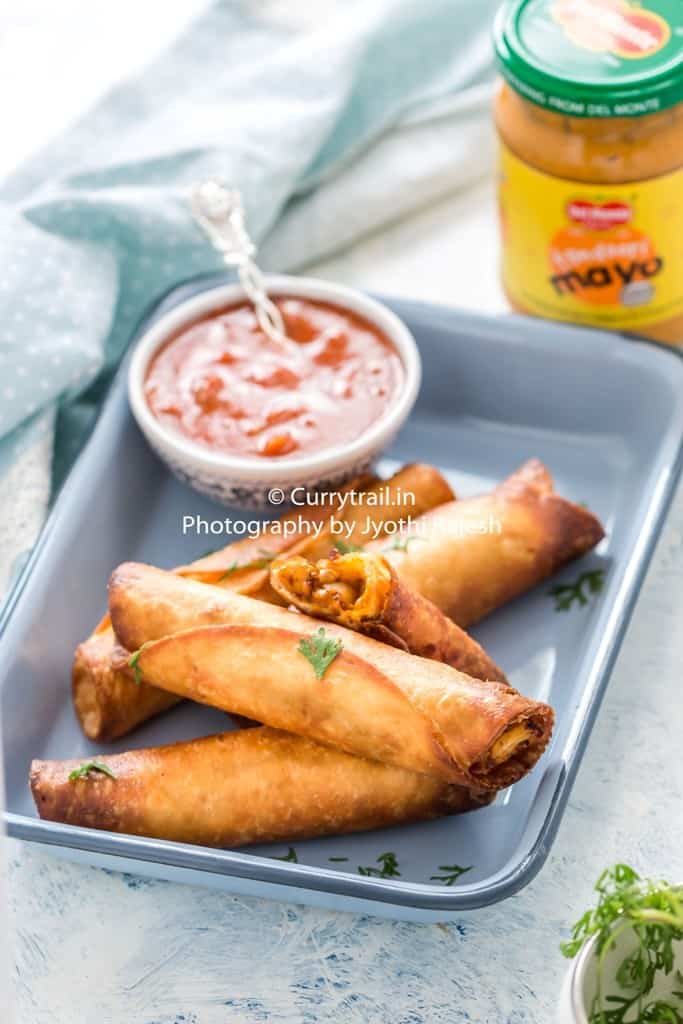 Using the amazing DelMonte tandoori in grilled chicken, stuffed them inside the tortilla, and deep fried them. Within few minutes you have you tandoori flavored chicken ready within minutes. Delicious flavor packed chicken mix inside, with crunchy wraps outside is best served as appetizers in any party, or even as main course. This is one of the most delicious finger foods that you would need to get started on any party. Impress your guests with this surprise inside cigars!  The surprise is the tandoori flavored mayonnaise. Hosting a party or get-together got even more interesting with these delicious and unique party appetizer. If you are someone who is bored of serving the same dish over and over again for every party, then this recipe is just for you. And the best part, you don't have to spend elaborate time in the kitchen while having a party, just make these delicious and awesome tandoori mayonnaise chicken cigars!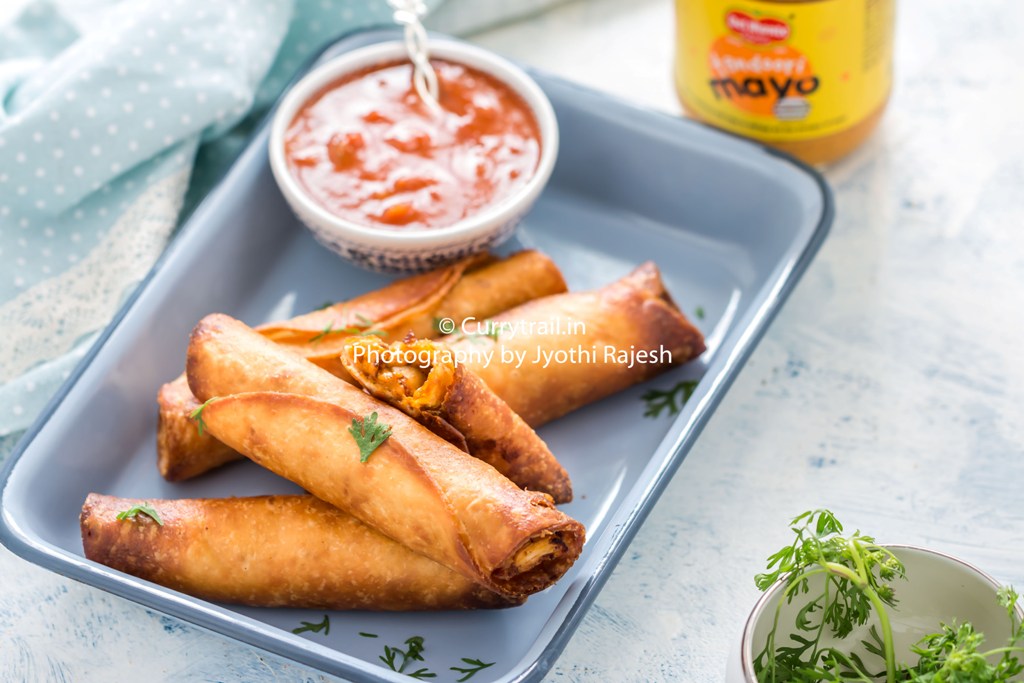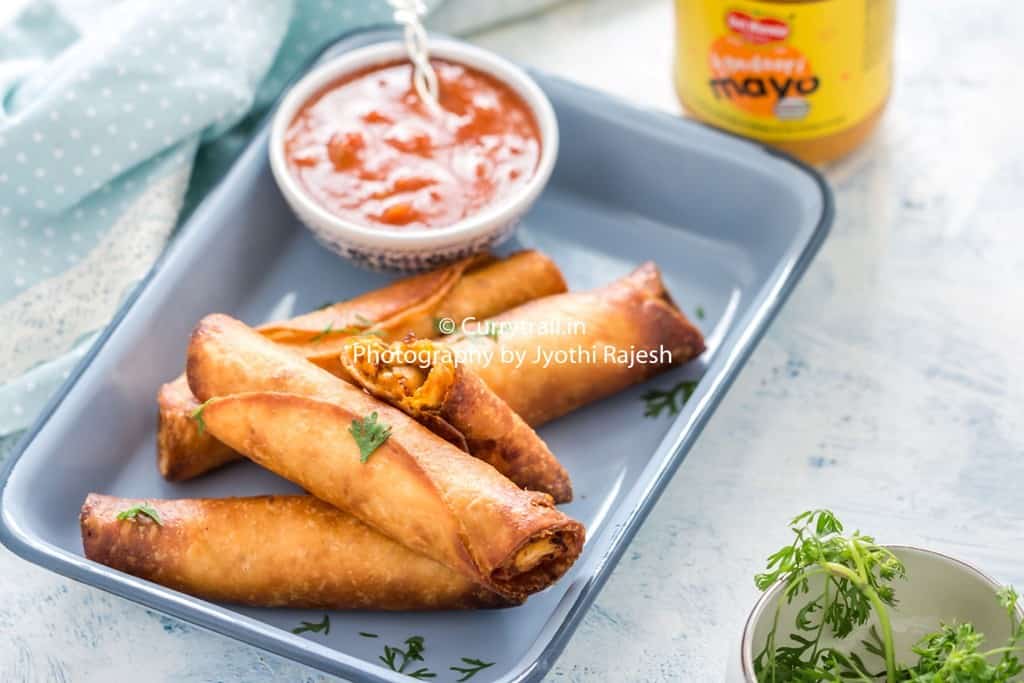 Ingredients
250 grams boneless chicken
4 tablespoon DelMonte Tandoori Mayonnaise
Salt to taste
1 teaspoon pepper powder
5 to 6 tortillas
1 tablespoon corn starch
Oil for deep frying
Method
Clean and wash chicken well. Sprinkle salt and pepper powder over the chicken. Grease the aluminum foil lined on baking tray with olive oil or butter. Roast the chicken in oven for about 15 to 20 minutes at 170 degree centigrade. Chicken has to be cooked(not over cooked). Remove the chicken from oven, and cut them into small pieces.
Add corn starch to water and mix well to remove all lumps and make a paste. Keep aside.
Place a tortilla on the floor, scoop a tablespoon full of roasted chicken pieces on one side of the tortilla.
Drizzle a good amount of DelMonte Tandoori Mayonnaise over the chicken. Apply the corn starch paste all over the edges. Start folding the tortillas and make a cigar shaped wrap. Make sure to seal the edges really well, if not the chicken will fall out of the wrap while frying. Repeat the same for all the wraps.
Heat oil for deep frying. Once oil turns hot, drop few cigars into hot oil and fry on medium heat until golden brown on all sides. Remove from oil and drain it on kitchen paper.
Serve it hot immediately with spicy marinara sauce.
Disclosure – This post is sponsored by DelMonte India for using their mayonnaise products in my recipe, but all opinions expressed here are of my own.