This dish is a fusion between Italian and Indian cuisine. Tandoori chicken made with tandoori mayo rolled in Indian roti is one of the delicious rolls that anybody will love. Simple, easy, healthy, delicious!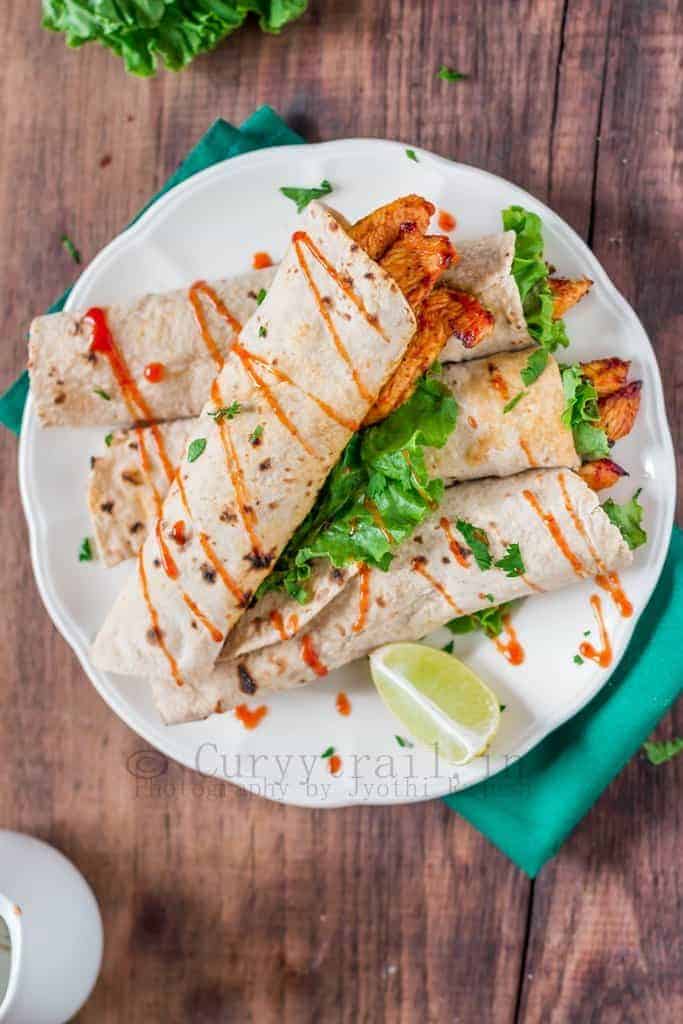 Fusion food does really work! Trust me! If you are someone who hates fusion food(and I doubt there are hardly anyone who hates fusion, or are they?) I really think you need re look into this whole thing of 'fusion food'. Fusion is nothing but introduction your home flavours into a cuisine that is new to you, that is foreign. When you can Indianise a food, then it's definitely a "go". We are ready to experiment and experience different fusion food.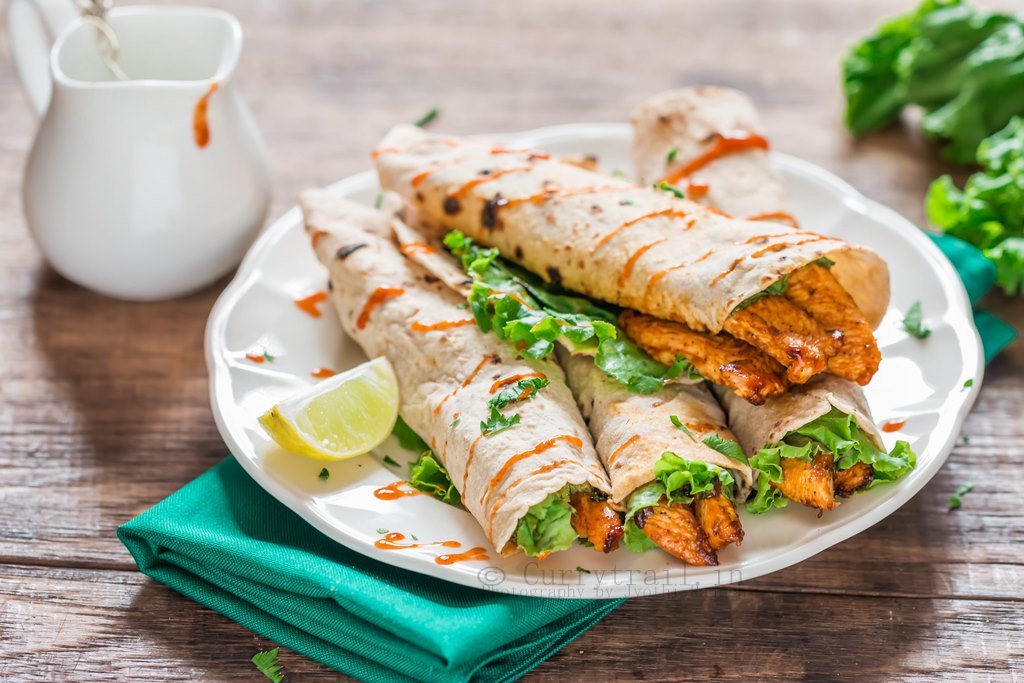 Though I would not deny that some of the fusion food may be a utter disaster and it could only mean that "leave the original food be it, don't ruin it". Yeah some of the foods just can't be Indianised and we need to appreciate the original cuisine and respect it. Now am I saying that creating a fusion food is a sin? That means you are disrespecting the original cuisine? No, not at all. According to me it means we want to celebrate that cuisine in a bigger way, in a way known to our palate.
Taquito is a Italian wrap made using tortillas. Meat that is seasoned well and baked in oven is wrapped in a tortilla and served with green salad. Italian cheese like Parmesan is of-course added to the meat which is baked and shredded. I tried a fusion dish by using whole wheat roti for wrap and using tandoori seasoning to the meat. Get wonderful tandoori flavor with the best tandoori mayo, and I bet on Delmonte Tandoori Mayo any time , easily. One of my favorite mayo which goes well in seasoning the meat to get that tandoori taste. Since I wanted it light I skipped the cheese, you can very well add Parmesan if you wish.
Serves – 2
Preparation time – 5 minutes
Cooking time – 20 minutes
Ingredients
200 grams chicken breast
5 tablespoons of Delmonte tandoori mayo
4 whole wheat roti
Juice of half lime
1 teaspoon pepper powder
Salt to taste
Lettuce leaves a few
Method
Wash chicken breast and pat dry in a kitchen towel. Cut into thin strips. Add salt and pepper powder and Delmonte tandoori mayo to marinate the chicken and let it side for 15 minutes in fridge.
Heat oven at 170 degree centigrade. Place the chicken strips on a baking tray lined with aluminium foil. Bake in oven for about 7 minutes on one side, then flip them and bake the other side for about 7 to 9 minutes. Remove from oven once cooked.
Place a few lettuce leaves on a roti. Place the tandoori chicken pieces, roll it tight.
Serve immediately.