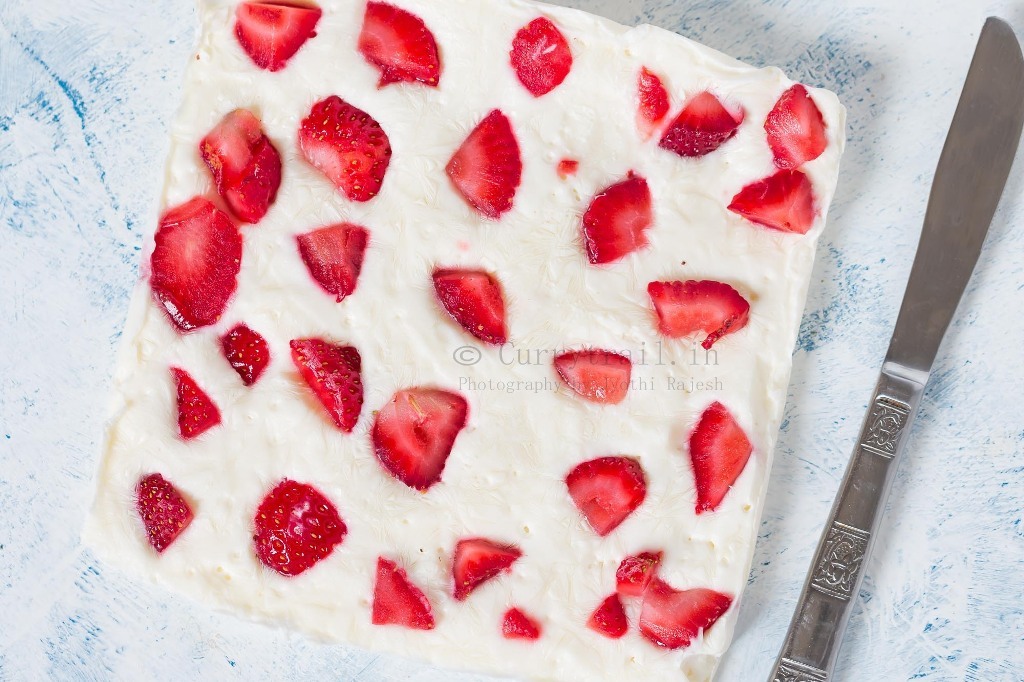 Why wasn't there "yogurt" "snacks" until my adult life? As kids we never got to taste yogurt snacks. It would be safe to say we didn't know there were snacks made of yogurt those days! After school snacks would mostly be home made delicacies, that our mom, grand mom made for generations.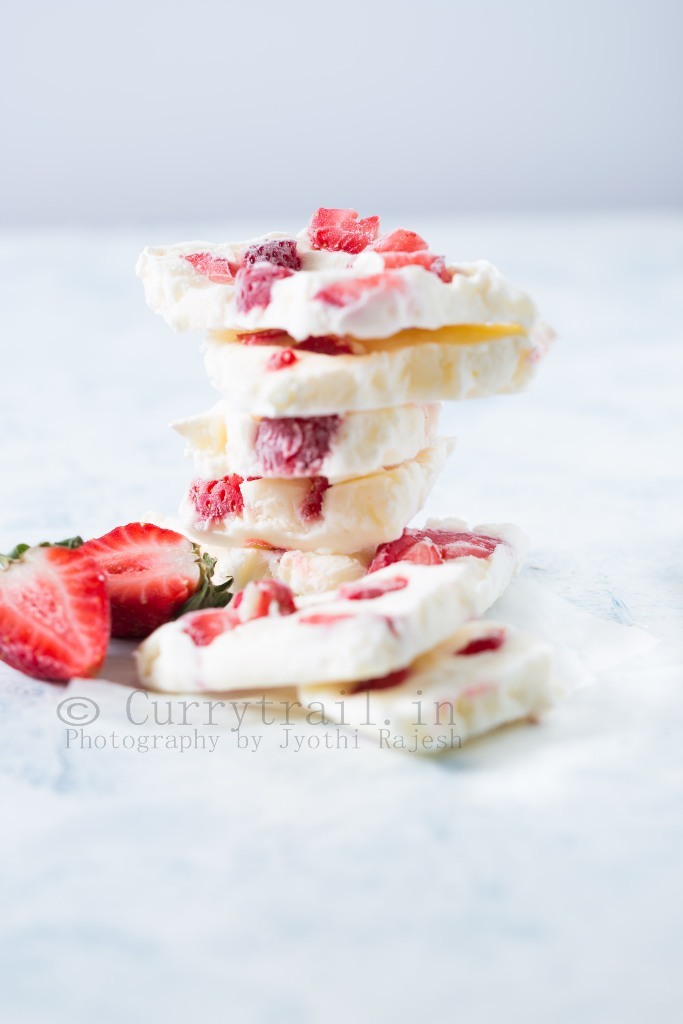 During school days, the most soothing sound used to be the school bell. Oh how I used to long for the school bell to ring. That boring period felt never ending for whole life until the school bell rang to free us from the torture. That afternoon last period, or the period just before PT, and that 8th period –those were the toughest one. Either I was too hungry waiting for lunch time, or I was very excited about the Play Time, or I just used to feel the day was too long and I had enough of it, when I just wanted to get out of the school. Those times, the sound of school bell was the most soothing sound that I would love to hear.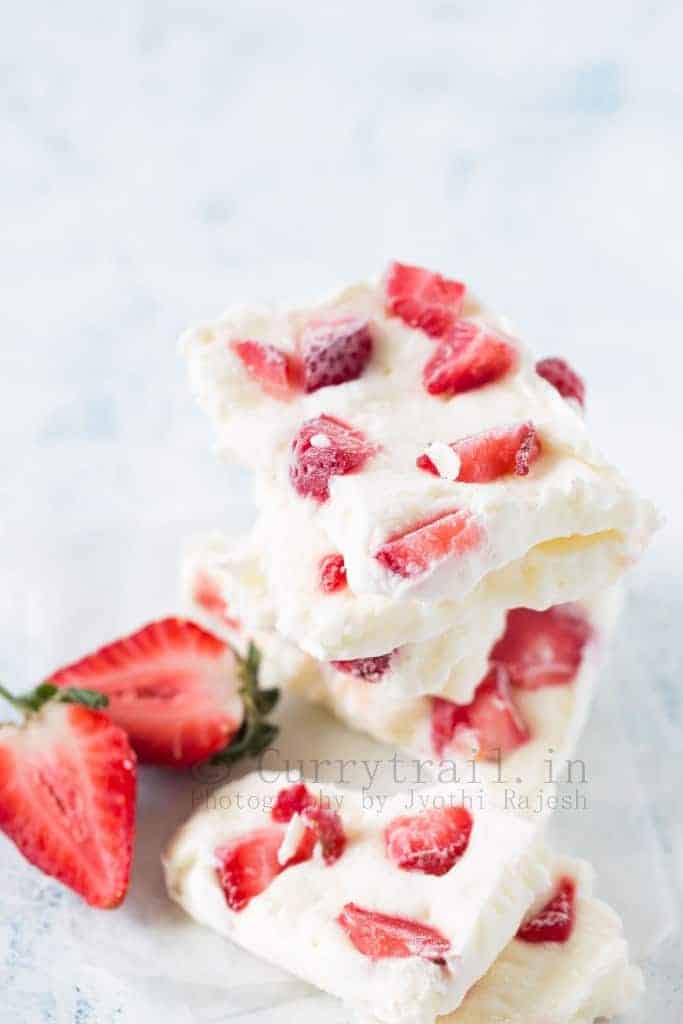 The school bell rings one last time signaling us that we are finally free! Not just the children inside the school get busy packing their bags and picking all their stuffs, the vendors outside the school compound wall also get ready for a rush of orders. As I walked to the bus, the sight of colorful berries, some of them which were soaked in salt-chili powder, the cut raw mango pieces with a good smear of red chili powder with salt, star fruit, imli golis(tamarind balls), boiled and roasted peanuts, bor(Indian jujube soaked in salt, that we called borams), inevitably all these items were definitely there, as these were most enjoyed snacks. We sure did like our sour treats.
There were days when dad used to give me 10 paise pocket money. The days my pocket felt rich, I would definitely get my hands on these delicious snacks. My most favorite were the borams. We used to get a hand full of it for 2 paise those days. I was just happy I had more coins, or money to feast on some more delicious treats. I used to buy some more snacks to satisfy myself, and some days I would just save the coins for one another day for some more berries, and corns and candies. Sigh, those simple days were the most beautiful days of my life.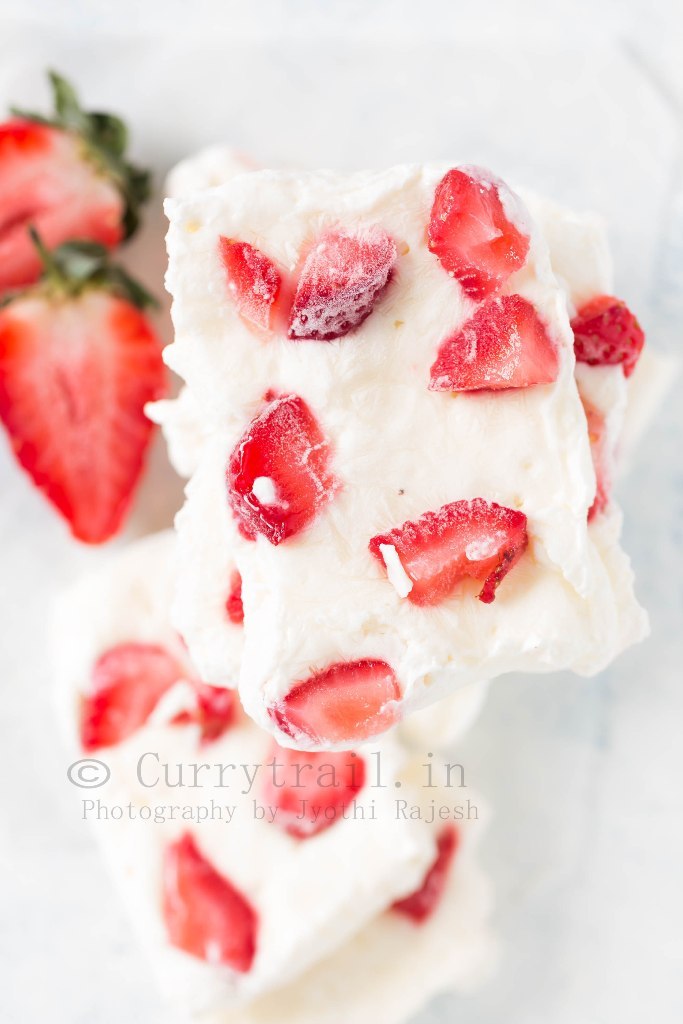 These days, when my kids come back from school, they go for yogurt, noodles, pastas for their after school snack. Only few years back I came to know about yogurt snacks, the fruit yogurts. And since I gained the food blogger status, I have been discovering more yogurt dishes. Those days all we knew and used yogurt(or curd as we call it locally) is curd rice and buttermilk. 😀
A few days back I came across this very interesting snack/dessert (you decide which category it falls under) using yogurt and berries from here. I bookmarked to try it soon I get my hands on strawberries. This dish is a no-brainer dish. You just whisk yogurt, add chopped berries and pop it in freezer. It's a great after school snacks for your kids or even better to serve it as dessert during a party. If serving as dessert I recommend you to add a little sugar to the yogurt and then whisk it.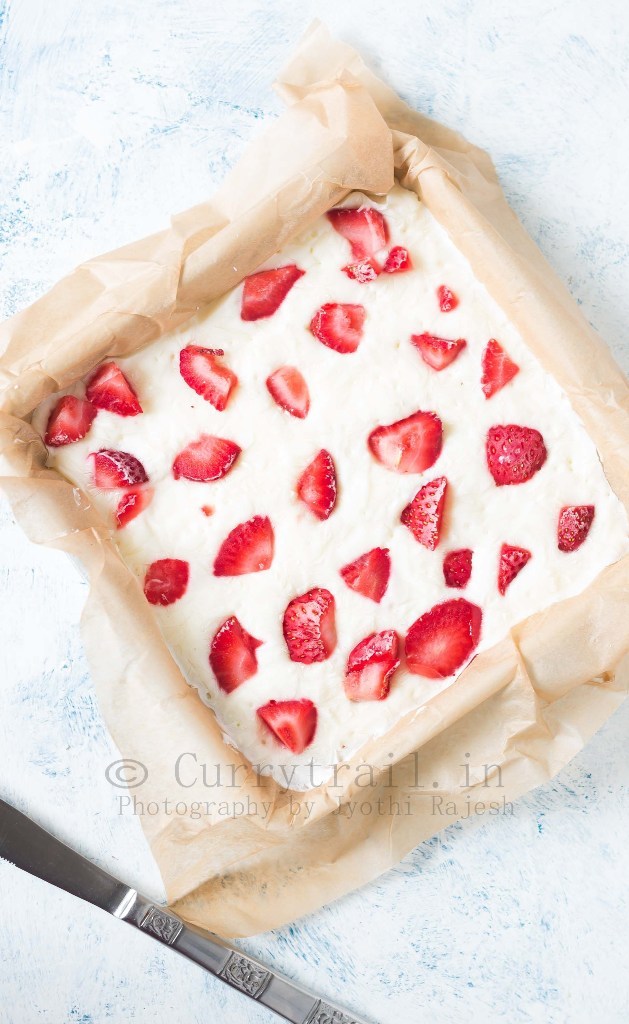 Ingredients
2 cups thick yogurt( or you could use hung curd)
1 cup strawberries(use any berries)
1 ½ tablespoon sugar (optional)
Method
Whisk yogurt well. Add sugar and whisk again.
Line a tray with baking paper.
Pour the whisked yogurt into it.
Add chopped strawberries on top.
Cover and freezer it until set.
Once set, chop/break into small pieces and serve immediately. Yogurt melts soon these are out of freezer, so the best way to be eaten is right away!