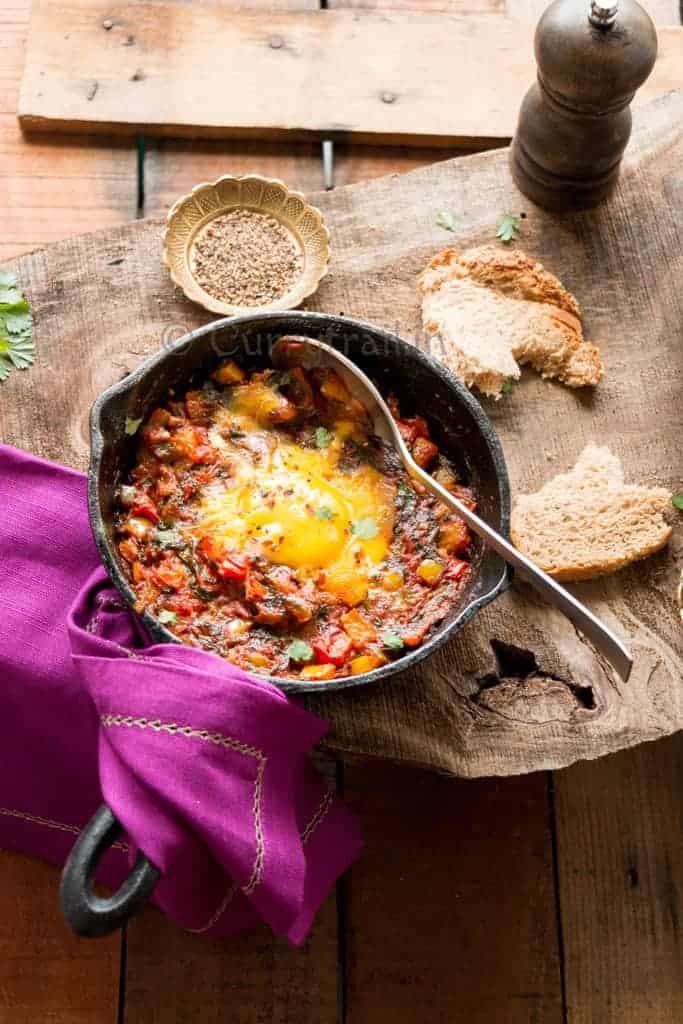 Until somewhat recently I wasn't sure of what Shakshuka is! Shakshuka is a tomato-based Middle Eastern breakfast dish. It's basically tomatoes cooked on their own juices, along with onions, peppers, herbs and spices. And then it is topped with eggs and cooked as per personal preference. The word Shakshuka means "mixed" or "mixture", and it is believed to originate from a typical ratatouille. Although various versions abound, the most widely known Shakshuka involves eggs softly cooked in a hot skillet of spiced tomato sauce.
A few months back I got introduced to this somewhat mysterious and funny named dish "Shakshuka"(Sometimes it sounds like someone sneezed :D. Does it sound the same to you as well? :P)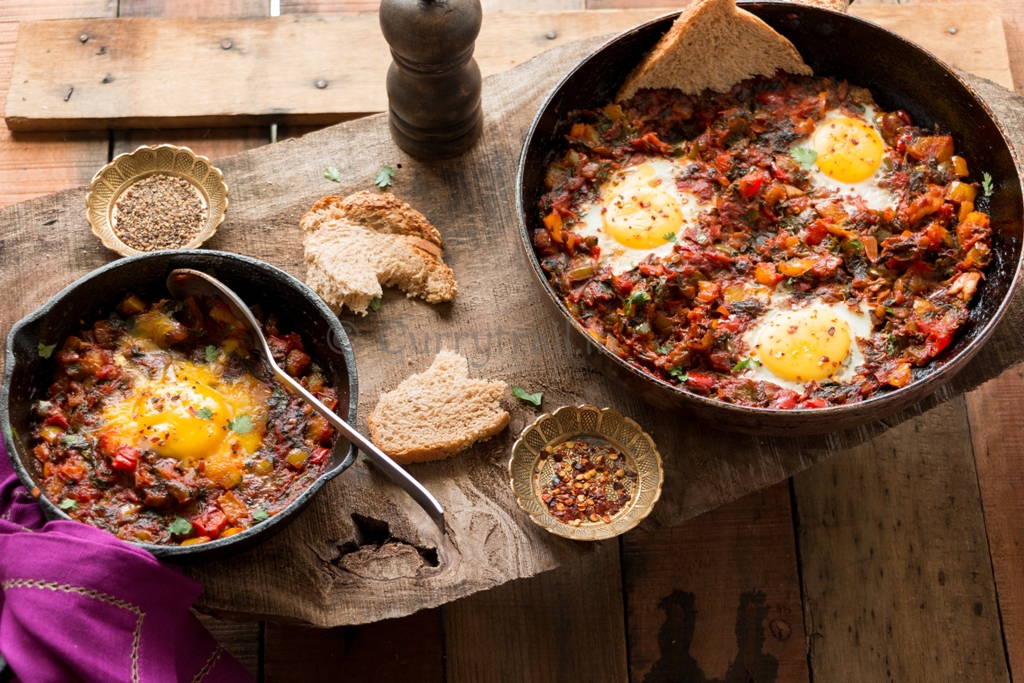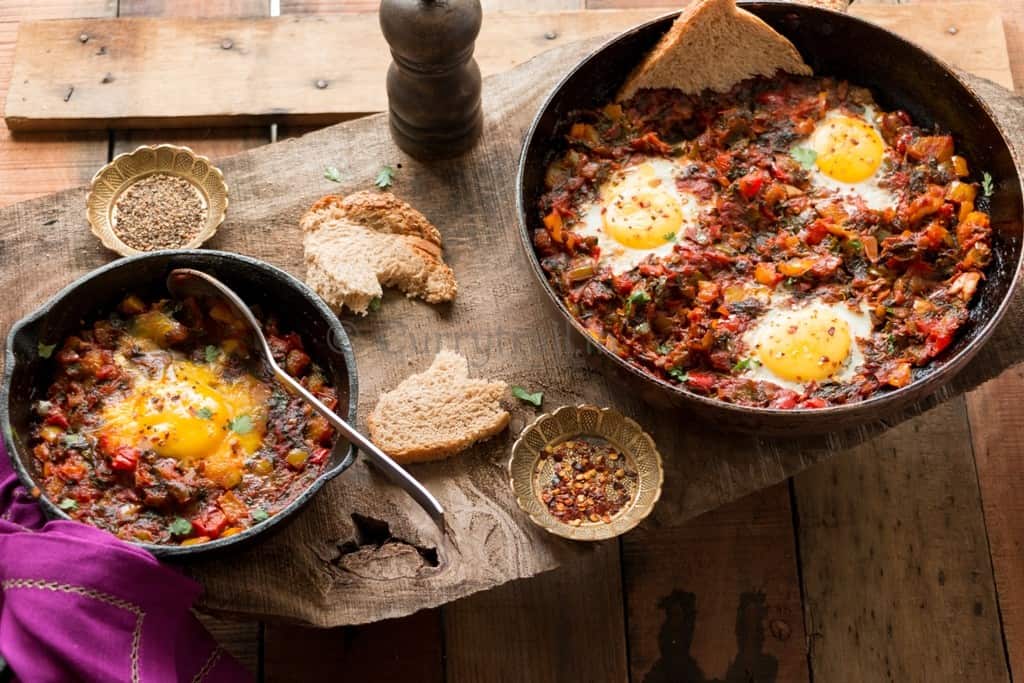 If you are crazy about tomatoes and like anything tomatoes, then this would be the dish for you. If you absolutely hate tomatoes, sorry there is no alternative to tomatoes in this dish! There are some versions of Shakshuka without tomatoes, but they wouldn't be the traditional dish! If you still going to ask me about the options, here you go – Shashuka with spinach and feta, or maybe shashuka which is made of spinach red bell peppers! Do try the suggested variations of Shakshuka recipe at your own risk, as I have not tried it!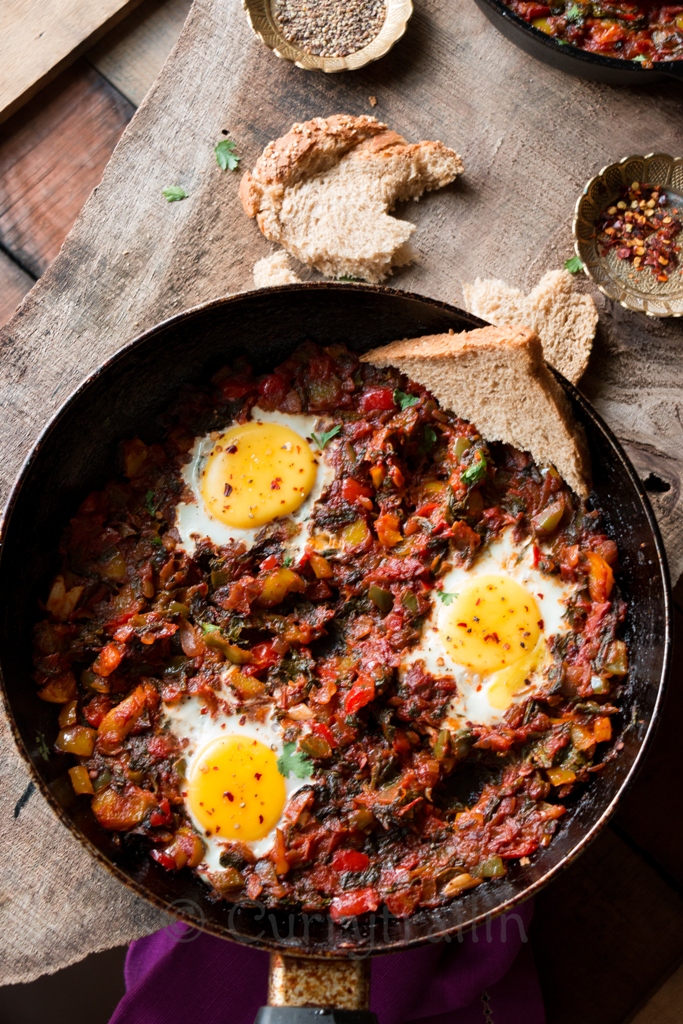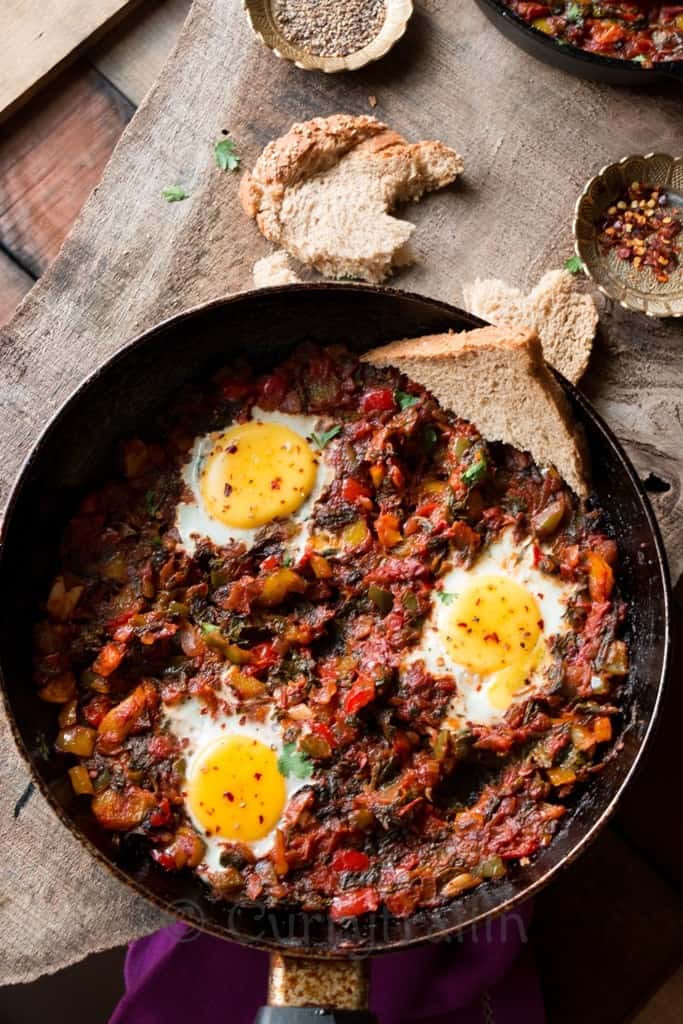 The dish sounds and looks complicated, but you will be surprised how simple it is to prepare. Personally I love Shakshuka as a brunch meal more than breakfast. In every part of the world cooking method peppers used and the way Shakshuka is served varies. A warm pita bread, or a loaf of fresh bread, or Challah.
Bread is dipped in the scrumptious sauce. You'll have a delicious combination of herb filled tomato sauce with the richness of the poached eggs. You can even eat this by the spoonful. To get a rich flavor and taste you can even add some feta cheese over the eggs while cooking!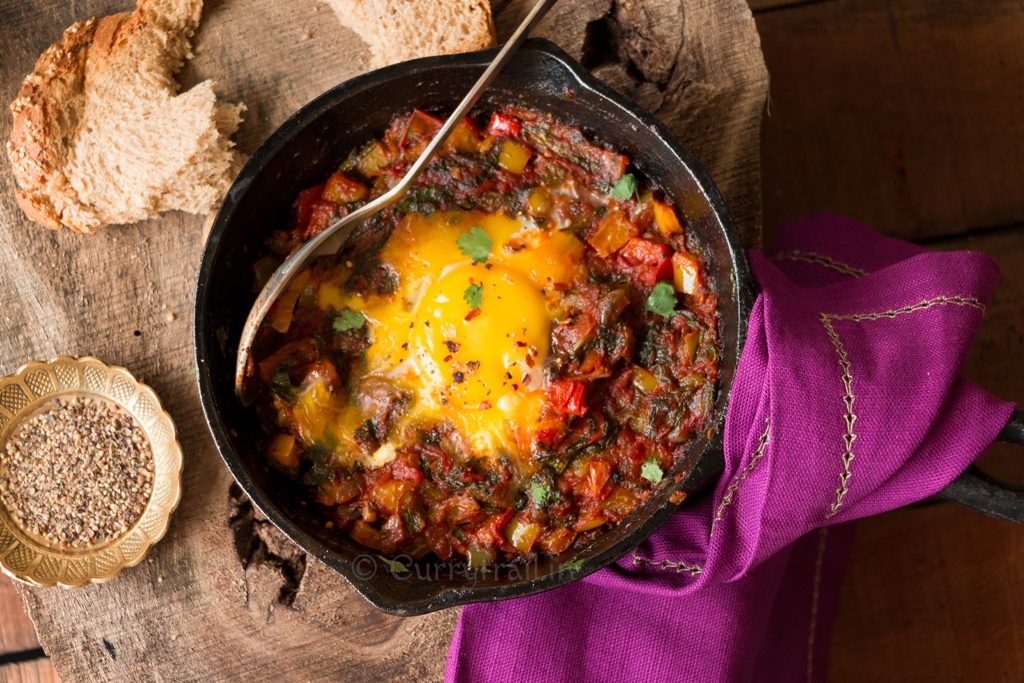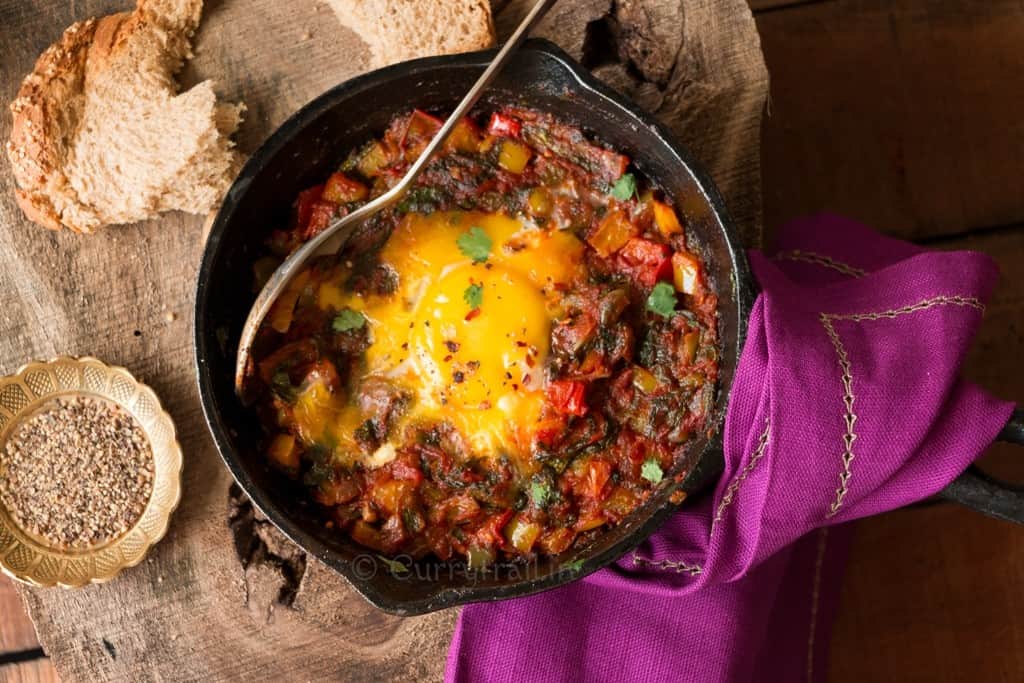 Here's my version of spinach Shakshuka
Ingredients
3 cloves garlic
1 large onion
1 cup capsicum(mixture of red, green and yellow capsicum)
1 tablespoon cayenne pepper/Kashmiri red chili powder
1 tablespoon cumin powder
½ tablespoon black pepper powder
Salt to taste
½ cup homemade tomato paste
2 large tomatoes
1 cup tightly packed spinach(palak leaves)
3 eggs
2 tablespoon olive oil
For garnish
Dried red chili flakes
Fresh coriander leaves
Instructions
1. Heat olive oil in a wide pan. Add crushed garlic and onions, saute until onions turn translucent.
2. Add chopped capsicum and cook for a minute.
3. Add cayenne pepper, cumin powder, salt, pepper powder mix well.
4. Next add chopped tomatoes and tomato paste, mix well until all ingredients are blend to gather. Cook until tomatoes become mushy and smashed.
5. Add finally chopped spinach leaves and cook for about 3 to 5 minutes until they are soft.
6. Once all ingredients are cooked, Make little wells in the sauce and break the eggs into these, and simmer for 8 – 10 minutes until cooked.
7. The eggs are ready when the whites are firm and cooked and the egg yolks are soft.
8. When done serve them hot with warm pita breads, a loaf of fresh bread, or Challah. Serve it for breakfast or for brunch. Enjoy!