Hey there! Been a while we interacted right? Sorry about that! I have been enjoying family time pass few days including the weekend.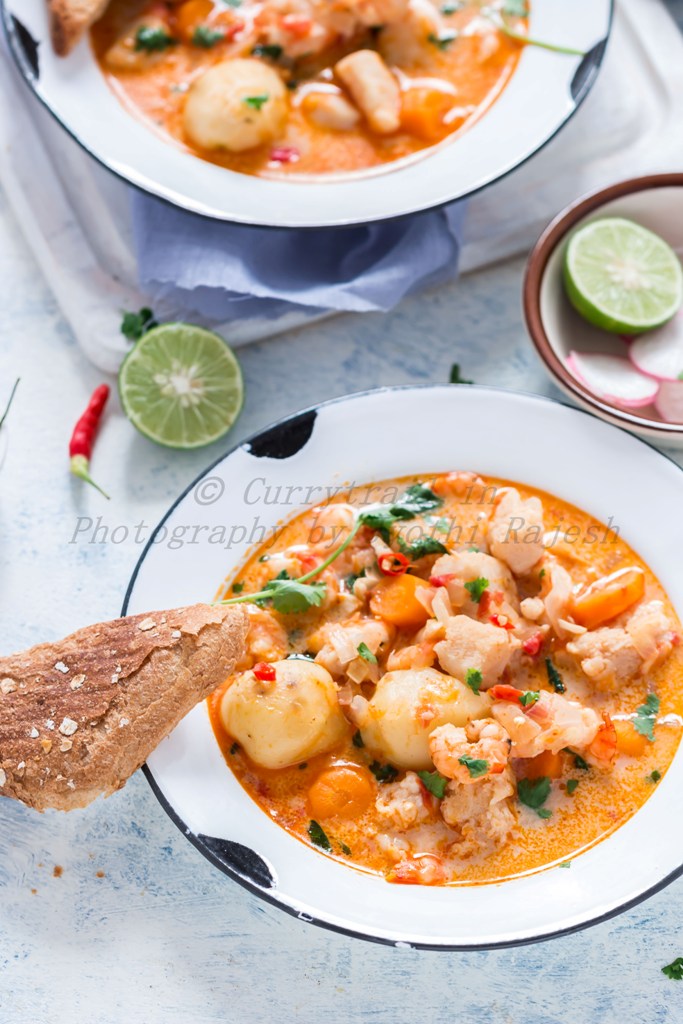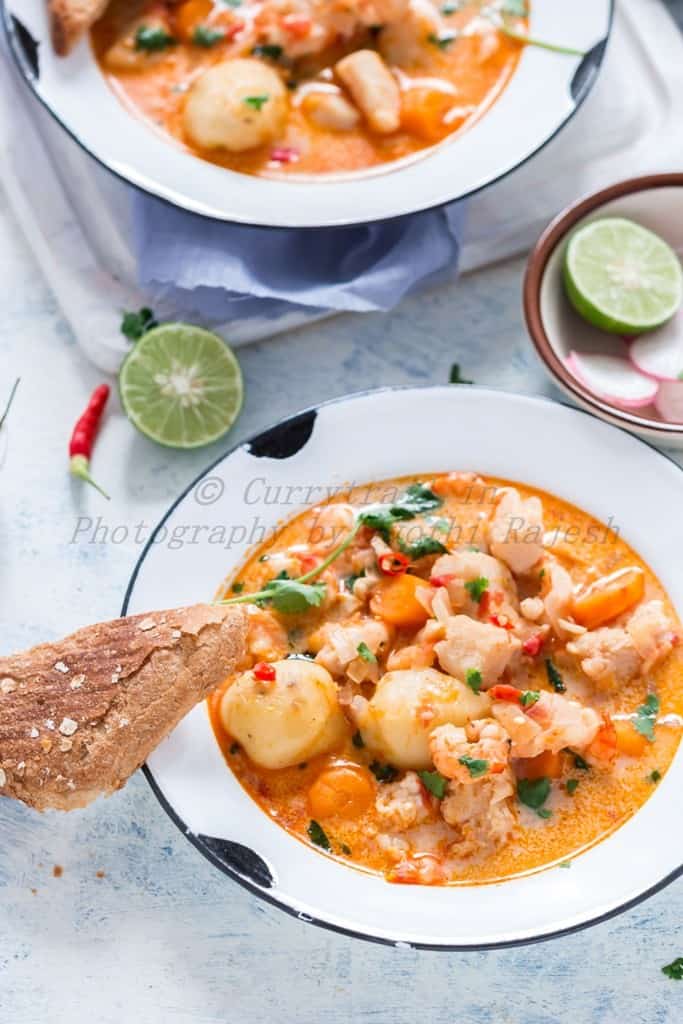 This weekend was amazing. Actually the fun started a little early. Got a chance to catch up with one of my best friend on Friday and we decided to go to movies. Though the movie we watched wasn't that great, L I did have a good time chatting with P after the movies. A cup of South Indian coffee, and loads to chit-chat it sure was a good evening.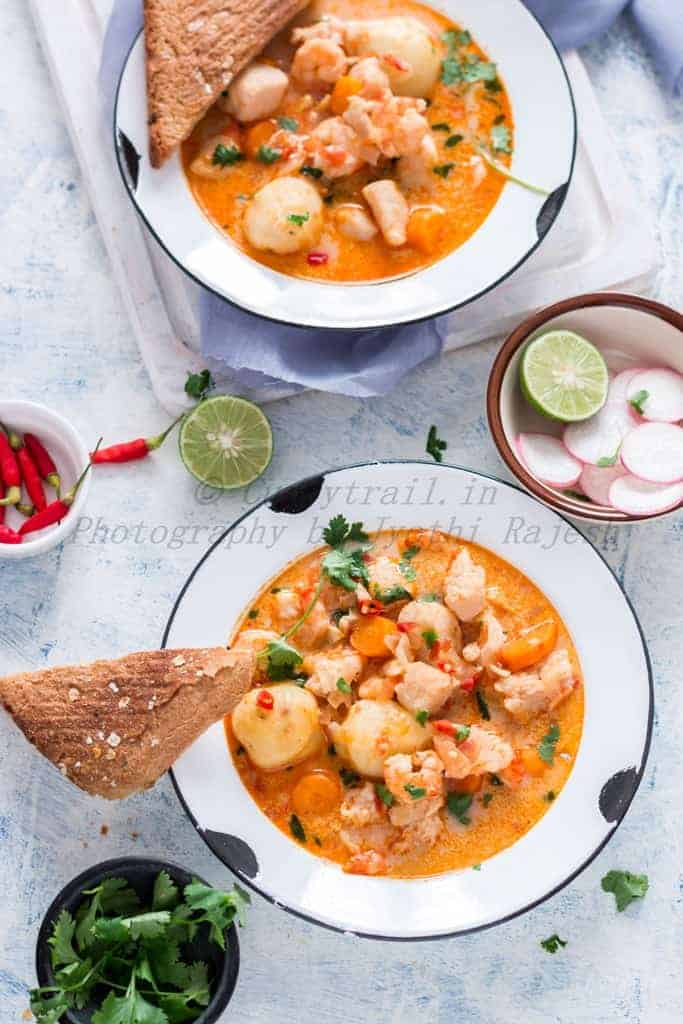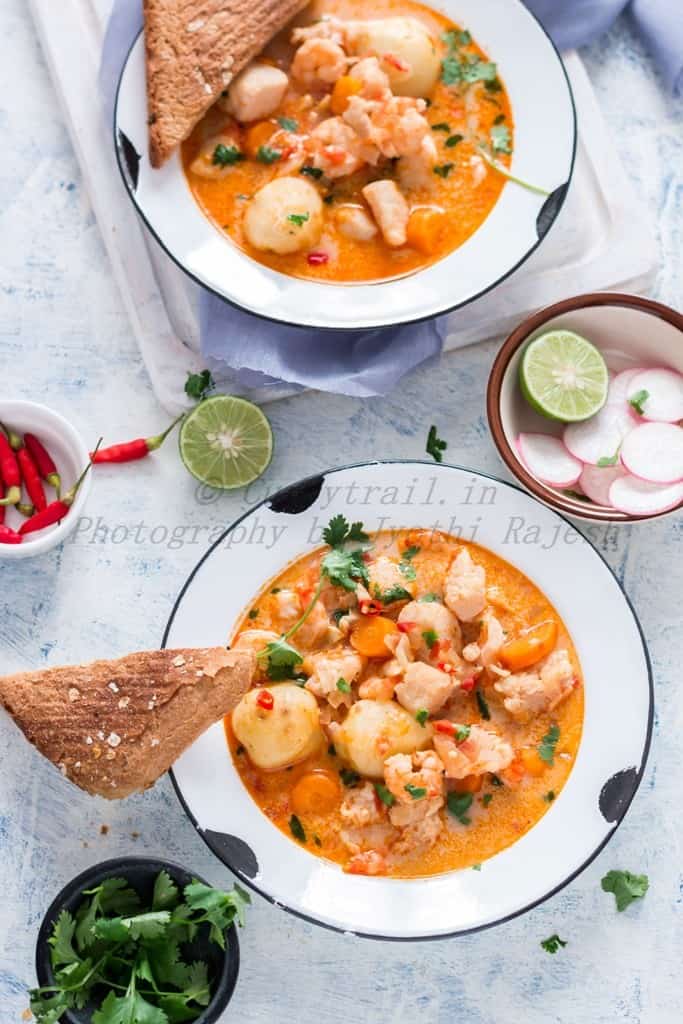 We also had invited friends over to our place on the weekend. Thanks to all the renovation work, which kept us from inviting anybody home for the past 8-9 months. We finally had a chance to have all at home and the evening was well spent. Loads of home cooked food, awesome company, happy good times it was!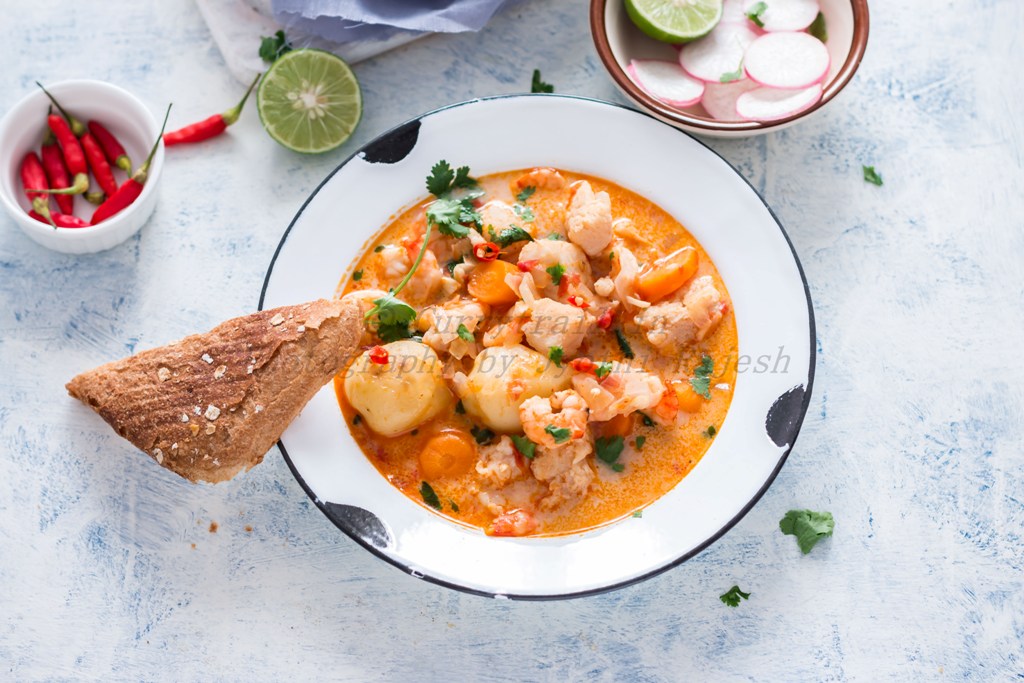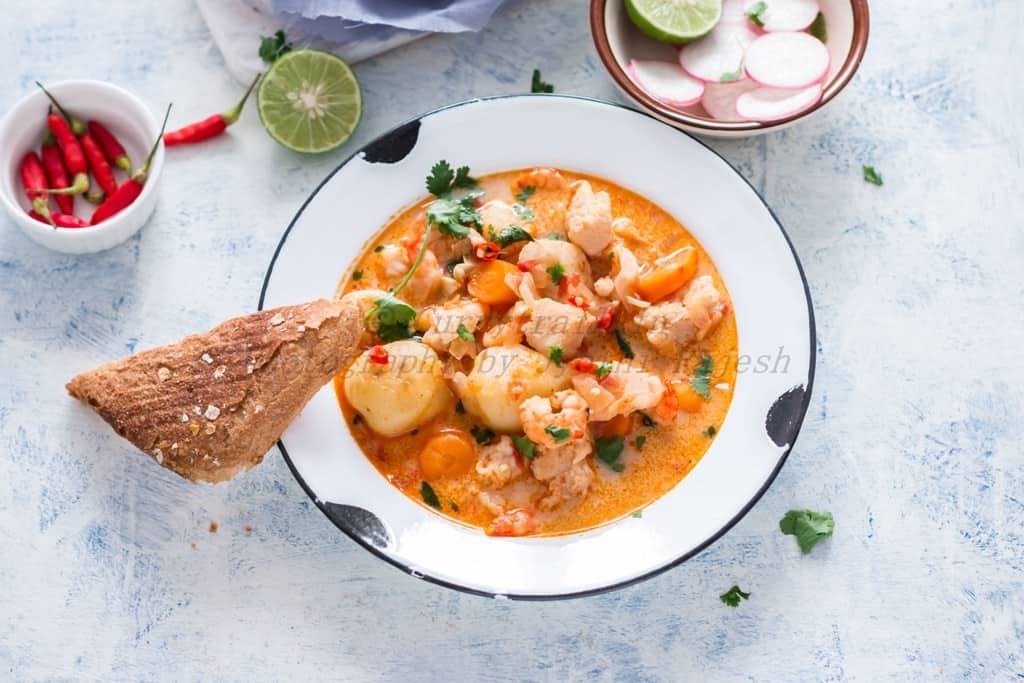 Diya also had her friend stay over for the first time and it was so much fun. We all fun things with the girls, ordered pizza, drank a lot of coke and ate noodles for snacks. Life is full of fun around kids 😀
Now back to today's post, which I think I must make to put us all back on track. A healthy spicy seafood stew casserole with loads of flavors.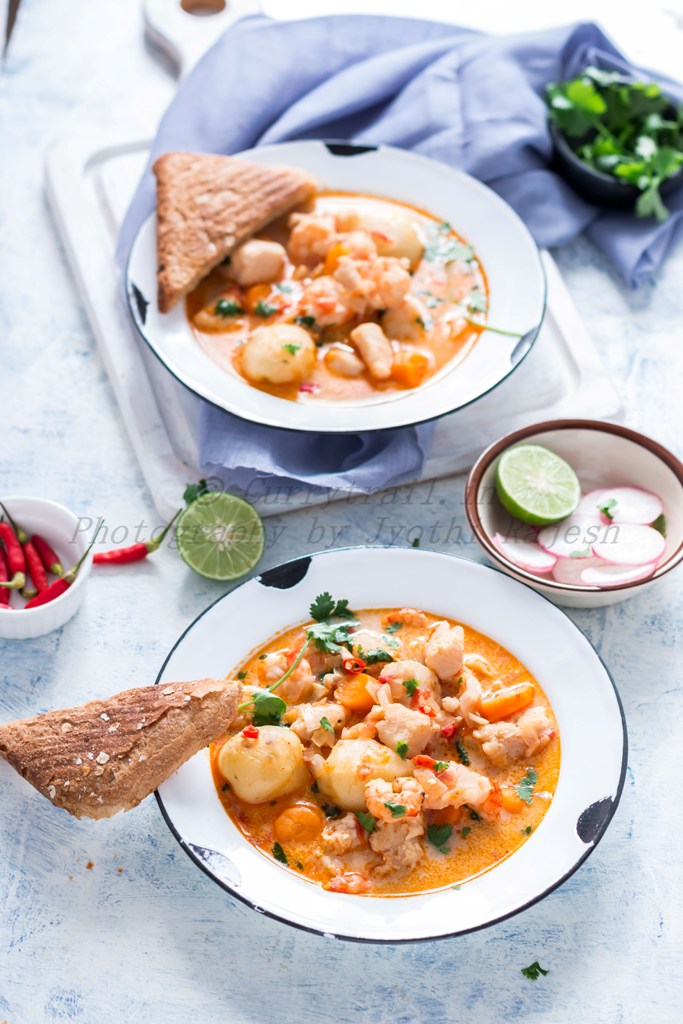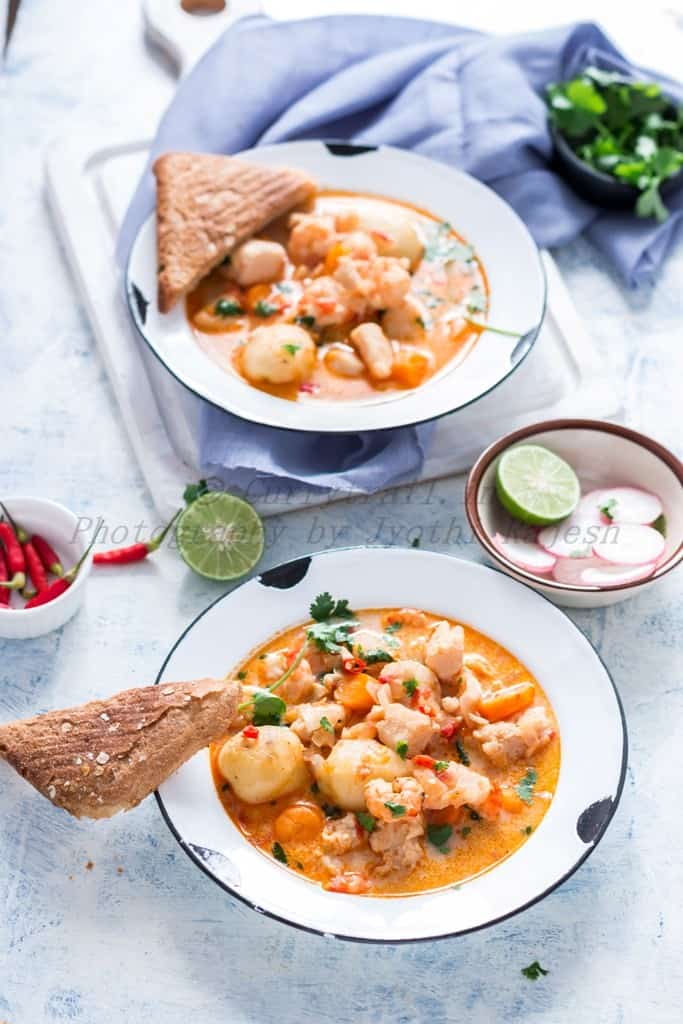 If you are looking for healthy, light, filling dinner/lunch recipes? I have just a perfect recipe for you. It's Seafood stew with tomatoes and lime. It has potatoes and carrots for adding more nutrients to the dish. This dish uses very minimal oil and has a perfect balance of spice and tang. So thinking of healthy dishes to include in your menu plan, then this dish is just apt. Go ahead add it to your menu plan, and enjoy the dish.
I have used coconut milk and olive oil in the stew. Coconut milk and sea food are best friends; the flavor of the dish is just perfect.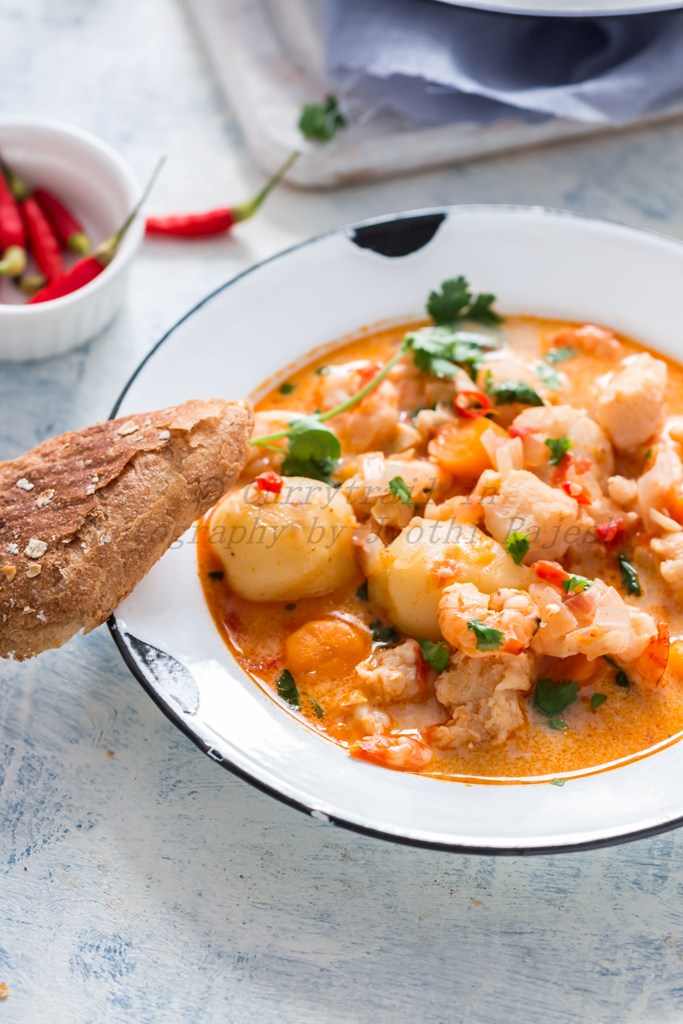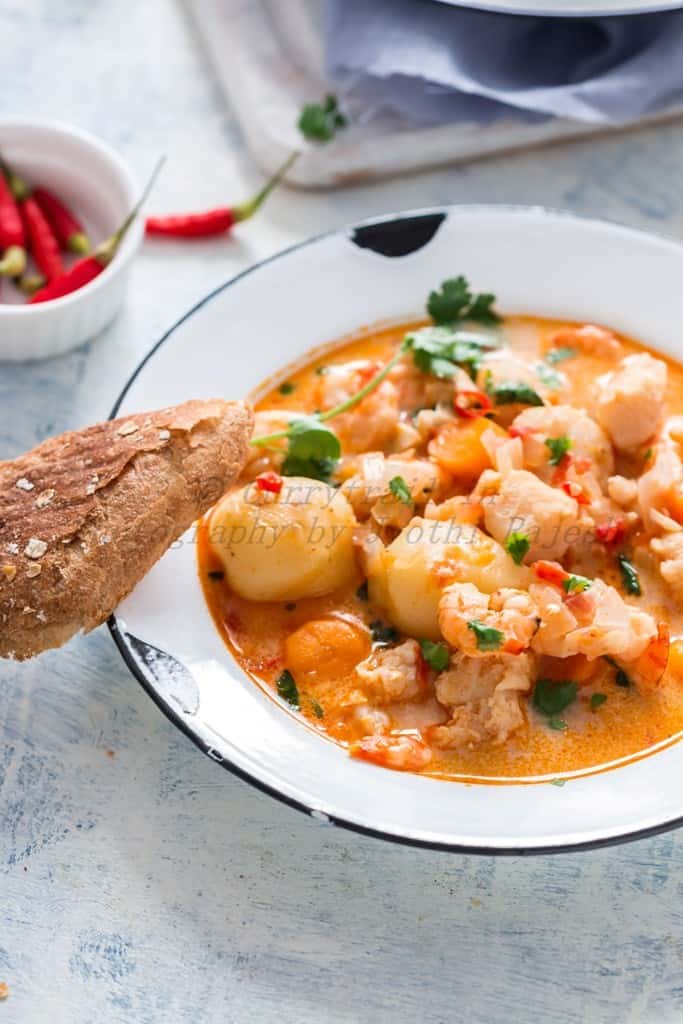 Ingredients
250 grams basa fish fillets
250 grams prawns
15-20 clamps
5-6 baby potatoes
2 small carrots
1 onion
1 tomato
2 fresh red chilies
5 cloves garlic
1 teaspoon cumin powder
2 teaspoon paprika powder
Salt to taste
Juice of 2 lime
1 teaspoon pepper powder
4 tablespoon coriander leaves
1 tablespoon olive oil
1 cup chicken stock
¼ cup coconut milk
Method
Clean basa fish and cut into small pieces. Clean, wash and devein the prawns. Wash well.
I could not get clamps so I did not use it in the recipe but I highly recommend you to use it.
Now marinate seafood in lime juice, 1 teaspoon salt and pepper powder for about 30 minutes. Let it marinate in fridge.
While the sea food is marinating in fridge, we will prepare the stew.
In a wide pan heat olive oil. Add minced garlic and sauté till garlic turns golden brown. Add finely chopped onions and finely chopped red chilies. Cook till onions turn soft.
Add finely chopped tomatoes and cook until tomatoes turn mushy.
Add cumin powder, paprika power and remaining salt to taste. Add peeled potatoes and chopped carrots, give it a mix.
Add chicken stock and bring it to boil. Cook till potatoes and carrots are fully cooked. Check for seasoning. Boil the stew for 5 to 8 minutes more. Add more stock if needed.
Now add the marinated seafood and cook in low flame for about 8 to 10 minutes.
Once the seafood is cooked add coconut milk and continue to cook for a minute or two.
Turn off the stove, add fresh chopped coriander leaves and serve hot with toasted bread.