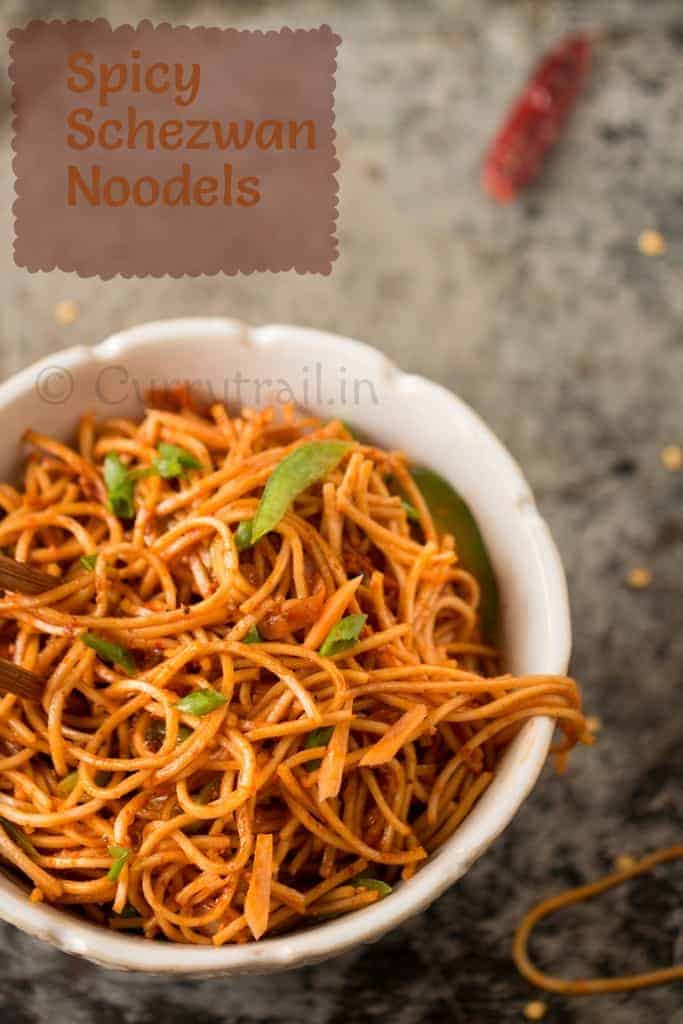 I love Indo-Chinese food. Indo-Chinese cuisine is not purely Chinese cuisine. Please ignore the spelling mistake on the photo, unable to edit the photo to correct it.
It's Indianized versions of Chinese dishes with a few totally new things thrown in. Because we love Chinese food so much that we customized it to our taste.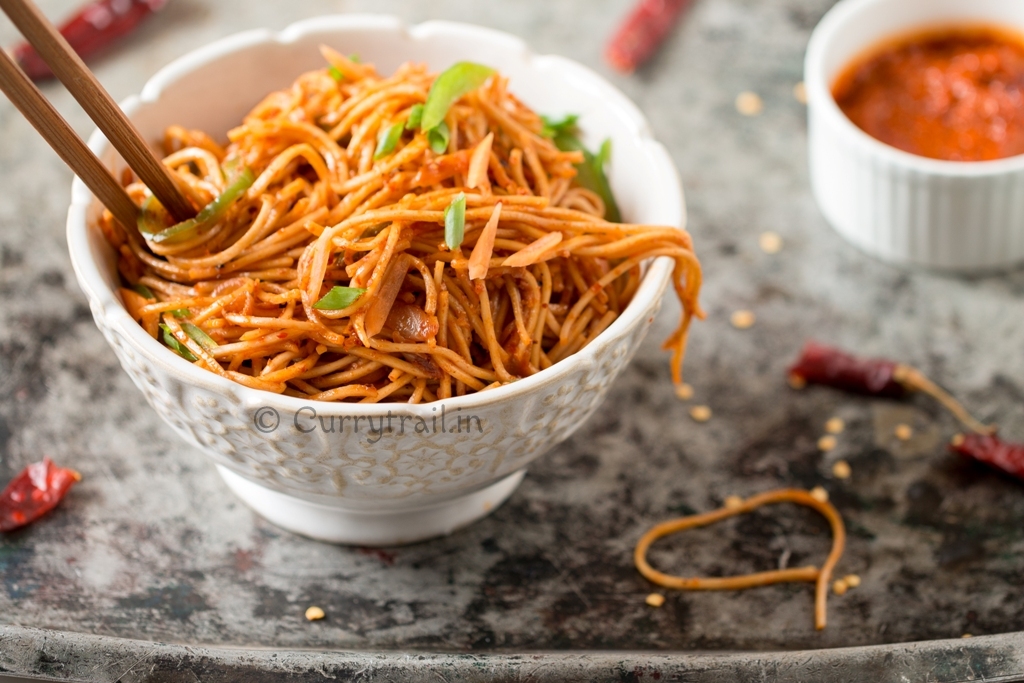 I read an article some time back about how Chinese food came to India. It said, In the 19th century when Hakka origin Chinese emigrated to Kolkata region of India. The first ever Chinatown was formed then. Indians who visited the China town tasted their food. Gradually the popularity of the Chinese food caught on. And to satisfy Indian tastes buds, Chinese food was amped up with Indian spices. Hence became the birth of Indo-Chinese food. Also Manchurian is not a Chinese food; it was invented by a person called Nelsan Wang in Kolkata. In fact all the Indo-Chinese food is all created by the small community of Chinese people living in Chinatown, Kolkata. These dishes are made only in India.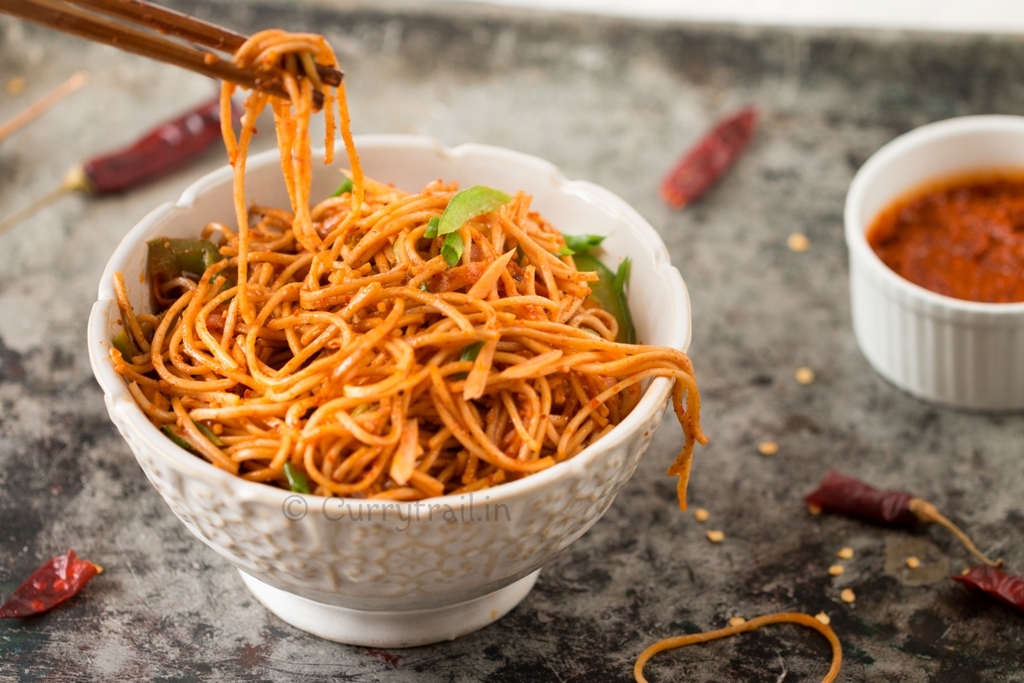 Indians love spicy food with lot of flavors in it. I'm no exception. When it comes to noodles I love hakka noodles and Schezwan noodles. Nothing can beat the taste of noodles cooked in spicy schezwan sauce. It's simple and very easy to make.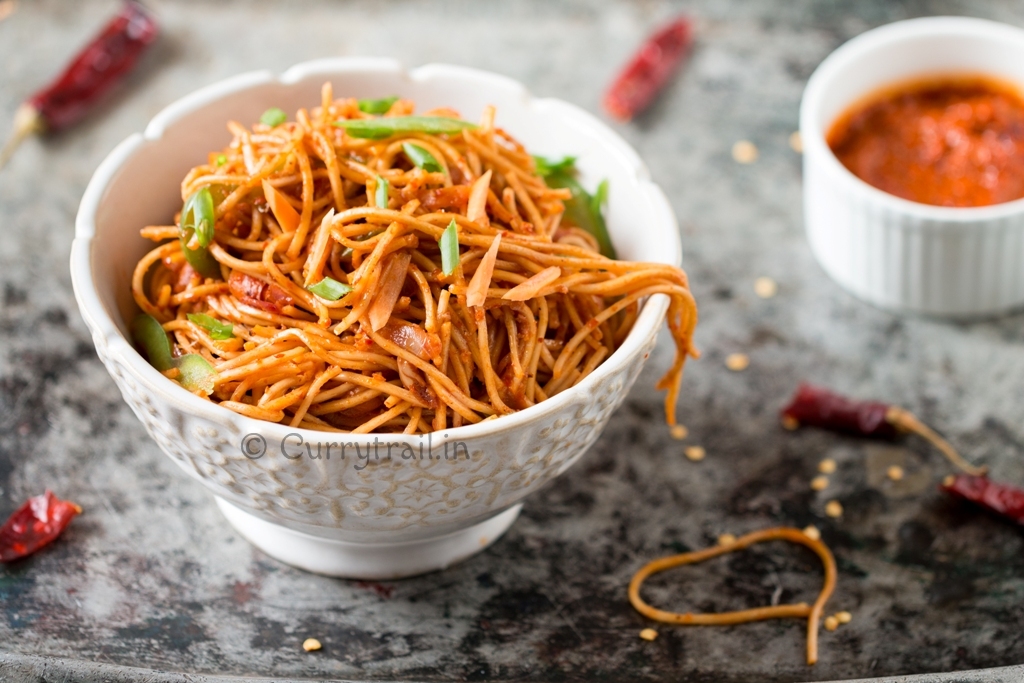 Ingredients
To cooking the noodles-
1 packet Chinese noodles
Water as required
1 teaspoon Salt
1 tablespoon oil
To make spicy Schezwan noodles-
1 tablespoon oil(sesame oil is the best option)
3 tablespoon thin onion slices
3 cloves of garlic
1 carrot
4 beans
½ green capsicum
3 tablespoon homemade schezwan sauce
1 teaspoon soya sauce
1 teaspoon white vinegar
1 tablespoon tomato ketchup
Salt to taste
1 teaspoon pepper powder
Spring onions/chives for garnish
Instructions
Cook noodles as per packet instructions with enough water, salt and oil. Always do not over cook the noodles. Take it out of heat 2 to 3 minutes before it reaches the cooking time. Drain and rinse in cold water immediately couple of times. Apply few drops of oil all over the noodles. Keep aside.
Heat oil in a wok. Add finely chopped garlic and thin slices of onions to the oil. Cook for half a minute. Next add the vegetables and sauté for a minute. The vegetables have to be crunchy. So, do not over cook the vegetables.
Add schezwan sauce, soya sauce, vinegar, tomato ketchup and mix well. Cook with constant stirring for about 30 seconds.
Add salt to taste, pepper powder and mix well.
Add the cooked noodles and toss it well without breaking the noodles. Sprinkle the spring onions and turn off the flame.
Serve spicy schezwan noodles immediately hot.