South Indian kurma is a delicious mild flavored mixed vegetable curry that is usually paired with chapathi or poori.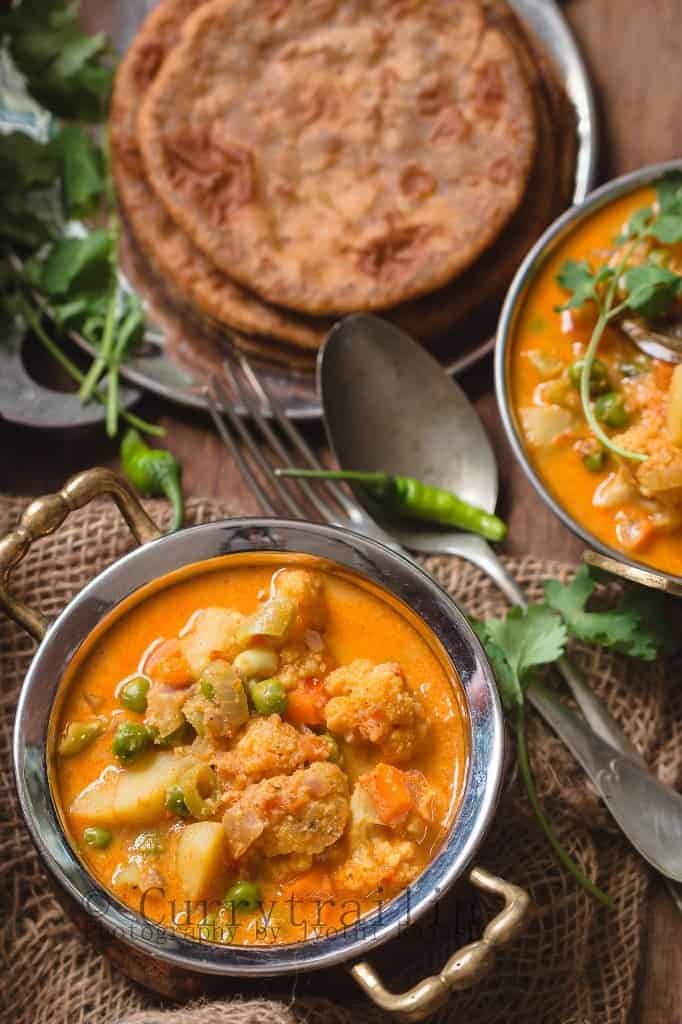 Down South we call this special kurma as Chapathi kurma as we love to eat kurma with chapathis. Wonderful aromatic spices are subdued with thick coconut paste and cashew paste to give it a rich creamy texture.
Poppy seeds are must that goes into the kurma. Grind it with cashews to get a nice thick creamy paste. The flavor of poppy seeds in the kurma makes a lot of difference. Add any vegetables of your choice to this kurma, but the best options are carrots, beans, green peas, potatoes and cauliflower.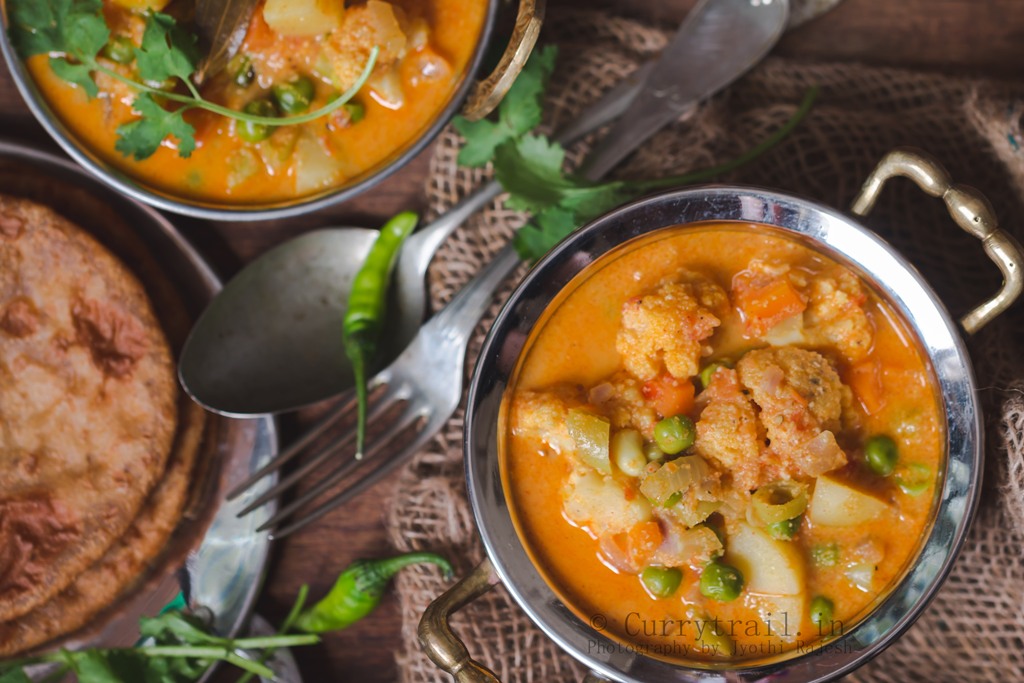 Ingredients
2 cups mixed vegetables (use carrots, beans, green peas, potatoes and cauliflower)
2 onions
2 tomatoes, pureed
2 green chilies
1 tablespoon red chili powder
1 ½ tablespoon coriander powder
1 teaspoon turmeric powder
1 teaspoon pepper powder
Salt to taste
2 inch cinnamon stick
3 cardamom
4 cloves
1 tablespoon ginger garlic paste
4 tablespoon grated coconut
2 tablespoon poppy seeds
15 to 20 cashew nuts
2 tablespoon oil
Salt to taste
Fresh coriander leaves for garnish
Method
Clean, wash and chop all the vegetables into small pieces. Cook them either in pressure cooker or open pot. Do not overcook the vegetables; they have to be cooked Al dente. Keep aside.
Finely chop onions. Puree tomatoes without adding water.
Soak cashews in enough water for about 30 minutes. Grind soaked cashews and poppy seeds with little water into fine paste.
Grind grated coconut into thick smooth paste. Keep aside.
Heat oil in a deep bottom pan. Add cinnamon sticks, cardamom and clove. Next add finely chopped onions and green chilies, sauté till onions turn translucent.
Add ginger garlic paste and cook till raw smell of the paste is gone.
Add tomato puree and cook till oil separates from the sides of the pan.
Add the spice powders and mix well.
Now add cooked vegetables alone with water in it and bring it to boil
Add salt to taste and cook for another 5 minutes.
Now add coconut paste and cashew-poppy seed paste, simmer. Mix well and turn off the flame. Do not let it boil again; else coconut paste will split the kurma.
Remove from flame immediately and serve hot with chapathis or pooris.