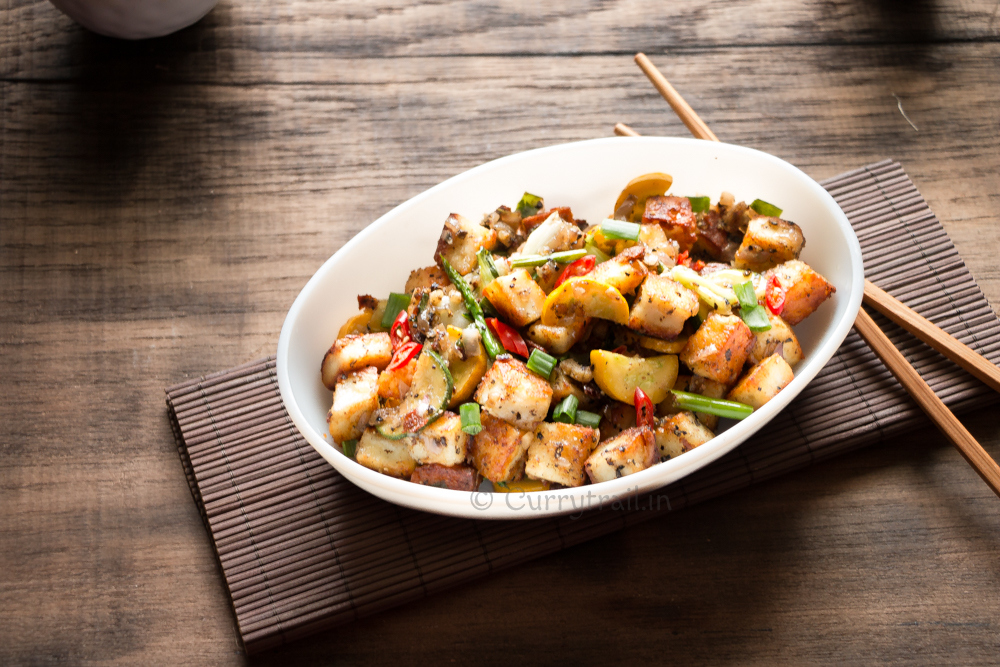 The last 2 weeks have been almost Asian inspired week in my kitchen. Had a stock of lot of ingredients at home which I wanted to finish use it off. So it's been one dish after the other, and you'll know what I even experimented and make a few new dishes that I have never tried and also learnt one or 2 new techniques. 😀 Will share about the new learning in my next post.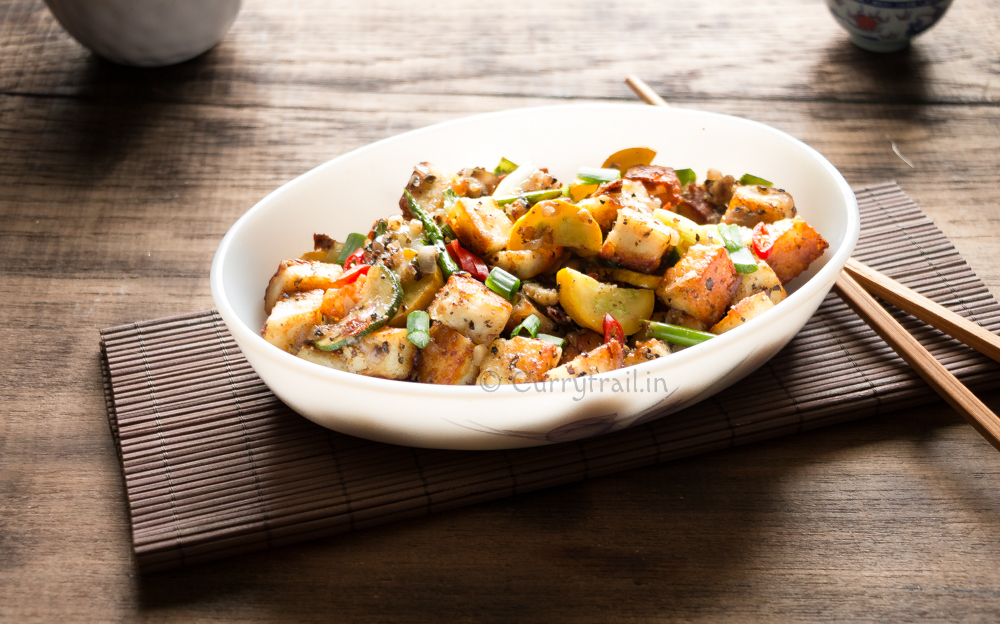 Today's recipe is a simple stir fry. It's quick, healthy, colorful, and full of texture and flavor. A recipe can't get any easier than this! I made a vegetarian version of stir fry veggies with Tofu. Don't like tofu you can even use paneer in place. No? you are a hard core non vegetarian?! just use chicken instead. So are we still friends? I will pretend that we are 😀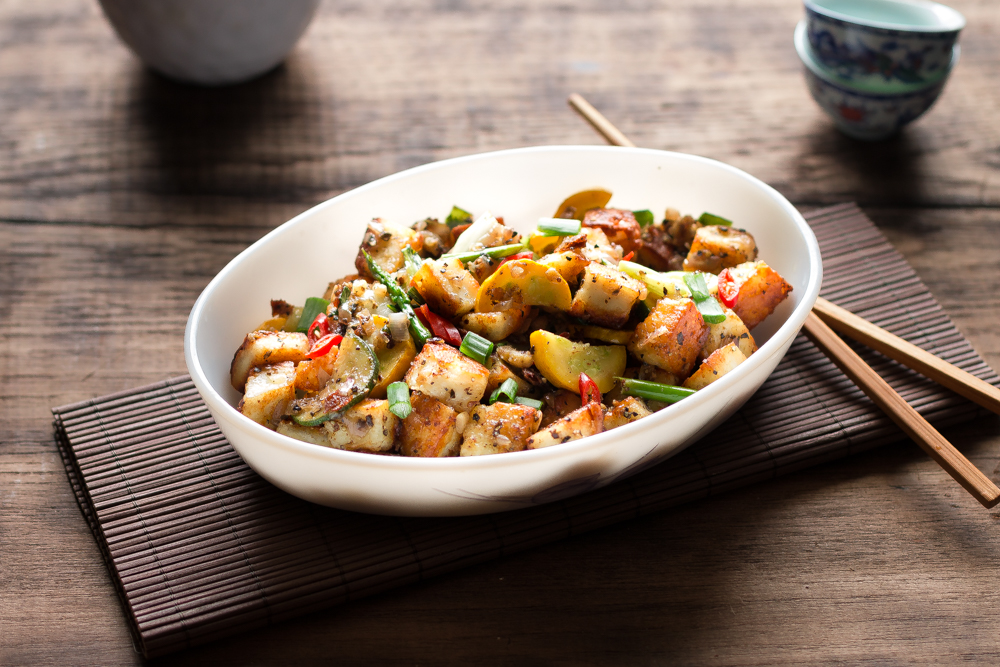 This is one of those recipe you must make for yourself to nom nom on for lunch! Seriously guys this stir fry is that delicious! It's very easy to add a variety of vegetables in this stir fry. Mushrooms, snowpeas, carrots, broccoli, spinach, just about any vegetable would work!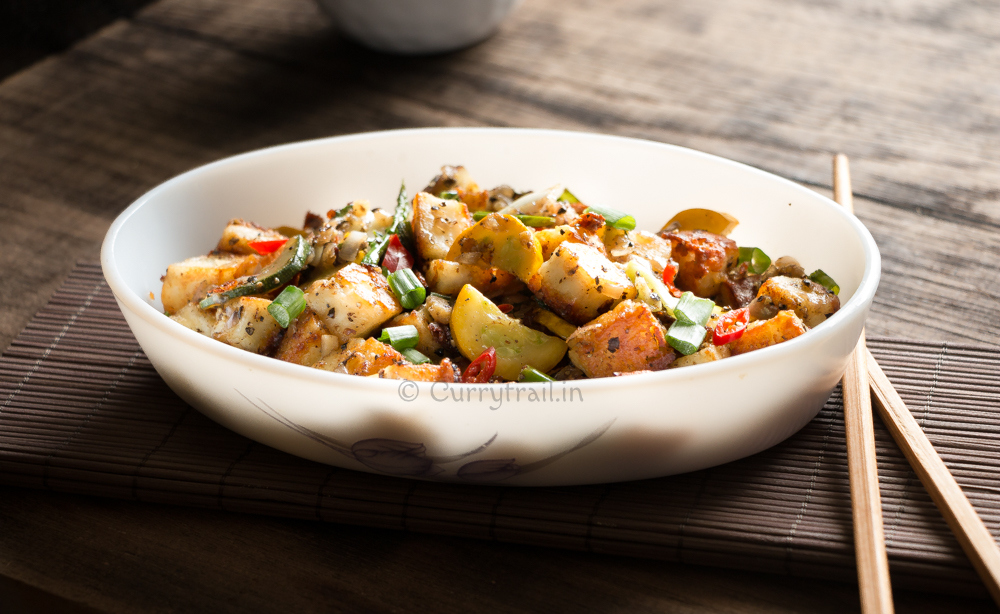 One of the healthy stir fry recipe packed with nutrients and fiber from the veggies and protein from tofu combines to make a delicious meal option. Toss each veggies in a wok for just about 20 seconds. One of the important tips to Asian cooking is do not over cook the veggies, they have to be crispy.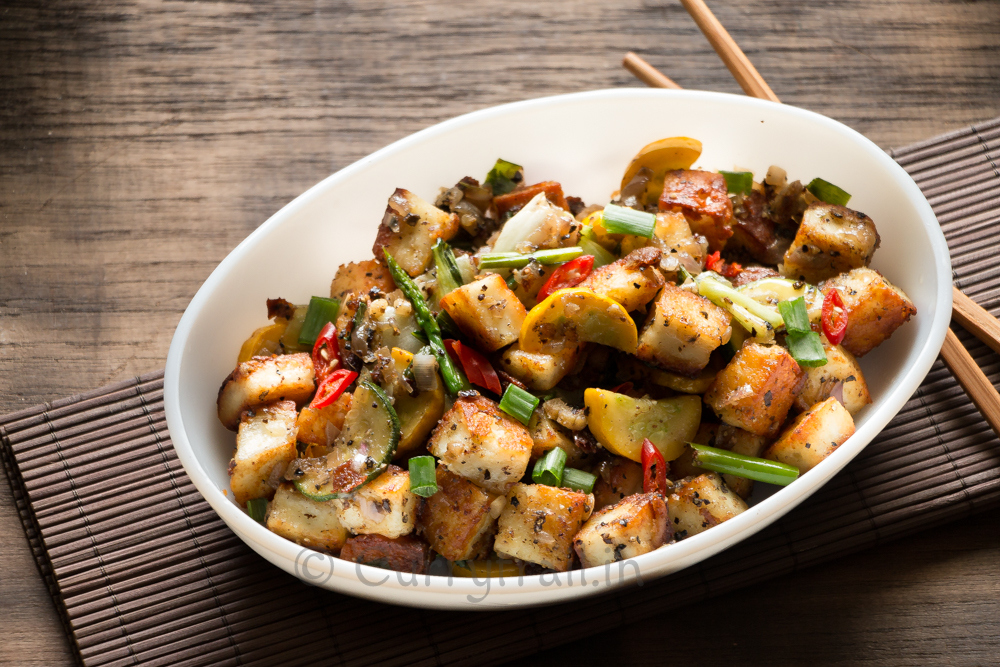 The flavor of garlic and the spice from the pepper makes this dish one of the best stir fries. 20 minutes from start to finish, using all normal ingredients this is a must try! (PS 20 minutes while you do multi tasking of slicing veggies, tossing them on after another)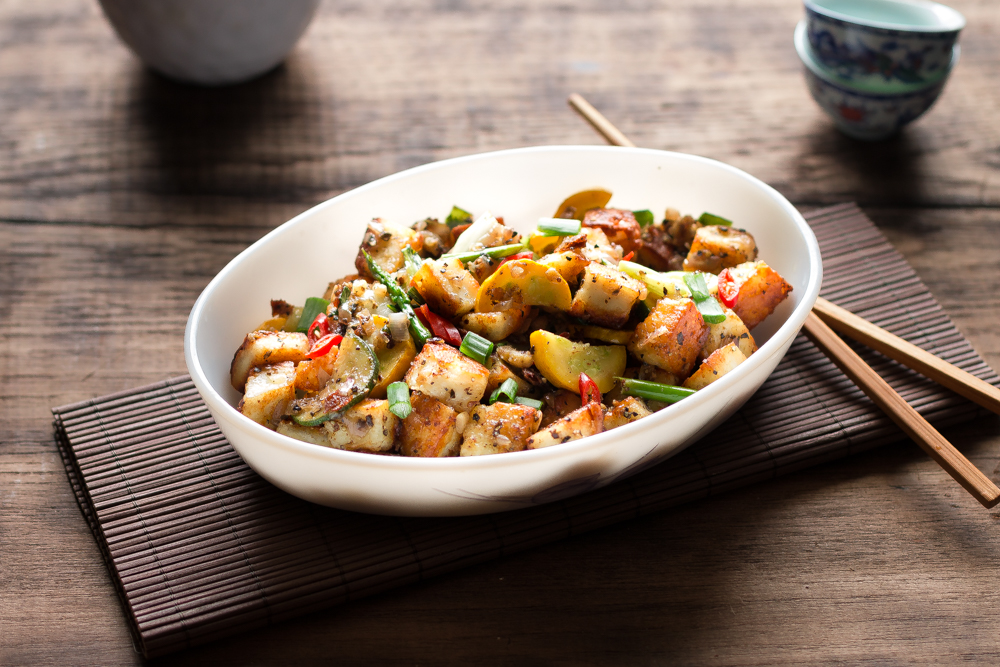 Here's my simple garlic pepper spicy stir fry recipe-
Ingredients:-
Tofu – 1 Packet(about 200 gms)
Garlic – 10 pods(crushed and chopped fine)
Pepper corn – 2 tablespoons(crushed into fine powder)
Sesame or peanut oil – 1 tbspn
Yellow and green zucchini – ½ each
Shallots – ¼ cup
Fresh red chillies – 3 nos
Spring onions/green onions – ⅓ cup
Salt to taste
Instructions:-
1. Tip- always freeze tofu for about 15 minutes before cooking. Cut them into cubes and stir fry in 1 tspn oil unitl they turn golden brown. Remove from heat and keep aside.
2. In a pan add garlic and pepper powder, then immediately add shallots and fry for 20 seconds.
3. Next add zucchini and toss for 10 seconds. Finally add fried tofu along with fresh red chilies and toss until well combined.
4. Add salt to taste and sprinkle green onions/spring onions, mix and turn off flame.
5. That's it. It's ready. Serve it as starter or as a meal itself, It's fulfilling, packed with proteins and nutrients and it's delicious!