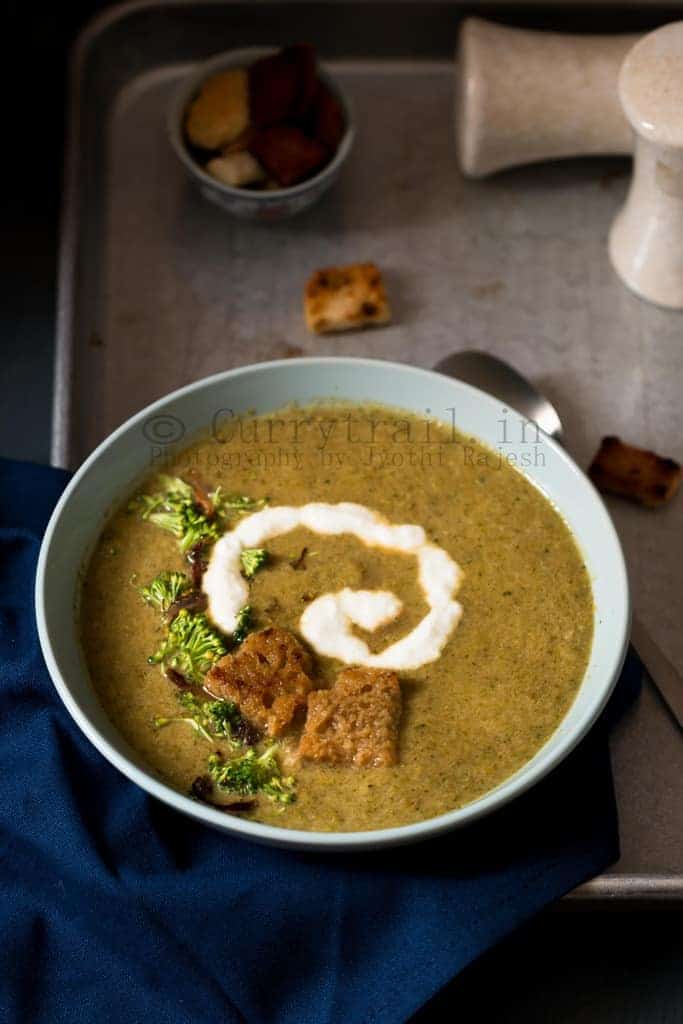 It's official, Summer is here. Bengaluru(Bangalore) has stepped into summer, and the day temperature is rising beyond uneasy levels. If you have stayed or staying in Bangalore, you would be aware that summers are sometimes pleasant and at the same time strange here. Every year, during summer, when the mercury has risen to the maximum level, it starts to rain! The rain brings so much relief from the scorching heat during summer. One of the best part staying in Bangalore is the summer rains 😀
Today, the situation was exactly that. When the sun was shining bright and parching us all, a pleasant sight of grey clouds covered the sky in the noon. And when the rains were making their way to pour down on the soil, I got my soup pot out and made some flavor packed roasted broccoli onion soup. And the rain Gods did not disappoint us, by evening it started pouring, literally. Not just we danced with joy seeing the rain, we also enjoyed the sudden change in weather by sipping this yummy soup.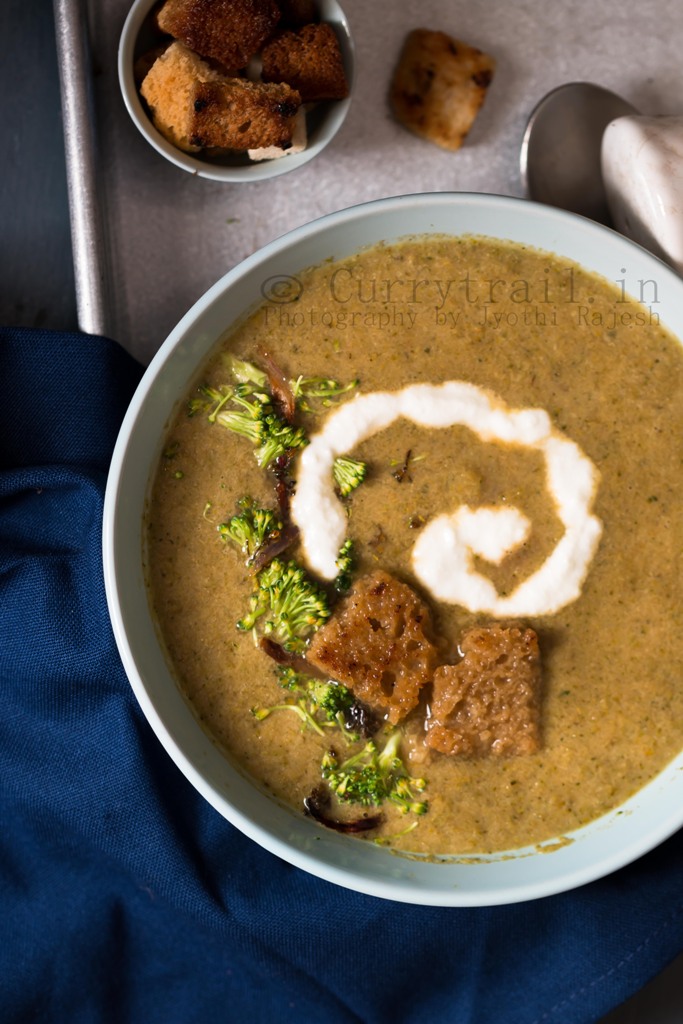 Summer or rains, our body needs a lot of nutrition, and soups are the best bet.
Ingredients
1 cup broccoli florets
1 onion
3 garlic cloves
½ teaspoon pepper powder
Salt to taste
1 tablespoon olive oil
Method
1.Rinse broccoli florets. Pat them dry. Rub 1 teaspoon olive oil, pepper powder, salt all over the broccoli.
2. Arrange broccoli, onion, and garlic cloves in single layer on a baking tray. Bake in pre heated oven at 200 degree centigrade for about 10 minutes.
3. Remove from oven, and let it cool. Transfer the roasted vegetables into a blender. Blend.
4. Transfer it back into a pan and bring it to boil.
5. Pour into serving bowl, garnish with few drops of cream and serve with warm toasted bread.