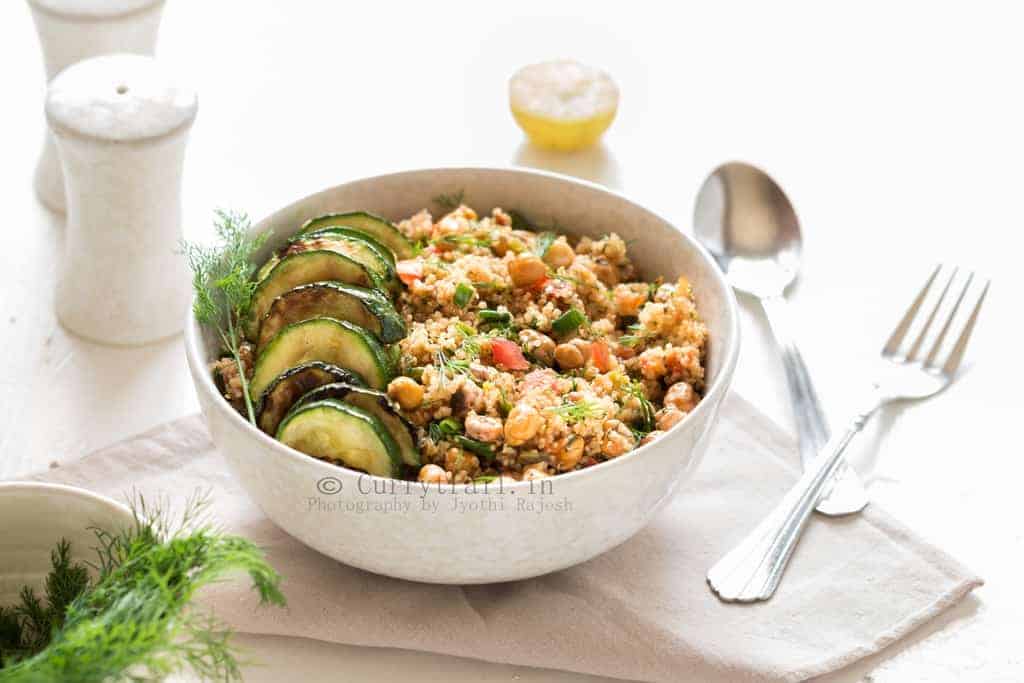 Quinoa(Pronounced as "Keen-wa") is a small grain that resembles cous-cous in texture once it's cooked. IT's gluten-free, high in iron content, with soluble fibers that makes it easy to digest. It's a grain that is complete protein in and of by itself. Quinoa is very healthy and it's a very versatile grain. Quinoa serves as a nice substitute for rice without all the calories and it is protein rich. This recipe makes a delicious and healthy veggie bowl which would be a great add to your lunch menu.
It was very recently I got introduced to quinoa. My first encounter with quinoa was in a beautiful café in Bangalore. A place so quite, with the soothing patio and greens around, this place was so pleasing to the senses. And what came as beautiful surprise is that they serve food in wonderful metal plates and bowls made from a combination of 5 metals that are believed to be very good based on Ayurveda.
Their menu list, aim at serving healthy, fresh and delicious food. Not just the 'regular healthy' food, instead they had off beat options like quinoa, amaranth, kodo millet.  Even the burger with quinoa patty and whole wheat amaranth buns did sound like a delicious indulgent food, of course, without the guilt.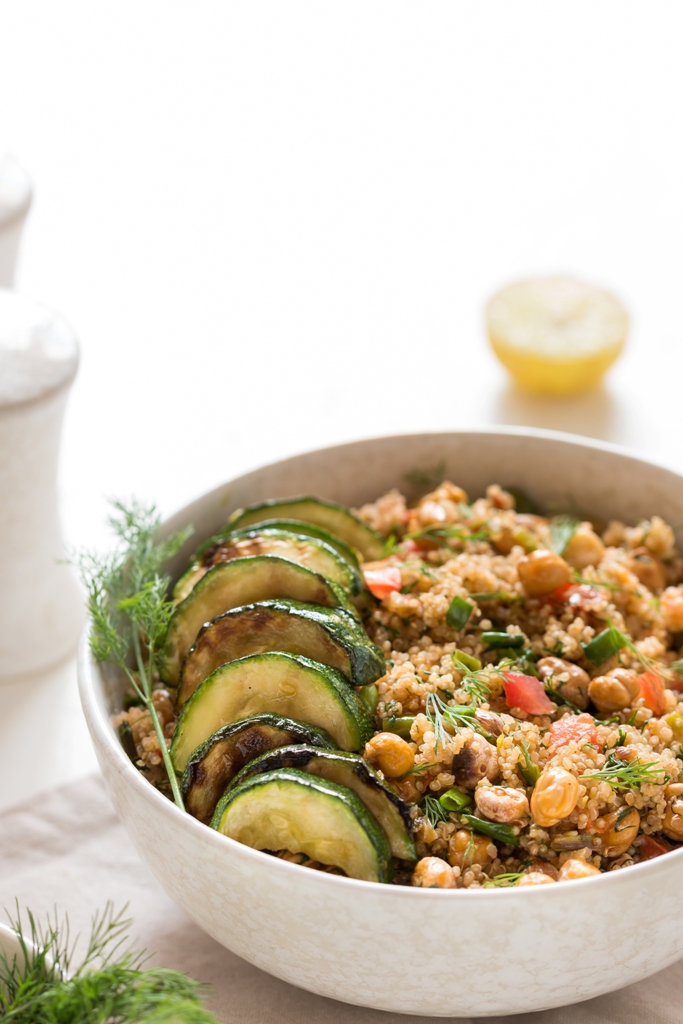 I ordered quinoa tabbouleh. The first sight of quinoa was not very inspiring. It was puffed and resembled Styrofoam. If I had nit heard of quinoa before I might have been thinking, what the hell is styrofoam doing on my plate, they are supposed to go into packaging and not on eating plates! 😛 At first I resisted it. Forced myself to take a bit.  The first bite did not cause any explosions in my palate that wanted me to go for another spoon.  But my latest new habit of eating healthy food decided me to give it another chance. I tried to bite it and feel the texture and the taste. It was actually not that bad this time.
You see it's all the mind game. Your mind can play evil tricks at you, making you indulge in those crispy fried, cheese-y burgers or that cheese loaded pizzas with barely any veggies in it. But if you know to train your brain, you can start to enjoy healthy food as well. 😀 😛 It feels like I'm passing on too much gyaan(knowledge) to you guys! No I'm actually not. Just trying to tell you guys eat healthy, try to include as many whole grains in your diet. Stay healthy and happy!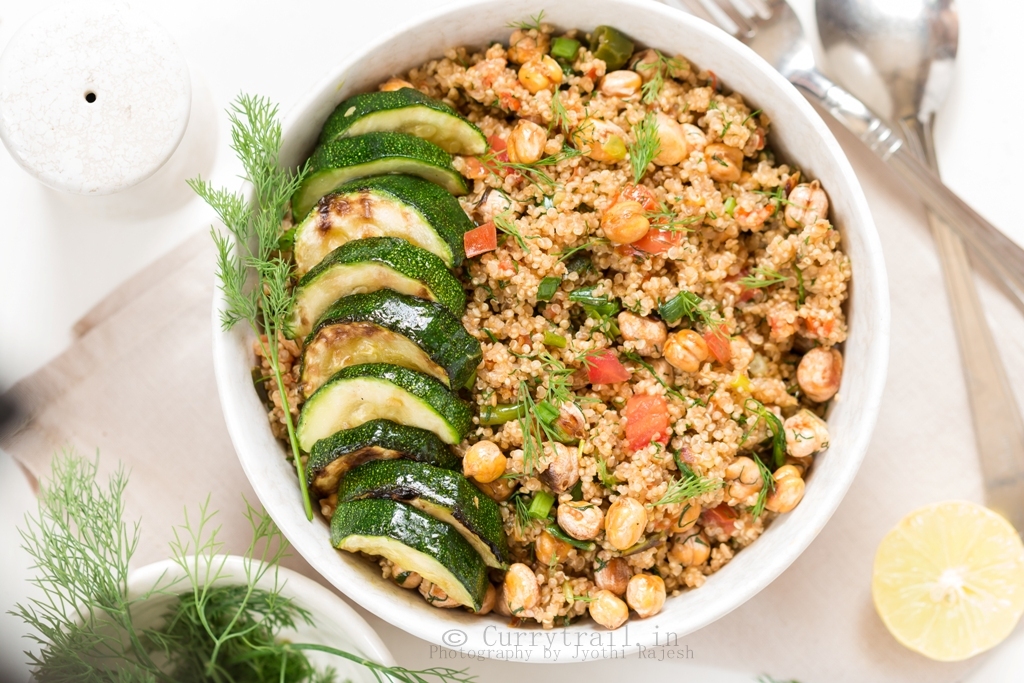 From then on, I try to include quinoa in my diet as much possible. In today's recipe I made quinoa a little more interesting to eat by adding more dimensions and level to the dish. I grilled the zucchini and roasted the chickpeas. Quinoa is wonderfully flavored with green onions, green chilies, tomatoes, garlic, dill leaves and dried oregano for flavor. A robust flavor packed quinoa with veggies is light yet filling lunch recipe. It is one of that comfort food in a bowl that you would like to try again and again.
Ingredients
1 cup quinoa
2 cups water
1 teaspoon salt
1 teaspoon olive oil
1 zucchini
½ cup chickpeas
¼ cup white and green onions (from spring onion)
½ cup tomatoes
2 green chilies
2 cloves of garlic crushed
1 cup dill leaves
1 teaspoon dried or fresh oregano
Salt to taste
1 tablespoon olive oil(divided)
Instructions
1.Soak chickpeas over night. Pressure cook chick peas for 2-3 whistles with just about ¼ cup water. Once cooked, drain the water completely and pat dry. Pre heat the oven to 180 degree centigrade. Place the dry chickpeas on a baking tray in single layer. Drizzle 1 teaspoon of oil over the chickpeas, sprinkle some salt and roast it in oven for about 15 to 20 minutes until the chickpeas begin to change color and turn crisp. Remove from oven, cool it completely. You can store this in air tight container or zip lock bag for about 3 days.
2. Cut zucchini into any shape. Grill it for 2 to 3 minutes on one side.
3. Rinse quinoa twice and add 2 cups of water to it. Bring it to boil and then add 1 teaspoon salt and I teaspoon olive oil. Cook until water is completely dry. Cover the pan and turn off the flame. Let it sit in the pan for about 10 to 15 minutes. Then open the pan and separate the grains using a fork.
4. In a wide pan add remaining olive oil. Add chopped white and green onions, green chilies and finely chopped garlic cloves. Saute for a minute.
5. Then add chopped tomatoes and sauté till tomatoes become soft.
6. Now turn off the flame and add dill leaves, and give it a stir. Add the cooked quinoa, roasted chickpeas and grilled zucchini and toss gently until everything is mixed. Finally sprinkle some dried or fresh oregano and toss again.
7. Serve hot immediately. If you prefer, you can squeeze a teaspoon of lime juice over just before serving. Also garnish with some green onions.