Crispy on the outside, soft and spicy onion masala on the inside. This tea time snack is irresistible.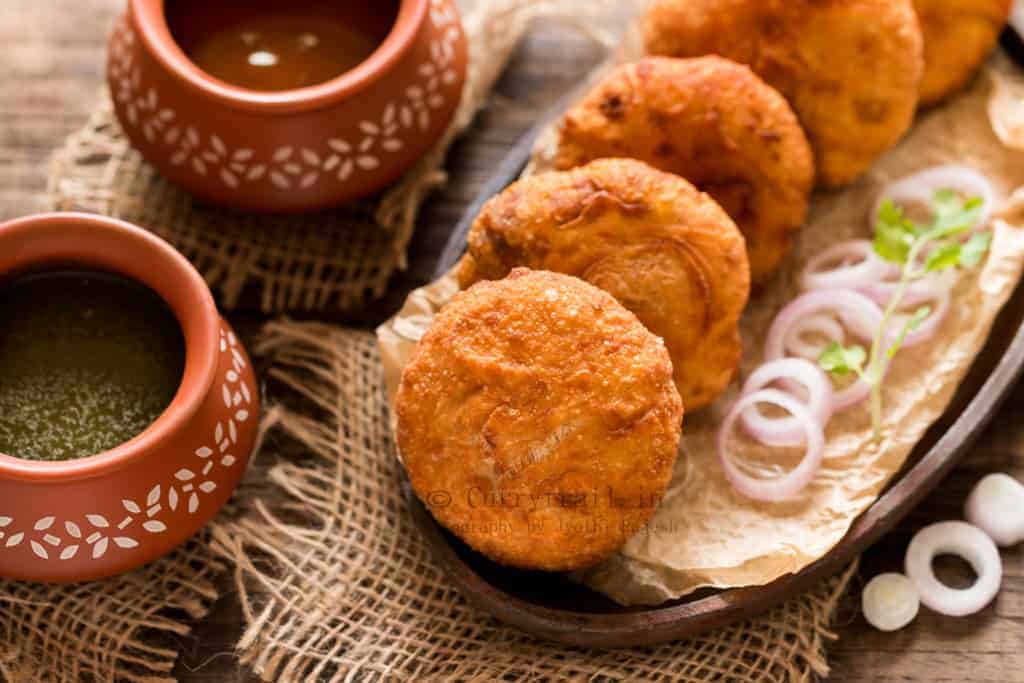 Did you start your New Year on a healthy note? Were you binging on salads, soups and all other forms of detox diet? Good! I'm so glad you are on healthy diet! I hope you continue your healthy eating habit.
I stopped making New Year Resolutions! Like a few years back. I do set some goals for myself, like personal goals, to learn few new things, make a list of places to visit in the year and of course get out of my comfort zone and try few new things. I make those lists. But I stopped making resolutions. I stopped saying to myself "on new year day I will begin eating healthy food. I will start exercising regularly. I will stop binging junk food!" You see all these resolutions take birth on Jan 1st every year and they die out on max Jan 3rd or Jan 4th. I'm sure most of you might be nodding your head right now in agreement! Every year when someone asked me on 31st 'what's your New Year's resolutions", I would consistently give them the same answer. And I knew that in less than a week I would fail. So I stopped making those resolutions.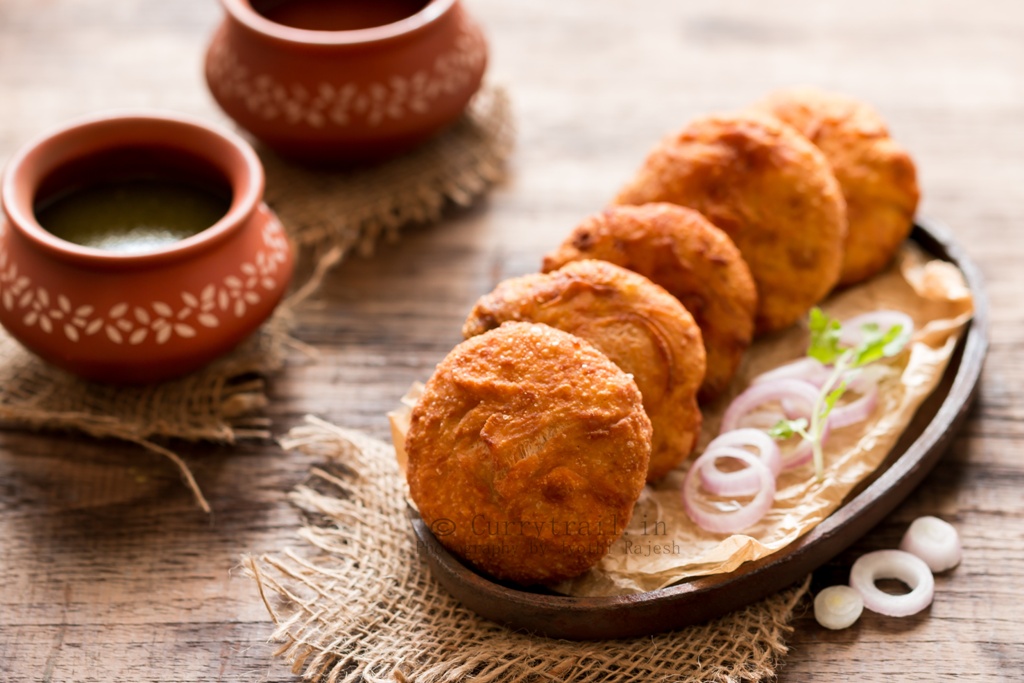 I believe that eating healthy, and a balanced diet is important and you don't need a new year to come to start it. Just set your mind on it and get started whenever you think is the right time. It is also important to allow yourself to indulge once a week on all the delicious food you like. Your body starts to crave for those foods and it is ok to satisfy those craving by indulging once a while. Remember to indulge in moderation.
I am not a person who goes on salad diet. And I am also not a person who eats fried stuff, even if it's yummy puri's. I eat what I think is balanced, healthy food. I crave for spicy non vegetarian dishes, and I indulge in them once a week(Sunday's are reserved for non vegetarian treats). We eat a lot of veggies on rest of the day.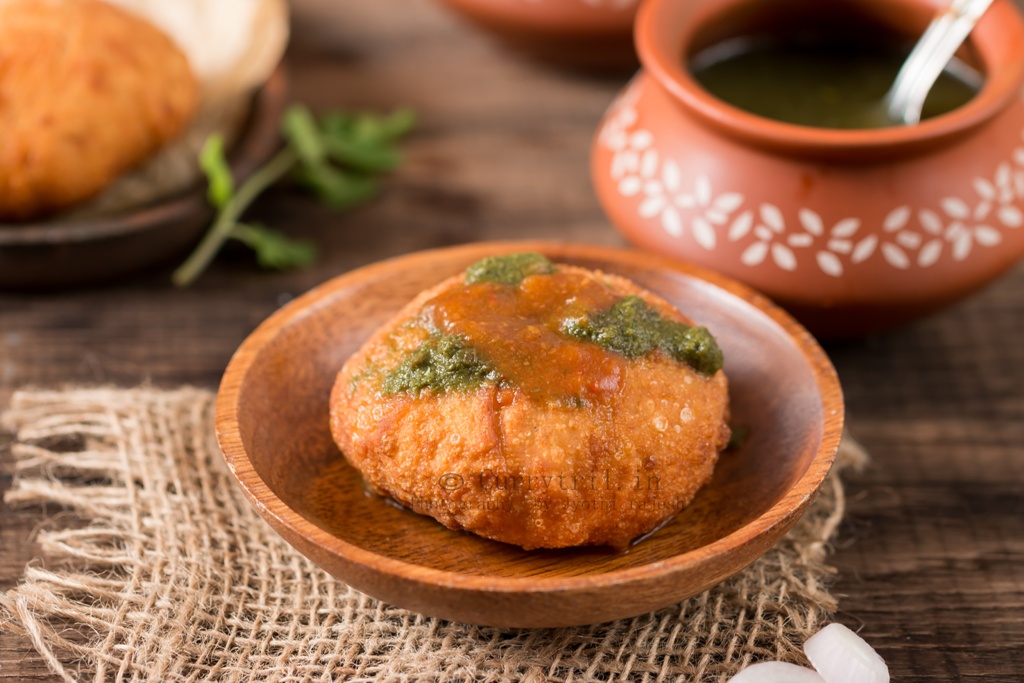 My hubby loves fried stuff. Last week I decided to make something special for his evening snacks. Something that is very popular from the street food vendors.
When we talk about Indian street food chaats, samosas, kachoris, jelabis comes to mind first. The taste buds are sure to explode with all these delicious Indian street food. The best bet would be to sample some spicy street fare followed by the delicious sweets(remember, once in a while). I would love to stop at the spicy, savory street food, maybe like masala puri or pani puri. Jalebi's, ladoos, any sweets for that matter is not my favorite. So I would like to start and end my snacks with something savory. 😀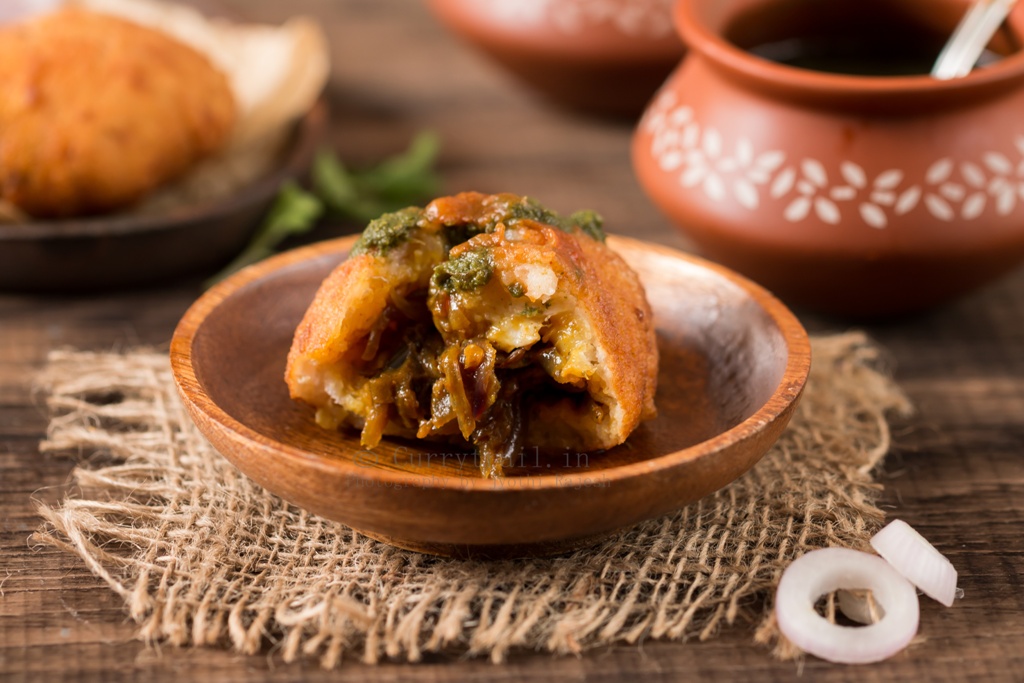 One of the most popular Rajasthani street food is the Kachori. It's a stuffed deep fried Indian bread that is very delicious. They resemble the flaky puff pastry and is stuffed with a spicy mixture. The stuffing can be urad dal mix, masala onions. It is eaten as a tea time snack. Indulge in this deep fried delicacy occasionally.
Pyaaz kachori has spiced onion stuffing inside the bread and the bread is deep fried. It gives a nice spicy taste to the bread.
Ingredients
2 cups all purpose flour
1 teaspoon salt
1 tablespoon oil
Water as required
Oil for deep frying
For the stuffing
3 onions
2 green chilies
¾ teaspoon cumin seeds
1 teaspoon ginger-garlic paste
1 teaspoon coriander powder
½ teaspoon turmeric powder
1 teaspoon red chili powder
1 teaspoon roasted cumin powder
1 teaspoon garam masala powder
Salt to taste
1 ½ teaspoon oil
Instructions
1.  In a bowl add flour, salt and oil and mix well. Add water and knead into soft dough. You can also add                 ghee/clarified butter in place of water to knead the dough.  Cover and let the dough rest for about 1 to 2 hours.
While the dough rests we will prepare the filling. In a wide pan, heat oil. Add cumin seeds to hot oil. Add finely chopped onions and green chilies and sauté until onions turn translucent. Add ginger garlic paste and cook until the raw smell of the paste is gone.
Add all the spice powders and mix well. Add salt to taste and cook for about a minute on low flame. Turn off the flame and let the mixture cool down completely.
Lightly knead the dough and divide the dough and the filling into equal portions.
Heat oil in a wide pan for deep frying.
Roll one portion of the dough into smooth ball. Flatten it into 3 inch circle. Place a portion of the filling in the center. Bring all the edges to gather and seal it tightly. Roll this stuffed ball int0 3 inch circle. Keep aside. Repeat this step for rest of the dough.
Deep fry small batches of kachori on medium flame for about 3 minutes. Reduce the flame and deep-fry on a slow flame for another 5 minutes. Remove from oil and drain it on kitchen paper.
Serve these delicious spicy masala onion stuffed kachoris immediately. Best accompaniment would be spicy green chutney and sweet dates-tamarind chutney.