Instant Pot whole chicken makes perfectly juicy and tender chicken in less than 45 minutes. This is by far the most succulent, tender, fall-of-the-bone chicken you'll ever make.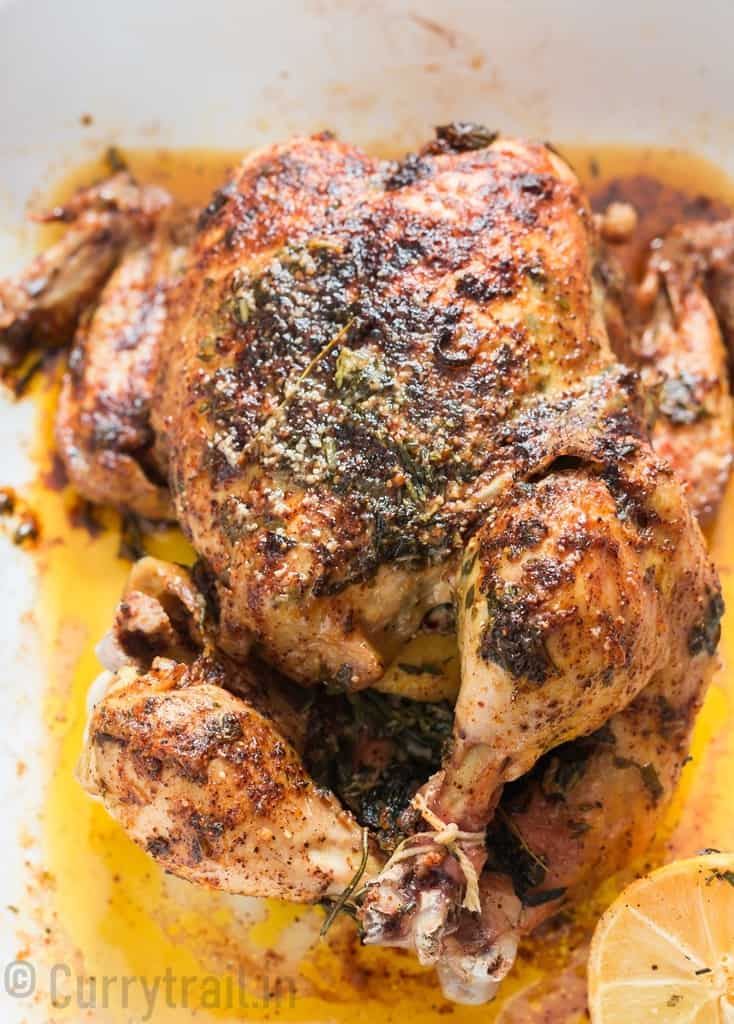 Wait, did you say crispy on the outer chicken with pressure cooker whole chicken recipe? You may ask!
Yes I did! GOLDEN CRISPY OUTER SKIN and super succulent and moist inside. We get best of both. How?
Pressure cooked whole chicken is broiled in oven to achieve crispy outer chicken. And we aren't simply broiling it, we enhance the flavors of the chicken by brushing chicken skin with simple spice mix before broiling.
You guys, you definitely need to try this pressure cooker whole chicken, like TODAY! Seriously, this is the best and only whole chicken recipe you'll ever need.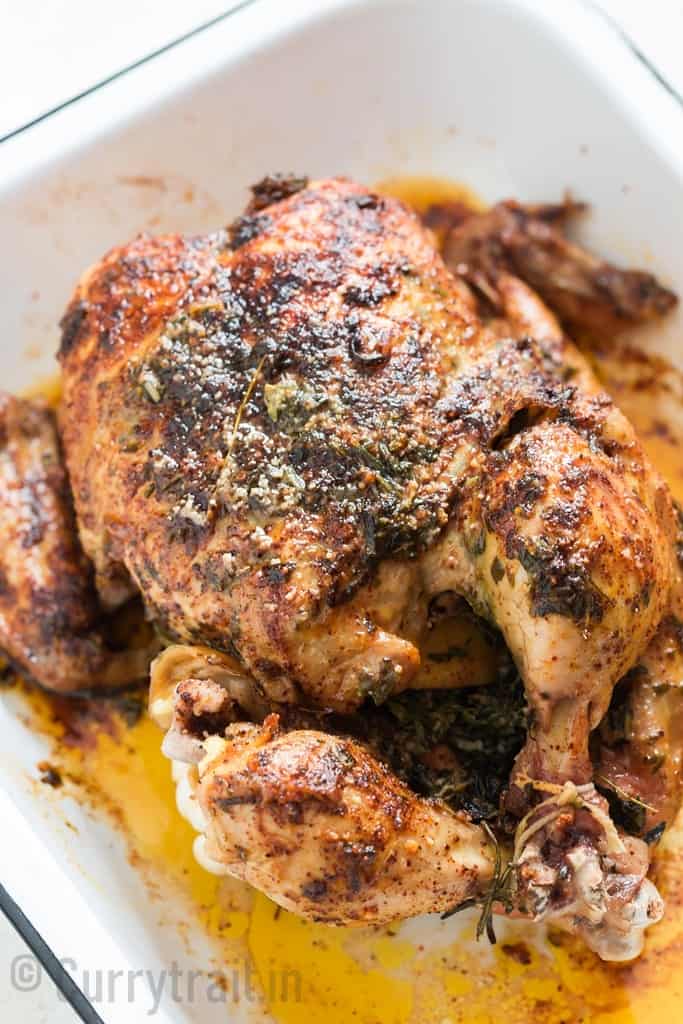 In less than 45 minutes, flavor packed whole chicken with crispy outer just like the way you would love when it comes to rotisserie style chicken is ready to be served. It's also incredibly easy to make Instant Pot Rotisserie Chicken.
Thinking of Thanksgiving dinner? Whole chicken recipes would definitely come to your mind. Well roasting whole turkey might come to your mind at first, but chicken is my go-to choice.
If you are bored of turkey for Thanksgiving, and would like to try something new, then this whole chicken recipe might come handy for you.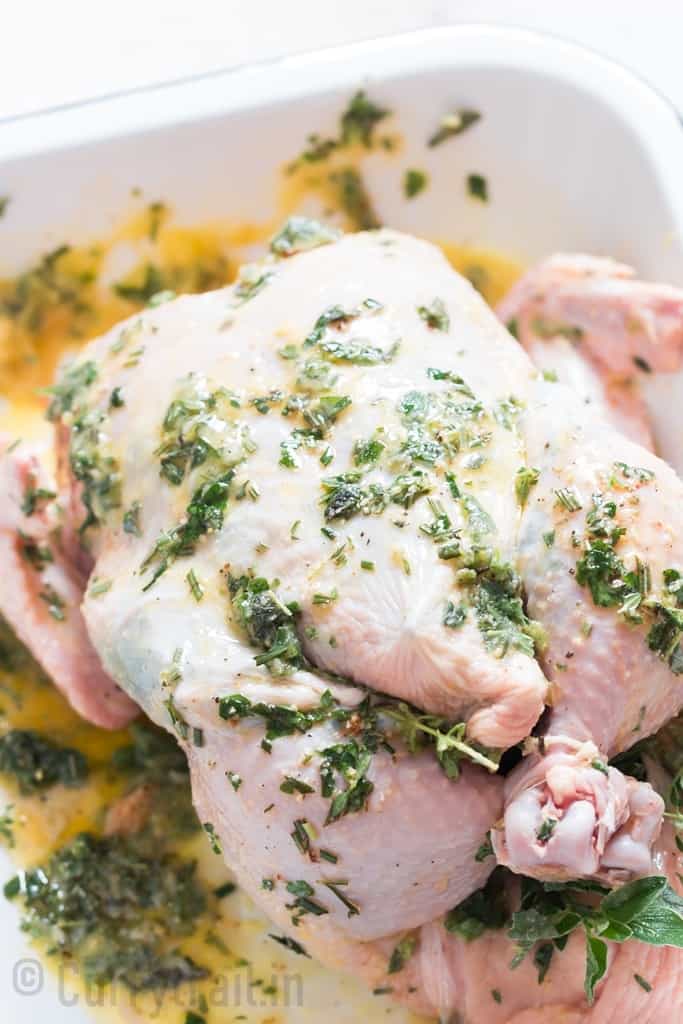 Don't forget to save this instant pot chicken recipe. Not just Thanksgiving, you'll find this pot roast chicken recipe handy any day. Want to make chicken soup, simple cook whole chicken in instant pot, use it in soup.
Instant pot whole chicken can be used in so many ways. It works great for soups, to make shredded chicken for tacos or burritos or even for meal plan for the week.
Shred and use throughout the week or freeze for later. Well you don't have to put much effort shredding when you pressure cook whole chicken, because they literally falls-off-the-bones.
Freeze those bones from whole chicken, to make bone broth. Bonus points for Zero food wastage!! For a great simple and week night meal try this rotisserie style instant pot whole chicken.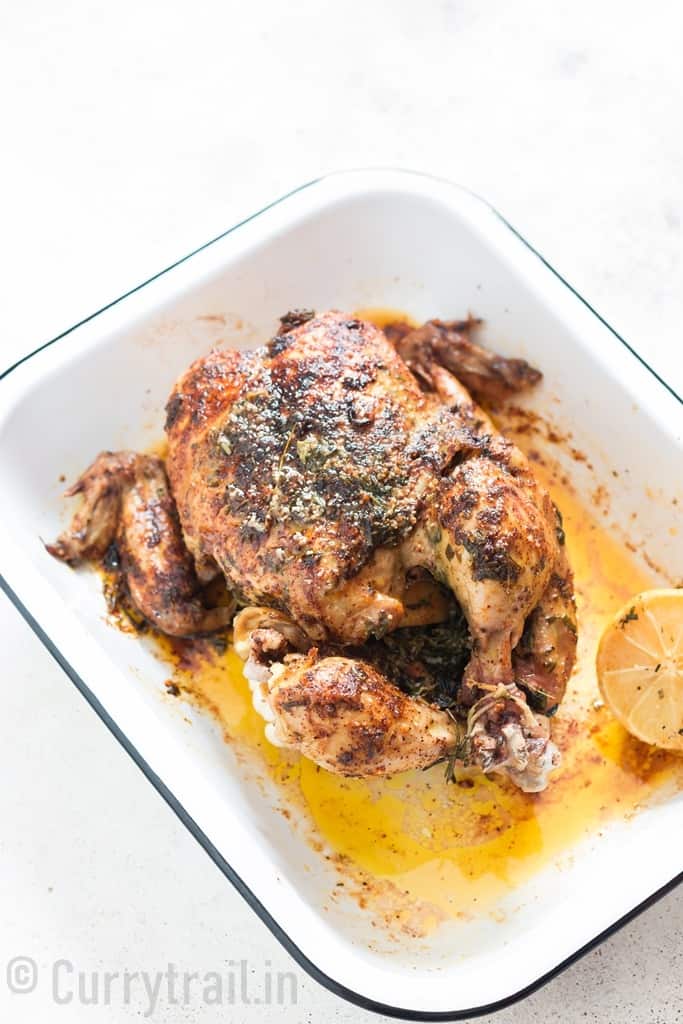 Why do we recommend cooking whole chicken in instant pot?
Hands down, the most tender, juicy, whole chicken you'll ever make is this instant pot chicken cooked whole.
Instant pot chicken cooks more quickly than roasting the whole chicken in oven. We are basically cutting the cooking time by half.
Chicken meat literally FALLS-OFF-THE-BONES! SO GOOD!
Pressure cook method locks all the flavors of the chicken.
Pressure cook whole chicken once and use the cooked meat in so many ways like soups, shred chicken for meal plan for the week, in tacos, and others.
Minimal prep work (seasoning the chicken).
No pre planning needed, just season whole chicken well and dump it into the pot.
Pressure cooker recipe method works well even for frozen whole chicken.
How long to cook frozen whole chicken in pressure cooker
No need to thaw frozen chicken, directly cook in instant pot, easily!
Time to cook a frozen chicken largely depends on the size of the chicken.
I tested this recipe with 4 lbs frozen chicken. It took 35 minutes (timer on Instant pot)as opposed to 20 minutes time for fresh chicken.
Note: recipe tested in 7 Qt Instant pot.
If you feel frozen chicken did not cook in 35 minutes, increase the timing about 15 minutes more with quick release.
Worst can happen is the chicken meat might literally fall off the bone. But you will definitely get moist, succulent chicken.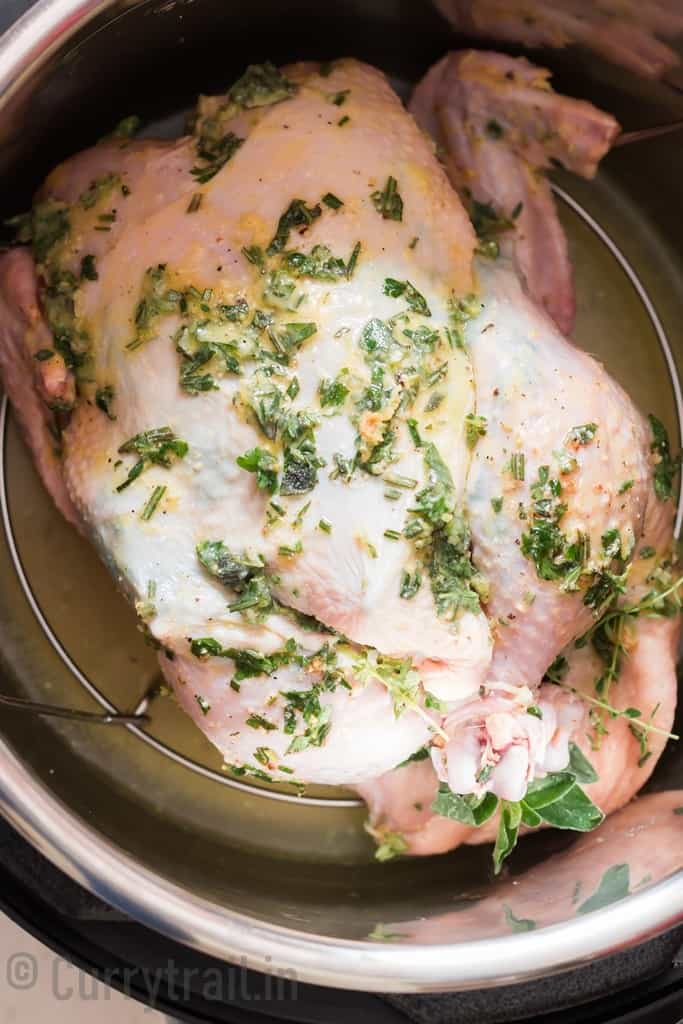 Instant pot whole chicken – Tips to remember
Make sure you buy whole chicken that will fit inside your pressure cooker. I used 7 Qt pot and I could use a 4 lbs whole chicken that fit inside the pot.
Remember the pressure cook time set on IP is the actual cooking time, Instant pot always takes some extra time for the pot to build pressure.
Ensure to season the bird both inside and outside well. It's better if you can loosen the skin and season under the skin too.
Instant pot whole chicken won't have crispy skin. You will get soft, juicy chicken. If you want to get crispy skin, then broil the pressure cooked whole chicken in oven for 8 to 10 minutes.
Seasoning we suggest here is Rotisseries style spices like – onion powder, garlic powder, cayenne, smoked paprika, salt and pepper, oregano, thyme. Feel free to use your favorite spice mix and herbs to the recipe.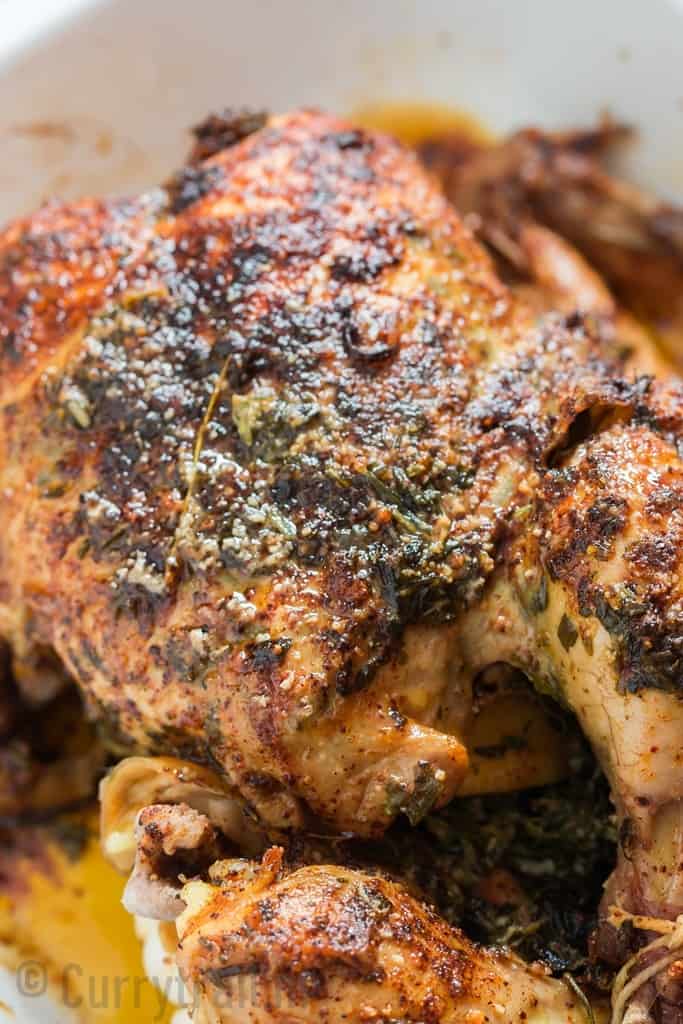 You must also try our other favorite Instant Pot recipes –
EASY-TO-PEEL INSTANT POT HARD BOILED EGGS
INSTANT POT GENERAL TSO CHICKEN
HOW TO BOIL PEANUTS IN INSTANT POT
INSTANT POT CHICKEN PARMESAN MEATBALLS
INSTANT POT BUTTERNUT SQUASH SOUP
SPICY CAJUN INSTANT POT CHICKEN AND RICE
CREAMY INSTANT POT CHICKEN MARSALA
INSTANT POT SPINACH AND CHICKEN CURRY
CREAMY INSTANT POT MAC N CHEESE
HOW TO COOK RICE IN INSTANT POT
Helpful Kitchen Tools :
How to cook chicken in a pressure cooker (whole chicken)
Start by adding to melted butter fresh herbs thyme, rosemary, oregano, garlic granules, salt and pepper. Mix well, keep aside.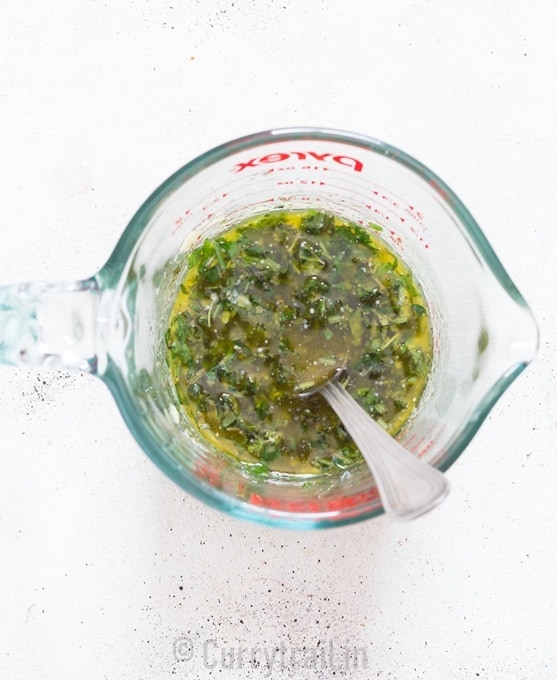 Place whole chicken on a tray. Loosen the skin of the chicken carefully with a spoon.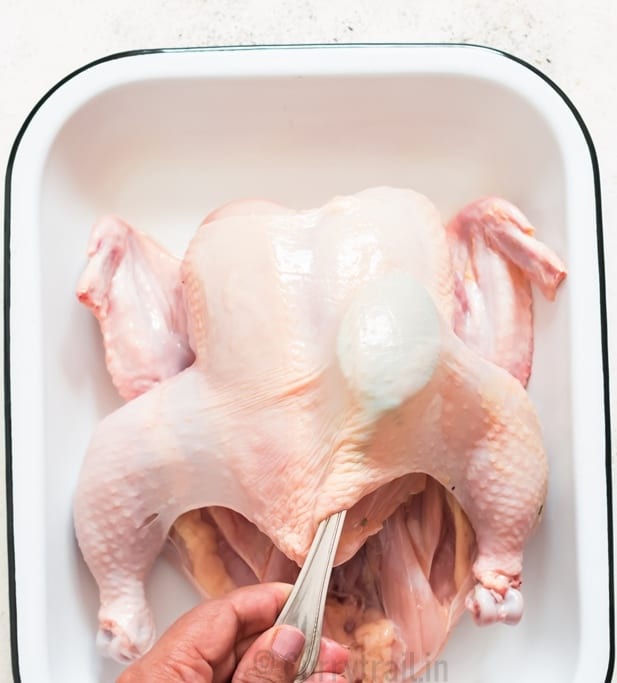 Pour buttery herb mix inside the chicken as well as under the skin and both sides on outer. Be generous with the mix. Spread it evenly with your hands and rub the herbs under the skin carefully.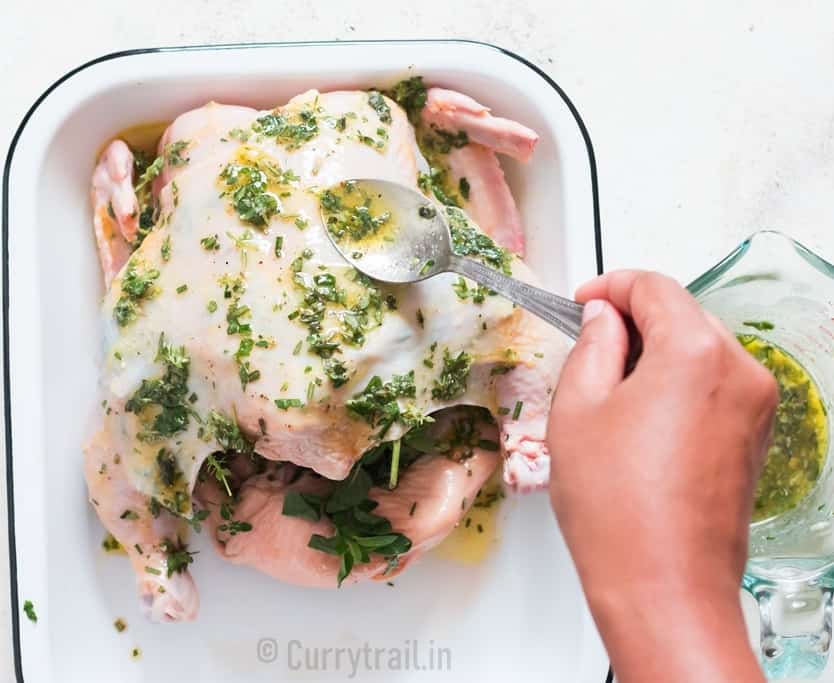 Insert half lemon, half whole garlic head, fresh thyme leaves, fresh rosemary sprigs, fresh oregano spring inside the cavity of chicken.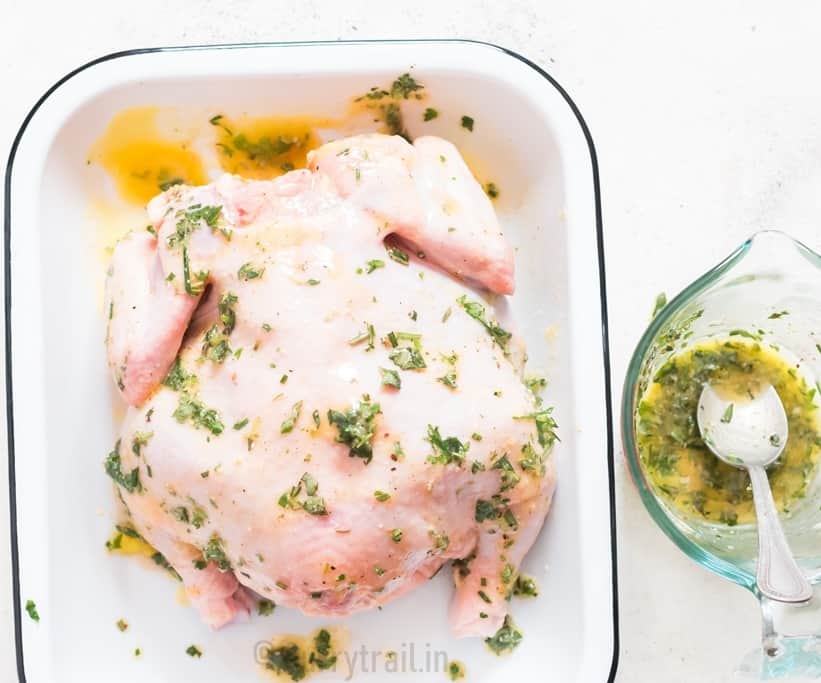 Tie both legs of the chicken with thread and fold the wings beneath the body.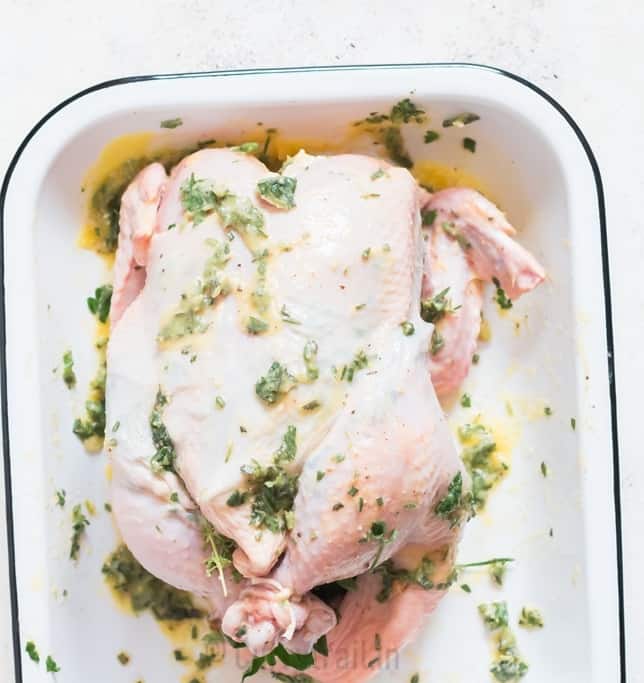 Into the instant pot pour chicken stock. Place the wire trivet inside.
Lift chicken from the tray and carefully place it on trivet.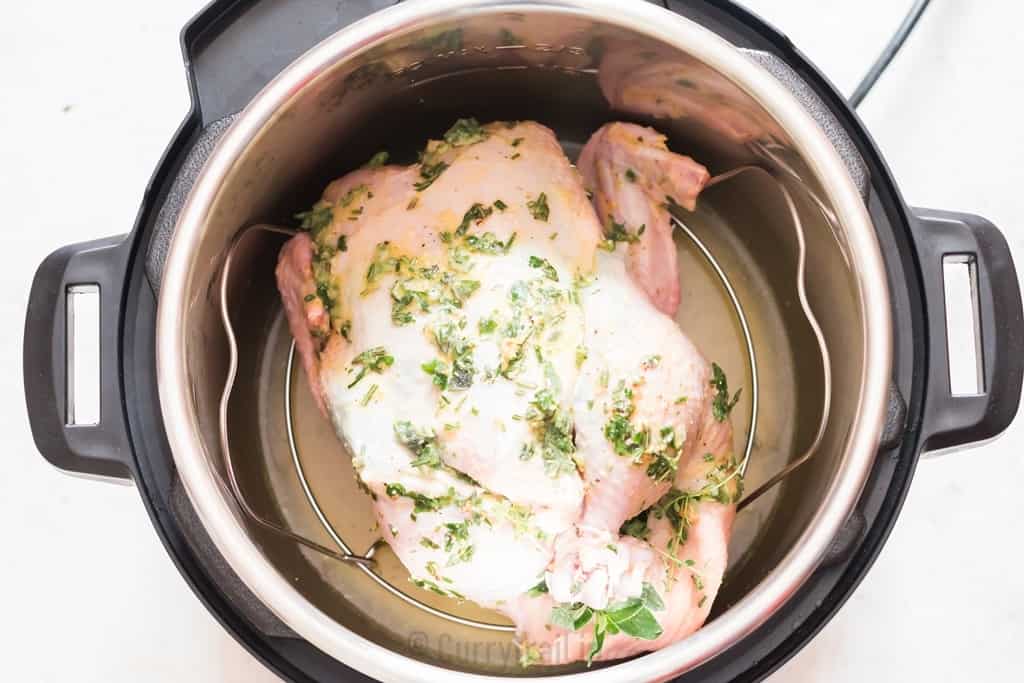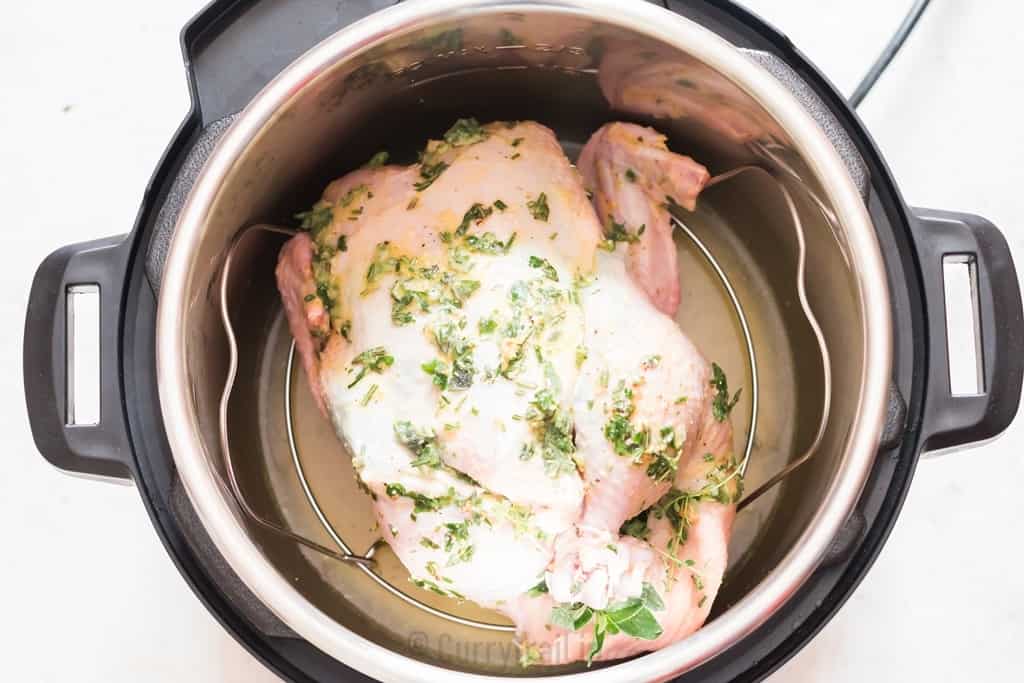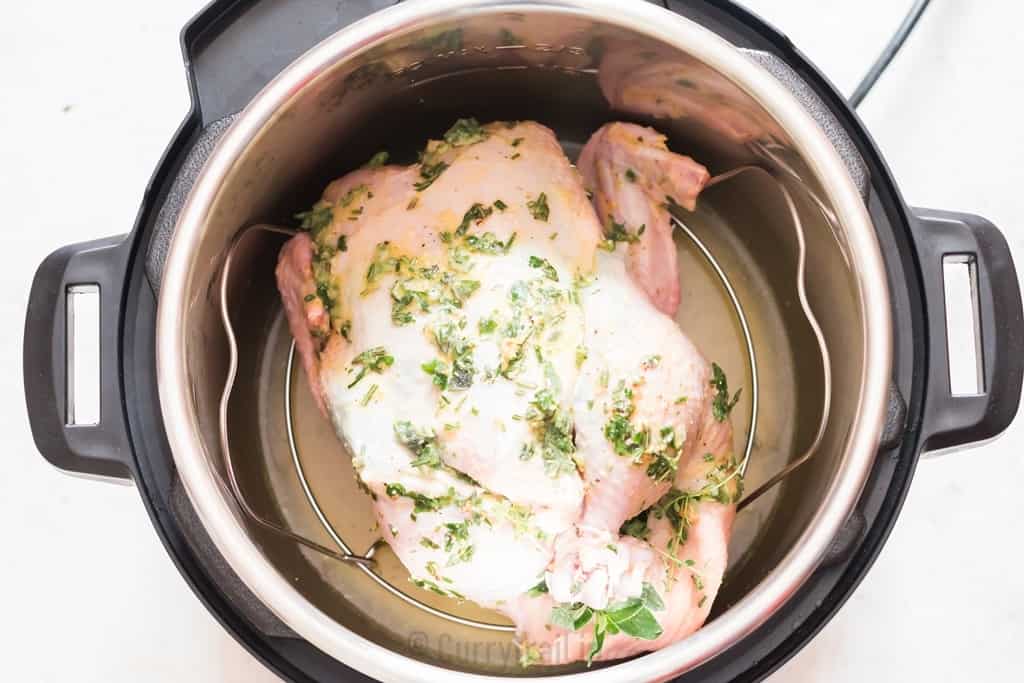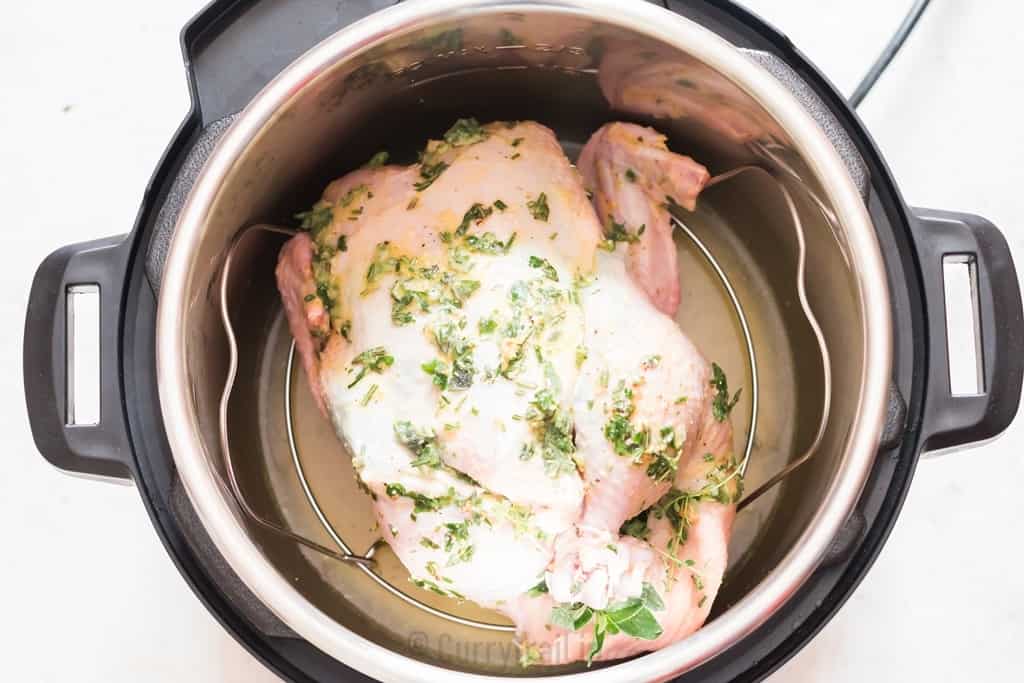 Secure lid ensure pressure release knob is in sealing position.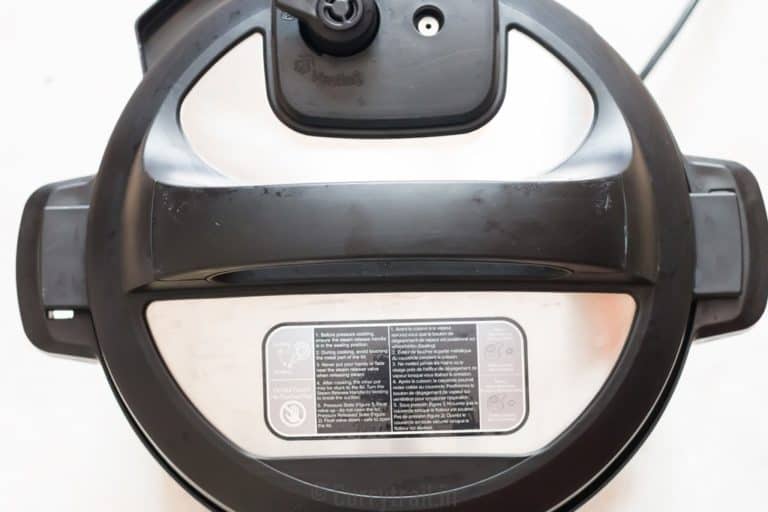 Select HIGH PRESSURE mode and adjust timer to 18 minutes (Note I have shown 20 minutes in the video and photo, and I found chicken pieces were 'almost' falling off the bones(was difficult to handle). So adjusted the next time to 18 minutes.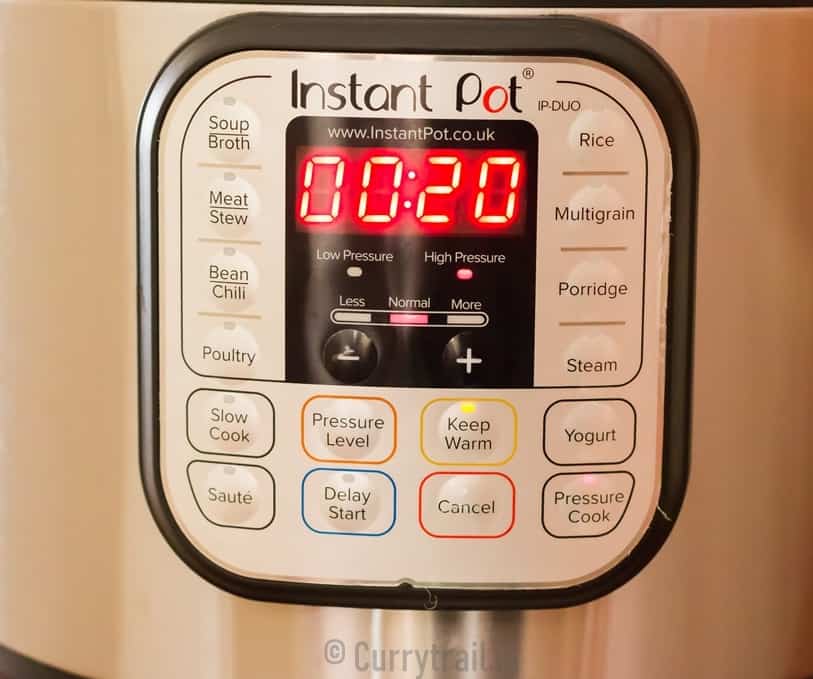 Once cooking timer is complete, let instant pot release pressure on it's own with Natural Pressure Release for 10 minutes.
Do manual pressure by turning pressure valve to venting position to release the left over pressure.
Open lid.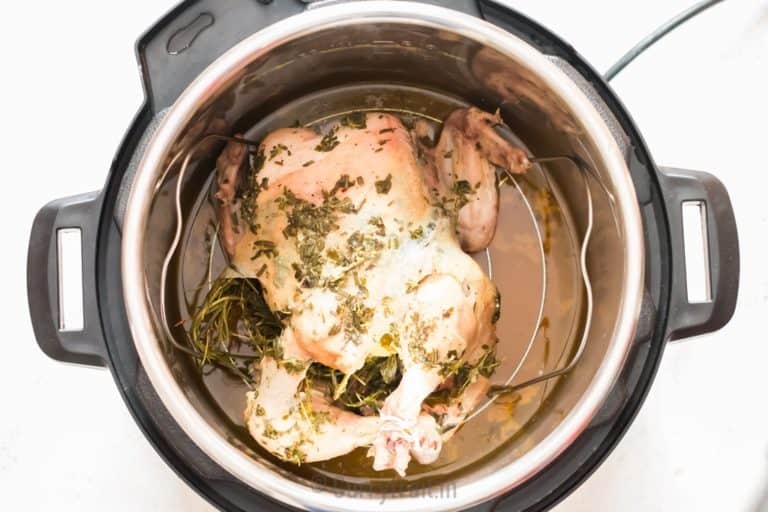 Carefully remove the chicken by lifting the trivet out off the instant pot. Let chicken cool a bit so it's safe to handle.
Then carefully lift whole chicken and transfer it back to a baking tray.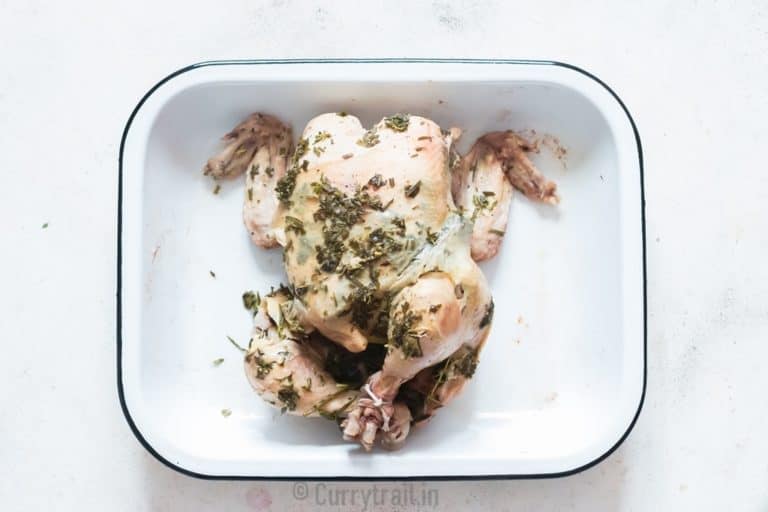 In a small bowl whisk olive oil, onion powder, garlic powder, salt and pepper, cayenne pepper.
Rub this generously over the chicken(placed breast side up)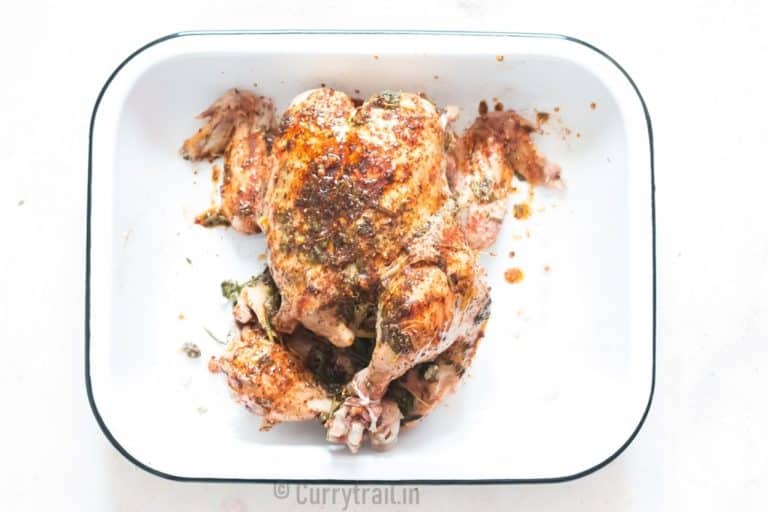 Broil in pre heated oven at 165F for 5-6 minutes. Remove baking tray from oven 2 to 3 times during broil time and bast chicken with it's fat and liquids that oozes out of chicken. this is very important step to keep chicken moist and juicy.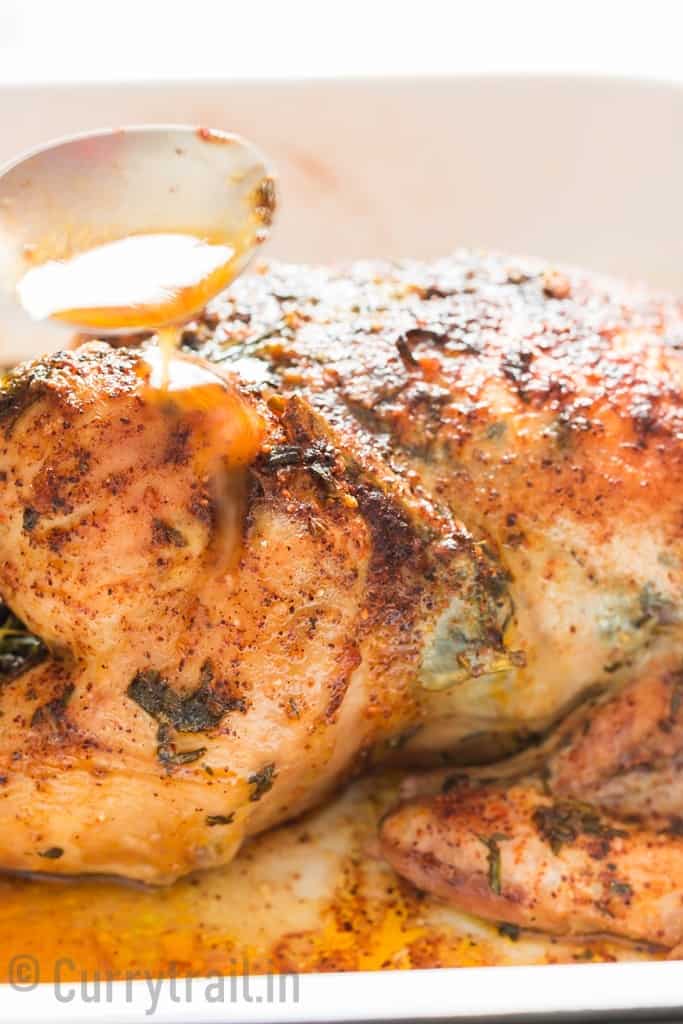 Serve.
Looking for more Thanksgiving recipes? I got some more amazing Thanksgiving main and Thanksgiving sides recipes for you guys, go check them out too.
Homemade Instant Pot Cranberry Sauce
Don't forget to Subscribe to CurryTrail Recipes below to get our newest recipes delivered straight to your inbox.
LOVE THIS RECIPE? KEEP IN TOUCH AND DON'T MISS OUT ON ANY OF CURRYTRAIL RECIPES! FOLLOW ME ON INSTAGRAM, PINTEREST, FACEBOOK, TWITTER.
Sample plating for Thanksgiving dinner!
We got pressure cooker whole roast chicken
Cranberry sauce
Sauteed green beans
and Roasted carrots.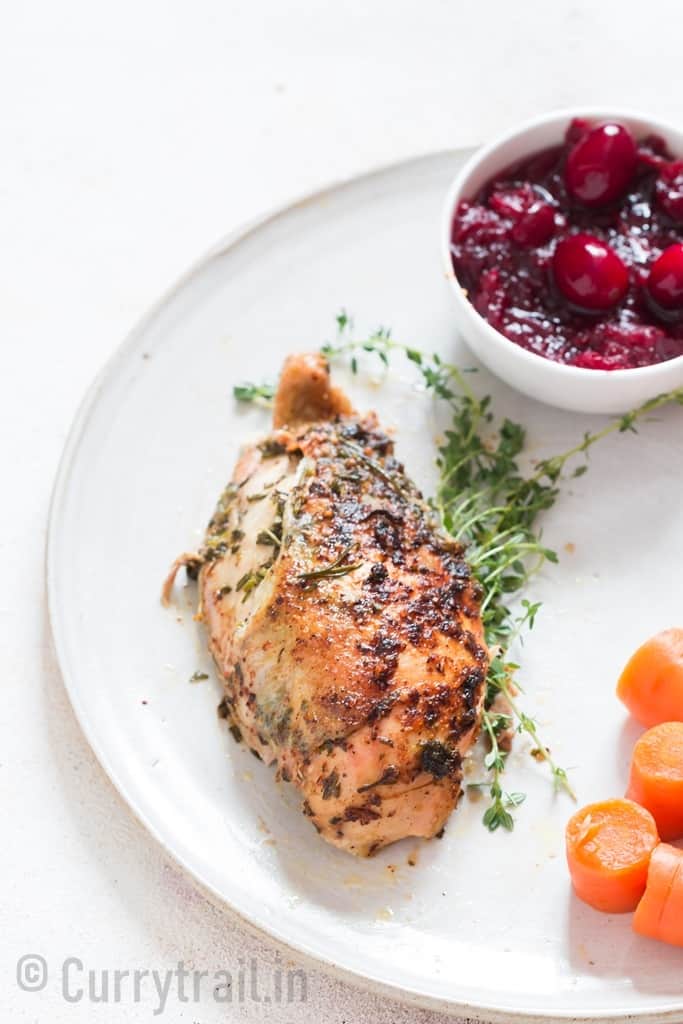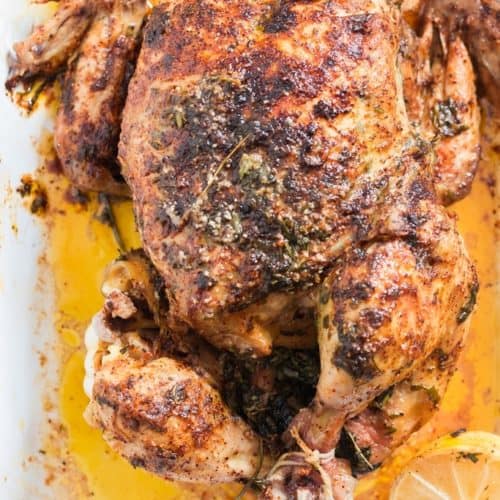 Pressure Cooker Whole Chicken Rotisserie Style (Instant Pot)
Pressure cooker whole chicken makes perfectly juicy and tender chicken in less than 45 minutes. This is by far the most succulent, tender, fall-of-the-bone chicken you'll ever make. You won't be oven roasting whole chicken anymore, and trust me you we are not compromising on the crispy outer skin here!
Ingredients
1 4 lbs whole chicken
1 cup chicken stock
Half lemon
Half whole garlic bulb
2 sprig fresh thyme
2 spring fresh rosemary
2 sprig fresh oregano
100 grams 1 stick unsalted butter, melted
2 teaspoon garlic granules
1 tablespoon fresh thyme chopped
1 tablespoon fresh rosemary chopped
1 tablespoon fresh oregano chopped
2 teaspoon fresh parsley chopped
2 tablespoon olive oil
2 teaspoon onion powder
1 teaspoon garlic powder
1 teaspoon cayenne pepper
salt and pepper to taste
Instructions
Start by adding to melted butter fresh herbs thyme, rosemary, oregano, garlic granules, salt and pepper. Mix well, keep aside.


Place whole chicken on a tray. Loosen the skin of the chicken carefully with a spoon.


Pour buttery herb mix inside the chicken as well as under the skin and both sides on outer. Be generous with the mix. Spread it evenly with your hands and rub the herbs under the skin carefully.


Insert half lemon, half whole garlic head, fresh thyme leaves, fresh rosemary sprigs, fresh oregano spring inside the cavity of chicken.


Tie both legs of the chicken with thread and fold the wings beneath the body.


Into the instant pot pour 1 cup chicken stock. Place the wire trivet inside.

Lift chicken from the tray and carefully place it on trivet.


Secure lid ensure pressure release knob is in sealing position.


Select HIGH PRESSURE mode and adjust timer to 18 minutes (Note I have shown 20 minutes in the video and photo, and I found chicken pieces were 'almost' falling off the bones(was difficult to handle). So adjusted the next time to 18 minutes.


Once cooking timer is complete, let instant pot release pressure on it's own with Natural Pressure Release for 10 minutes.


Do manual pressure by turning pressure valve to venting position to release the left over pressure.


Open lid.

Carefully remove the chicken by lifting the trivet out off the instant pot. Let chicken cool a bit so it's safe to handle.


Then carefully lift whole chicken and transfer it back to a baking tray.

In a small bowl whisk olive oil, onion powder, garlic powder, salt and pepper, cayenne pepper.

Rub this generously over the chicken(placed breast side up)


Broil in pre heated oven at 165 F for 5-6 minutes.


Remove tray from oven 2 to 3 times during broil and bast it with liquids and fat released from chicken

Serve
Nutrition
Calories: 142kcalCarbohydrates: 3gProtein: 1gFat: 14gSaturated Fat: 7gCholesterol: 28mgSodium: 46mgPotassium: 68mgFiber: 1gSugar: 1gVitamin A: 488IUVitamin C: 2mgCalcium: 22mgIron: 1mg