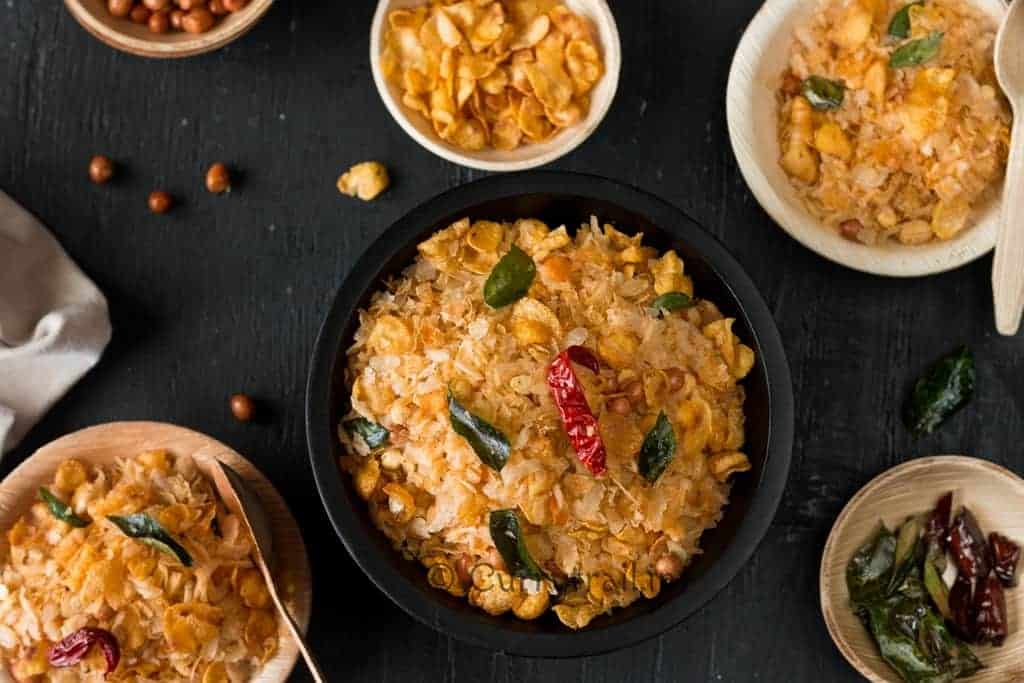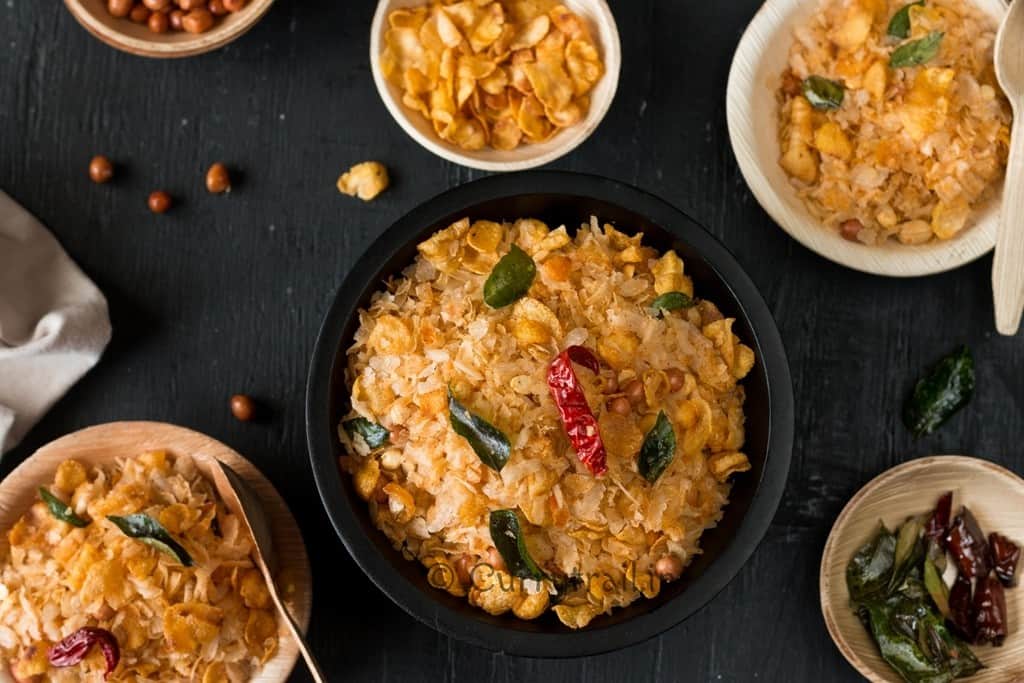 With Deepavali around the corner, we are all getting ready with goodies that we make for the festival. Internet is buzzing with lots of sweets and snacks recipes which can be made for Diwali/Deepavali. How can Curry Trail stay out of the fun, after all this is one festival which we look forward to the whole year.
I plan to write a detailed post on how we used to and still celebrate Deepavali in my next post, so will keep all the ramblings for the next post. Today you are spared, so you can enjoy this quick and easy recipe 😉
Here's my twist on chivda. I used some roasted corn flakes(yes, I roasted them) along with some roasted curry leaves and dried red chilies. I would say, it's fusion of North and South.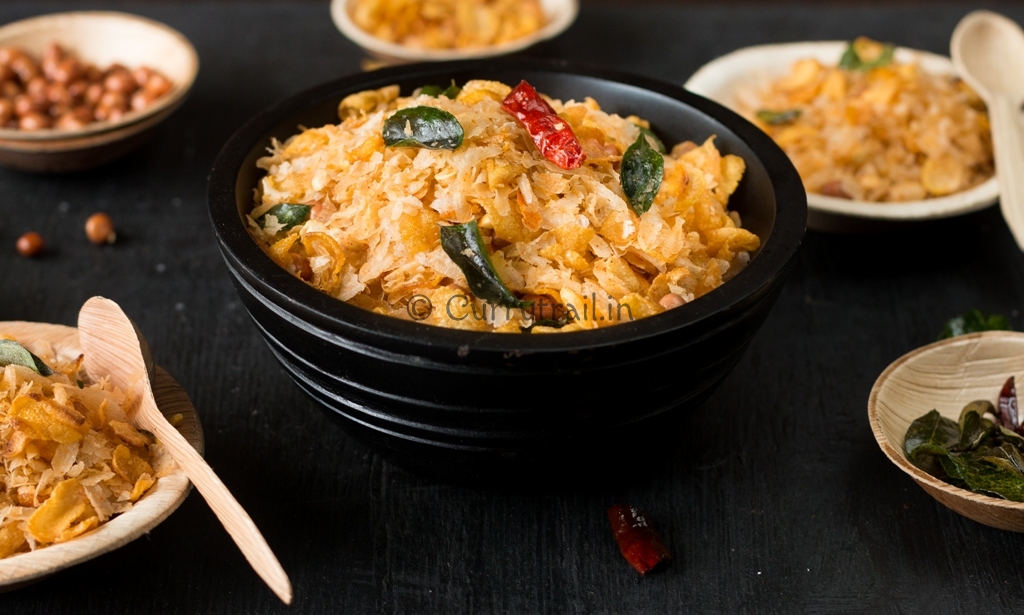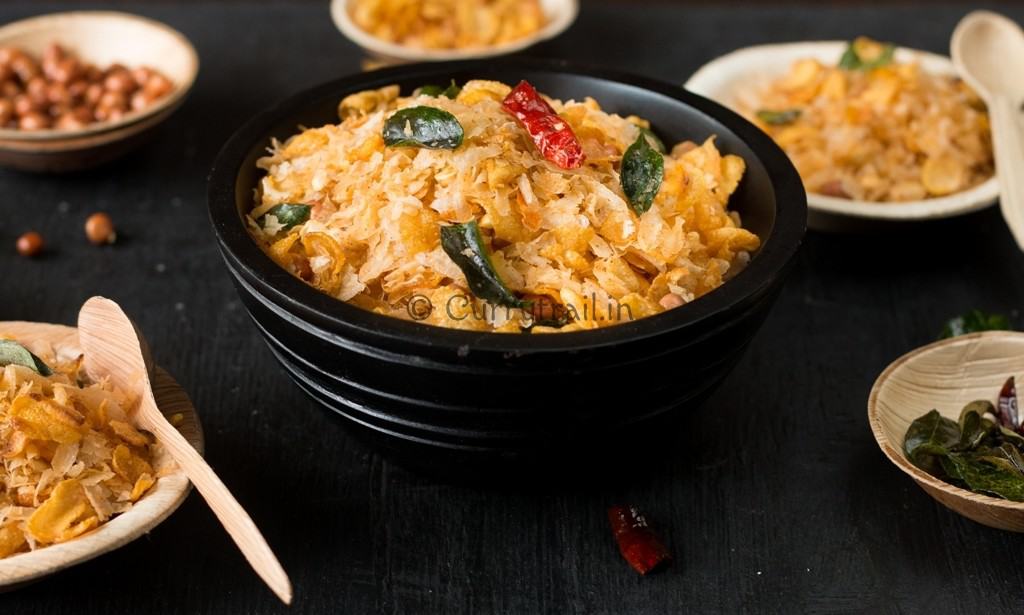 Here's my poha and corn flakes chivda recipe
Ingredients
2 cups thin poha(beaten rice)
1 cup corn flakes
½ cup peanuts
½ cup roasted Bengal gram
1 ½ teaspoon red chili powder
Salt to taste
¼ cup curry leaves
8 to 10 dried red chilies
1 to 2 tablespoon oil
Instructions
Heat 1 tablespoon of oil. Roast each ingredient separately until they turn crisp and slightly golden brown. Remove from pan and add the next ingredient to the same pan and continue the process. Add little oil as you goes if the pan turns dry and all the oil has been absorbed. Start with poha, then corn flakes, next peanuts, and then fried Bengal gram, finally some curry leaves and dried red chilies. Once you have finished roasting sprinkle some red chili powder and salt and gently toss them all to gather. That's it! Delicious crisp chivda is all ready to be eaten. It's a best tea time snack.
Before you all go I wanted to share with you all a great news. My Spiced Orange Saffron Poached Pears with Chocolate Sauce and Pistachio Sand earns me a winner spot in Aesthetics Category in DMBLGiT Sept 2015. This is truly a proud moment for me. DMBLGiT stands for Does My Blog Look Good in This. It's a community run food photography contest that was established in 2005 – 10 years ago. In 2014, LFP(Learn Food Photography) "acquired" this food photography contest from Andrew who was running this contest for several years.
This is one of its kind contest that is hosted by different food bloggers every month and is judged by outstanding food photographers who love DMBLGiT.
This is my first win and i'm so excited to win such a prestigious contest!