It's smoothie time. This is tropical pineapple smoothie with anti-inflammatory benefits. A tropical treat with big health benefits! Let's get blending!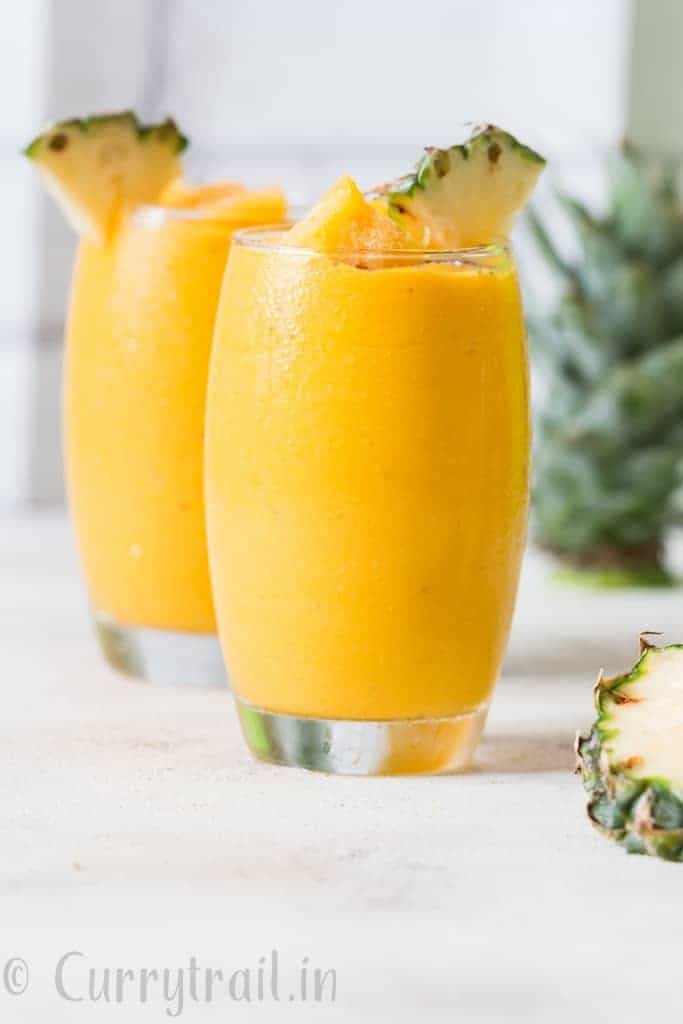 Breakfast or snack time = Smoothie time!! Smoothies are extremely quick to make and nutrients dense. It's very refreshing and so easy to make!
Pineapple smoothie is packed with nutrients and you can pack in flavors and taste that please everyone.
There is really no wrong way to make smoothie. You can add in any vegetable and fruits of your choice and blend it for your favorite smoothie drink.
Like, a tropical smoothie is supposed to have pineapples. But don't stop there. You can throw in some more fruits and vegetables to make pineapple smoothie recipe.
Anti-inflammatory pineapple smoothie recipes has pineapples, mangoes, bananas and a hint of turmeric paste. It's got all the deliciousness of what a tropical smoothie should be and the health benefits of turmeric.
You can add turmeric powder or add turmeric paste. Pineapple ginger smoothie is one of the classic combinations and adding turmeric paste takes care of that.
The benefit of adding turmeric paste  to pineapple smoothie – you're improving the smoothie health factor by not just with fruits but also with medical ingredients like turmeric powder, ginger.
How do you like your smoothie?
Me – I like is thick and frosty!
The right thickness that makes it easy for you to slurp it away with a straw or scoop it out with a spoon. That's exactly how I like my smoothie to be.
So how do you get that right consistency? How can you make it thick?
Read on, I'm sharing some tips to make best smoothie (any combinations of fruits or veggies)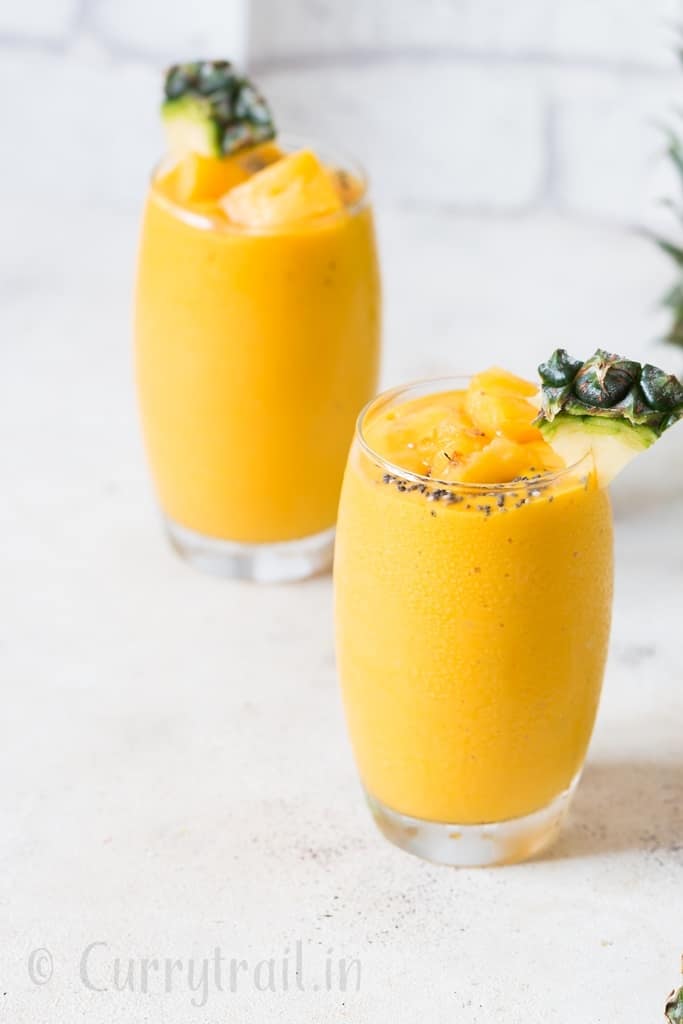 How To Make A Smoothie?
Smoothie usually is made from-
Fruits
Vegetables
Dairy.
You can make smoothies with a single fruit, or with a mix of fruits, a mix of fruits, vegetables and berries.
To help blend everything together, you usually add dairy products like Greek yogurt, and if not calorie conscious ice cream makes it's way into the smoothie as well.
What every smoothie should have is a fruit, a vegetable if you prefer and a dairy component like yogurt or milk.
A good smoothie has a simple formula :
Fruits
Juice
Yogurt
And Ice(omit this if using frozen fruits like I did with pineapple smoothie recipes)
You can use about any fruit of your choice. You see there are no rules with smoothie making.  Simply blend frozen fruits and vegetables if using along with freshly squeezed juice and ice in powerful blender until is smooth and frosty.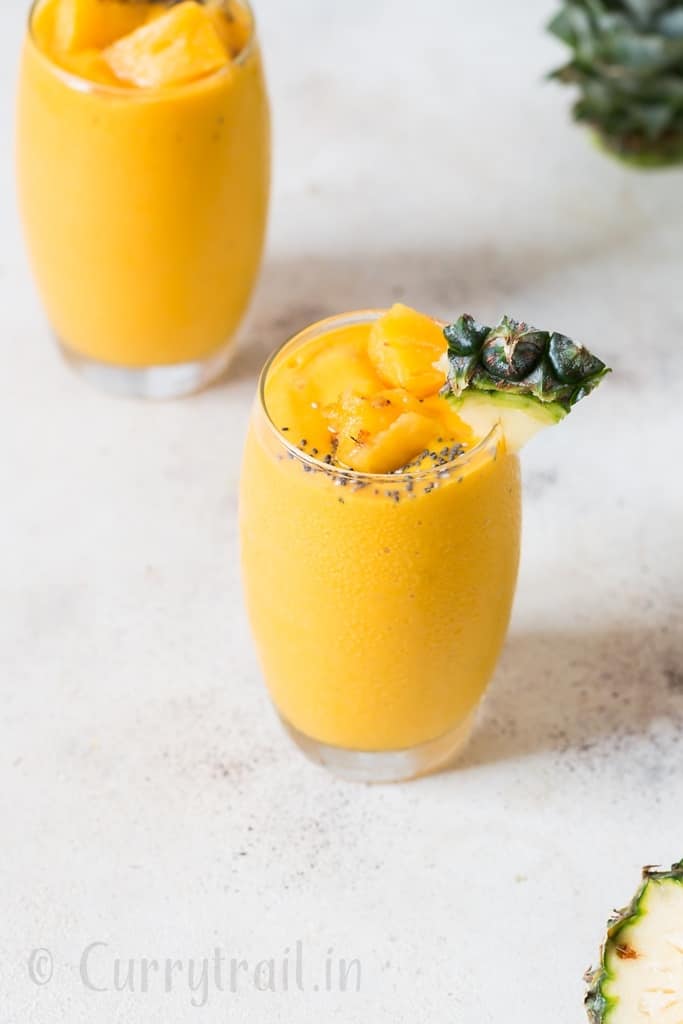 Why Should You Make Anti-Inflammatory Pineapple Smoothie?
It takes less than 5 minutes to make pineapple smoothie
Easy to adapt to your own choice of fruits
Perfect for breakfast or snack time
Kids would love it
Pineapple smoothie will remind you of tropical vacation on a island.
How To Freeze Fruits For Smoothie Recipes?
If you want to have a thick frosty smoothie the trick is – freeze fruits. Using frozen fruits to make smoothie will give a perfect smoothie consistency that you can slurp it away with straw or scoop it with a spoon! Isn't that how a smoothie should be!
To freeze fruits to for smoothie recipe, simply rinse fruits and chop into bite size pieces. Once chopped I prefer to pat it dry with kitchen paper so there are no ice frosts when you freeze.
A convenient way to freeze fruits to make smoothie is portioning it out and freeze them in zip lock bag.
Other way to freeze is simply layer the chopped fruits in single layer on a baking tray lined with parchment paper and freeze it for 4 hours or until hardened.
If you love pineapple recipes, then do check these out:
TERIYAKI GRILLED PINEAPPLE SHRIMP SKEWERS
How To Make Best Pineapple Smoothie?
Pineapple smoothie recipe can be customized based on what fruit is available or based on what fruit you want to use. No matter what you use, just remember the simple smoothie formula we use –
Fruits
Juice
Yogurt
Ice (not mandatory if using frozen fruits)
Choose your fruit –
Pineapple smoothie usually reminds of the tropical drink from your favorite vacation. At the tropics what's mostly popular are – pineapples, mangoes, bananas and coconut.  That's exactly what's in this pineapple smoothie. Added to it is turmeric to give it health boost.
Both fresh and frozen fruits would work, but for really smooth, frosty smoothie I recommend you use frozen fruits.
Feel free to use any fruit or any combination of fruits.
Mango pineapple smoothie is simply a mix of frozen pineapple cubes with frozen mango cubes. One of my favorite summer smoothie is mango pineapple smoothie. Summer in a bowl!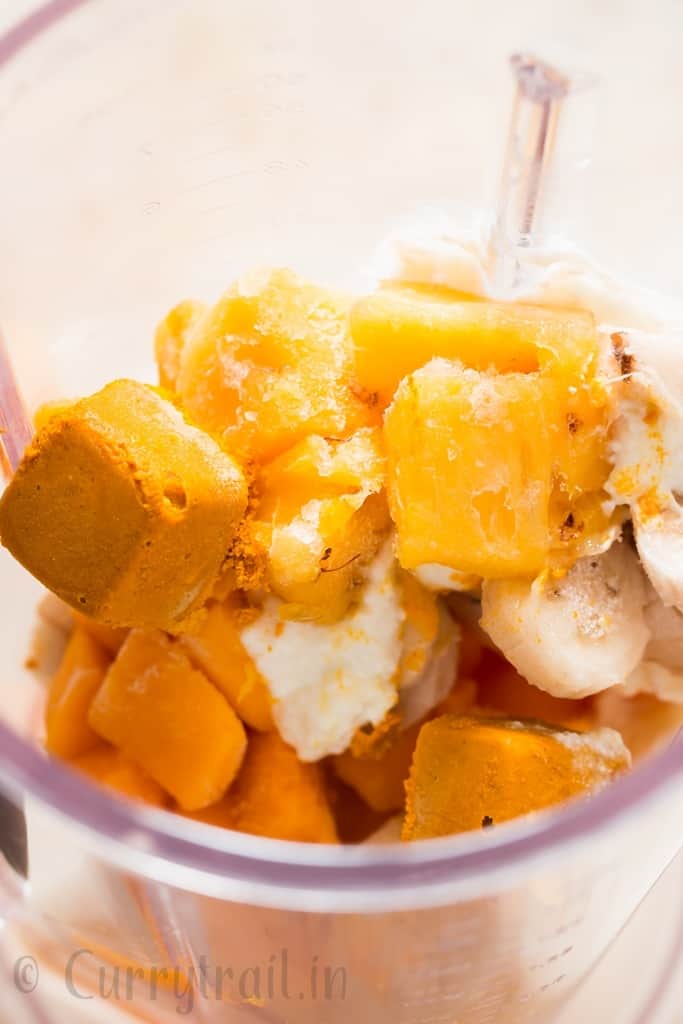 Pro-Tip: When your favorite fruit is available in the season, freeze them. Don't wash. Just freeze unwashed and pitted. You can make your favorite smoothie all round the year with your favorite fruit.
Liquid & Dairy –
For the liquid use any fresh fruit juice, plain water or coconut water. I prefer freshly squeezed orange juice in MOST of my smoothies. It adds the required sweetness and makes your smoothie bright and nutritious! You can use pineapple juice, apple juice, or coconut water as well.
For dairy use yogurt, buttermilk or even milk. For best results I ALWAYS prefer Greek yogurt in my smoothies.
You can also use the flavored yogurts you get in the stores.
Optional Add-Ins –
Smoothie main purpose is to sneak in as much nutrients into it. If you want an easy way to get some extra nutrition, make a smoothie with some sort of "super-foods" to your smoothie. Add a scoop of protein powder, or throw in your daily intake of flax seeds powder, throw in some chia seeds, add hemp hearts.
Today the "super-food" that goes into my pineapple smoothie recipes is turmeric and ginger (by using frozen turmeric paste).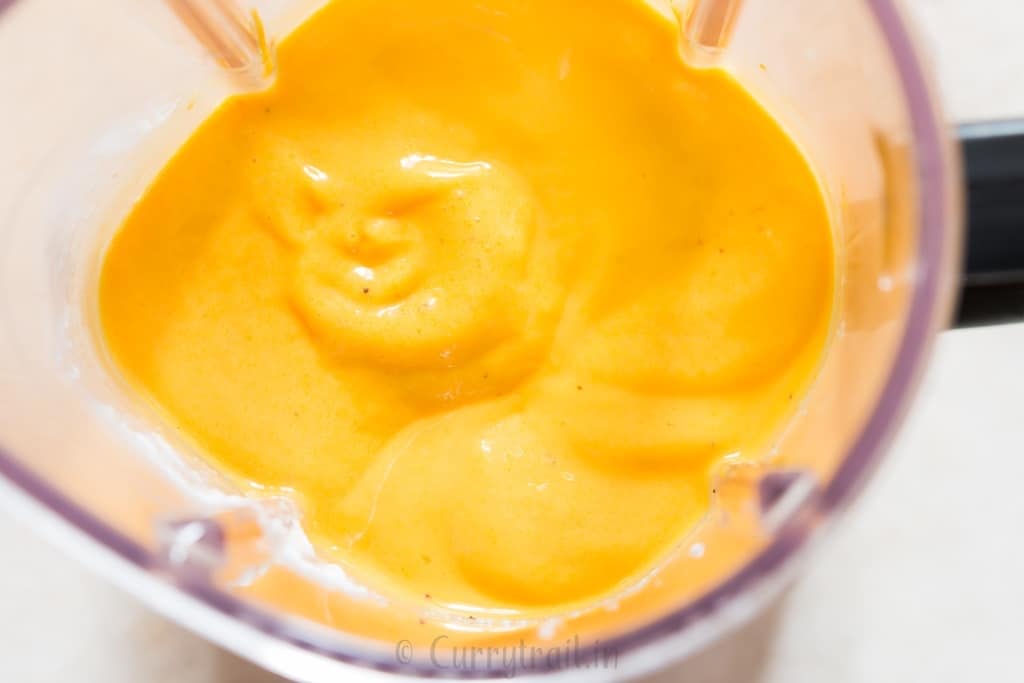 Some of my favorite add-ins for pineapple smoothie are:
TURMERIC (FRESH OR GROUND)
GINGER (FRESH OR GROUND)
CHIA SEEDS
HEMP HEARTS
FLAX SEEDS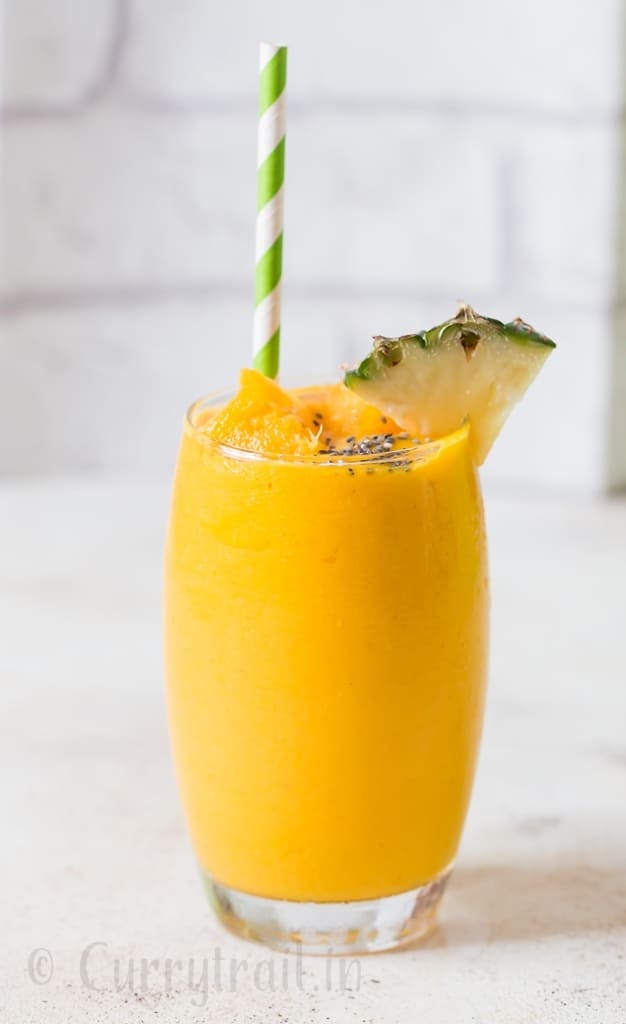 Blend –
If using frozen fruits, simply blend all the ingredients in a powerful blender. If you do not plan to freeze fruits, use fresh fruits and add ice cubes to the blend before blending. This will give you somewhat thick but nicely chilled smoothie.
Pro-Tip: Do not use ice cubes if you use frozen fruits as that might dilute your smoothie and make is thin.
To get thick frosty smoothie always use frozen fruits.
Pineapple Smoothie Recipe Variations
As I mentioned above, pineapple smoothie is ultra-flexible. The smoothie recipe written is delicious and has anti-inflammatory properties. Hence it calls for using turmeric paste that has turmeric, fresh ginger, hint of pepper, spice of cinnamon making it really healthy.
This recipe can be used as a base for other smoothie recipes by adding your favorite vegetable or fruit into it or make your own variation of pineapple smoothie.
We are sharing a few pineapple smoothie recipes variations here –
Along with mango and pineapple you can add fresh or frozen berries like strawberries.
Add greens like baby spinach, kale.
Add healthy fat like avocado, peanut butter.
Add more protein and fiber with flax seeds, hemp hearts, chia seeds, protein powder.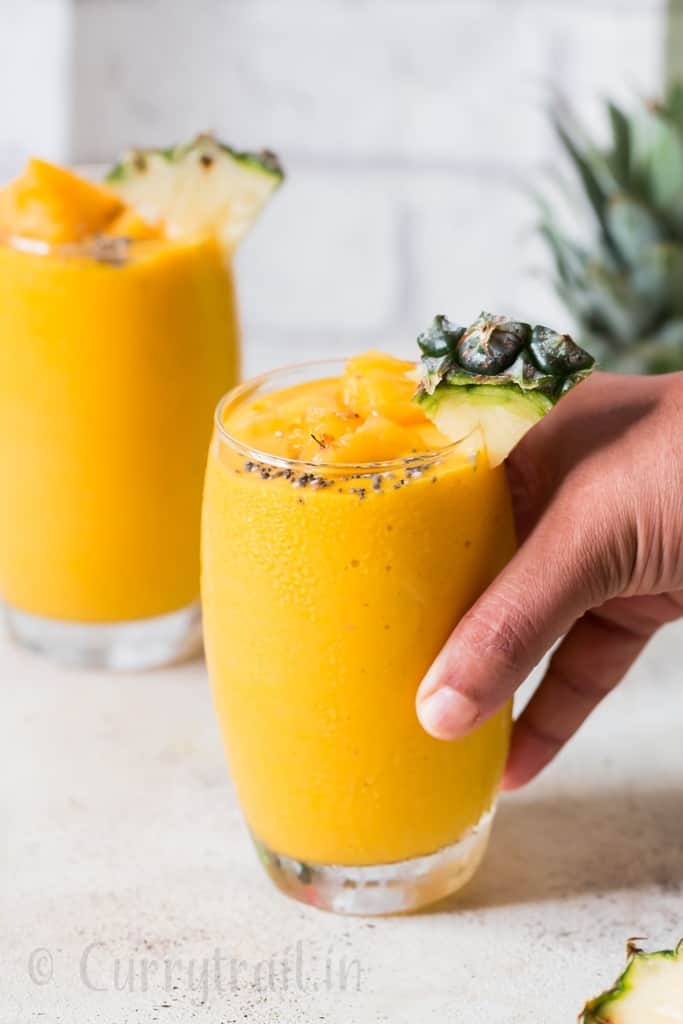 DON'T MISS OUT OUR OTHER BEST SMOOTHIE RECIPES–
Don't forget to Subscribe to CurryTrail  Recipes below to get our newest recipes delivered straight to your inbox.
LOVE THIS RECIPE? KEEP IN TOUCH AND DON'T MISS OUT ON ANY OF CURRYTRAIL RECIPES! FOLLOW ME ON INSTAGRAM, PINTEREST, FACEBOOK, TWITTER.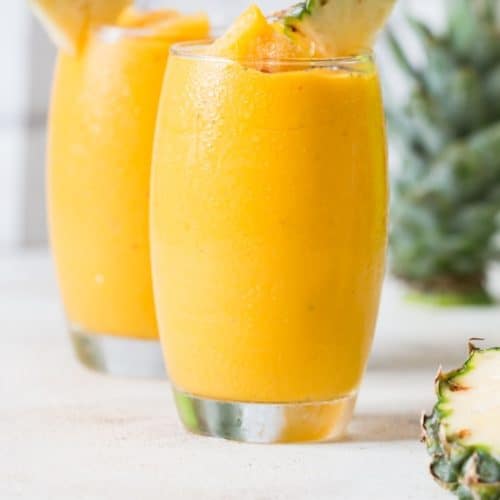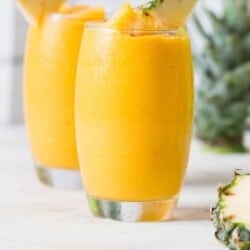 Anti-Inflammatory Pineapple Smoothie
It's smoothie time. This is tropical pineapple smoothie with anti-inflammatory benefits. A tropical treat with big health benefits! Let's get blending!
Ingredients
2 cups frozen pineapple chunks
1 cup frozen mango cubes
½ cup frozen banana
2 teaspoon turmeric paste frozen
¾ cup Greek yogurt
¾ cup freshly squeezed orange juice
For Garnish –
Fresh pineapple wedges
Few fresh pineapple chunks
Chia seeds
Instructions
Roughly chop pineapples, mango and banana and place in separate zip lock bags. Freeze the chopped fruits for about 4 to 6 hours or until hardened. You can freeze overnight.

Squeeze out fresh orange juice just before you plan to make pineapple smoothie.

Add frozen fruits, turmeric paste, orange juice to a powerful blender. Top with yogurt. Turn blender on and blend until creamy and smooth.

If need add honey for added sweetness to the smoothie.

Pour smoothie into serving glasses or bowl. Top it with few fresh pineapple chunks, or mango fruit or few slices of banana. Sprinkle some chia seeds. Place the pineapple wedge on the side of the smoothie glass and serve immediately.
Nutrition
Calories: 173kcalCarbohydrates: 36gProtein: 6gFat: 1gSaturated Fat: 0gCholesterol: 2mgSodium: 20mgPotassium: 496mgFiber: 3gSugar: 28gVitamin A: 785IUVitamin C: 105.8mgCalcium: 82mgIron: 0.6mg