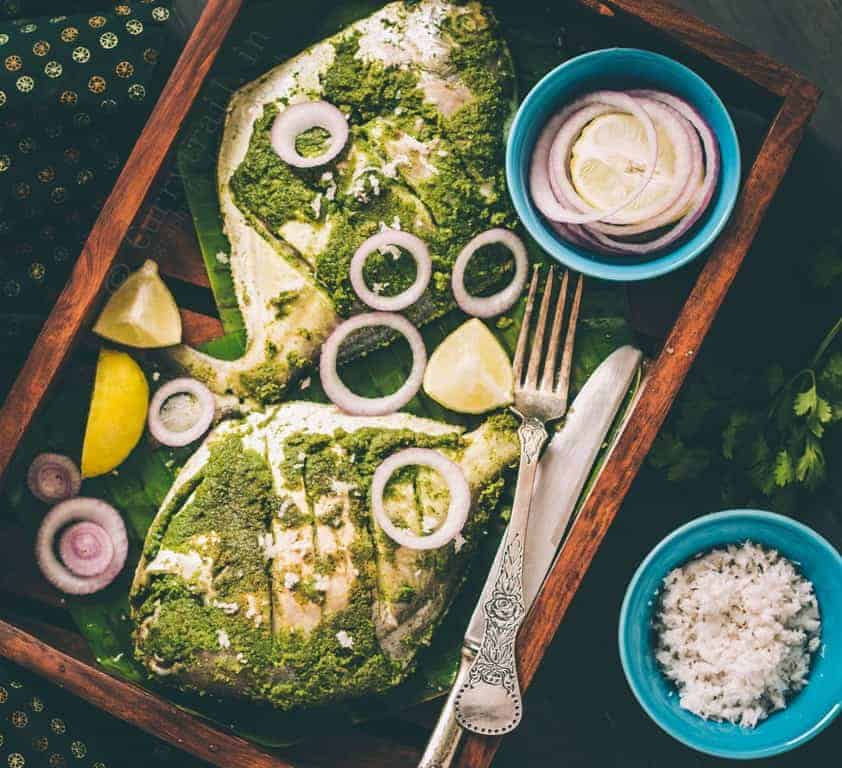 Anything wrapped in banana leaf and cooked to perfection is the most amazing food to eat in the whole world! How many of you agree on that note?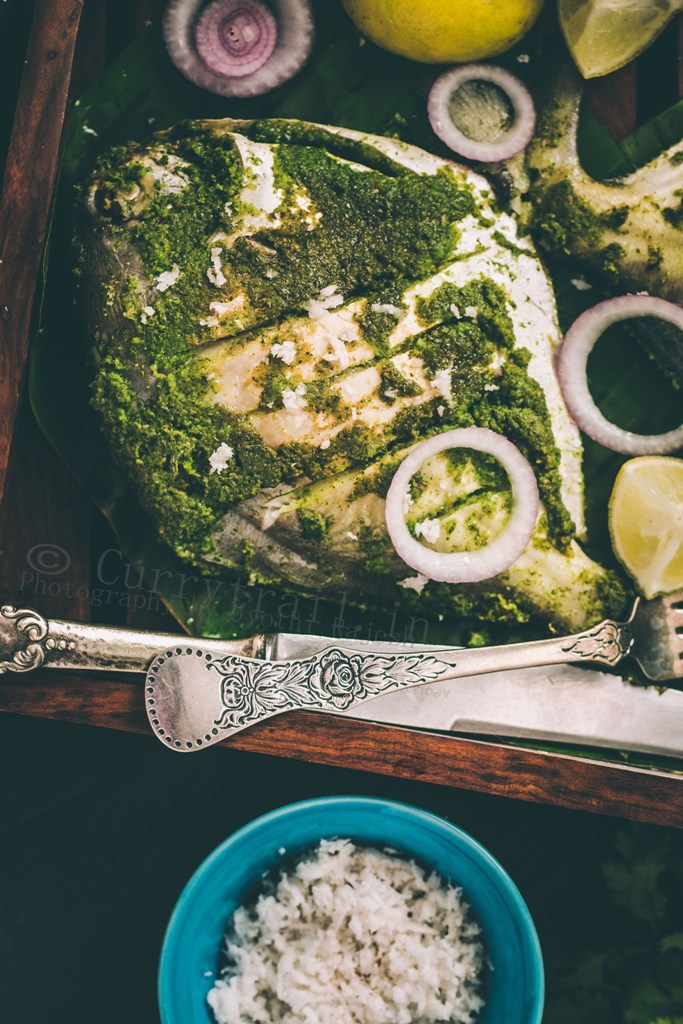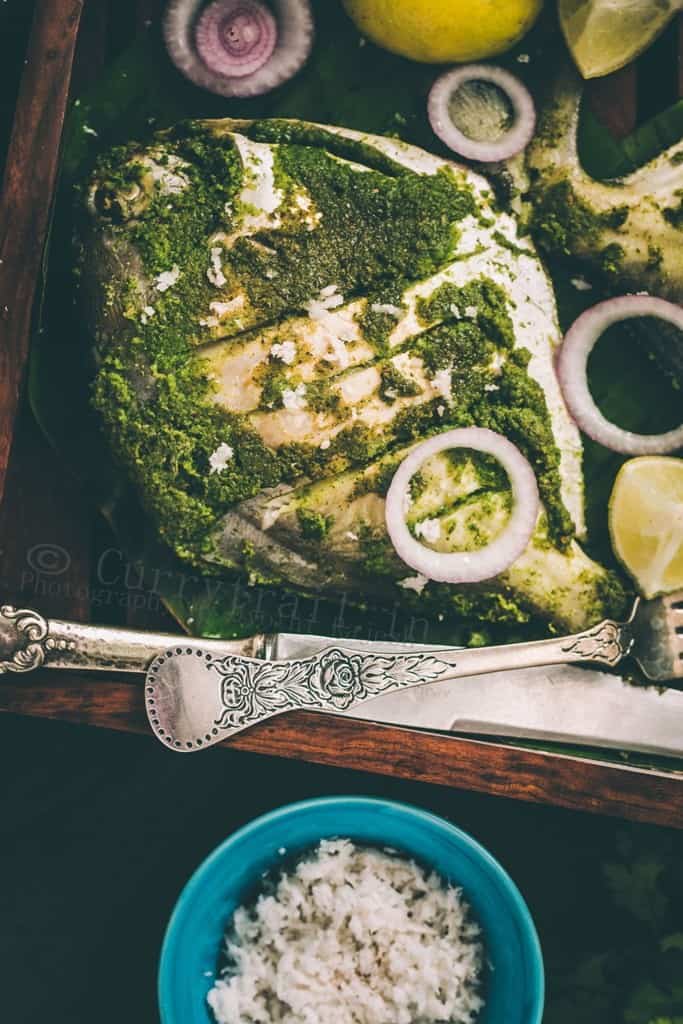 I love food cooked in banana leaf. The flavor the leaf imparts to the dish is just amazing. This kind of food is rustic, homely, and lip smacking delish-ious! Also food cooked in banana leaf usually uses very minimal oil.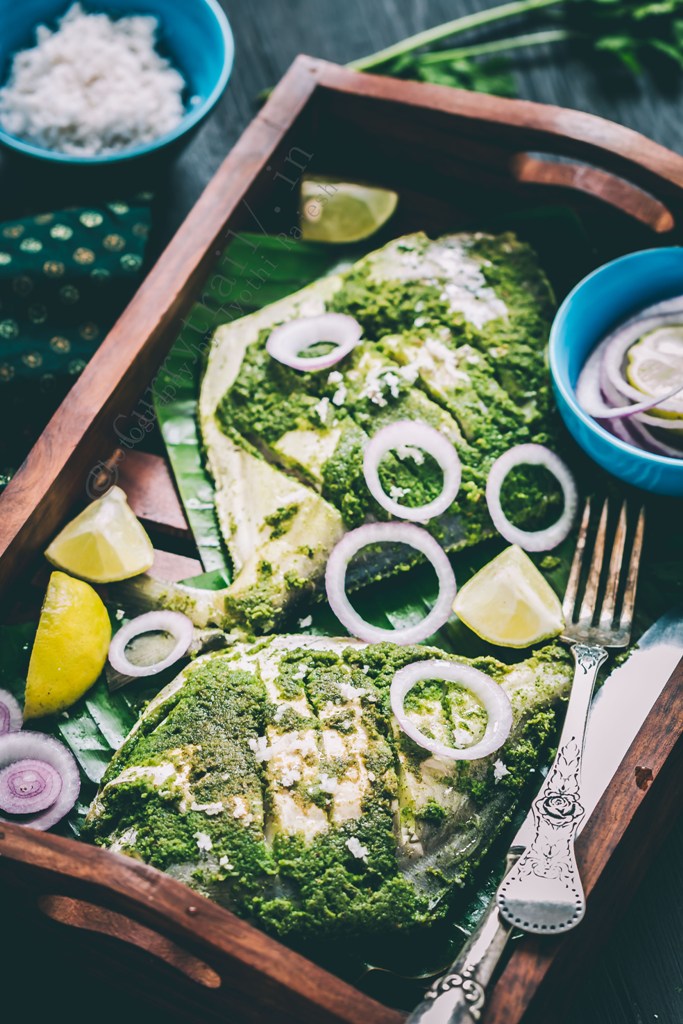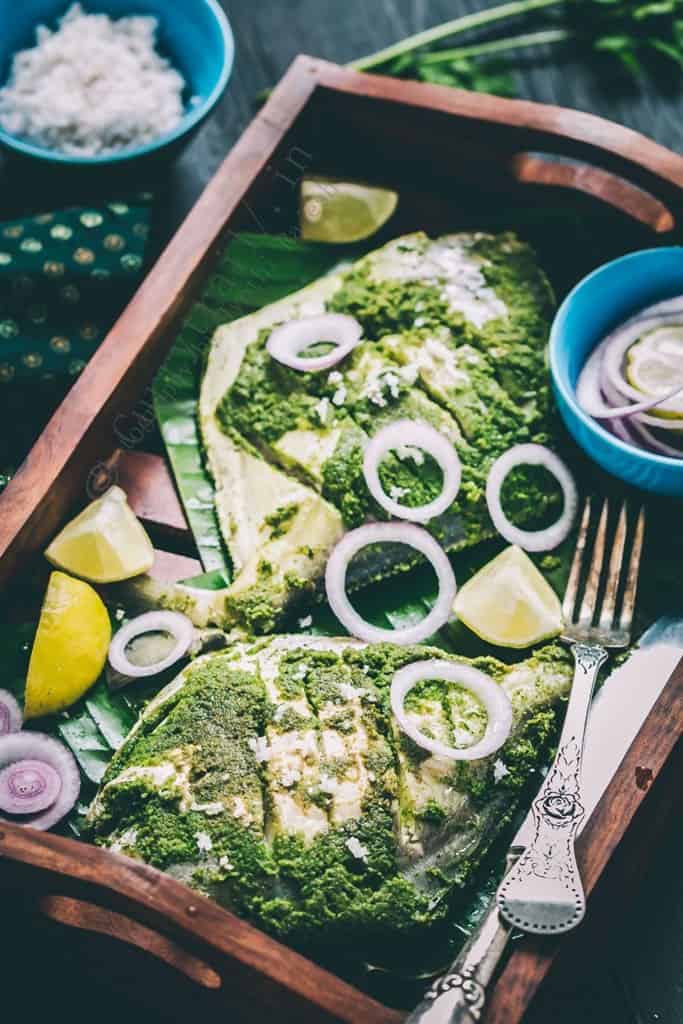 Patra ni machi is a very popular Parsi dish in which fish smeared with generous amount of green chutney and then wrapped in banana leaf and steam cooked. It's light, comforting and satisfying. It's also great for people who are dieting. Made with no-oil, you won't believe food can taste so amazing even when made without any oil! For all the weight-watchers this dish is a real treat. With zero oil and steam cooking you can't ask for a dish better than this one!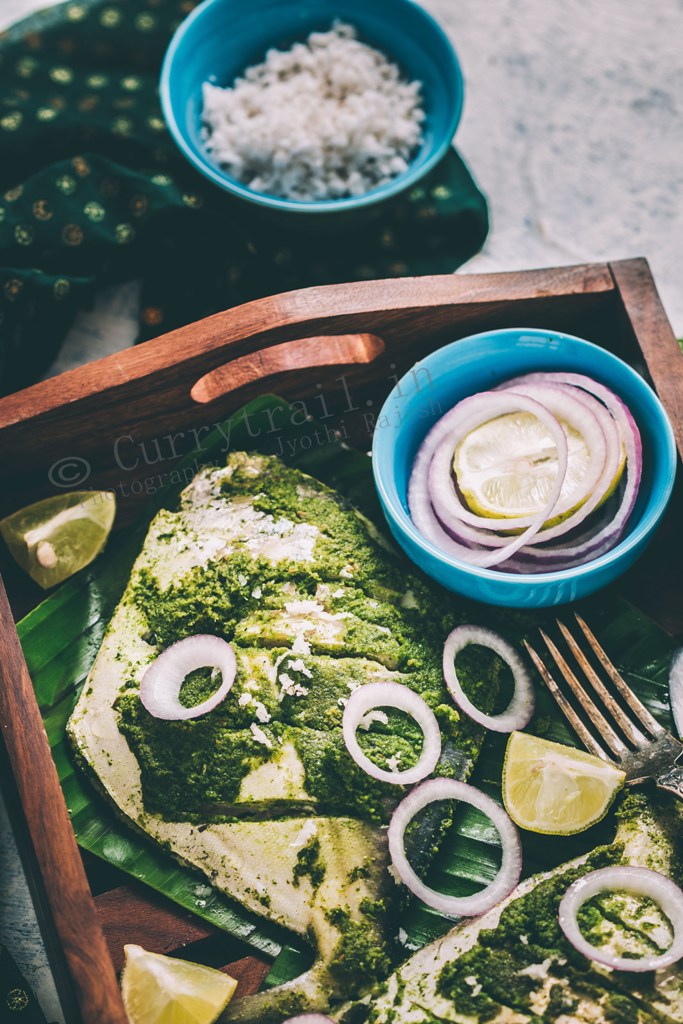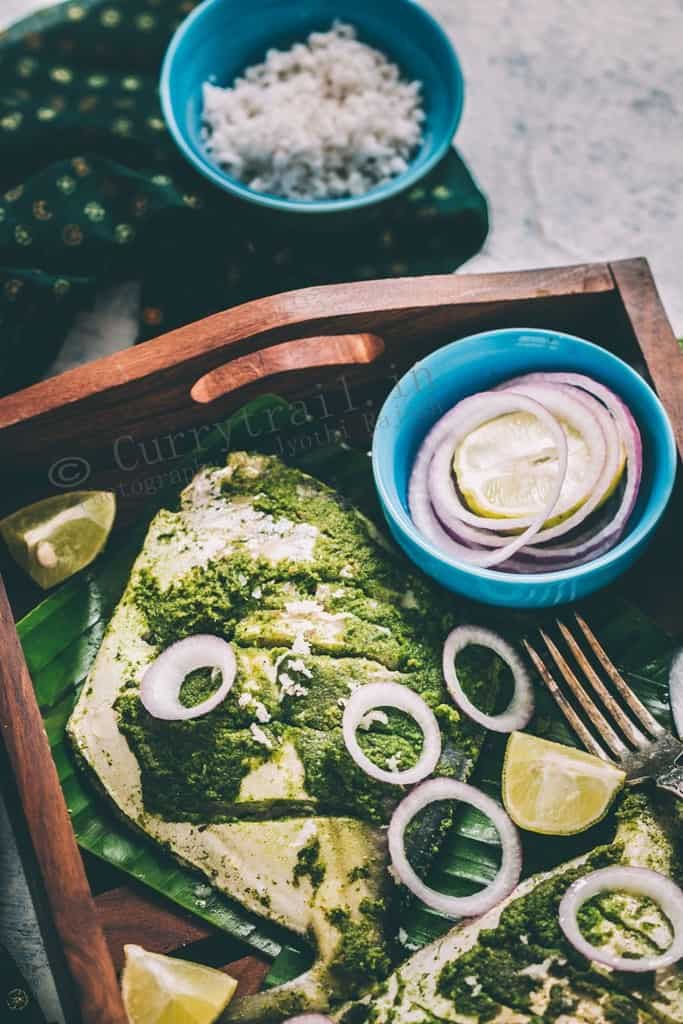 The green chutney is another highlight in this recipe. Flavors from garlic and spice from green chilies fresh mint and coriander leaves is mind blowing – I can simply lick this chutney. This chutney makes a nice accompaniment.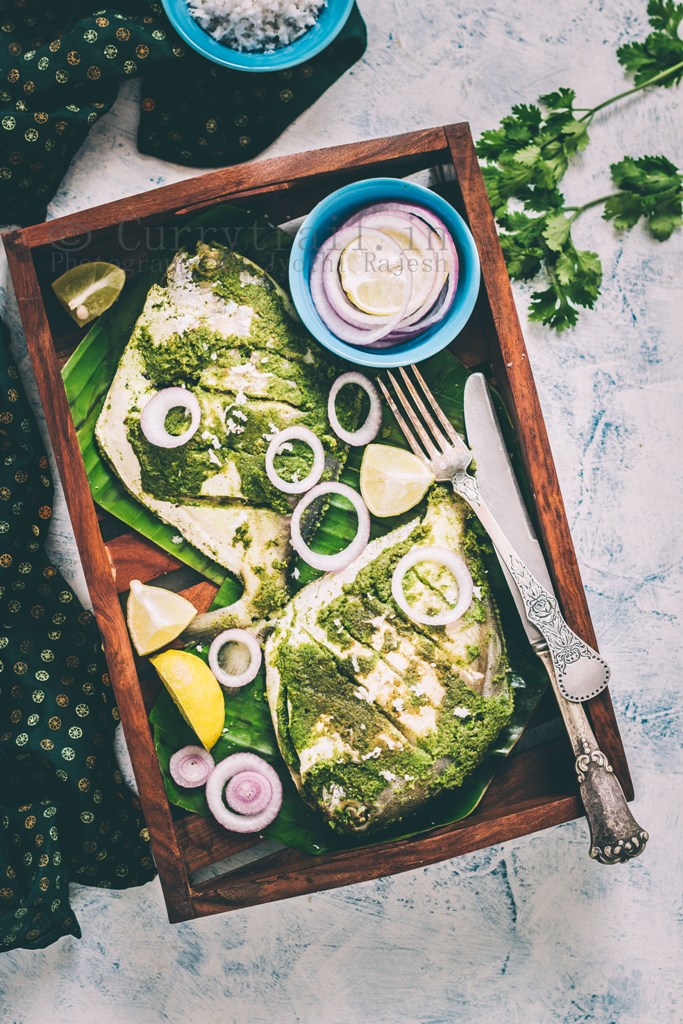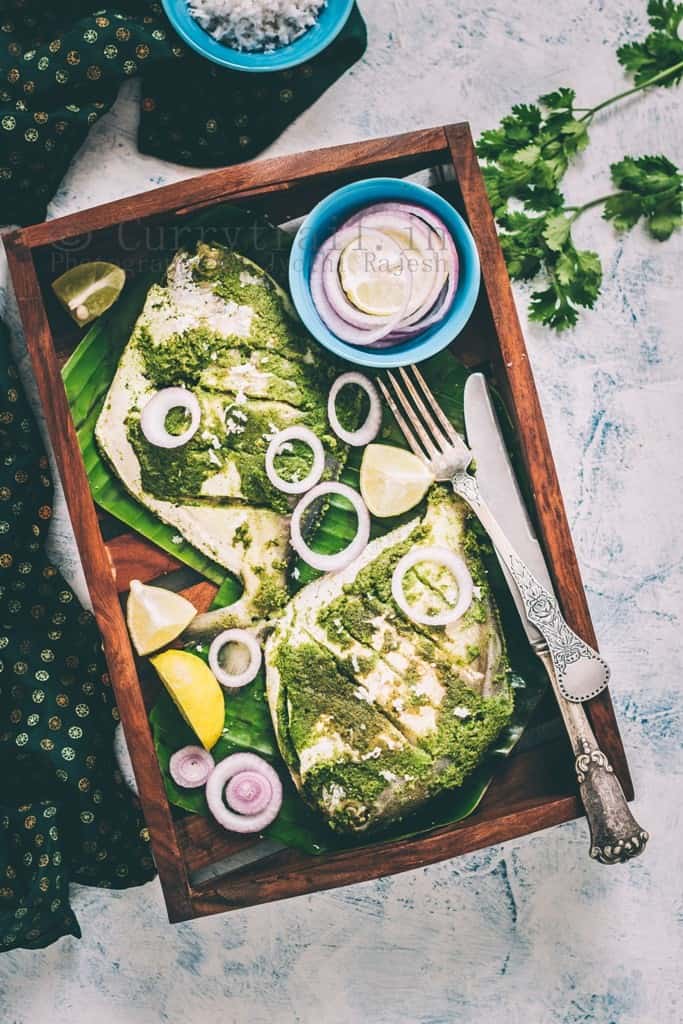 Ingredients
3 pompfret fish
1 teaspoon salt
Banana leaf to wrap the fish
For the chutney
1 cup coriander leaves
1 cup fresh mint leaves
5 green chilies
8 cloves garlic
1 ½ teaspoon cumin seeds
½ cup fresh grated coconut
1 teaspoon salt
A pinch sugar
1 teaspoon lemon juice
Method
Into a blender add all the ingredients mentioned under the list "For the chutney" and blend into fine thick paste. I did not add any water, make sure your paste is fine and thick.
Clean the fish. It's best to use sea fish like pompfret, king fish, or even salmon fillets.
Make small slits on the fish on both sides. Smear good amount of green chutney on both the sides of the fish including the slits.
Now take pieces of banana leaf and place it on steamer which is boiling. This helps the banana leaf to become soft and easy to fold without breaking/tearing. Place the banana leaf on steamer for about a minute on each side. Then remove it off.
Place the fish on the banana leaf now and then fold it on all four sides to cover the fish inside the leaf. The fish has to be covered fully.
Place the wrapped banana leaf on steamer and steam for about 10 to 14 minutes until the fish is cooked through.
Remove the fish from the steamer, carefully unwrap the banana leaf and transfer the steamed fish onto a serving plate and serve immediately.