It's nice and crunchy on the outside and soft inside. Dip these cutlets in mint sauce then take a bite. Sip on your favorite evening drink and enjoy!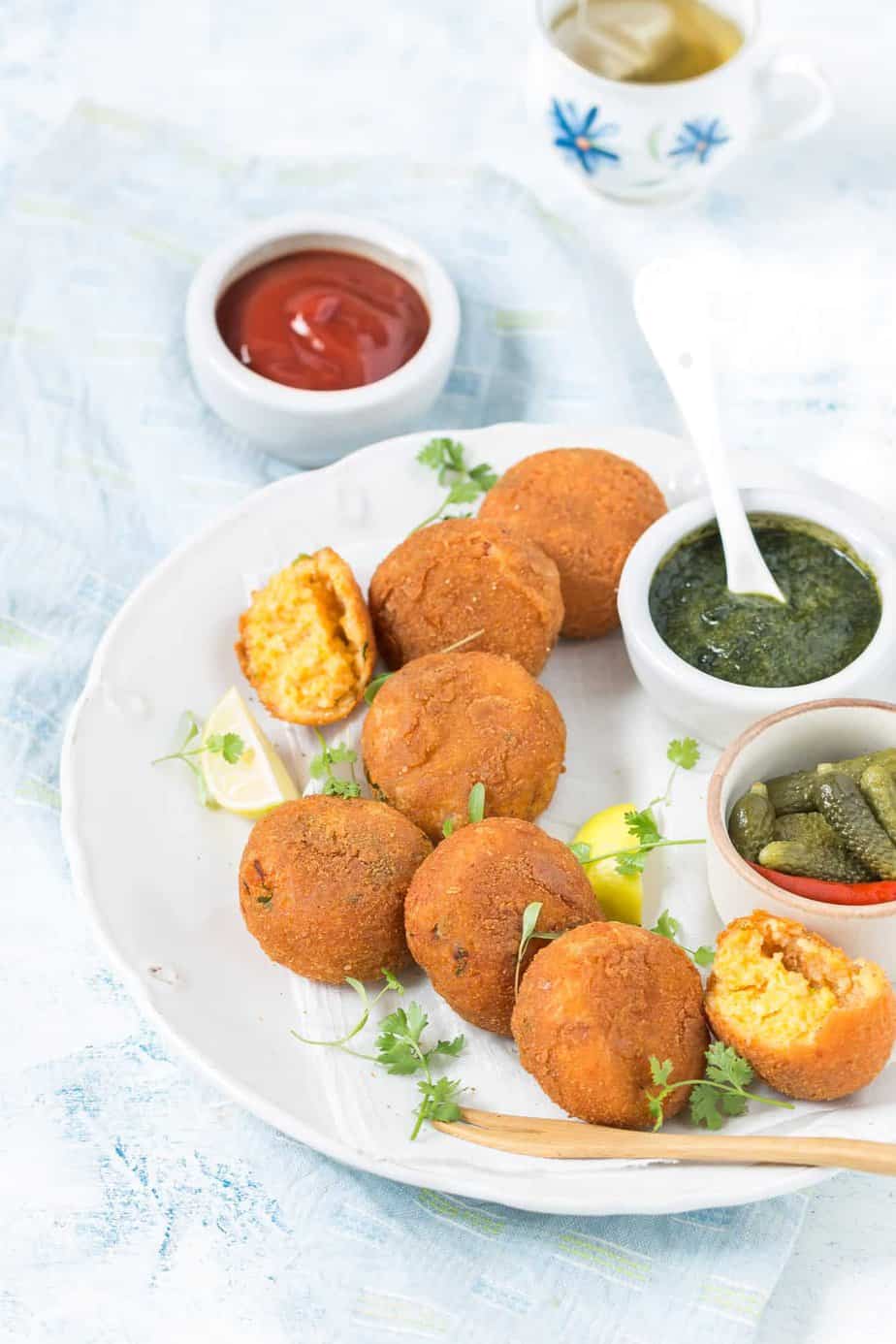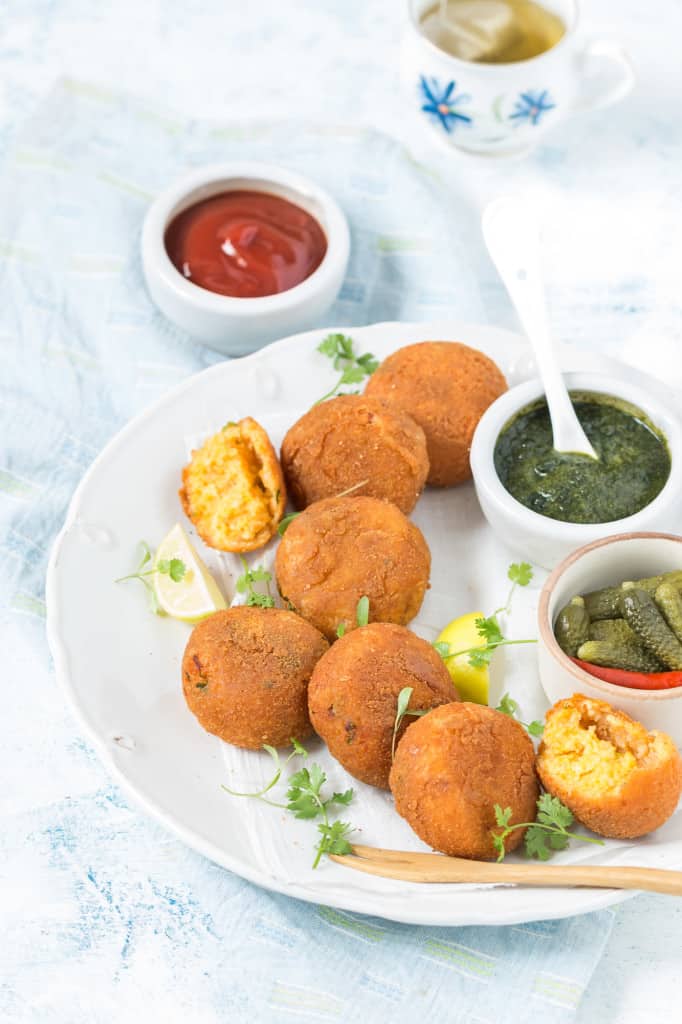 Do you know who invented medu vada? If you do, please tell my husband. He wanted to worship the person who invented medu vada. No kidding. He literally wants to worship that person. He LOVES fried food. Clearly medu vada tops the list. He pretty much orders the same thing every time we eat out. If it's breakfast, it got to be Vada-Idli sambar(that's how he calls the dish, he never says idli-vada, it's always vada-idli for him). Evening snack, without doubt is vada coffee. And the days we decide to eat light dinner, it's again vada-idli or vada-dosa.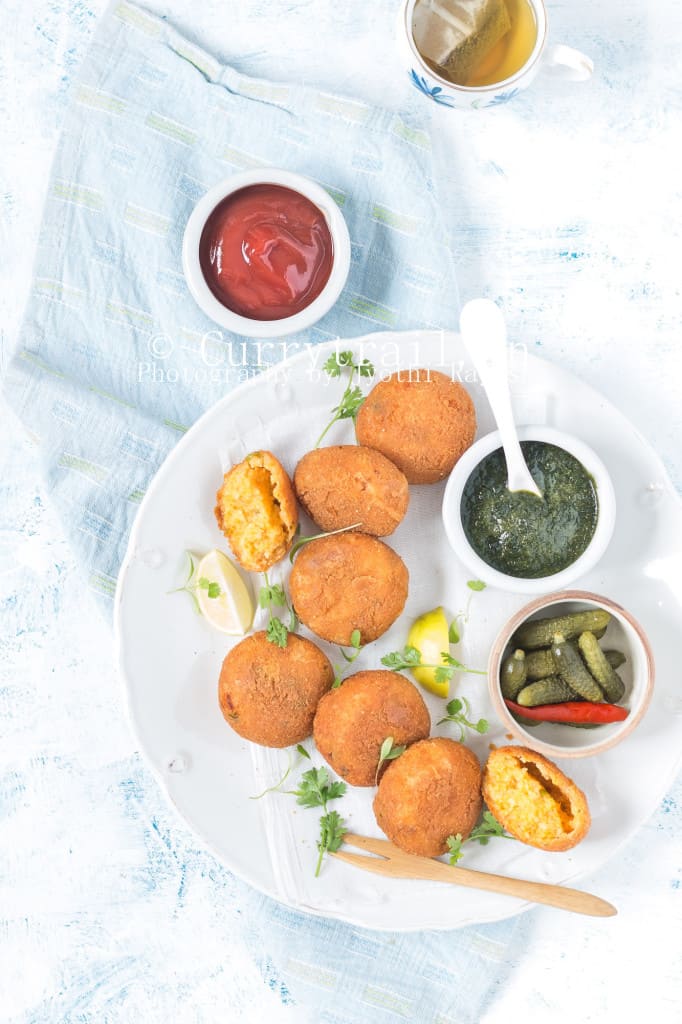 He eats all fried food and thanks to his metabolism, it's doesn't show up on him. I envy him! I used to have that metabolism a few years back. Blame it on my 2 delivery or the age, my metabolism has not been up to the mark as it used to be and my body can bulge and bloat just by looking at fried stuff, forget about eating them. It's not that I love to eat fried food; I usually don't get the craving to eat fried food. Still, I would be lovely to eat a little extra portion of my favorite food, which clearly is anything spicy (not necessarily deep fried food). But I really don't, because I fear I will have to do 4 extra rounds of jogging after that!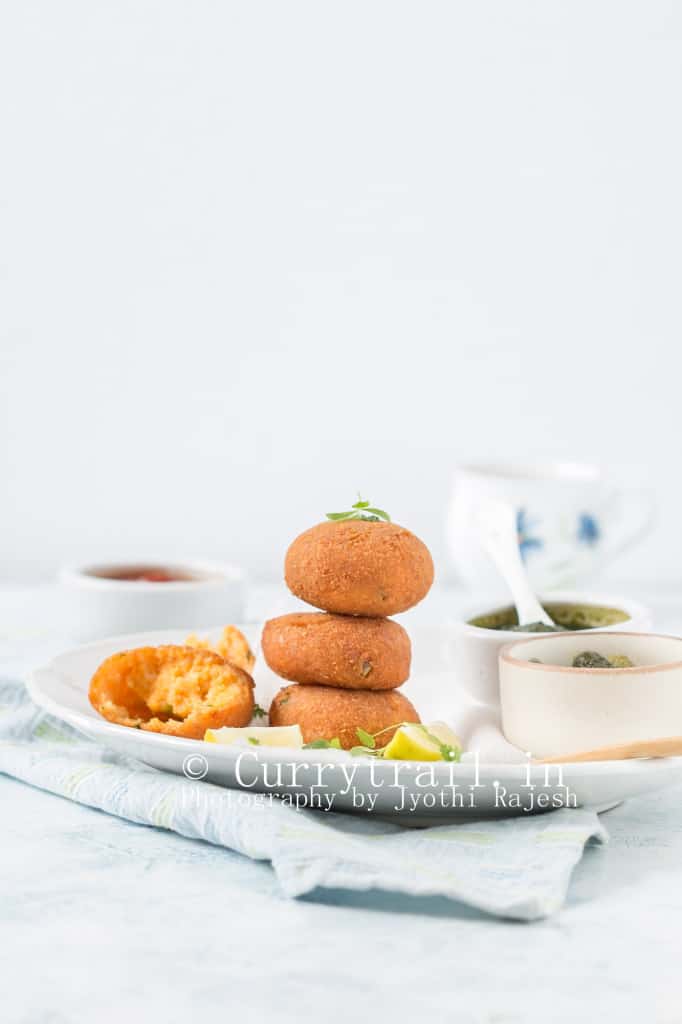 I don't shy away from fried food completely though. I do take a bite or two. Now that I have fried food lover at home, I try and make something for him now and then, taking care I don't deprive husband and kids of the pleasure of eating fried food.
This paneer cutlet is deep fried. If you are a health freak then go follow the recipe and shallow fry the patties. Either way, these are going to taste delicious for sure! It's nice and crunchy on the outside and soft inside. Dip these cutlets in mint sauce then take a bite. Sip on your favorite evening drink and enjoy!
Ingredients
200 grams paneer(cottage cheese)
1 potato
2 tablespoon onion, finely chopped
2 tablespoon fresh coriander leaves, finely chopped
2 green chilies, finely chopped
1 teaspoon red chili powder
1 teaspoon roasted cumin powder
1 ½ tablespoon corn flour
Salt to taste
1 teaspoon lime juice
2 tablespoon all purpose flour
1 tablespoon water
Bread crumbs for coating
Oil for deep frying
Method
Wash and peel the skin on potatoes. Cook it in little water with a pinch of salt. Once fully cooked, remove from stove, let it cool down a bit. Then mash it with a potato masher making sure no lumps are left.
Grate paneer. Add grated paneer, boiled and mashed potatoes, corn flour, chilie powder, roasted cumin powder, salt, onions, coriander leaves, green chilies and mix well.
Divide equal portions. Roll each portion is a smooth ball then flatten it slightly to form a disc.
In a small bowl add all purpose flour and water and mix well.
Dip the paneer patties in flour and then coat it with bread crumbs.
Heat oil in a deep bottom pan for frying. Once oil turns hot, reduce flame to medium.
Once oil is hot, add the paneer patties 2 to 3 at a time and deep fry until golden brown on all sides. Remove the fried cutlets onto a kitchen towel to drain excess oil. Fry the rest of the cutlets.
Serve hot with mint chutney or tomato ketchup along with tea.
Donna Hay inspired styling.