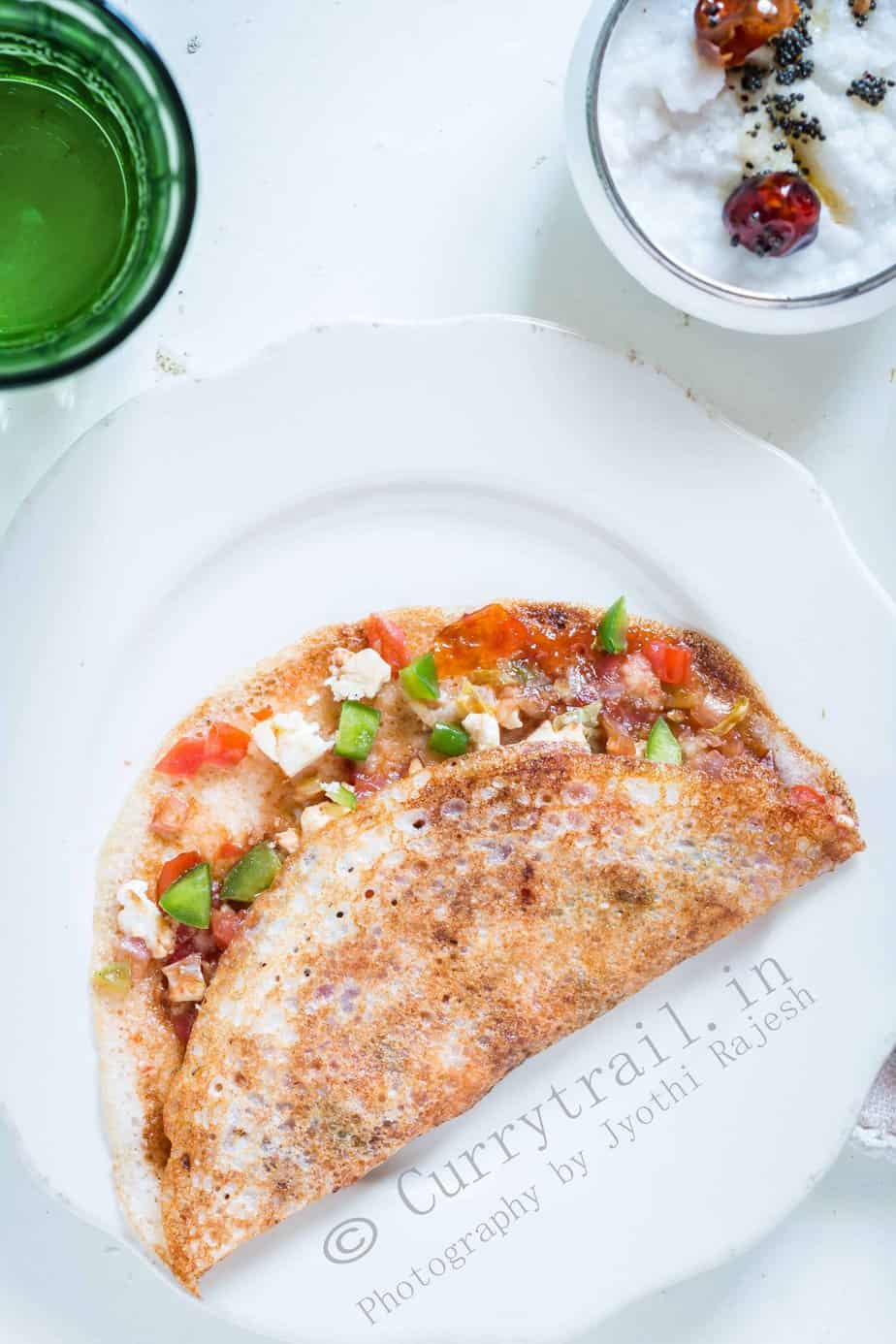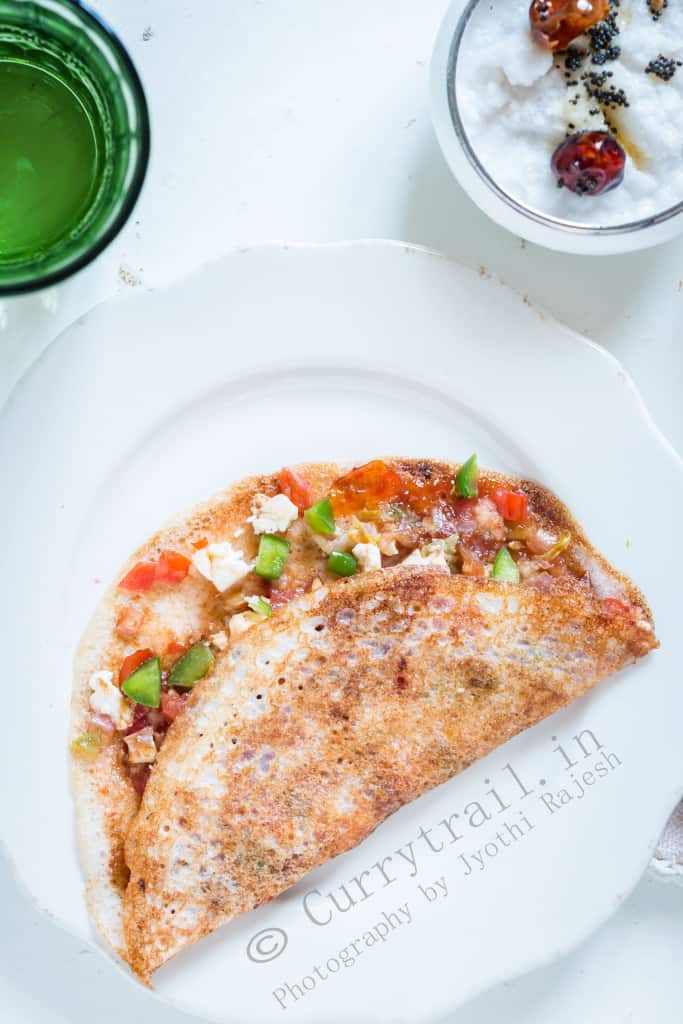 It's amazing how dosa has transformed from breakfast dish to all time dish. It's also amazing to see how this humble and simple dosa is been given so many new variations. Today's fusion dosa is becoming a big hit among kids and adults. Who could have thought of making a Chinese dosa? What comes to your mind when you think of schezwan noodles dosa?
The very first time I heard about these fusion dosa my mind went berserk. I was skeptical and curious to sew how it tasted. I walked to the road side stall called "Bombay Dosa Center" selling at least 50 varieties of dosa! Looking at the board I was like , "Bombay Dosa"!? Seriously?! 😀 I decided not to ponder more on the name game. What caught my attention first was the charcoal stove and black stone on which dosas were made. Even before tasting I knew in my mind that these dosas are going to be DELICIOUS! You know that smoky charcoal flavor on the dish, ahh I can go bonkers with such food, cooked in charcoal.
Looking at the menu, I was going nuts on what to order. I kept it simple for the first time, and I decided to order Paneer masala dosa. The charcoal fire was bursting out in air, the stone plate on which dosa was made was smoking hot. The dosa chef poured a small ladle of batter, spread it really thin and threw in a dollop of butter. Then he added some grated vegetables, the potato masala and started smashing it. He then added spice powders, I guess these magic spice powders are one of the reason for these dosas so delicious. Finally he grated a big chunk of paneer on the dosa and mashed again. Once all the topping were well blend, here carefully but quickly removed the dosa from the hot stone and served it on steel plate with 2 varieties of chutneys.
Quick the plate was handed to me, and I was in a hurry to take my first bite. I tried to pull a piece of the dosa, but it was soo hot that I burnt my fingers, literally! I tried to blow the dosa(yes, the dosa and not my fingers, cause I was very tempted to try the dosa and was least bothered about my burnt fingers) and after a while I managed to pull out a small piece, dunk it in both the chutney and popped into my mouth. The butter that was added to the dosa had made the dosa super crisp, thin and the topping were delicious. Chutney definitely gave a body to the dosa. It was delicious, smoky flavored and spicy too(guess that came from the spice powders and the green chilies in potato mash that was added on top). That was my first fusion dosa.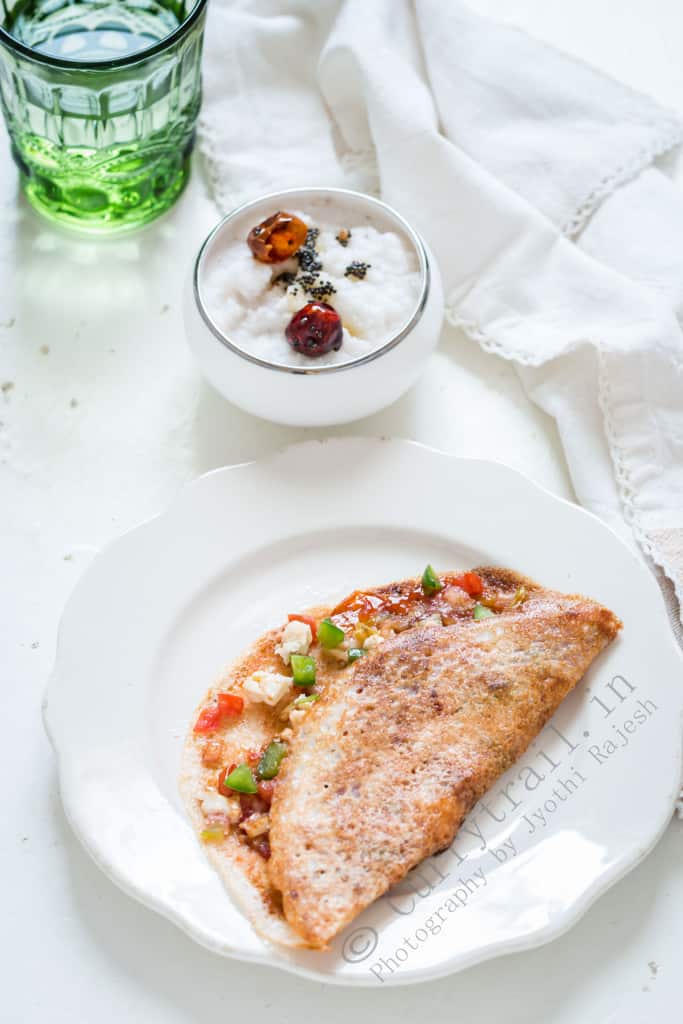 A few days back, I was tempted to try a fusion dosa at home. Depending on the ingredients I had in fridge I decided to make Paneer chili dosa. A dosa with Chinese flavors makes it dosa a unique and interesting one. If you like to experiment and try new recipes, then this recipe is a must try.
Ingredients
1 cup dosa batter
½ cup paneer (cut into small cubes)
½ cup green capsicum
½ cup green spring onions
½ cup onions (finely chopped)
½ cup tomatoes (finely chopped)
½ cup cabbage (grated)
⅓ cup tomato ketchup
⅓ cup sweet chili sauce
1 teaspoon soya sauce
Oil/butter a few drops for cooking dosa
Method
Heat a non stick pan. Once pan turns hot, pour a ladle of dosa batter and spread it thin. Do not make it very thin, as dosa might tear when adding the sauces.
Pour some oil/butter on the sides and center of dosa. Wait for 10 seconds. Now add 1 tablespoon of onions, tomatoes, capsicum, cabbage, red chili sauce, tomato ketchup, soya sauce in the center. (you can adjust the amount of vegetables to be added on the dosa). After another 10 seconds, start mashing all the vegetables using a potato masher and spread it evenly all over the dosa. Once you see dosa cooked, add the paneer cubes (you can even add grated paneer), mash again.
Fold the dosa into half and carefully remove it from the pan. Place it on a plate and serve immediately with coconut chutney or mint chutney.