Vegan saag paneer is veganized version of the Indian dish palak paneer. Cheesy tofu cooked in spinach gravy base with mild spices. It's a perfect accompaniment with rotis or naan. Vegan saag paneer recipe is easy to make, and sure to impress. In 30 minutes you have dinner ready on the table.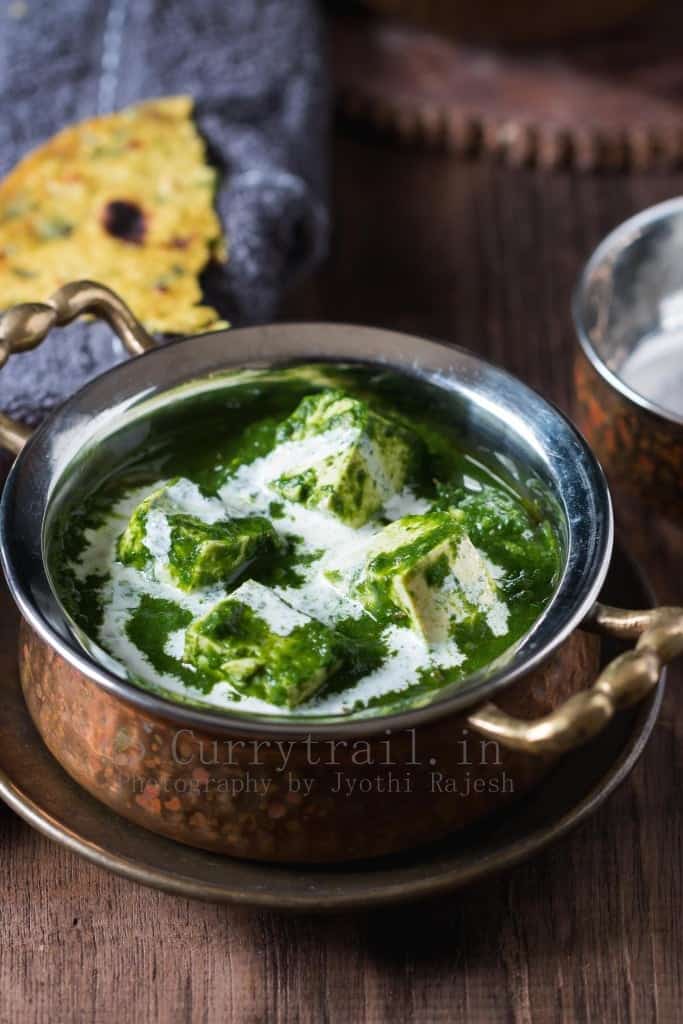 When you walk into a North Indian restaurant and sit down to glance through the menu, you would definitely see "palak paneer" on the menu. It is one of those simple, humble dish made very commonly in most households in North India and across the world. It's creamy, not so rich, subtle in flavors and deee-licious. It goes perfectly with rotis or naan.
How do you make your kids and spouse eat their greens?
Yes you read that right, spouse too!
I have to tackle the veggie problem at home with not just my kids but hubby too.
Time to time I pass on the wisdom in me to family; I teach them to be grateful to food on the plate, not to waste any food. More importantly tell them someone(well that would be me) has put the effort to cook a meal and present it because they love you and you got to respect it.
A trick is to present food to those fussy eaters in a way they would actually not mind to eat.
One particular food that had haters universally in greens or leafy vegetables.
We are talking about Popeye's favorite – SPINACH!
Husband often scrunches his face, "soggy spinach is not a thing to eat" he says! It's looks so unappetizing!
I never liked spinach back in my childhood days, but now I wouldn't mind green leafy vegetables on my plate in any form you can think of. Raw greens in salads, pureed spinach in curries, sautéed greens, bring them on!
But to get the folks at home eat their greens, a little extra effort goes in to transform the "unpleasant","un-appetizing" greens into something delicious. Creamy, mildly spiced "saag" paneer is perfect for this scenario.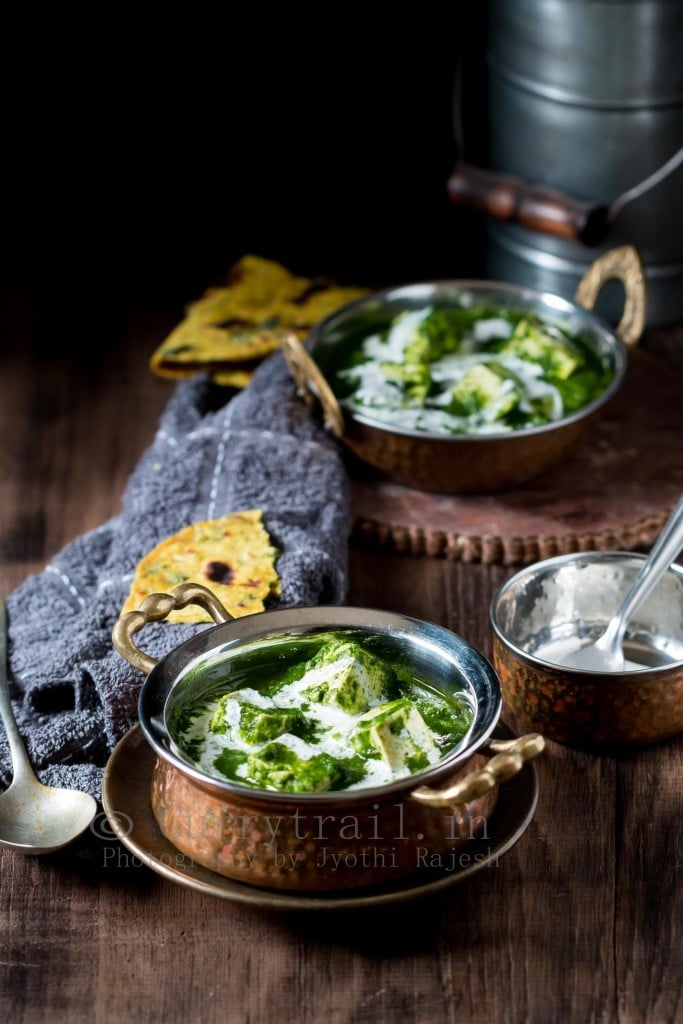 What is Vegan "saag" paneer?
Well this recipe is Indian spinach curry, Palak Paneer, that uses tofu instead of typical Indian paneer. And the recipe is easily adaptable, use any greens in place of just palak. 'Palak' is the term for spinach, and 'saag' generally means any greens. You can use most of the green in this recipe to make this Indian spinach curry. It's creamy, delicious and takes about 30 minutes.
Traditionally palak tofu curry or the original palak paneer recipes recommends you to use blanched spinach. While many other recipes using palak may call for sauteing the spinach, for palak paneer…errr vegan saag paneer, it's best to blanch palak.
This applies if using other greens like kale or mustard greens too if you plan to substitute spinach with other greens!
Why should you blanch greens for vegan saag paneer?
Blanching retains the vibrant green color of the spinach.
Blanch your greens first before using to kill any harmful micro-organisms or pesticides in the greens.
Blanching also removes the bitterness of the green leafy vegetables.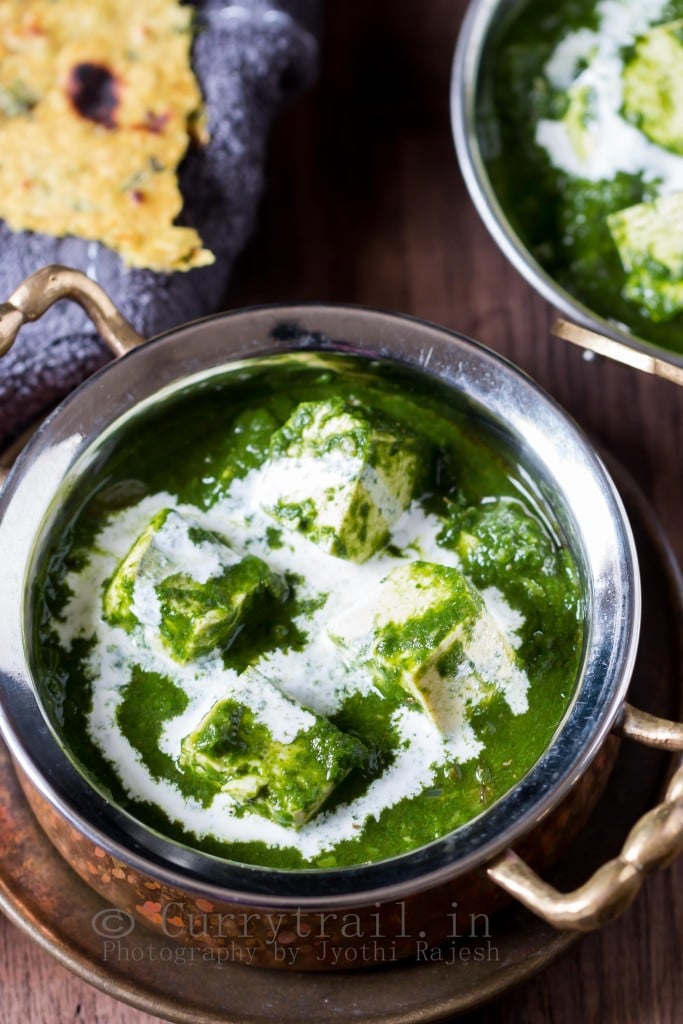 Vegan Saag Paneer Recipe:
Vegan Paneer – To veganise the popular Indian palak paneer, use vegan paneer which is tofu. Ideally palak paneer has be creamier with soft paneer. Tofu is bit firmer. Fry tofu in little oil in a pan before adding it to the spinach curry. You can also soak the roasted tofu in water until use to prevent tofu from turning hard and dry.
Tofu is cut into cubes and then fried in oil. We happily skipped this step because I was aiming for healthier version of vegan palak paneer.
Pro Tip – I toss cubes of tofu with salt, garam masala before frying up until golden. Adds more flavor.
'Saag'/Palak – Palak or spinach is one main ingredient of vegan palak tofu recipe. The recipe uses loads of palak or spinach which forms the base of the curry. Definitely the best way to eat tons of spinach, and we are talking about flavorful spinach not any ordinary boring wilted spinach.
Palak is Indian greens that works great for this recipe and if you ask any Indian mother they would suggest you definitely use palak, they work best for this Indian spinach and tofu curry. Some also suggest the seasonal mustard greens.
Let's not restrict to just palak, we can adapt this recipe to our choice. Other greens like kale, collards can be easily substituted too.
Spinach is usually blanched and then pureed. To retain the vibrant green color of spinach, blanch spinach for not more than 3 minutes. Remove blanched spinach from hot water and immerse it completely in ice cold water, almost immediately. This ensures the spinach remains green!
Browned spinach curry in a palak paneer is a big NO!
Pro Tip – Remove stem from the spinach before blanching.
Follow the exact time to keep green color of the spinach intact.
Blanching also removes the bitterness from the spinach, while making the most of spinach's soft texture when cooked, and blending turns it into a silky sauce to coat the tofu paneer.
Spices –
Palak tofu or saag tofu as we are calling it today is mildly spiced curry. I prefer not to use turmeric powder or red chili (cayenne pepper powder) to this curry, you would be messing with the gorgeous green color of the spinach.
Simple spices that goes in this curry –
Garam masala
Coriander powder
And a generous amount of dried fenugreek leaves (kasuri methi)
Tempering –
Tempering whole spices by cooking them in oil brings out the deepest flavors. A dish is not complete if you haven't added the tempering and remember tempering is ALWAYS added in the end after you turn off the stove.
A simple cumin seeds tempering adds earthy nutty flavor to the curry.
Garnish –
Vegan saag tofu is finished with a generous spoonful of coconut cream or cashew cream on top. The vibrant green curry contrast again the white creamy topping making it irresistible, giving it a gorgeous look.
Looking for more recipes using palak (spinach)?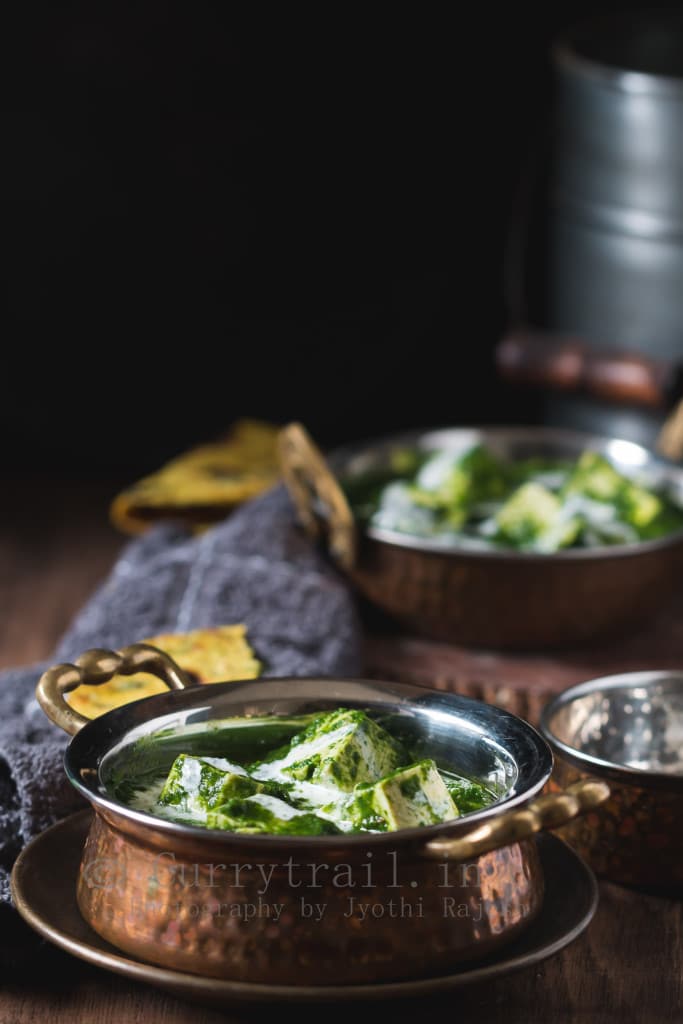 LOVE THIS RECIPE? KEEP IN TOUCH AND DON'T MISS OUT ON ANY OF CURRYTRAIL RECIPES! FOLLOW ME ON INSTAGRAM, PINTEREST, FACEBOOK, TWITTER, GOOGLE+.
HAVE YOU TRIED ONE OF MY RECIPES? I'D LOVE TO SEE WHAT YOU'VE MADE! TAKE A PICTURE AND USE THE HASHTAG #CURRYTRAIL ON INSTAGRAM SO I CAN SEE! I'LL DO A HAPPY DANCE IF YOU TRY MY RECIPE AND SHARE IT WITH US!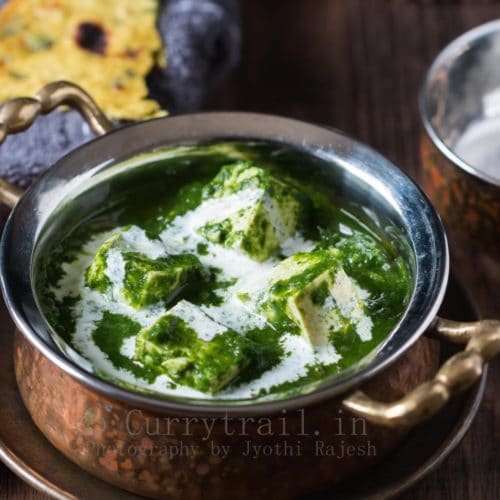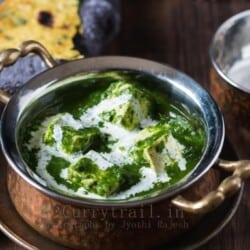 Vegan Saag Paneer
Vegan saag paneer is veganized version of the Indian dish palak panee. Cheesy tofu cooked in spinach gravy base with mild spices.
Ingredients
3 cups palak, tightly packed
200 grams tofu
1 onion, finely chopped
1 tomato, finely chopped
3 green chilies, ground to paste
2 cloves garlic, minced
2 inch ginger, minced
1 teaspoon cumin seeds
1 teaspoon coriander powder
1 teaspoon kasuri methi(dried fenugreek leaves)
1 teaspoon garam masala powder
1 tablespoon oil
Salt to taste
1 tablespoon cashew cream for garnish
Instructions
Pick palak leaves and rinse it in water well.

Bring 3 cups of water to boil. Add a pinch of salt in it. Add the palak leaves and blanch it for 3 minutes. Remove the leaves from boiling water and immediately transfer them to ice cold water. This step is important; it ensures the vibrant green color of the leaves are retained.

Squeeze the leaves to remove excess water and grind it into a puree. Keep aside.

Cut tofu into cubes and soak them in warm water until use.

Heat oil in a pan. Add cumin seeds and let it crackle. Add onions and cook till it turns translucent. Add green chili paste and mix well.

Add minced ginger and garlic and cook for 3 minutes on low flame. Add tomatoes and cook till tomatoes turn soft.

Add coriander powder, garam masala powder, kasuri methi and salt to taste. Mix.


Let it cook for 5 minutes on low flame. If the curry turns too thick adjust by adding little water, don't make it too runny.

Now add tofu pieces into the curry, mix and cook for another 5 minutes.

Turn off flame. Serve palak tofu with rotis or naan. Serve warm.
Notes
Always soak tofu in warm water until use. This will prevent tofu from turning dry and hard. Blanching palak (spinach) for the right amount of time and then soaking it immediately in ice cold water helps the greens retain it's bright vibrant color. Add more green chilies depending on the heat preference you like.
Nutrition
Serving: 0gCarbohydrates: 0gProtein: 0gFat: 0gSaturated Fat: 0gPolyunsaturated Fat: 0gMonounsaturated Fat: 0gTrans Fat: 0gCholesterol: 0mgSodium: 0mgPotassium: 0mgFiber: 0gSugar: 0gVitamin A: 0IUVitamin C: 0mgCalcium: 0mgIron: 0mg
"PIN IT" for later