You guys won't believe how delicious this healthy shrimp Pad Thai Noodles Recipe is! And you know what, you can make it in 15 minutes with all BIG flavors. Fresh, bold flavors from Thai cuisine is to die for. I like all the flavors in it, I really do.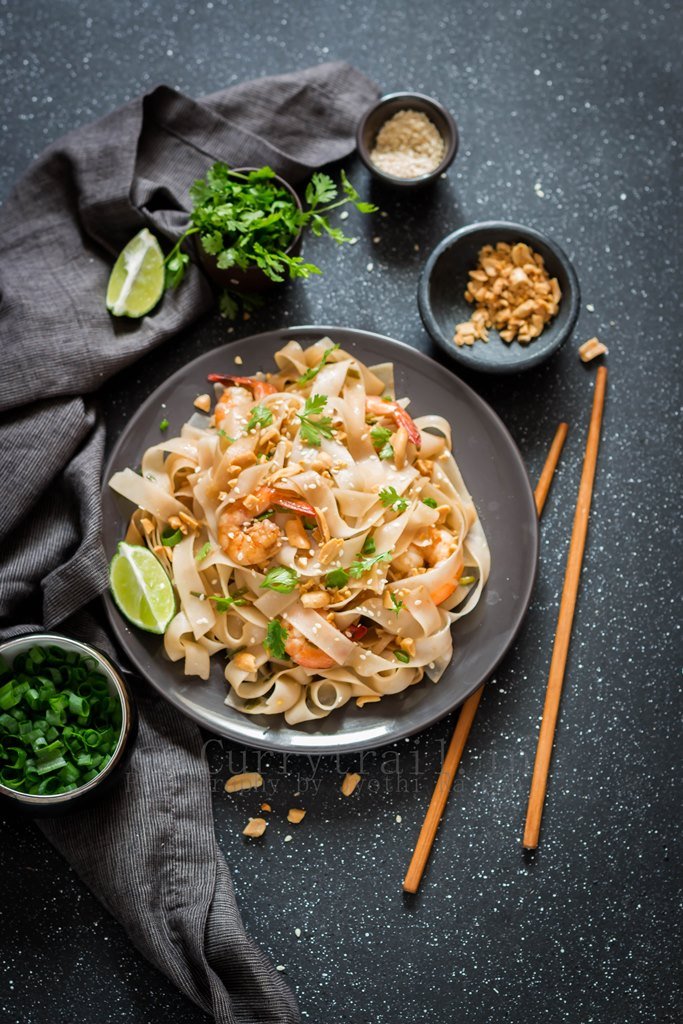 Thai cuisine is so versatile; you can tweak the flavors to your liking. And of course include any vegetable, proteins of your choice. When you have very little time to prep a meal for your family, this Pad Thai noodles is your go-to recipe, trust me. So much flavors, BIG flavors , in so little time. You'll keep it going.
Better than take out and very easy to cook. This is quickest Pad Thai Noodles Recipe that's full of flavors and tastes delicious! Just 15 minutes needed! Now no more take outs, make this 'soooo good' pad Thai noodles at home.
Don't get intimidated looking at the list of ingredients, everything on it is mostly already available in your pantry or you can find them very easily at any regular grocery store. And I'm also showing you all easy way to make your own Pad Thai sauce at home without buying the Thai sauce bottle, which probably you will find it a challenge in finishing it off. Just make as little sauce you would need to make the Thai noodles and that too all fresh. And you can easily make another small batch right before you start craving for this Pad Thai noodles again! 🙂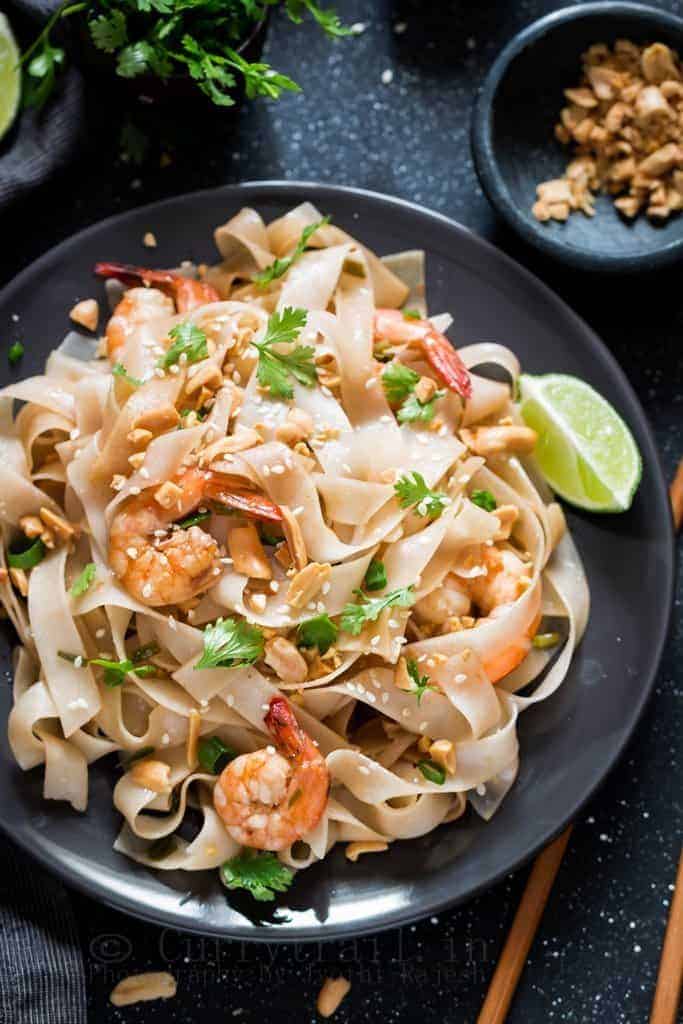 What do I do with the sauce bottles that I buy you may ask. Well there are numerous ways and recipes you would use your fish sauce and soy sauce, right? So yea no worries there you see. Bring your family together on the dinner table for this healthy and delicious Pad Thai Prawn Noodles.
Secrets behind a good Pad Thai noodles recipe
Pad Thai one of the most simple and delicious street food dishes around. It has all the five flavors in it – sweet, salt, sour, spicy and bitter. The secret to a good pad Thai noodles is a large wok/pan and patience of course. Also cook them in smaller portions to avoid clumsy noodles. Sticky noodles is big NO when it comes to pad Thai.
What is pad Thai noodles?
Pad Thai is Thailand's favourite street food now becoming popular worldwide. Pad Thai noodles are usually dried noodles soaked in cold water and then stir fried with proteins like eggs, tofu, chicken or even shrimps. And the Thai noodles are rice noodles or rice vermicelli that is used in pad Thai. There are both flat Thai noodles and the normal noodles. The authentic flavours in Pad Thai have tamarind pulp, fish sauce, shallots, palm sugar and dried shrimp.
I usually don't use dried shrimp cause of it's STRONG flavor. But if you are after authentic taste and don't mind bold flavors then go ahead and use it.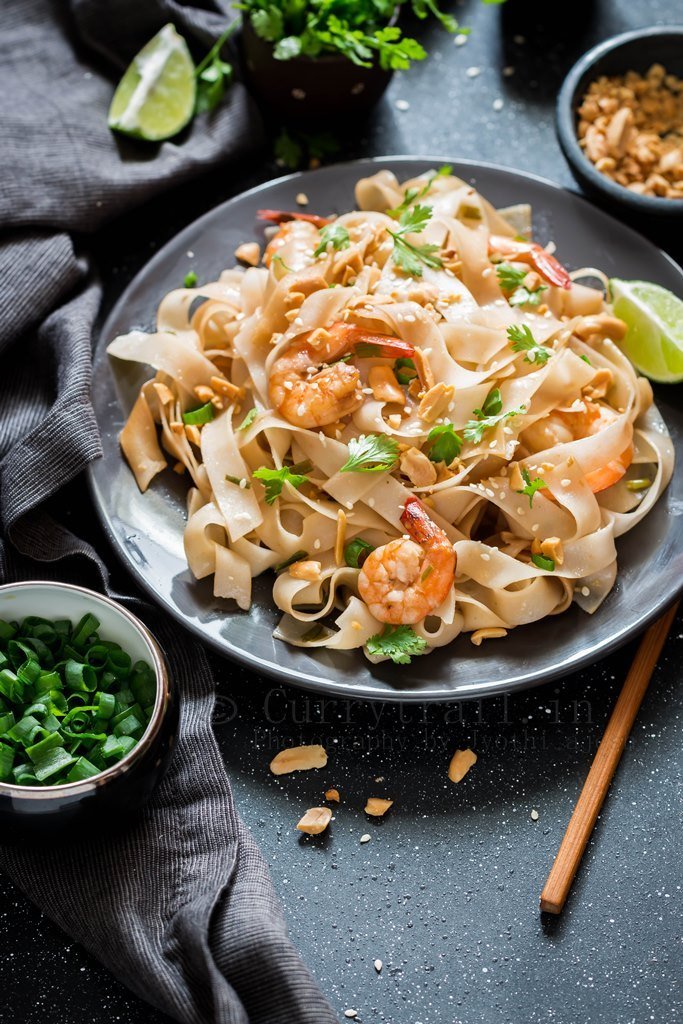 How to cook pad Thai rice noodles?
Cooking pad Thai noodles is real easy . The noodles that are traditionally used in Pad Thai are thin and flat rice noodles. It's starchy as it's made of rice. They are packed dried and sold in super markets. Soaking them before stir fry is the way to cook these pad Thai noodles. But do not soak them up in hot water, NO! Always soak them in cold water and keep moving the noodles with finger to avoid sticking and clumping up.
Also make sure not to overcook or dry them out while stir frying in the wok.
How to make Healthy Shrimp Pad Thai Noodles?
Cooking pad Thai noodles – From whatever research I've done, pad Thai noodles are never cooked in hot water. Usually the rice Thai noodles are soaked in cold water. Or simply follow the packet instructions and cook the noodles as it says.
Thai sauce – whisk together – fish sauce, light soy sauce, brown sugar, tamarind sauce/juice, lime juice and little red chilies.
Stir Frying – High smoking oil like peanut oil is used in Pad Thai. Heat up peanut oil. Toss ginger-garlic. Then add eggs. Stir in Thai chilies, green onions and shrimp. Allow it to cook until shrimps turn pink.
Pour the sauce, stir well. Season with salt and little pepper if needed. Garnish with fresh coriander leaves, roasted crushed peanuts and white sesame seeds.
Watch this quick video of healthy shrimp pad Thai noodles recipe
Do you love Thai recipes as much as we do?
Then you don't want to miss our other favorite Thai dishes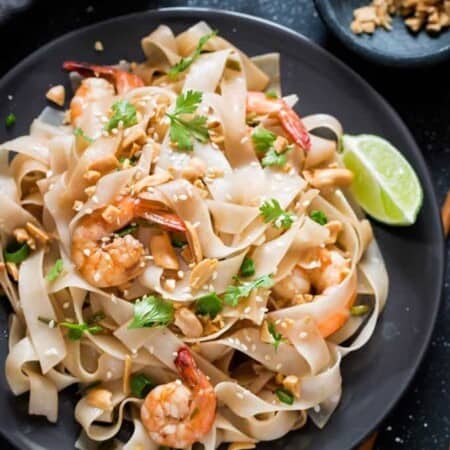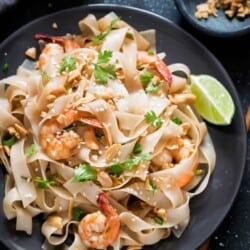 Healthy Shrimp Pad Thai Noodles Recipe
You guys won't believe how delicious this healthy shrimp pad Thai noodles recipe is! And you know what, you can make it in 15 minutes with all BIG flavors. Fresh, bold flavors from Thai cuisine is to die for. I like all the flavors in it, I really do.
Ingredients
1 packet Pad Thai noodles
2 tablespoon peanut oil
6 garlic cloves chopped
1 inch ginger chopped
3 Thai chilies
½ cup moong sprouts I couldn't find them, so skipped
1 cup green onions
300 grams shrimp/prawns
Little salt
1 tablespoon palm sugar(or brown sugar)
¼ cup tamarind pulp
2 tablespoon fish sauce
1 tablespoon light soy sauce
Juice of 1 lime
¼ cup crushed roasted peanuts
Fresh coriander leaves garnish
White sesame seeds garnish
Instructions
Soak Pad Thai noodles in water for 8 to 10 minutes, or as per packet instructions( The packet instructions said to soak, if your's says to cook in boiling water do so). Drain and keep aside.

In a large skillet heat peanut oil. Add garlic and ginger pieces, cook for 1 minute. At this stage you can pour in few whisked eggs and cook in oil, I skipped eggs.

Add green onions and red chilies cook for a minute until onions begin to shrink.

It's time to add shrimp/prawns along with salt to taste and cook shrimps until it turns pink.

In a bowl whisk together – fish sauce, light soy sauce, palm sugar, tamarind pulp/juice, lime juice and little red chilies. Pour into the pan and let it come to boil.

Mix in the cooked Pad Thai noodles and stir well.

Remove pan from heat.

Sprinkle fresh coriander leaves, crushed toasted peanuts and little white sesame seeds. Serve immediately hot, else they will begin to stick together and dry up.
Nutrition
Serving: 0gCarbohydrates: 0gProtein: 0gFat: 0gSaturated Fat: 0gPolyunsaturated Fat: 0gMonounsaturated Fat: 0gTrans Fat: 0gCholesterol: 0mgSodium: 0mgPotassium: 0mgFiber: 0gSugar: 0gVitamin A: 0IUVitamin C: 0mgCalcium: 0mgIron: 0mg
Don't forget to PIN this Pad Thai Shrimp Noodles to your Thai board

LOVE THIS RECIPE? KEEP IN TOUCH AND DON'T MISS OUT ON ANY OF CURRYTRAIL RECIPES! FOLLOW ME ON INSTAGRAM, PINTEREST,FACEBOOK, TWITTER, GOOGLE+.
HAVE YOU TRIED ONE OF MY RECIPES? I'D LOVE TO SEE WHAT YOU'VE MADE! TAKE A PICTURE AND USE THE HASHTAG #CURRYTRAIL ON INSTAGRAM SO I CAN SEE! I'LL DO A HAPPY DANCE IF YOU TRY MY RECIPE AND SHARE IT WITH US!