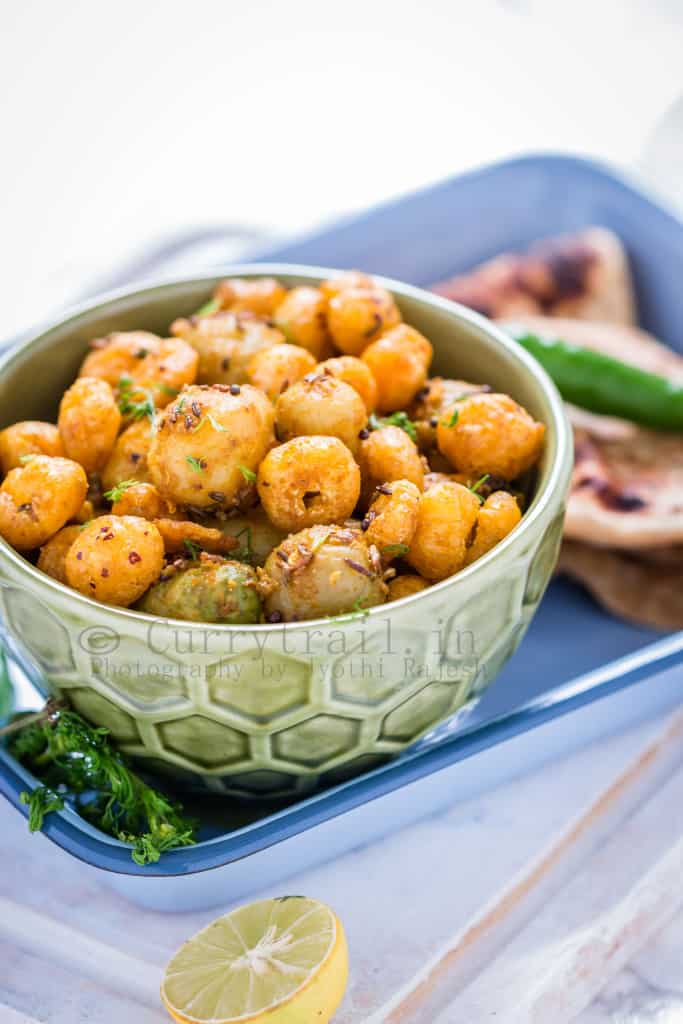 Be it Navrathri or Shravan maas, many practice fasting during these months, which means onion, garlic is a big no no for many. Fasting practices are different from region to region. I believe "There are no rules in fasting. Some fast on Mondays, some on Tuesdays and Fridays, while others fast only on certain religious days". While a wide region follows the no onion, no garlic, and abstain from non vegetarian food, some even say no to mustard seeds, stay away from grains and wheat.
Potato is one of the humble vegetable people eat during fast, since it's filling and high in carbs. Combine potatoes with nutrients filled makhana (foxnuts) makes for one scrumptious and filling fasting dish. This No onion no garlic Aloo Makhana Sabzi is filling and delicious. Serve it with kuttu ke ate ki puri or kuttu ke paratha as your fasting meal and you will be satisfied!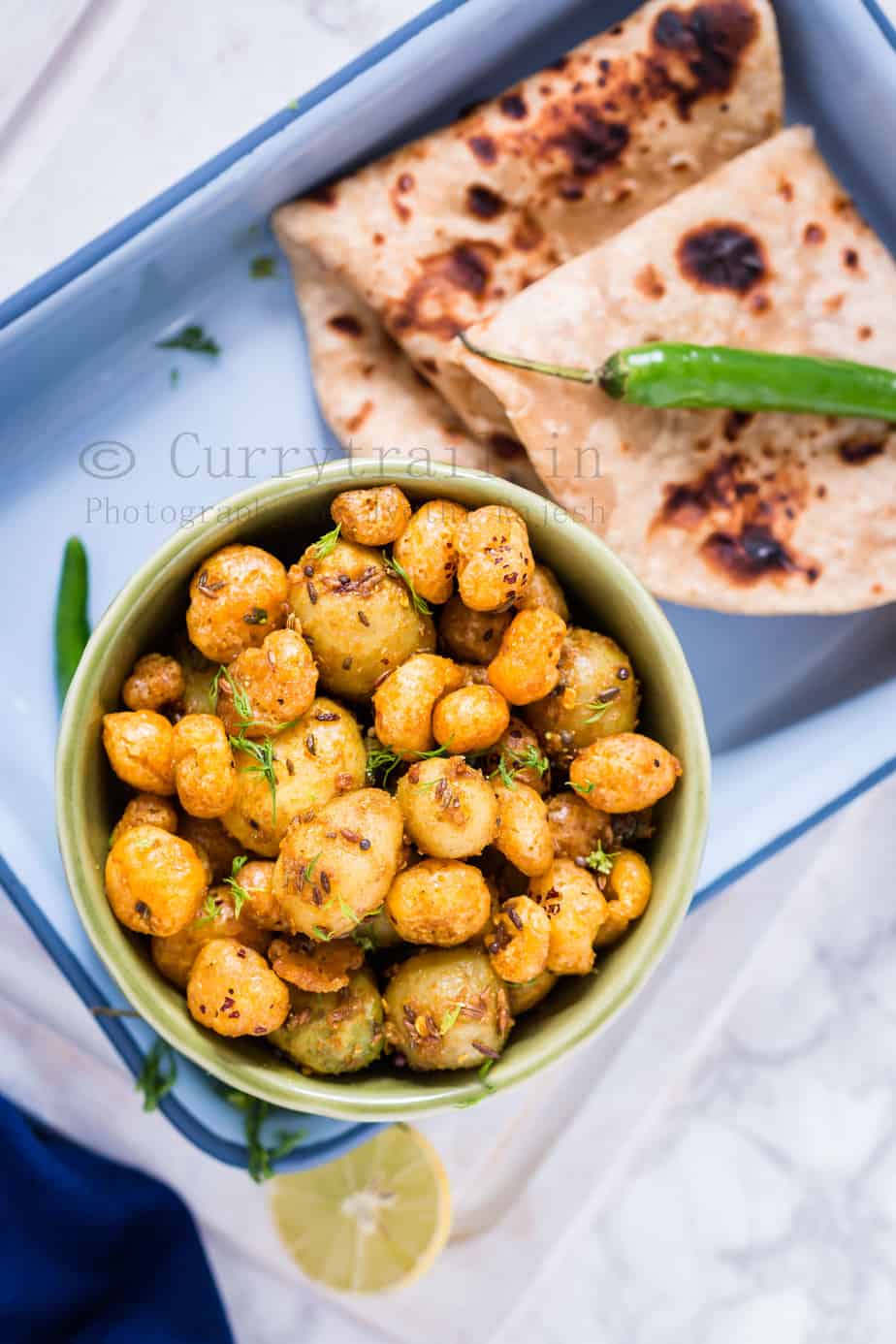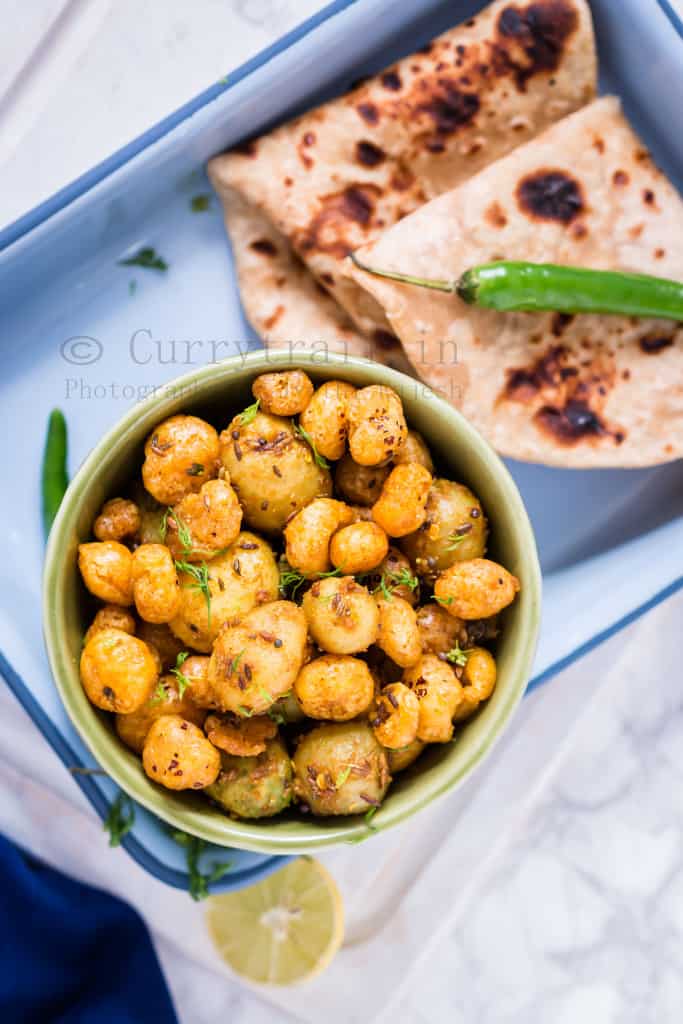 I have served it with chapathis, as I was not fasting! 😀
Ingredients
1 cup baby potatoes
1 cup makhana(foxnuts)
1 teaspoon cumin seeds
1 teaspoon fennel seeds
2 green chilies, finely chopped
1 ½ teaspoon red chili powder
½ teaspoon turmeric powder
1 teaspoon coriander powder
Salt to taste
1 + 1 tablespoon oil
Method
Boil baby potatoes along with its skin until well cooked. Remove from heat, peel the skin and keep aside.
Heat 1 tablespoon oil in a pan. Add makhana and fry them for 2 minutes. Do not brown them. Remove from pan keep aside.
Add remaining oil into the same pan. Add cumin seeds and let it splutter. Add fennel seeds and mix. Add finely chopped green chilies and sauté. Add all the spice powders and immediately give it a mix. Add boiled potatoes into the pan and toss well. Once all the potatoes are coated well with the spice mix, add roasted makhana and toss again. Lower the flame and keep tossing and cook for 3 to 4 minutes.
Remove from flame, garnish with coriander leaves and serve it with kuttu ate ki roti or puri.