Nenthrapazham means plantain and Halwa stands for Fudge. If you are my regular follower by now you would be aware that I'm not a sweet person! I can go bonkers on spicy savory dishes and totally ditch my dessert. I never regret that, no I mean it, I never regret for not eating my dessert even in a party or fancy resturant where the treat option is endless. I might pick a tiny piece of a specific dessert just to check how it taste so I can match it when I make it at home. 😀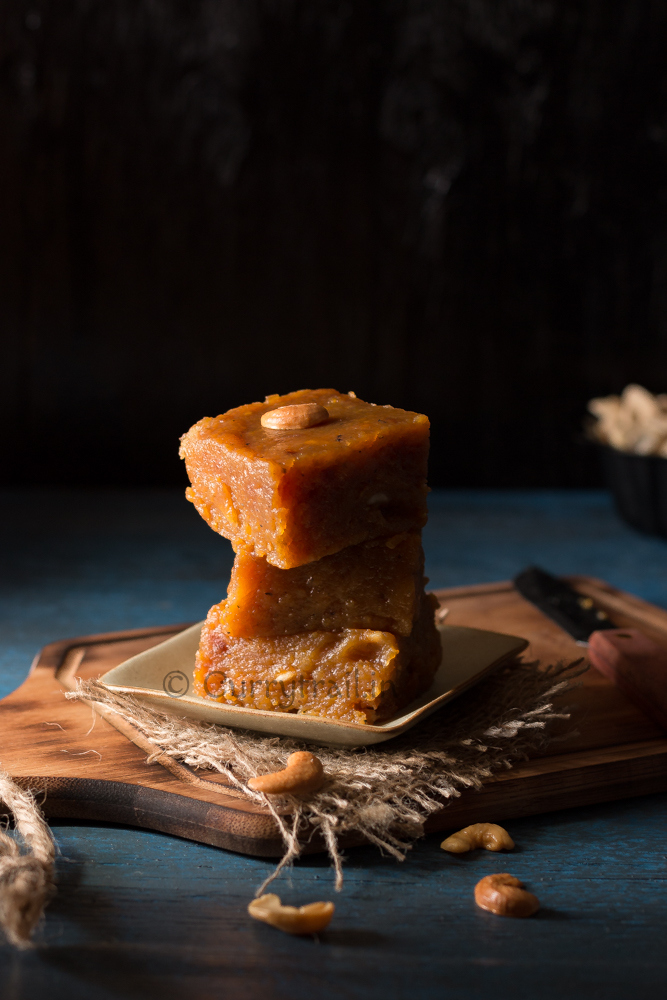 Growing up, food was never about fancy dishes or the use of some exclusive expensive ingredients. My mom's pantry were filled with all the basic ingredients that she would use on everyday basis. She cooked with those basic ingredients and sometimes she made special dishes again using those ingredients. During the festive season she prepares a lot of dishes that are simple, traditional and uses basic ingredients. Sweets would definitely make to the list, and not just one but more than one. She would also make sure she included a few spicy, savory dishes for us, oh yes, my brother too doesn't like sweets! You can say our family is not mush of sweet lovers, we all like savory, but as tradition goes we need to have sweets during our festival poojas.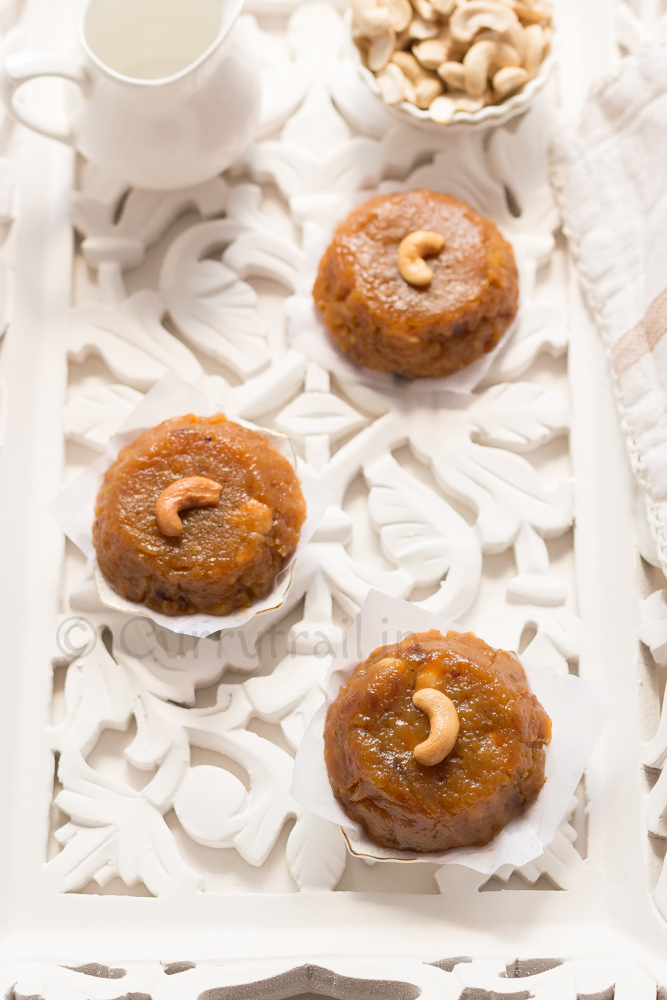 Halwas are traditional sweet usually made of ghee/clarified butter. There are many ingredients that can be used to make halwas, all or most of them being the basic pantry ingredient. Like all purpose flour, wheat flour, corn flour, oats, carrots, apples, pumpkin, beets, plantain, almonds and many more.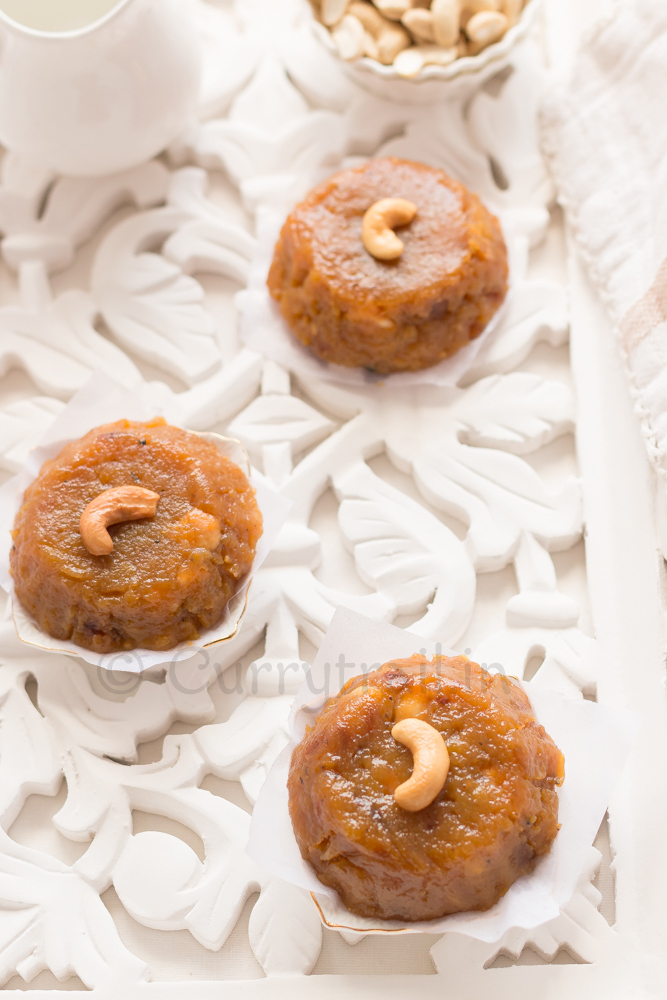 One advise my mom gives about halwa is – "If you want to make a GOOD halwa, do not skimp on the ghee/clarified butter". Yes halwa has a GOOD amount of ghee in it. And I believe occasional indulgence is no crime! 🙂 for those who love sweets, in my case it's for my family.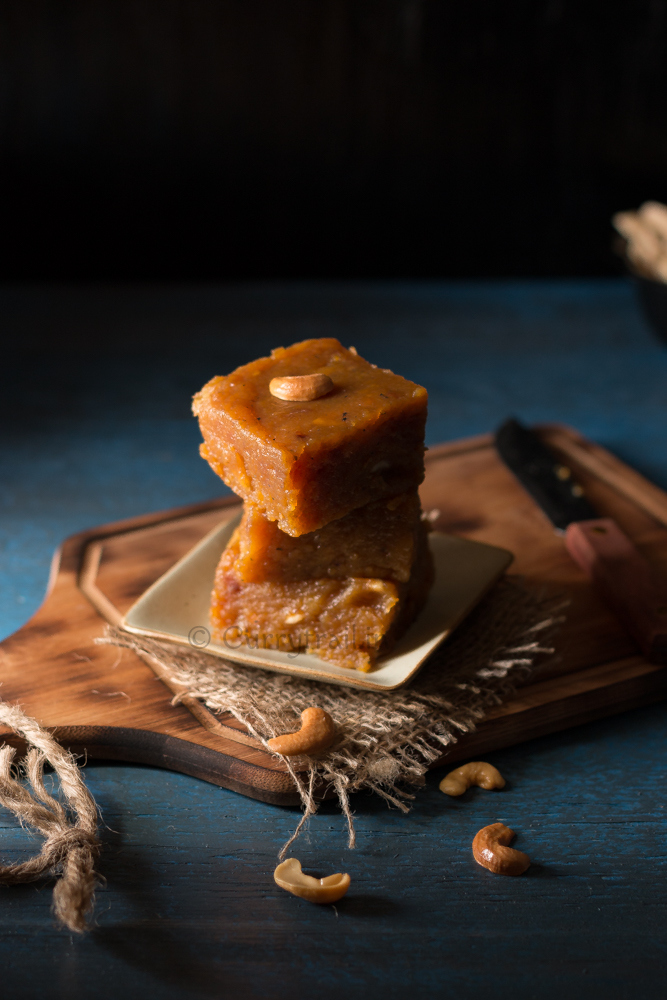 Halwa is one of the popular Indian sweet treats and probably, one of the easiest desserts to prepare, even on a busy day. These are like fudge. Once all the ingredients are in the pan you just need to stir..stir..stir! Plantain are not very popular type of halwa in north, but in south India especially in Kerala plantain halwa is very famous. I highly recommend you to try this. We would use ripe plantain in making the halwa. Bananas has this magic power to turn any dish into a DELICIOUS one. Most of you would know what a ripe banana would make a dish…DELICIOUS again!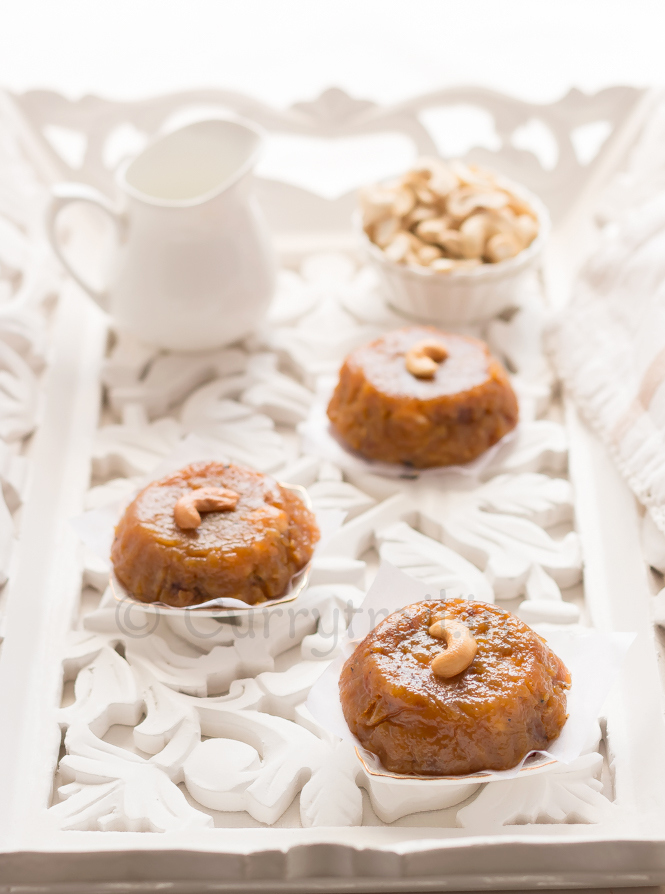 Here's Nentrapazham halwa recipe –
Ingredients:-
Ripe plantain – 3 nos
Jaggery/Raw sugar – 1 ½ cups(adjust based on plantain sweetness)
Ghee/Clarified butter – ½ cup
Cardamom powder – ½ tspn
Cashews – a few for garnish and to add in the halwa
Instructions:-
1. Remove the skin of the plantain and take out the flesh. Mash the flesh into a smooth paste. Keep aside.
2. Heat one tablespoon of ghee in a deep bottom pan and roast the cashews until they turn pale golden brown. Remove immediately from ghee and keep aside.
3. Add the remaining ghee to the same pan and drop in the mashed plantain. Mix well and allow it to cook on medium flame for about 3-4 minutes or until the raw smell of the plantain is gone.
4. Melt jaggery in 1 or 2 teaspoon of water and place it over stove. Once melted remove from flame, filter and add it to the plantain mix. Simmer and let it cook for 30-40 minutes and keep stirring every 5 minute once to avoid the plantain from burning at the bottom.
5. Once fully cooked you will notice ghee separating from the sides of the pan. Now add cardamom powder mix well and cook for another 3-4 minutes. By now the halwa would have reached a thick sticky consistency. Add the cashews into the thick halwa and mix so it evenly spread through the halwa. You can break cashews into smaller pieces and add.
6. Grease a pan with ghee and spread the halwa into the greased pan. Use the back of your spoon to make the top even. Let it sit for 3-4 hours until it is set. You can even refrigerate the halwa.
7. Once fully set, cut into desired shapes and serve. Delicious, Enjoy!