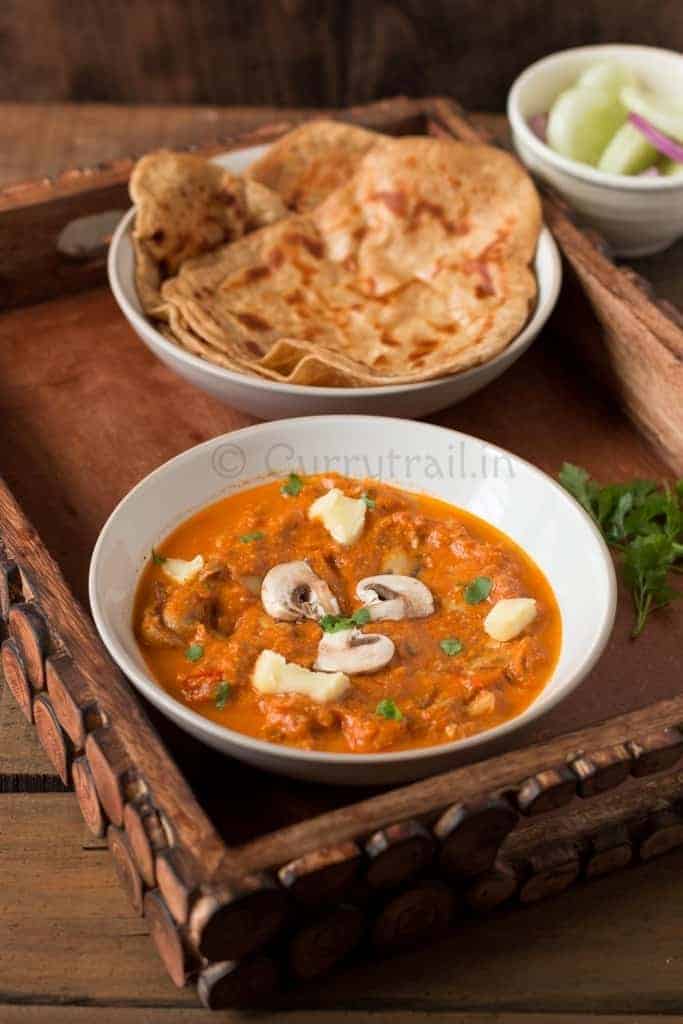 Hi! There are two kinds of people in this world, mushroom lovers, and mushroom haters. I'm a 'converted' mushroom lover! hehehe, you you read it right, I could not like mushrooms before, and slowly i'm starting to like it. In fact I started 'loving' it after the Garlicky Pepper Mushrooms Stir Fry I made! They were soooo delicious! What was more rewarding is, my hubby too LOVED the mushroom stir fry! But my kiddos stayed away, and I did not force them to eat as well.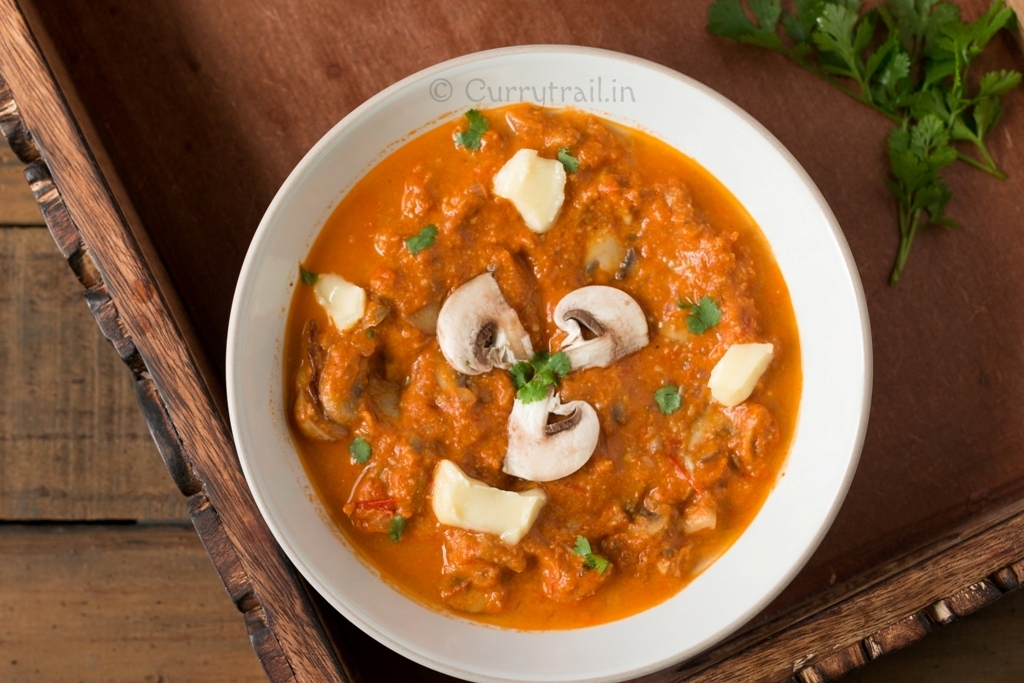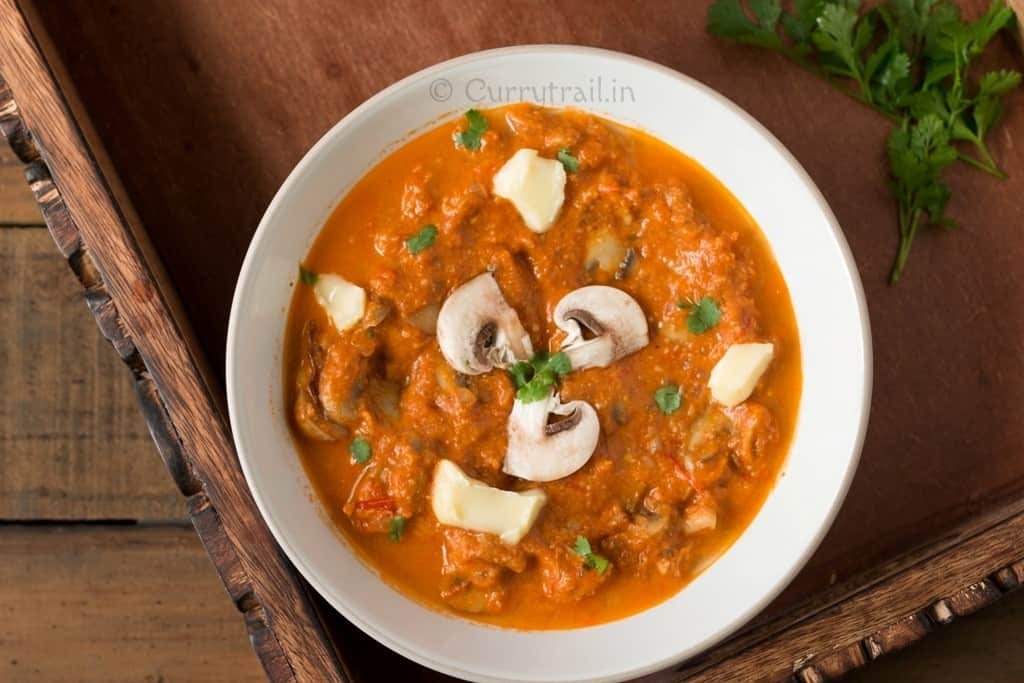 Not only mushrooms are incredibly good for you, they are basically always tasty what ever you prepare with it. But just don't forget one thing, to season the mushrooms well while you cook it. That was the secret I found to make mushrooms taste really good. And when you use them in creamy, butter curry preparation, what do you get? Flavor packed, bliss!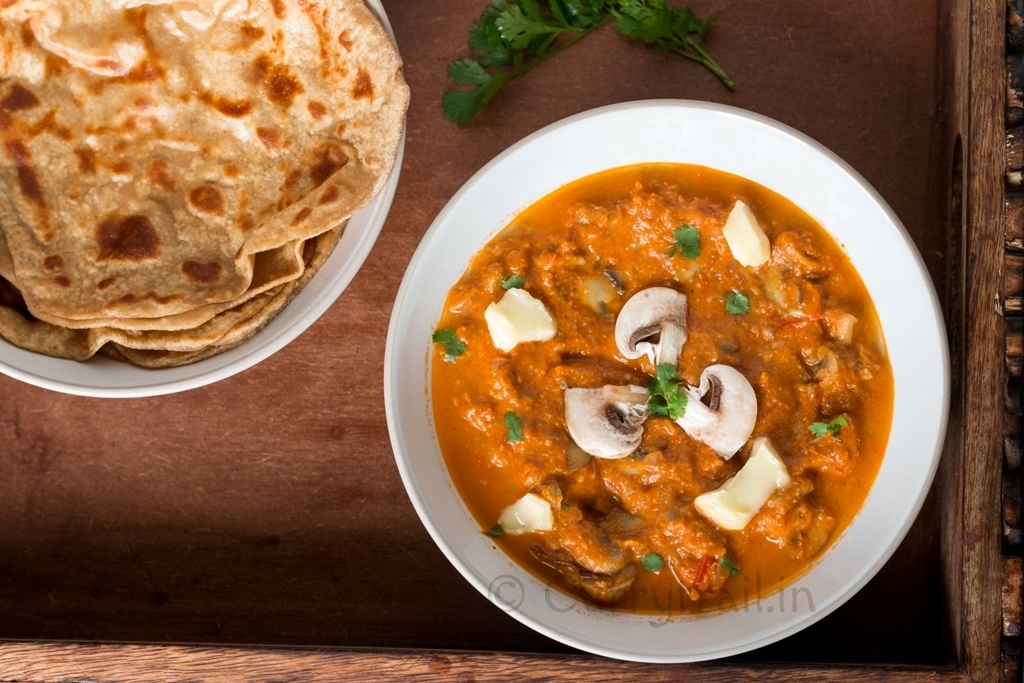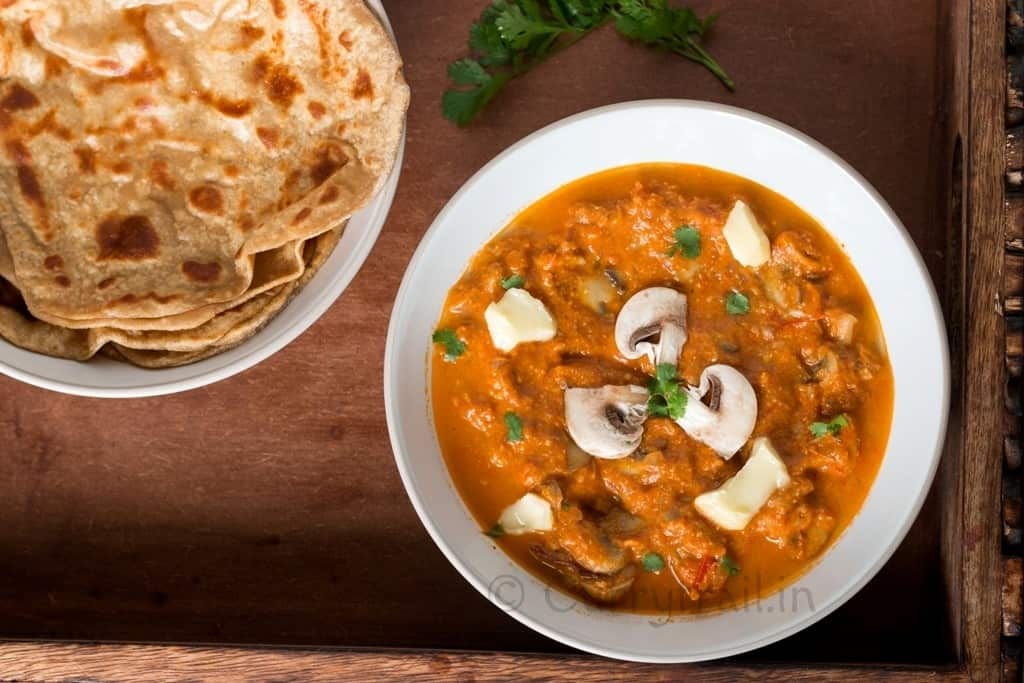 Kids or adults who hate mushrooms have their genuine reasons – 'they aren't potatoes' is the common thing we hear. If you have children who won't touch a mushroom with a 10-foot fork, then you must try this recipe. When I served this to my daughter, she didn't realize it was mushrooms. After her first bite she said, "this is tasty. What is it amma?" I didn't want to lie so I didn't answer her. I just said, "it's good stuff, just finish it off!" 🙂 See how I fooled my daughter without actually fooling her 😛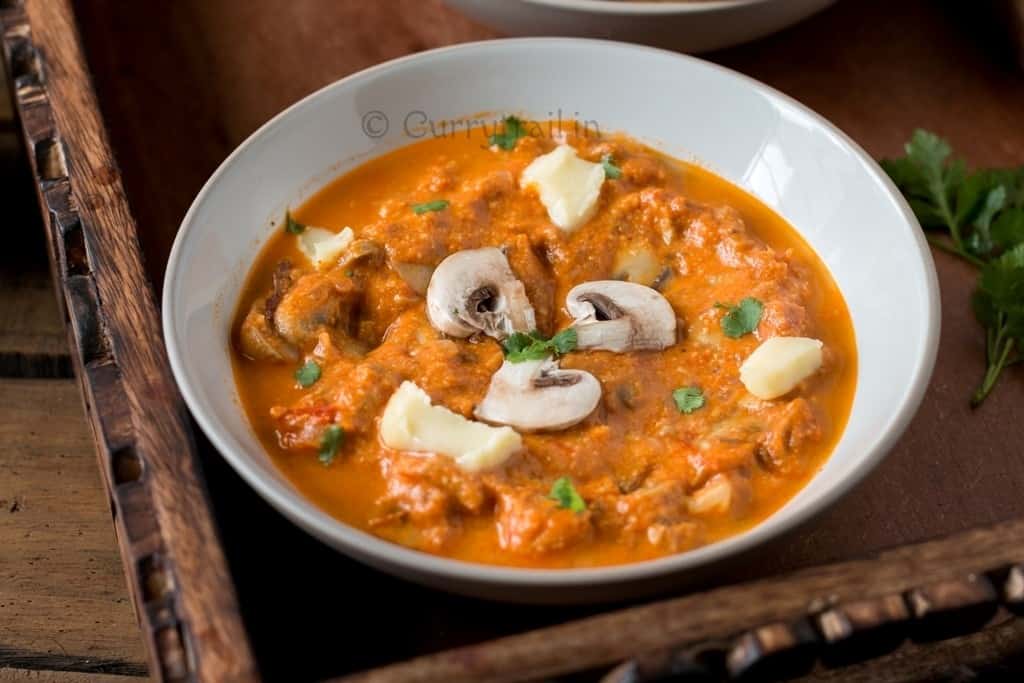 So here is the creamy delicious mushroom makhani or mushroom butter masala. If you think you don't like mushrooms, you should still give these a try, it's that mushroomy, deliciousness. 😀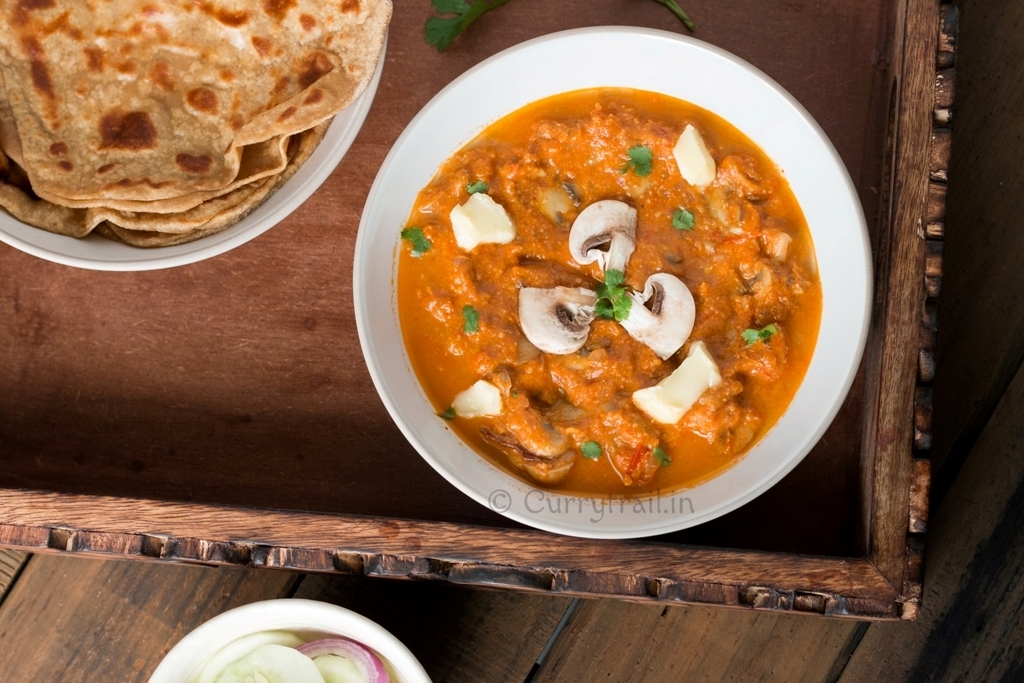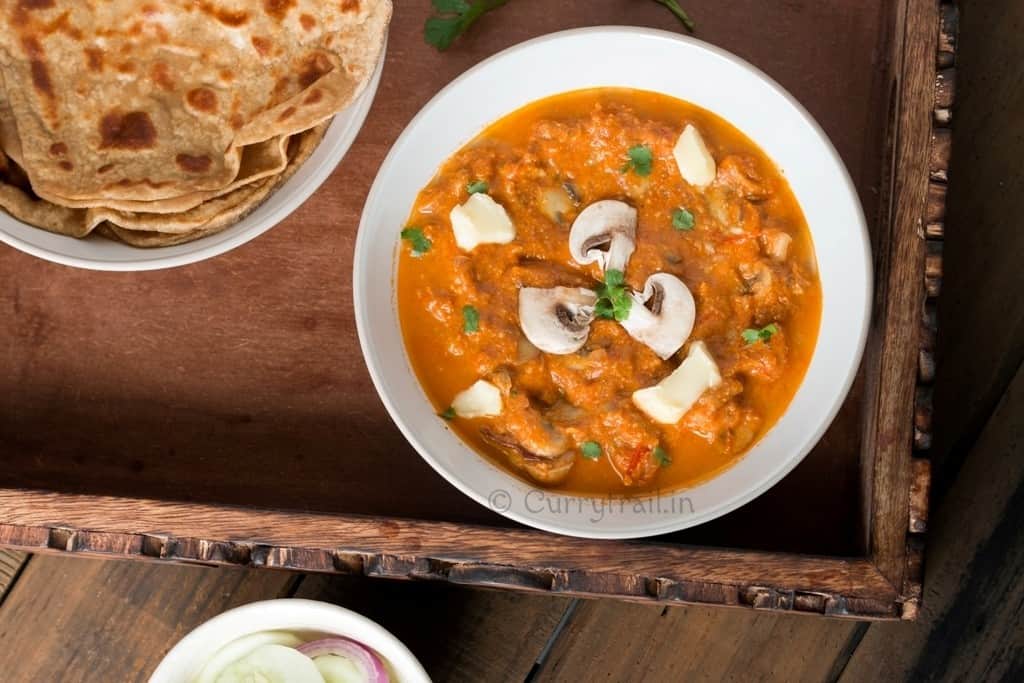 So, which category you fall under mushroom lovers or mushroom haters? I'd like to hear.
And if you are someone like me, 'converted' mushroom lovers, let's hear the story of how did you start liking them? 😀
Here's mushroom butter masala (light version) recipe-
Ingredients
1 cup button mushrooms, sliced
1 onions, finely chopped
2 tomatoes
1 teaspoon ginger garlic paste
1 tablespoon kashmiri red chili powder
¼ teaspoon turmeric powder
½ coriander powder
1 teaspoon cumin powder
½ bay leaves
2 green cardamom
½ inch cinnamon stick
¼ cup cashew nuts
1 cup water, for cooking
1 tablespoon butter
Salt to taste
Fresh coriander leaves for garnish
Instructions
1. Heat 3 to 4 tablespoons of water until warm. Add cashews to warm water and let it sit for 15 to 20 minutes.
2. Next heat some more water in a different pan. Blanch tomatoes until they the skin starts to crack. Remove tomatoes from hot water, and dip them in cold water immediately. Peel skin and puree the blanched tomatoes.
3. In a kadai or deep bottom pan, heat butter(I used half tablespoon butter in cooking and the rest for garnish). Add bay leaves, cinnamon stick, cardamom, and stir. Add finely chopped onions and saute until onions turns soft.
4. Add ginger garlic paste, stir and cook until the raw smell from the paste goes away.
5. Next add sliced mushrooms and saute. Initially mushrooms will release a lot of water from it, and as it cooks the water will dry out.
6. After all water gets evaporated, mushrooms will look shiny and they would be cooked.
7. Add the tomato puree and all the spice powders, red chili powder, cumin powder, coriander powder, turmeric powder, salt to taste and mix well. Cook for 3 to 5 minutes on low flame.
8. While that is cooking you can grind the cashews with just 1 tablespoon of water into a smooth paste.
9. Add water accordingly and continue to boil until the gravy thickens.
10. Add cashew paste, mix well and simmer for 5 more minutes.
11. That's it, mushroom makhani is ready. Turn off flame, garnish it with fresh coriander leaves. Serve hot with chapathis, rotis, naan, or even dosas. ENJOY!