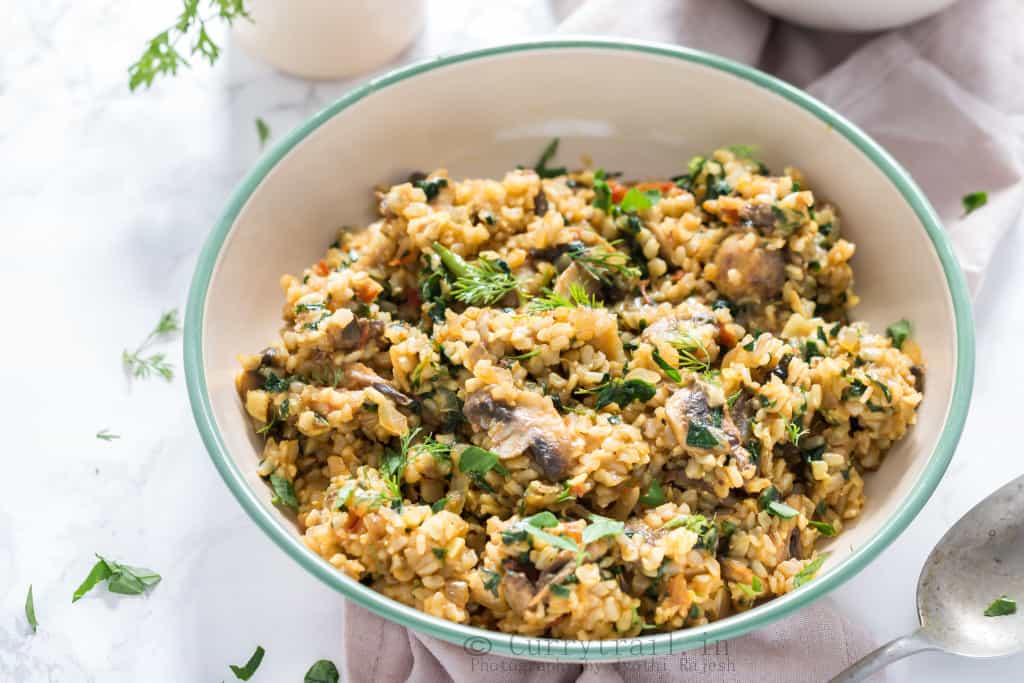 This is the first time I am using brown rice in my recipe. And I have to admit, I LOVE brown rice. The texture of the rice is amazing. Once cooked it didn't resemble rice at all, it looks more like moong. And the tasted delicious.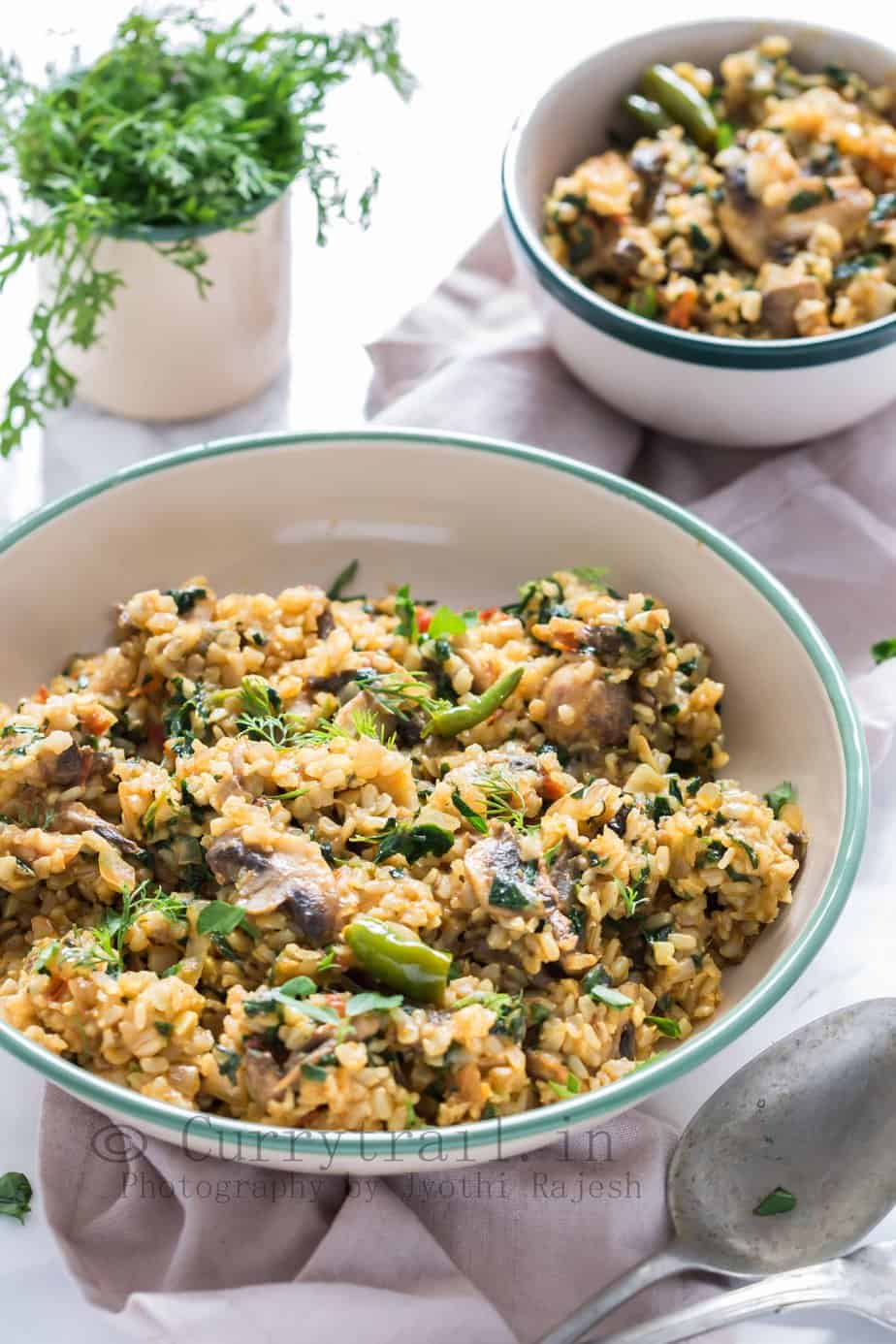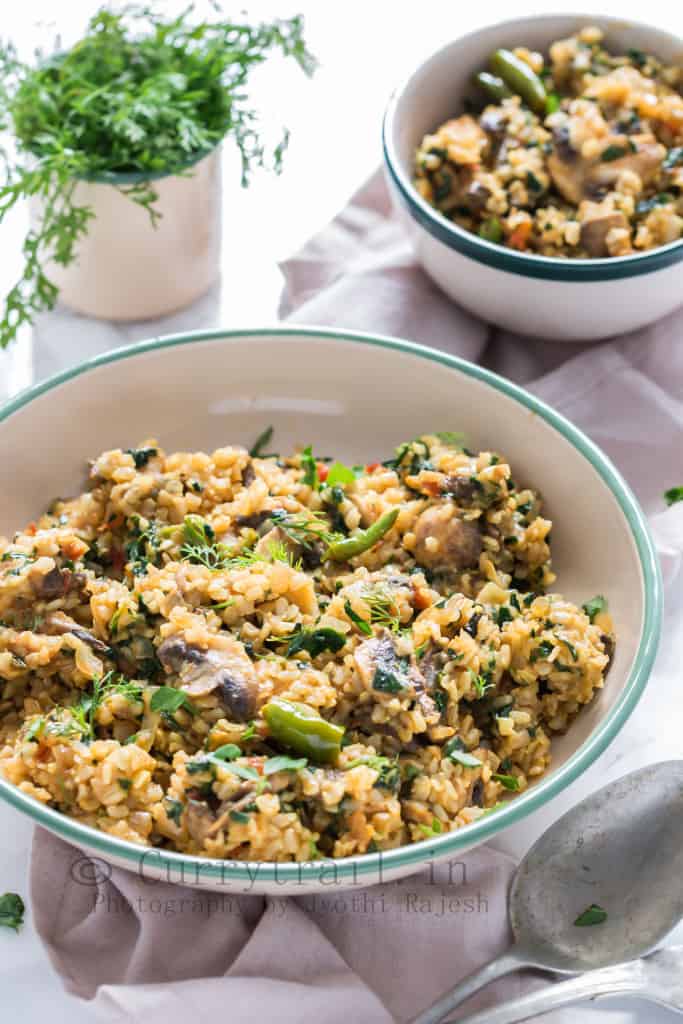 Brown rice is not a boon for just diabetic people, but for all rice eaters. Rich in fiber, this amazing rice makes a super food if you can toss in some nutritious vegetables and greens. That is exactly what I did with brown rice. I made it for my kids lunch box, tossed in some button mushrooms and fresh fenugreek leaves. I was a little skeptical about she eating this brown rice for her lunch, but was surprised to see her box empty. She even said that her lunch today was yummy! Though she didn't know what she ate for lunch. What more can a mother want!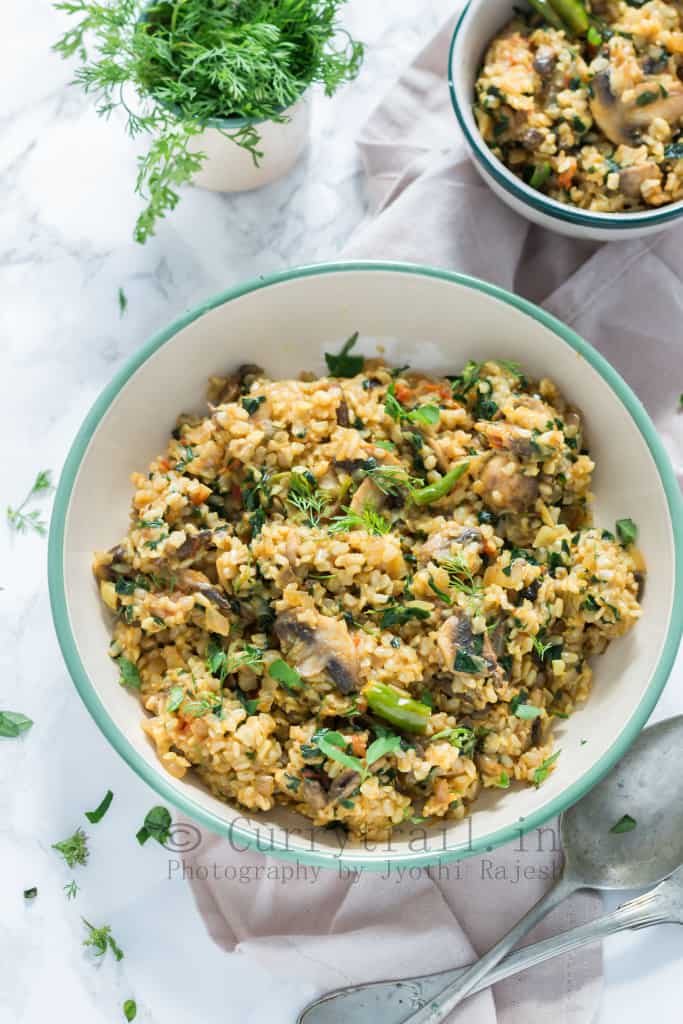 Ingredients
1 cup brown rice (I used brown kolam rice, you can use brown basmati rice too)
1 cup button mushrooms, sliced thin
1 cup fenugreek leaves, chopped
2 onions, finely chopped
2 tomatoes, finely chopped
3 green chilies, slit
5 garlic cloves, chopped
1 teaspoon red chili powder
2 teaspoon coriander powder
½ teaspoon turmeric powder
Salt to taste
2 tablespoon oil
Method
Rinse brown rice twice. Soak in water for about 30 minutes. Drain the rice from water and add 2 ½ cup clean water to soaked rice. Pressure cook for 2 whistles.
In a wide pan heat oil. Add garlic and sauté till raw smell of garlic is gone.
Add finely chopped onions and green chilies, sauté until onions turn translucent.
Add finely chopped tomatoes and cool till tomatoes turn mushy.
Add red chili powder, turmeric powder, coriander powder and salt. Mix well. Cook of 2 minutes on low flame.
Add button mushroom and cook for about 2 to 3 minutes. Mushrooms will release moisture, cook it in it's own moisture.
Add finely chopped fresh fenugreek leaves and cook for another 3 minutes.
When mushrooms and fenugreek leaves are fully cooked, add cooked brown rice and gently mix it. Check for salt and adjust accordingly.
That's it, mushroom fenugreek leaves brown rice is ready. Pack it for lunch box or make it for dinner. Delicious!