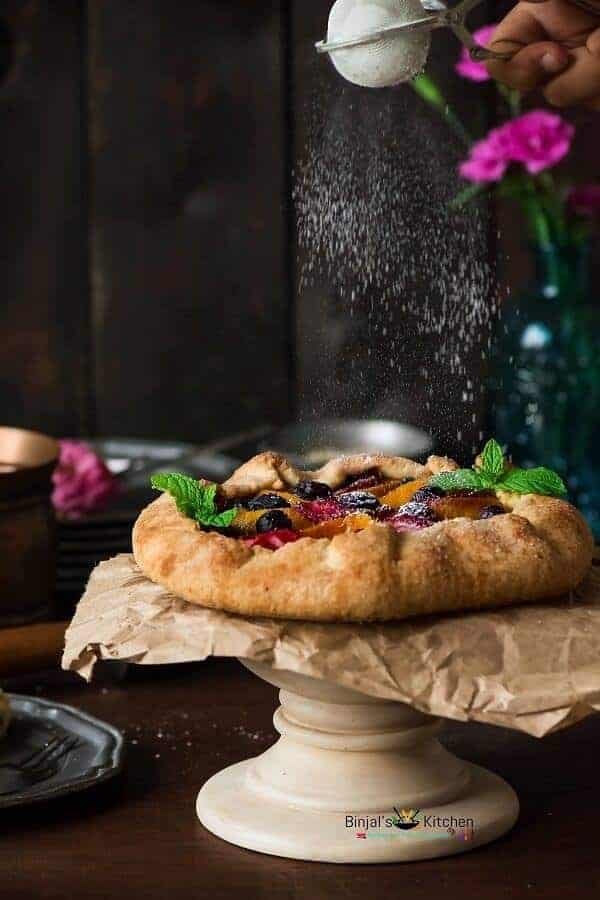 I announced on FB about something new happening on June 20th! So here it is…20th June. We waited long for this day! Almost two one year. Enough talking, just reveal what it is, I hear you say! 😀
So June 20th is my official blog anniversary. And it's been two exciting years of blogging and photography." Two years? Didn't hear about it last year? No celebration happened until now?" it's natural you ask me these questions. Yes I could not celebrate my FIRST blog anniversary. What a shame! Well, I had reasons behind staying quite during the same time last year. A lot of issues on personal front – kid was suffering from bad congestion, high fever, I had series of migraine attacks and a lot of things kept me away from celebration.
This year I could not miss it, yet again. So what's special on my second blog anniversary? I went away from the normal practice of baking a cake or may be posting a special sweet dish for blog anniversary. I wanted to do something new, something I have been thinking about it for past 1 year and somehow keep postponing it. I wanted to share my humble space with people who have inspired me, who have motivated me, who have pulled me up when situation crushed me down, who helped me out with all the silly doubts, I call them FRIENDS. So today, on the occasion of my first celebration of my blog's second anniversary I am introducing GUEST POSTS from some amazing people from the blogging world.
I am very honored to have Binjal Pandya from Binjal's Veg Kitchen on CurryTrail(CT) as my first guest blogger. If you haven't been to her space yet, you should jump over now to check her blog! It's feast to eyes and her simple, yet delicious vegetarian recipes always make me drool.
Binjal and I started knowing each other around a year back through social media. I was awe struck with Binjal's photography and styling. I still remember her Grape Margarita photo that she posted in one of the FB group and my jaws dropped to floor looking at those photos. I started to follow her since then and have been admiring her photos A LOT every single day.
We do chat a lot on a lot of things on FB. And when I approached Binjal for a guest post for CT she immediately agreed and also shared her recipe and photos even before I could ask her second time. Thank you Binjal for creating this gorgeous dessert. No doubt my humble space got a face lift with your gorgeous photos today!.
Over to Binjal now-
Hello everyone this recipe I specially made for my food blogger friend Jyothi Rajesh for her blog as a guest post. Jyothi Rajesh is a name behind the curry tail blog, she has a really beautiful blog with so many awesome recipes with amazing photography! I met her through Facebook more than a year, when we became friend we even didn't know each other;), but now it seems like we know each other from long time! Personally I didn't meet her yet! Hope we will meet some other day soon! When she requested me about to do a guest post for her blog I said yeah why not!!! Thanks Jyothi for inviting me for a guest post on your blog!!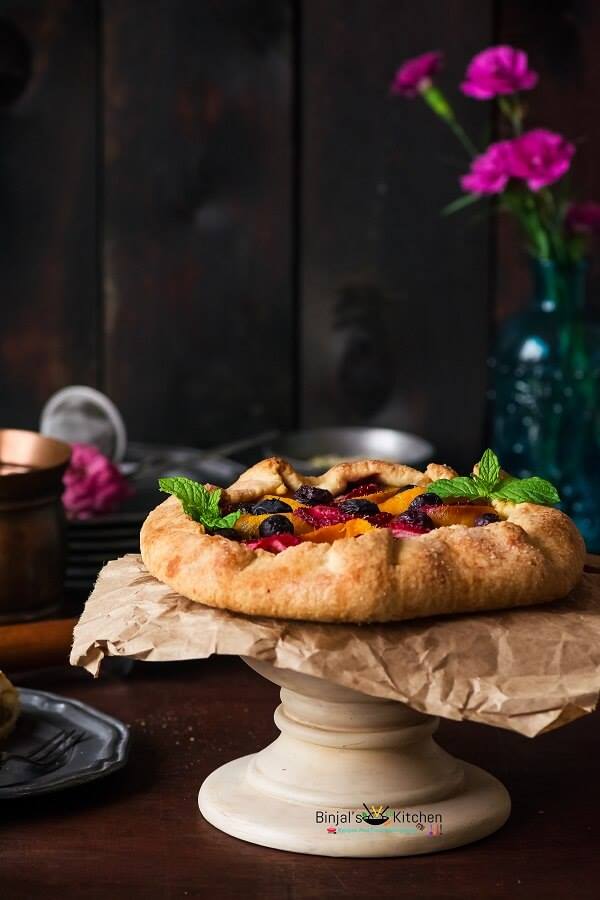 Celebrate seasonal fruit this summer with delicious Mixed Fruit Galette. Nowadays Galettes are popping up all over social media at the moment. I've never even heard the term before, but after researching on it, I couldn't believe how easy these are to put together. A Galette is very popular French dessert, and simply like a flat pie or tart. It is a way easier than a making a regular fruit pie, have a beautiful rustic look to them, crispy crust outside and inside soft fruity flavor it is very easy to make.
As you know here in the USA summer vacation already started and my girls are always demanding something new and attractive…. Big task for poor mommy wink emoticon so I decided to make something new with their help, my intention was to keep them busy…. they did spreading fruits, folding the edges of crust, brushing on it and keeping eyes on oven till it done, it was lots of fun for them.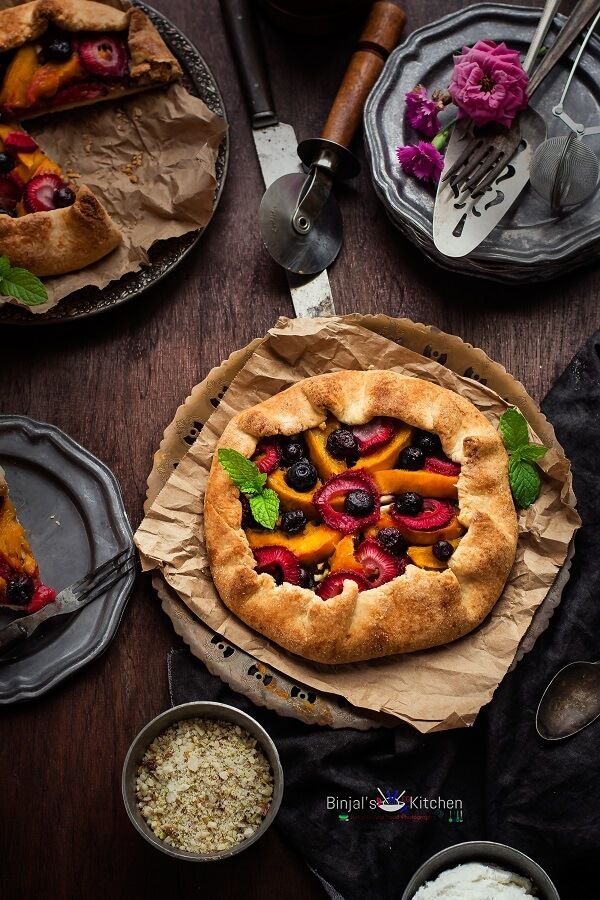 Ingredients:
For Crust
• 2 cup All Purpose Flour/Maida
• ½ cup Cold Soft Unsalted Butter (1 Stick)
• 2 tablespoon Sugar
• 2-3 pinch Salt
• ¼ cup Cold Milk or Water
• 2-3 tablespoon Flour for Dusting
For Filling
• 1 cup Peeled &Chopped Ripe Mango
• ½ cup Chopped Strawberries
• ¼ cup Blueberries
• ¼ cup Crushed Mixed Dry Fruits (Almond/Pistachios and Cashew)
• 2 teaspoon Sugar
• 2-3 tablespoon Melted Butter for Brushing
• 1 teaspoon Sugar for sprinkling
Method:
1. Take a mixing bowl. Add flour, salt and sugar and mix it well then add melted butter and again mix it and rub the flour between your hand plum and make grainy mixture.
2. Now add milk and mix it very well and make stiff dough, cover it using plastic wrap and place it into the refrigerator for an hour.
3. Preheat the oven on 375F/190C
4. Take the prepared dough. Divide it into the two portions, make a ball from them and keep aside.
5. Now dust some flour on the working place, take a ball, roll it and make thick circle.
6. Take a baking tray place the parchment paper on it, then place the rolled circle over it.
7. Now spread 2 tablespoon mixed crushed dry fruits on the center of the circle, then spread fresh fruits over it and sprinkle some sugar over it.
8. Fold the all edges of circle over the filling (see in the pic how it is folded).
9. Brush the melted butter on the covered edges upside parts and sprinkle some sugar over it.
10. Use same method for remaining balls.
11. Place the prepared baking tray into the oven and bake it for 35-40 minutes or till golden brown.
12. Remove it from the oven and let it be cool down.
13. Mix Fruit Galette is ready, cut it and serve it with vanilla ice cream or whipped sweet cream and enjoy the dessert.
Tips:
• You can use other fruits too like peaches, apple, pineapples as per your choice.
• You can use food processer to make a dough for best result.
• You can store it into the air tight container for 3-4 days into a refrigerator