When you think of khichdi, what first comes to your mind? "Comfort food"? But for me, khichdi reminds of a 'not so comfortable incidence' that happened today!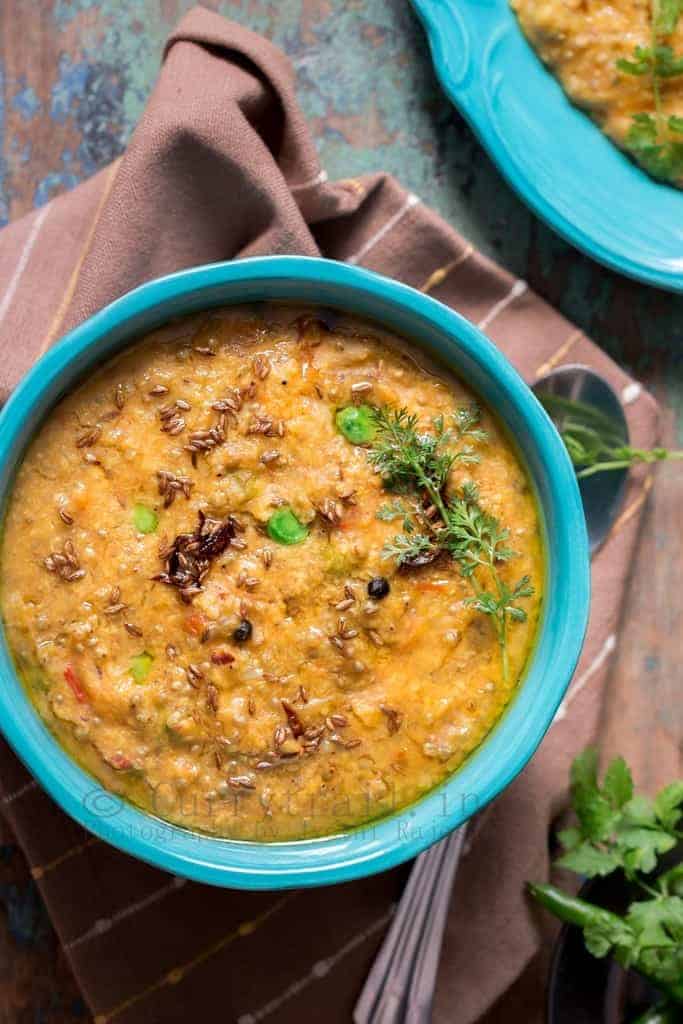 Leaving kids with hubby for a couple of hours means, I need to be prepared to come back to a house that looks like it has been hit by a hurricane. But, today the story was different. I came back home after my workout classes. The guy from service center was waiting at my gate to take my car for service. I handed him the keys, took all my belongings (read handbag) left inside the house and came back to instruct the service person about complaints in the car. Entire family (the 3 monkeys) were sitting out even before I reached home. Daughter was plucking all the leaves from the pot that was next to the sitting area. And the little monkey, I couldn't believe he was lying on the floor, in the sit out area :O. Busy playing his guitar, hubby did not stop them. I was feeling restless seeing these kids being naughty. But I had to finish off with the car service guy, So, I walked out of the house after leaving all my belongings making sure to turn the latch on the door which will stop the door from getting locked. While I am still talking to the service guy I heard the door bang. I turned and looked; son who was lying on the floor had been playing with the door. He kept trying to close the door, but the small latch was stopping it from closing. So he went in, turned the latch back and came out and pulled the door..Bang! The door got locked.  I continued my discussion with the car service guy checking with him when will I get my car back, assuming hubby had a key in his pocket(remember I left my belongings inside). Hubby stopped for few seconds to talk to son and ask him, "why did you close the door?". That's it. He assumed I had a key in my hand! So he continues to play his guitar.  The situation was about to get really worse once we realized both of us did not have a key with us.
The guy from the service station handed out a form to me and drove my car away. I walked to the door and waited. Hubby was still playing his guitar. I thought I would wait for him to finish playing his song, so I sat down in the sitting area. After few minutes he asked me to open the door. I told him to give me the keys. He said, "I don't have my keys. Where's yours?" There was silence for couple of seconds. I was shocked, angry and at the same time a bit confused. All this while I assumed he had keys, and he all this while assumed I was holding my keys in hand. When kids heard there were no keys to open the door and we were locked outside, they started to cry. We removed the glass from the window, tied to gather sticks to make it 30 feet long with a magnet at an end. Pushed the stick all the way from outside into the bedroom which had hubby's key bunch (had not been that key, we would have broken the door to get in as all our keys are usually hanged in a place which is inside that cannot be reached from outside) After struggling for about 2 hours we got the keys. Phew…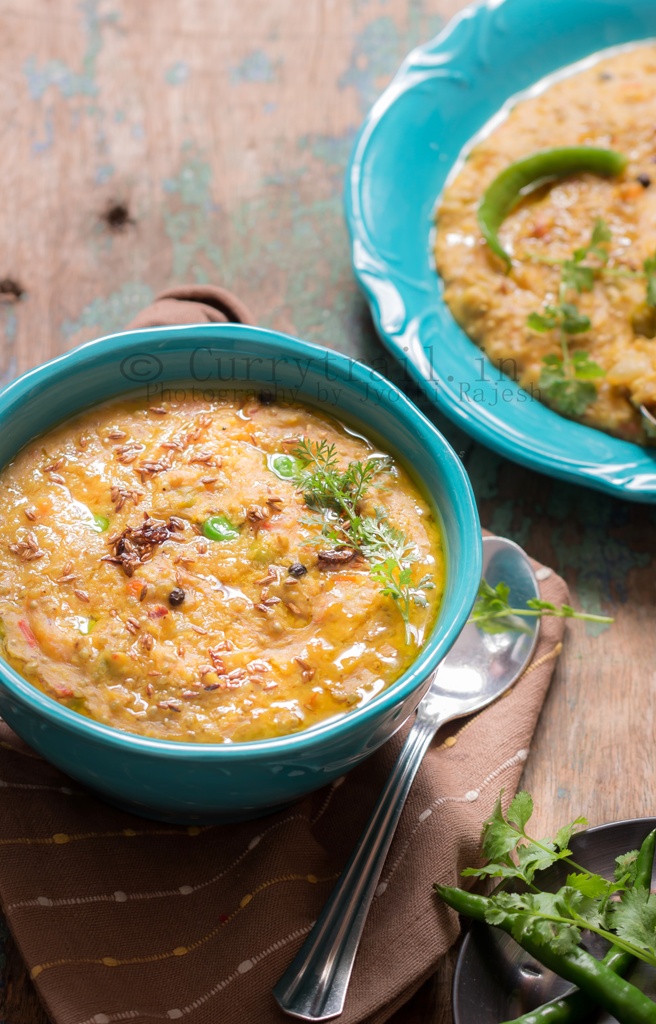 Though we were angry, mad and frustrated with the whole thing, I think we will laugh when we talk about it later. While I write this post, I have smiling thinking how bad situation we were in 😛
We were relieved to open the door and get inside the house. Though we had to break the window, we were happy we didn't have to break the whole door. I wasn't relieved and relaxed completely as it was lunch time and I had to cook something real fast, like in 1 hour.
What was more horrifying was to notice there was no rice at home. The day was getting worse and worse. Quickly checked my pantry, the saying "every cloud has a silver lining" seemed true at that moment. I had few packets of millets in my pantry. So I decided to make quick, one-pot meal, millet khichdi.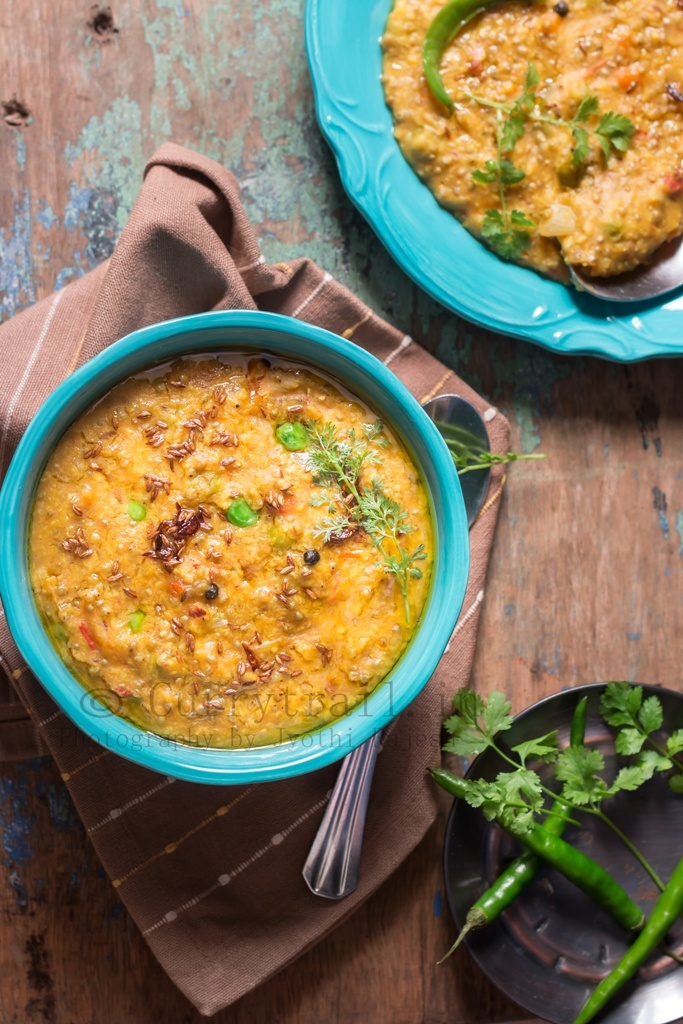 Kichdi's are comfort food which relaxes the tummy. You feel light and satisfied. Using millet in place of rice is a brilliant idea to incorporate millet into your daily diet. These ancient grains were forgotten for quite some time few years back with venerable histories stretching back to long-lost civilizations; it had almost fallen into obscurity. Now it's gaining recognition for their powerful nutritional benefits.
This millet khichdi made from pearl millet and foxtile millet tastes really delicious. Even if you are a rice eater like me, you wont miss the rice 😀 Try it and relish it.
Ingredients
½ cup foxtile millet
½  cup pearl millet
1 cup yellow moong dal
1 carrot
¼ cup peas
1 onion
2 tomatoes
4 green chilies
1 bay leaf
1 inch cinnamon stick
5 cloves
1 tablespoon black pepper corns
1 tablespoon + 1 teaspoon shahjeera or normal jeera
Generous pinch of asafetida
4 cloves garlic
3  + 1 tablespoon ghee
½ teaspoon turmeric powder
Salt to taste
Method
Add foxtile and pearl millet in one bowl. Add yellow moong dal in another bowl. Rinse them once and soak in enough water for about 4 hours. Since I was in a hurry I soaked them in hot, boiling water for about 20 minutes. 😀
Heat 3 tablespoons of ghee in a pressure cooker. Add bay leaf, cinnamon, cloves and shahjeera. Wait till the jeera crackles.
Add pepper corns, mix well.
Add finely chopped garlic, onions and slit green chilies, cook till onions turn soft.
Add finely chopped tomatoes and cook till tomatoes turn mushy.
Add finely chopped vegetables mix well.
Add turmeric powder, salt and mix well.
Add 6 cups of water and bring it to boil.
Add the soaked millets and dal, mix well. Check for seasoning. Adjust salt if you have to.
Cover with lid and pressure cook for 3 whistles.
After 3 whistles, turn off stove and wait till the pressure releases by itself.
Open the cooker and mix khichdi well.
In a small pan, heat 1 tablespoon ghee. Add 1 teaspoon shahjeera and asafetida. Once jeera crackles, remove from stove and add it over the khichdi. Serve hot.