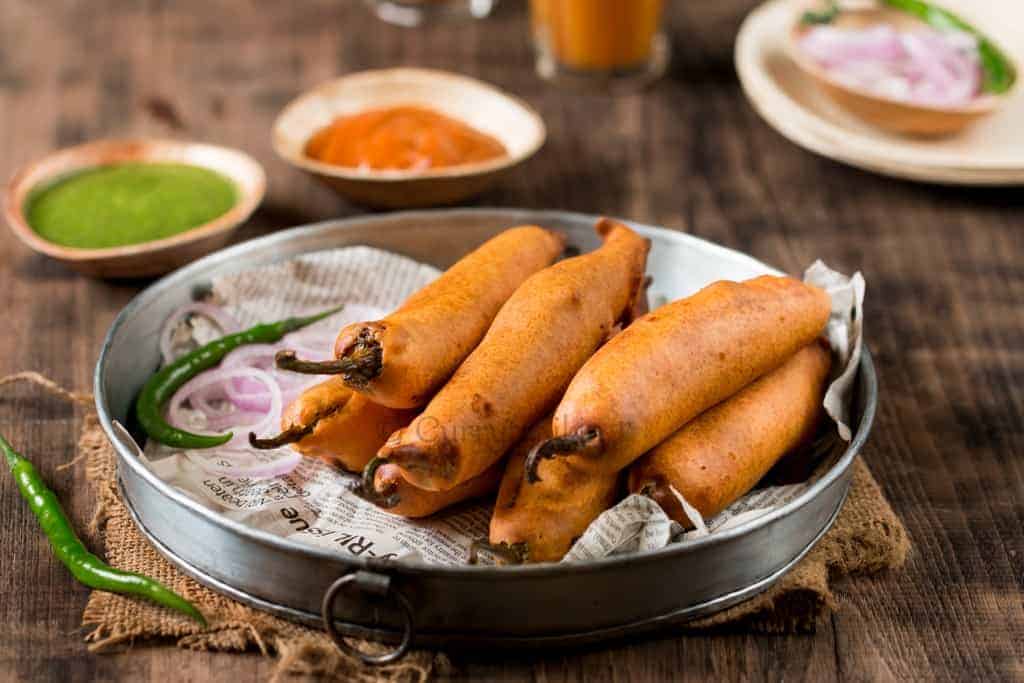 A friend of mine once asked me what is that one thing you love doing most? "Cooking" was the answer that came out instantly. To me cooking is like meditation. I do not like interruptions or any disturbances while i'm in the kitchen. When I'm in kitchen is when my hubby and kids want ten things to be done and they would keep going…."Mom, where is my pencil?", "Mom where is my puzzle piece?", "Jo, have you seen my car keys?", "little one- waaaaah, i'm hungry","waaaaah I need a nappy change waaaah"……. Gosh… I hate it much.. those interruptions. But I can't help it. So I mostly try to cook when son is sleeping and hubby is out or busy with other things, though this doesn't happen all times, I do look for opportunities to get that peaceful cooking time.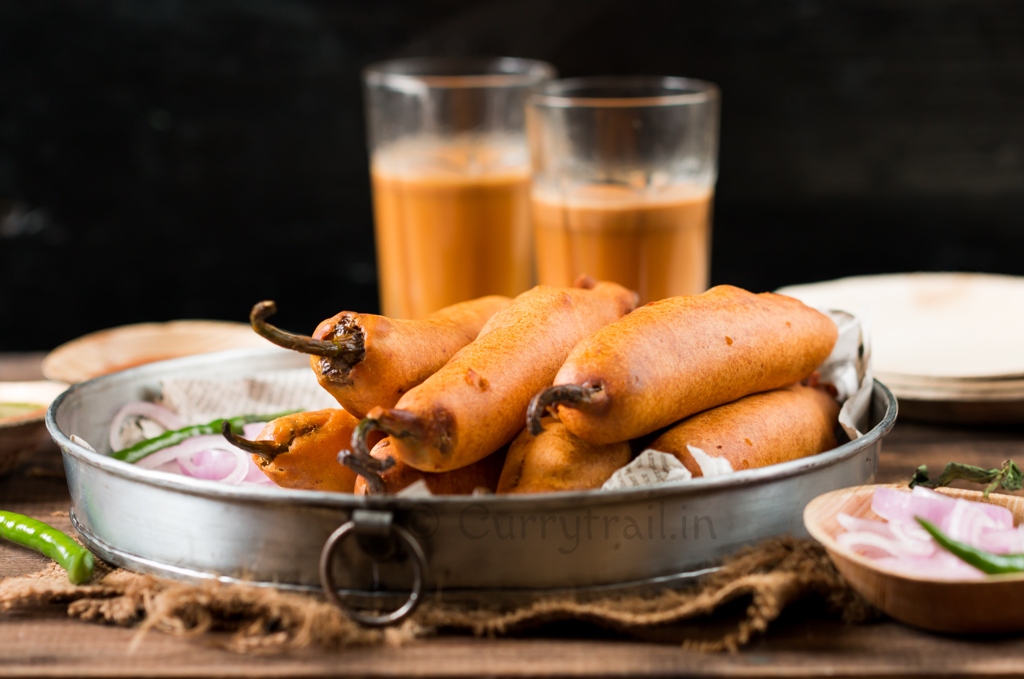 I cook because I love food. ..Good food! I do cook a lot…and there are days when I just don't want to enter the kitchen ;). I always wanted to try out food that is new to me, that would make you salivate just by looking at it. I mean who doesn't want to do that, right? I know I do.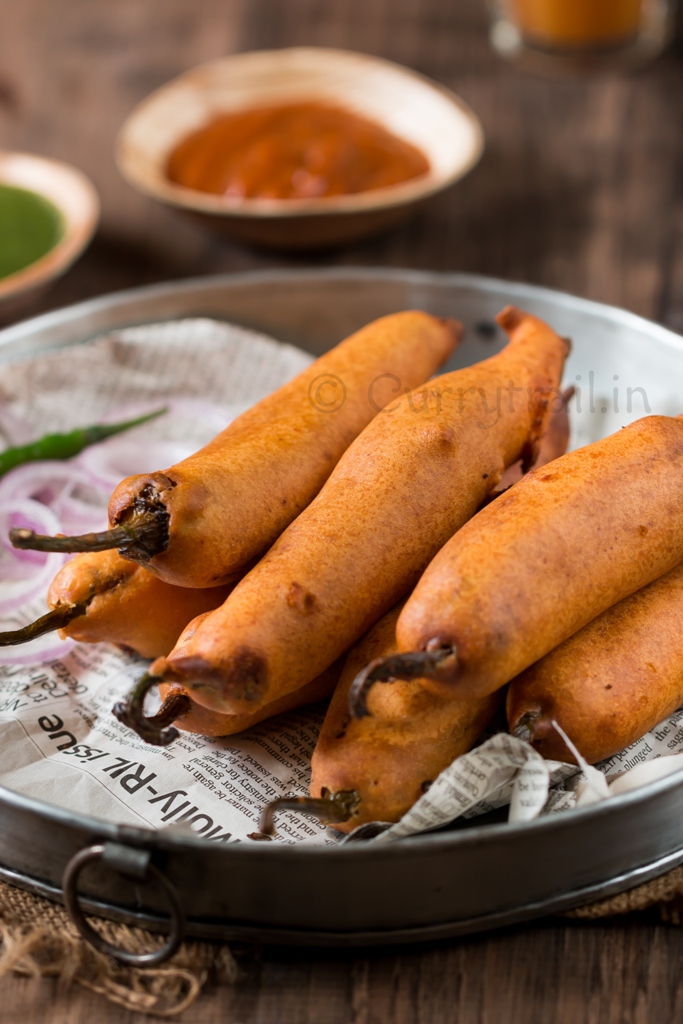 The weather today demanded something hot, something spicy to munch on. Some fresh bajji chilies in the fridge got me into making these stuffed chili bajji. The stuffing with simple potato masala inside the bajji gives it a new dimension when you bite it. Sipping hot chai and biting into these bajjis is a perfect way to spend a chilly winter evenings.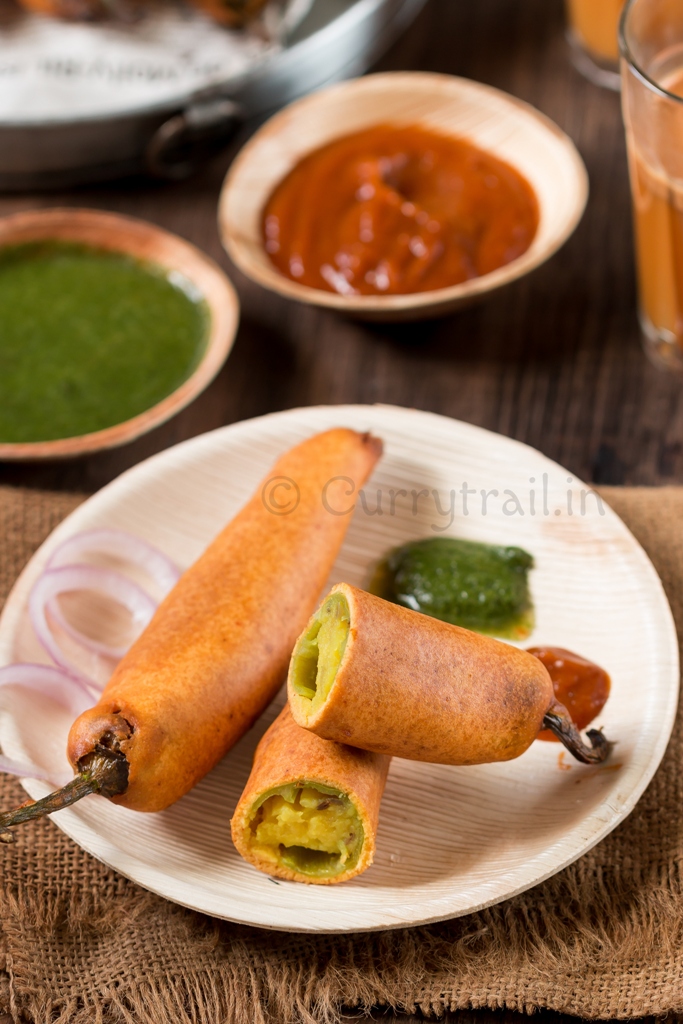 Ingredients
Serves 2
6 Bajji milagai/Mirchi
1 cup kadala mavu/besan/chickpea flour
1 teaspoon asafetida
1 teaspoon salt
1 ½ teaspoon kashmiri red chili powder
¼ teaspoon cooking soda
¼ teaspoon roasted cumin powder
1 teaspoon rice flour
Water as required
Oil for deep frying
For Stuffing
2 large potatoes
1 small onion
3 green chilies
1 teaspoon oil
½ teaspoon cumin seeds
Salt to taste
½ teaspoon turmeric powder
Instructions
Wash, peel the skin of potatoes and cook it with a generous pinch of salt. Once cooked, remove from stove, mash it and keep aside.
Heat a teaspoon of oil in a pan. Add cumin seeds, onions and green chilies. Sauté until onions turn soft.
Add turmeric powder, salt to taste and mashed potatoes. Mix well and cook in low flame for about 3 to 5 minutes. Switch off flame and keep aside to cool.
In another wide bowl add besan, rice flour, asafetida, roasted cumin powder, red chili powder, salt and mix well. Add water little by little and whisk until you get a thick flowing batter. Keep aside.
Heat oil in a wide pan for deep frying.
Slit the mirchi bajji in the middle making sure the knife doesn't touch the bottom layer. Scoop out the seeds. Stuff potato masala inside the slit. Repeat this for all the mirchis.
Once oil turns hot, reduce flame to medium. Dip one stuffed bajji fully inside the batter. Carefully place it inside the oil. Fry it until it turns golden brown on all sides. Remove from oil and drain in on a kitchen paper. Fry all the bajjis the same way.
Serve hot bajjis with any chutney of your choice. I served these delicious bajjis with spicy mint chutney and sweet-tangy-spicy dates tamarind chutney.