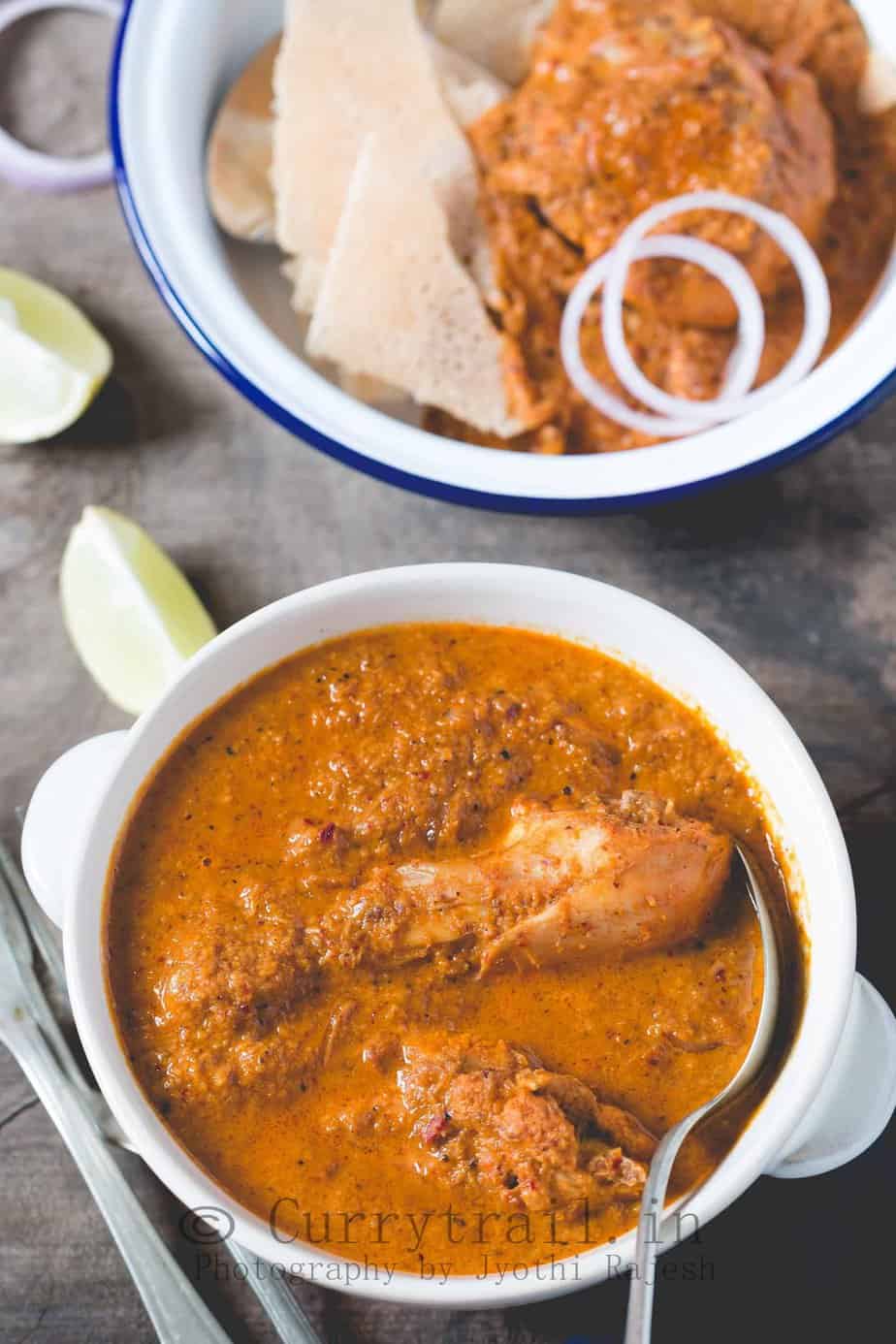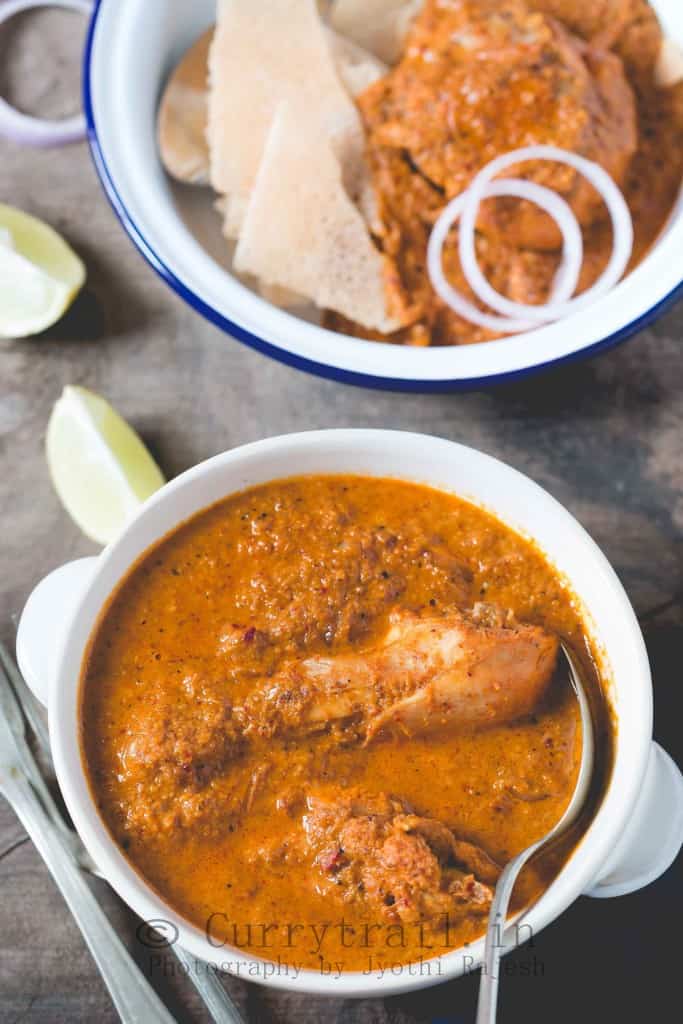 You guys are going to love this curry. Do not get intimidated with the bright red color! And if the color is giving you a hint that it is one hell of a spicy curry, trust me you are in for a surprise!
Mangalore cuisine is known for their distinct flavor and curry leaves and coconut forms a integral part of their cuisine. Usually Mangalore recipes are spicy, but this curry is a wonderful balance of spice. It's not too spicy as we use coconut (both fresh grated coconut and coconut milk). We cook the chicken in coconut milk instead of water. So you can imagine how flavorful this curry will be. The bright red color is from the unique type of dried red chili we use, called byadgi menasinakai (similar to Kashmiri dried red chili) this variety of red chili adds nice color to the curry without adding to much spice.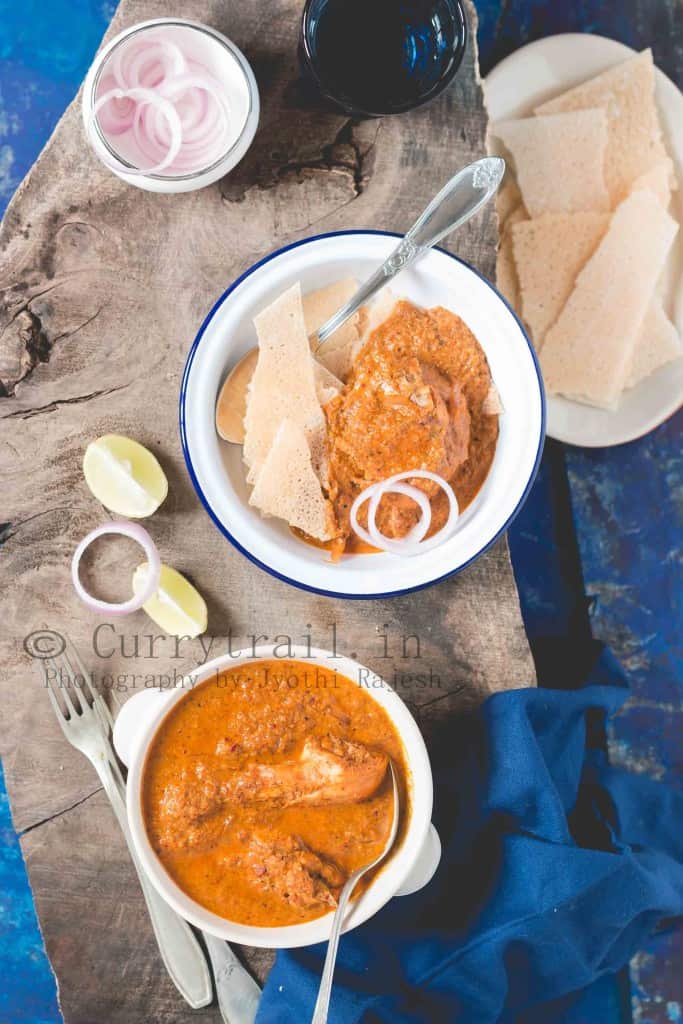 It's no surprise that I love spicy food. But today I present to you one of the most delicious curries which is a perfect blend of spice and has a nice creamy texture and a robust flavor of coconut. You can of course make it spicy if you wish by adding 2 different varieties of dried red chilies, one byadgi variety for color and one – small dried red chilies for the spice. Just customize it depending on your taste buds!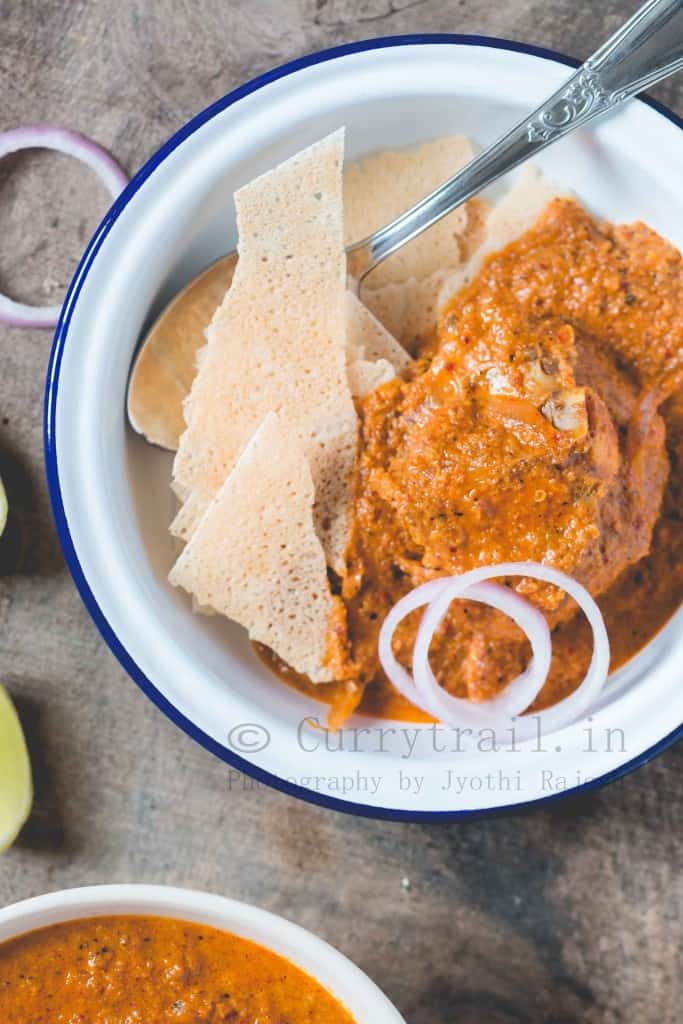 Kori gassi is traditionally served with Kori Rotti – a traditional and unique rotti, made from rice flour. Break the kori rotti onto a plate. Pour generous amount of kori gassi (the chicken curry) and let the rotti soak for about 10 – 15 minutes. Then eat the soaked, soggy rotti with the gassi and the chicken pieces. Simple bliss. Kori rotti is available in any Mangalore store in Bangalore. I got this kori rotti from a good friend of mine. Thanks Bhaws, I enjoyed Kori gassi with the delicious Kori rotti you gave ;).
Kori Rotti are crisp dry wafers made of boiled rice flour.
Ingredients
For Kori gassi
500 grams chicken pieces (curry cut pieces)
1 onions, sliced thin
1 cup thin coconut milk
½ cup thick coconut milk
Salt to taste
2 cloves
1 bay leaf
1 inch cinnamon stick
Salt to taste
1 sprig curry leaves
Ghee – 1 teaspoon + 1 tablespoon
For the masala-
1 big onion, chopped
10 garlic cloves
2 inch ginger piece
1 cup fresh grated coconut
1 ½ tablespoon coriander seeds
8 dried red chilies (byadige variety, or Kashmiri red chili variety)
1 ½ teaspoon cumin seeds
¼ teaspoon fenugreek seeds
1 ½ teaspoon pepper corns
½ teaspoon turmeric powder
Small lemon sized ball tamarind
Method
Wash chicken pieces well. Add 1 teaspoon salt, mix well. Cover and let it sit for 15 minutes.
In a pan add 1 teaspoon ghee. Roast coriander seeds, cumin seeds, dried red chilies, pepper corns one by one until fragrant. Once roasted remove from pan and set aside to cool.
Once all spices are roasted, into the same pan add sliced onions, garlic, and ginger and roast until onions start to turn brown. Now add fresh grated coconut tamarind ball, and continue to roast until coconut start to turn golden brown. Remove from pan and set it aside.
Once all the roasted spices and onion-coconut mix has cooled, add them all to a blender and blend into smooth paste by adding little water.
Now add remaining ghee and add sliced onions and sauté for a minute. Add curry leaves, mix well.
Add the ground masala paste and cook until oil/ghee separates from the sides of the pan.
Add the chicken pieces and give it a good mix to ensure all chicken is coated uniformly with the masala. Cook for 5 minutes with constant stirring.
Now add thin coconut milk and salt to taste, bring it to boil Reduce flame to medium, cover and cook until chicken well done.
Once chicken is cooked well, add thick coconut milk, reduce to simmer. Wait for a minute or two and turn off the flame. Do not let the curry come to boil again, once you add thick coconut milk, if you boil it the milk will curdle.
Break some kori rotti into a plate. Pour generous amount kori gassi (chicken curry) with some chicken pieces over the rotti. Let it soak for 5 to 7 . Enjoy.