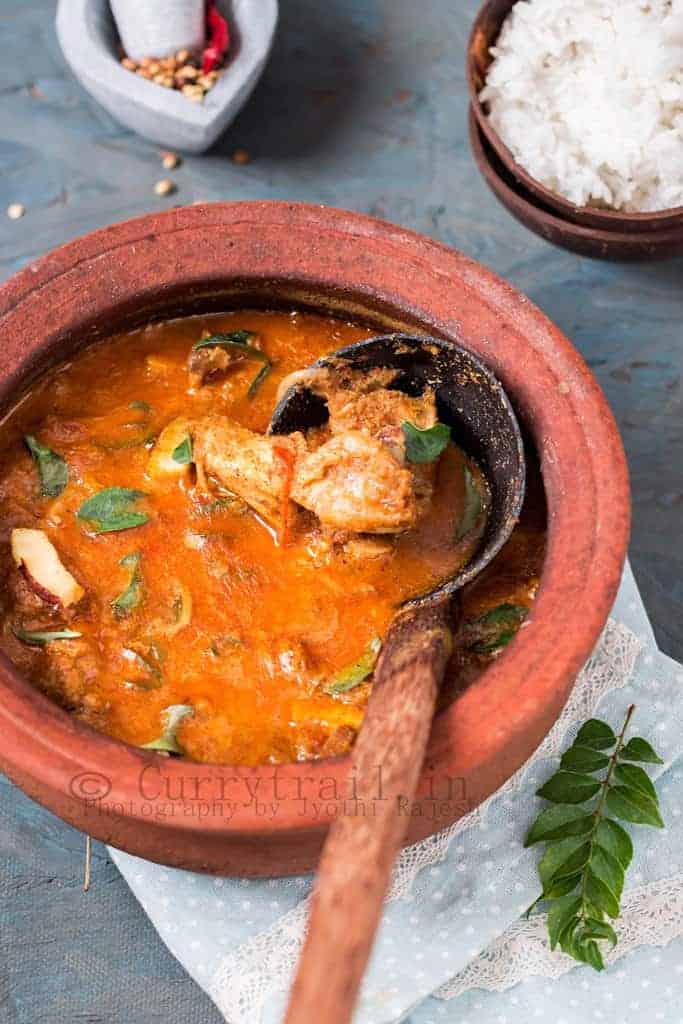 Kerala Varutharacha curry is ground masala added to the curry. Mutton curry made from ground masala along with coconut is a spicy, delicious curry that goes perfectly with appam, idiyappam and rice. It's peppery, spicy and delicious. With coconut the spice is balanced out.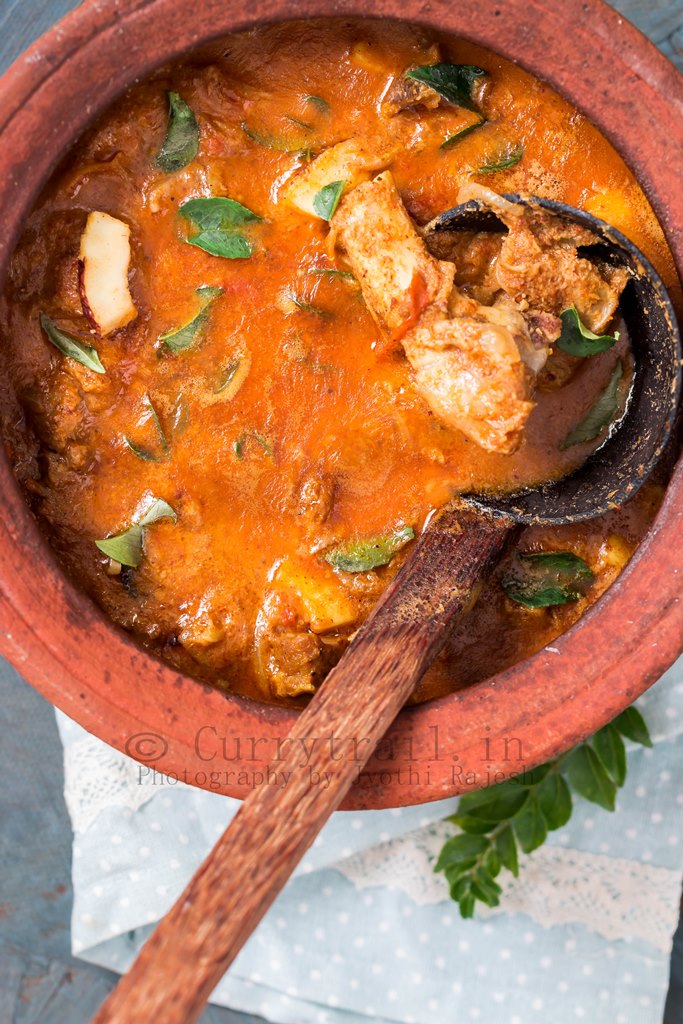 Ingredients
500 grams mutton
½ cup shallots
⅓ cup tomatoes
2 sprig curry leaves
1 green chili
1 teaspoon cumin seeds
¼ teaspoon turmeric powder
1 tablespoon red chili powder
Few coconut pieces, sliced
Salt to taste
1 tablespoon coconut oil
For the masala
1 tablespoon coriander seeds
8 dried red chilies
8 cloves garlic
2 inch ginger
1 teaspoon cumin seeds
1 teaspoon fennel seeds
1 ½ teaspoon pepper corns
1 inch cinnamon
3 cloves
2 cardamom seeds
1 sprig curry leaves
½ cup coconut, grated
½ cup shallots
1 teaspoon coconut oil
Method
Wash mutton pieces well. Add the mutton pieces into pressure cooker along with cumin seeds and little shallot slices, turmeric powder and salt. Add ½ cup water and pressure cook for 1 whistle.
Now in a wok add 1 teaspoon coconut oil. Add shallots, ginger and garlic pieces and sauté for 2 minutes. Remove it from the pan and keep aside. Add dried red chilies, coriander seeds, cumin seeds, fennel seeds, cinnamon, cloves, cardamom seeds, and roast. After add grated coconut and sauté till spices are roasted well and coconut turns golden brown. Make sure not to burn the spices. Remove from the pan.
Transfer shallots, ginger garlic mix, roasted spice-coconut mix into a blender. Add little water and grind into smooth paste.
In a wok add coconut oil. Saute sliced shallots until translucent. Add the coconut slices. Add the cooked mutton pieces and roast for 5 minutes. Next add tomato slices and continue to cook. After some time add red chili powder, salt to taste and mix.
Add the ground masala paste and cook until oil separates from the sides of the pan.
Add the water in which mutton was cooked into the wok and bring it to boil.
Sprinkle curry leaves. Check for seasoning.
Once fully cooked turn off flame and serve hot with steamed rice.