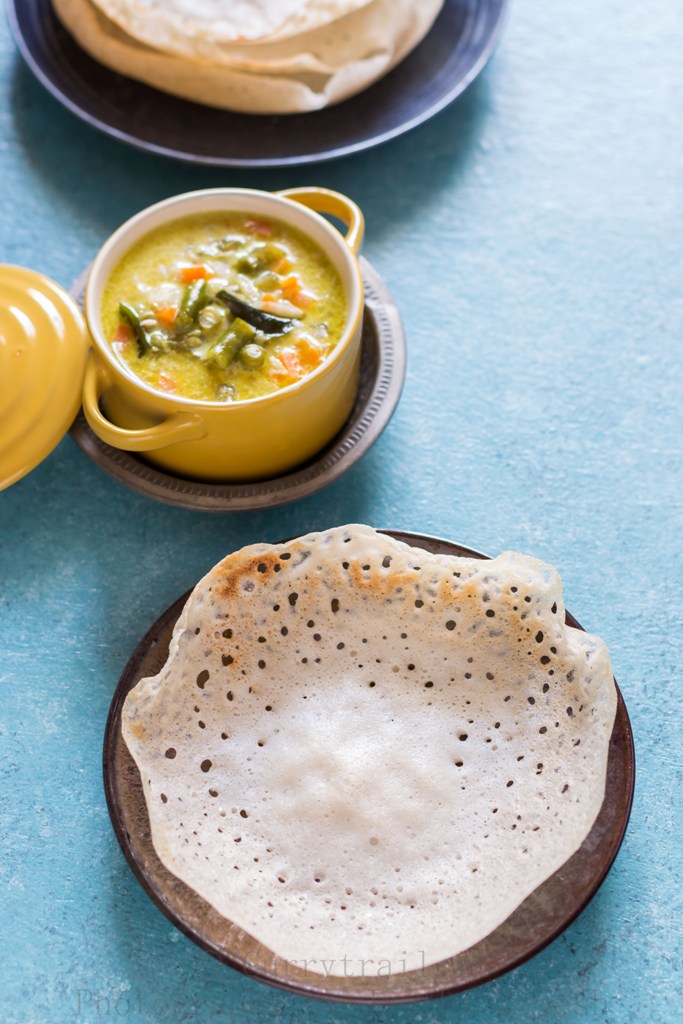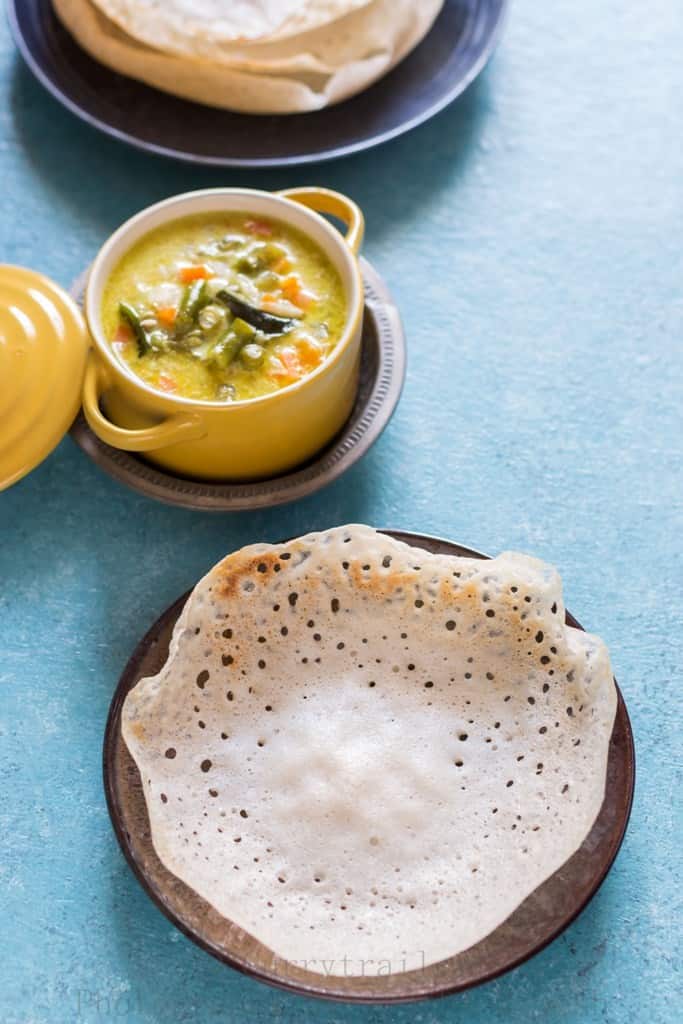 After posting Kerala's veg stew recipe, it's very obvious for me to post appam recipe which goes perfectly with veg stew. Appam is Kerala's laced rice pancakes which are made from rice flour in a special pan called appa chatti(mini wok made of iron). After yesterday's post I got a lot of request from readers for appam recipe.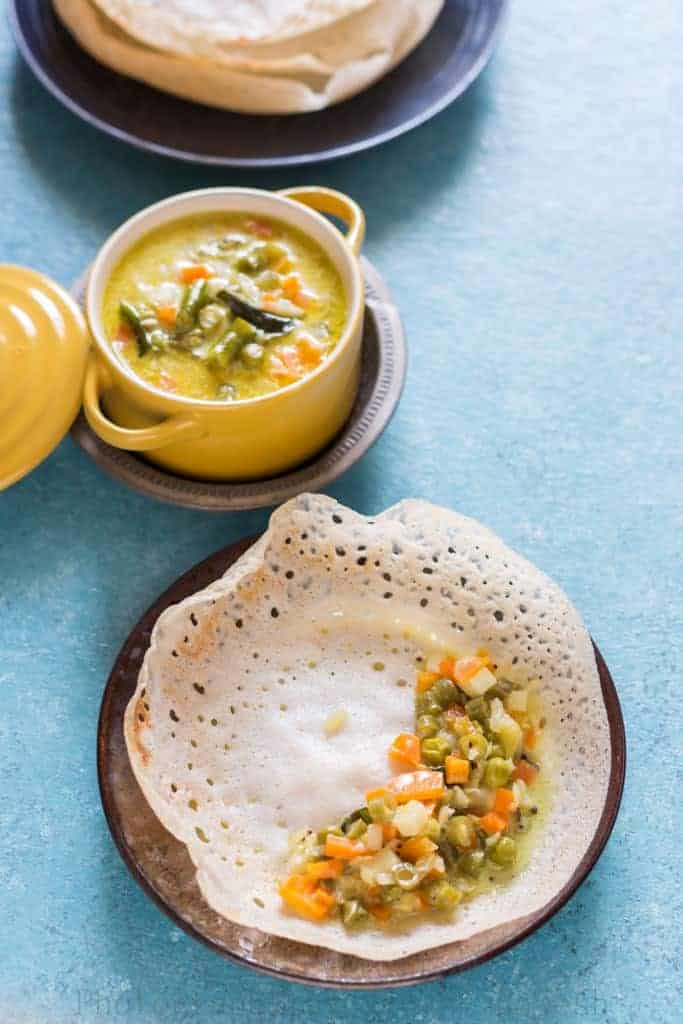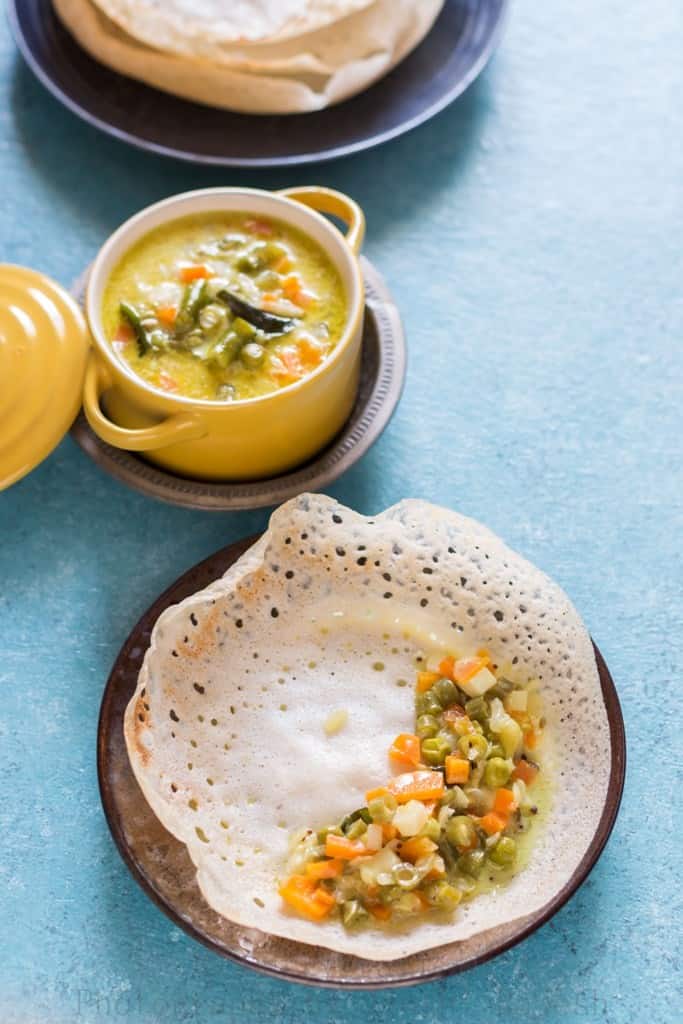 Appam and coconut milk flavored with cardamom and sweetened with little sugar is a heavenly combo. One can't just stop eating it. It's light, packed with delicate flavors and yet very satisfying. A good variety of south Indian delight. A perfect breakfast dish.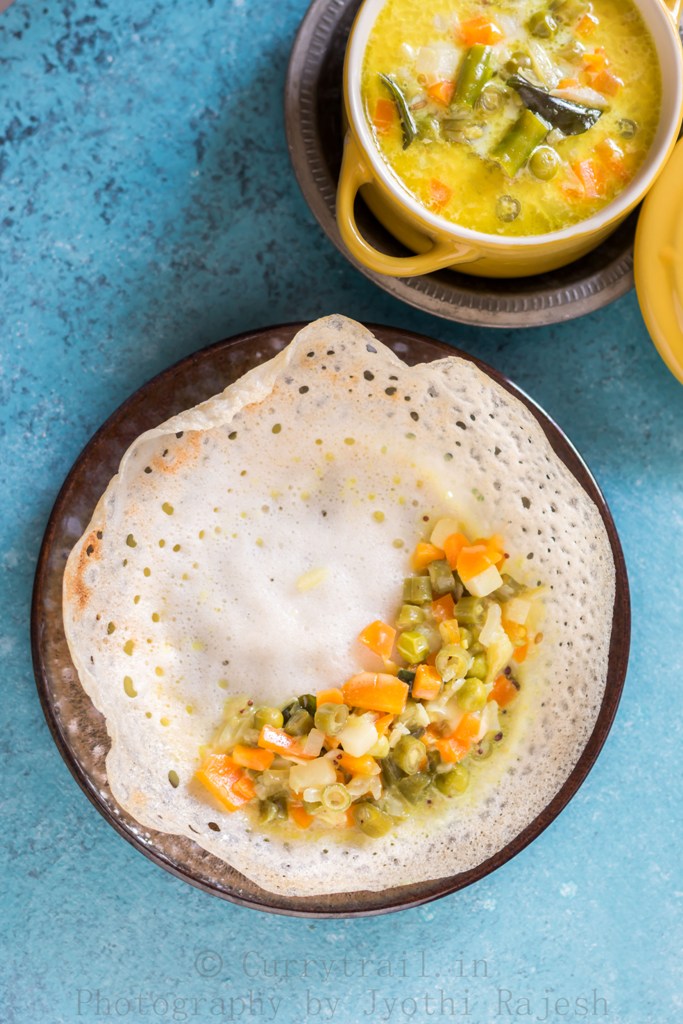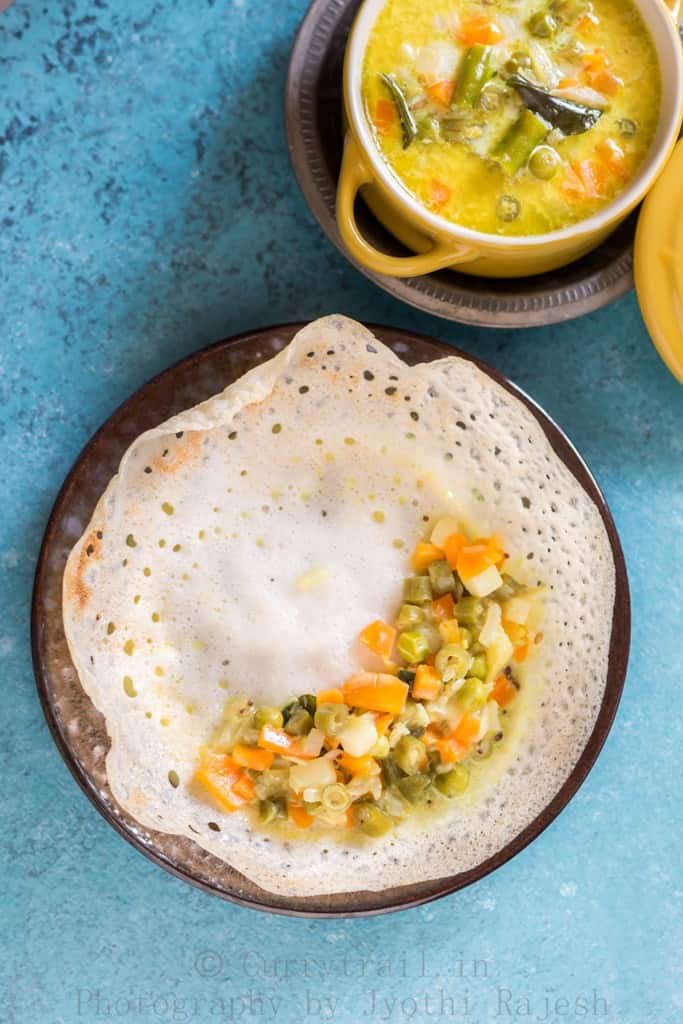 Though appams are very easy to make, they take a little practice to perfect it. There is no short cut way to making appams. The ingredients have to be soaked, ground and fermented.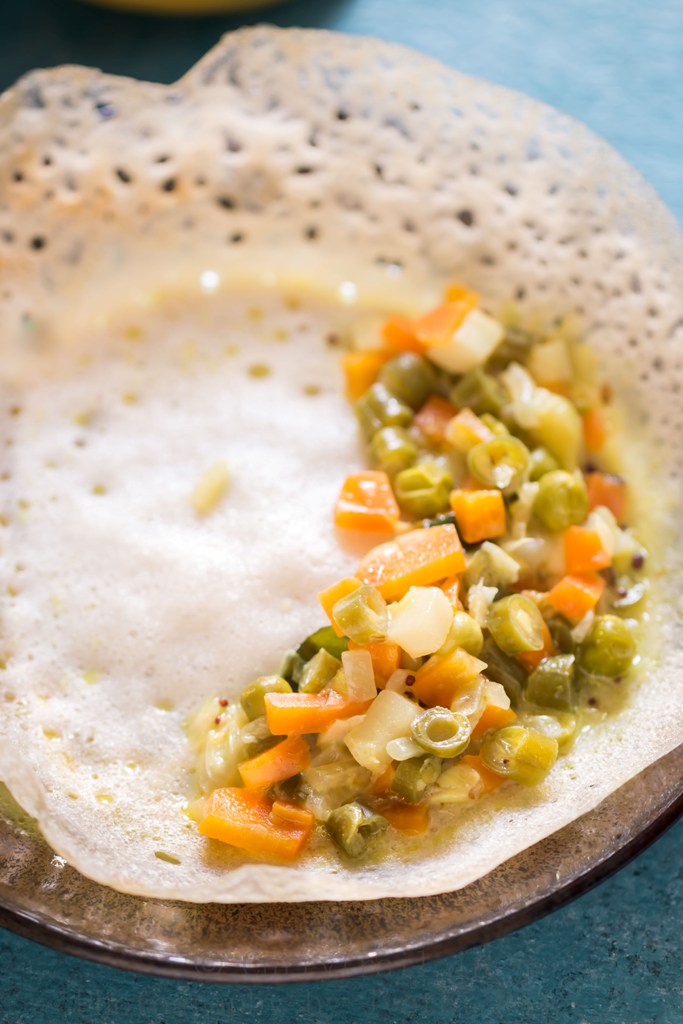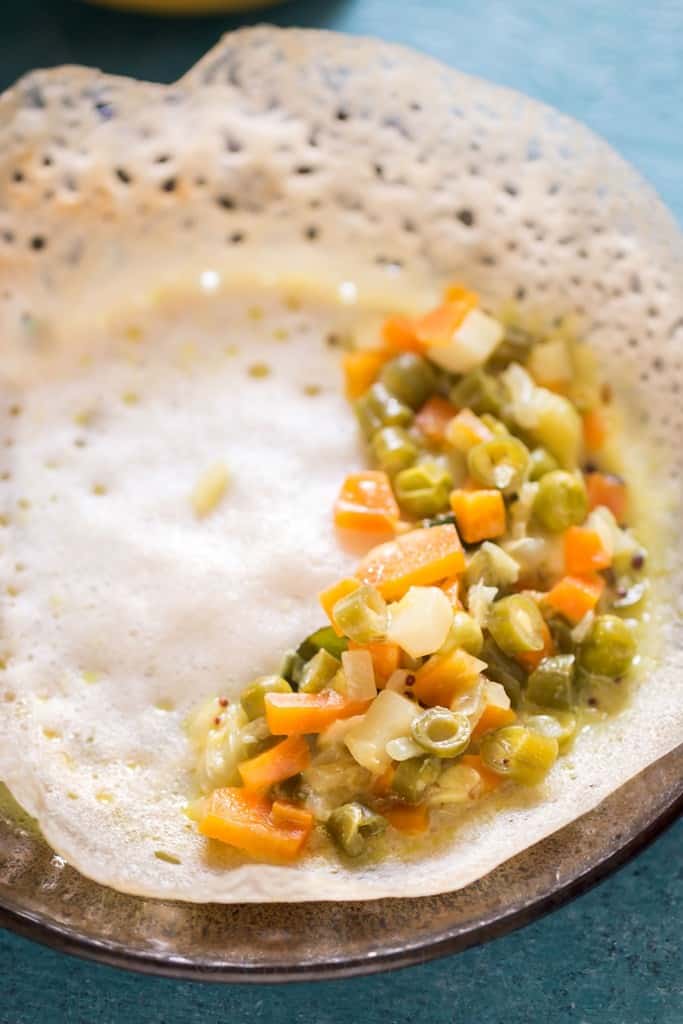 When you make appam in the traditional appa chatti(the non stick mini wok made of Iron) you get Appam that is golden and crispy on its thin edges and cooked and fluffy at the bottom which resembles a small basket. I love those more than the ones made in non stick pan. Though the non stick pan makes pretty good appam, getting the crispy edges is hard. Since I don't have the traditional appam pan, I used non stick one.
From what I understand great grand mothers used to make appam with coconut toddy which helps in fermentation and also enhanced the taste and flavor of the appam. People used to love that boozy feeling one gets after eating appam, later on toddy got replaced with yeast.  if you add yeast , fermentation time required is about 8-10 hours depending on the climate. If you want just the natural fermentation, one has to leave it for 18-20 hours..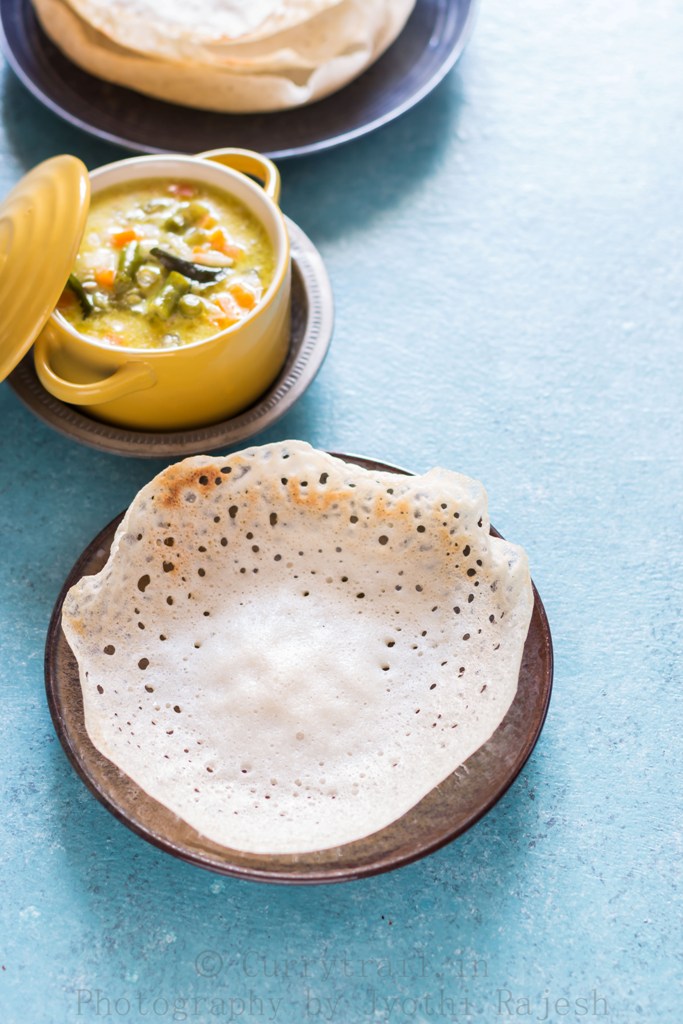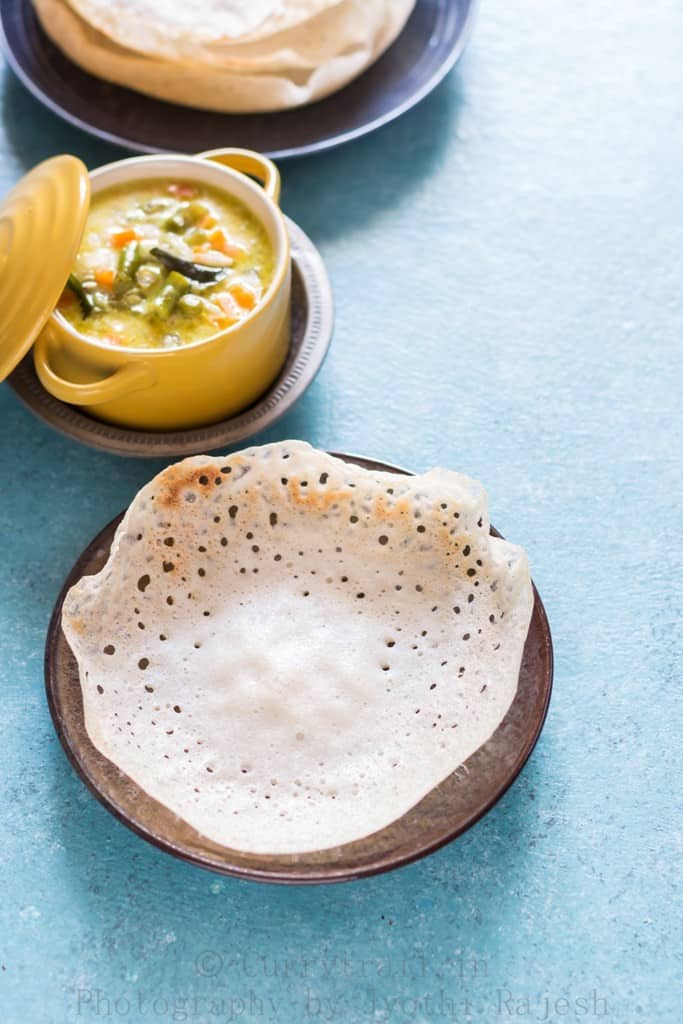 Here's appam recipe with yeast
Ingredients:-
Raw Rice – 1½ cup
Coconut (grated) – ½ cup
Yeast – ½ tsp
Salt – to taste
Sugar – 1 ½ tsp
Cooked rice – ½ cup
Instructions:-
1. Soak rice for about four hours and drain the water completely.
2. Add cooked rice, grates coconut and soaked raw rice and grind until fine.
3. Put yeast and sugar in ½ cup warm water and leave it aside for 10-15 mins. Add this to the grounded mixture. Mix well.
4. Leave the mixture in warm place for about 8 hours to ferment. Perferrably over night.
5. Next day morning, add salt to taste and mix.
6. Heat appam pan. Add 2-3 drops of oil. Spread it with a clean kitchen cloth. Pour a laddle full of batter into the pan and swril around to spread the batter evenly all over the pan. Leave it to cook covered until you see the edges are leaving the pan.
7. Remove the appam from the pan and serve it hot. Appam and veg stew to gather…BLISS. The best break fast dish which is so light, with delicate flavors and yet so satisfying.