I have a confession to make…..should I…..don't look at me with those judgmental eyes okay….I have never tried raw jack fruit until now….
There you go I said it! "What kind of a food blogger/food enthusiast are you"? I hear that question loud and clear from you….
Well, I guess I didn't realize how delicious these cute pokey little green bombs are. And I am also kicking myself for missing out such delicious and interesting vegetable/fruit?! what it is supposed to be called? all this while. But now, this raw fruit is on our weekly menu.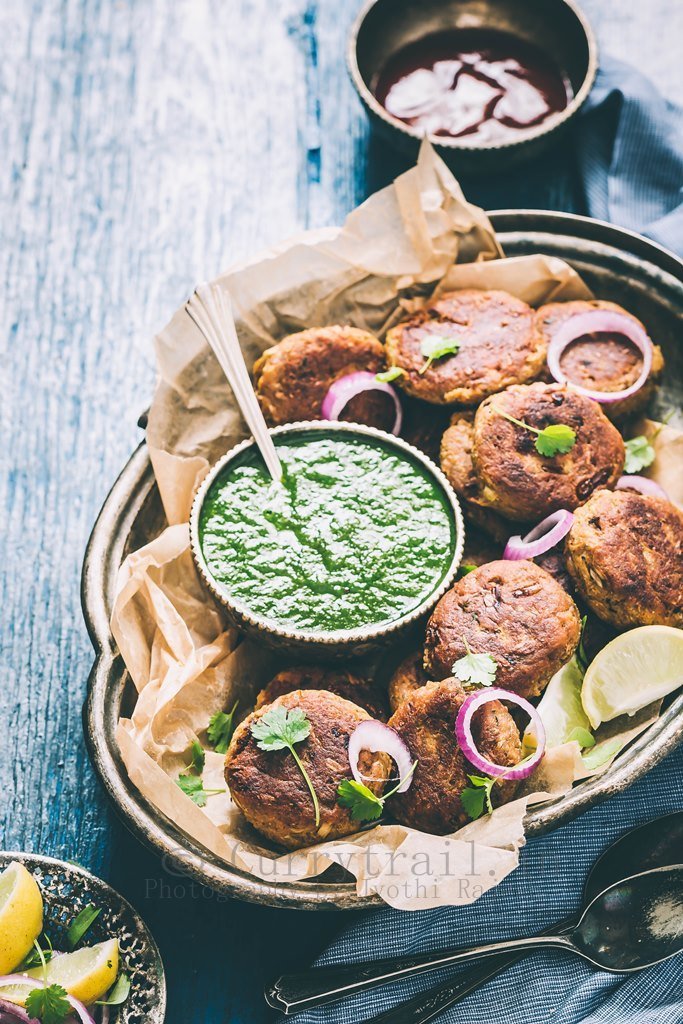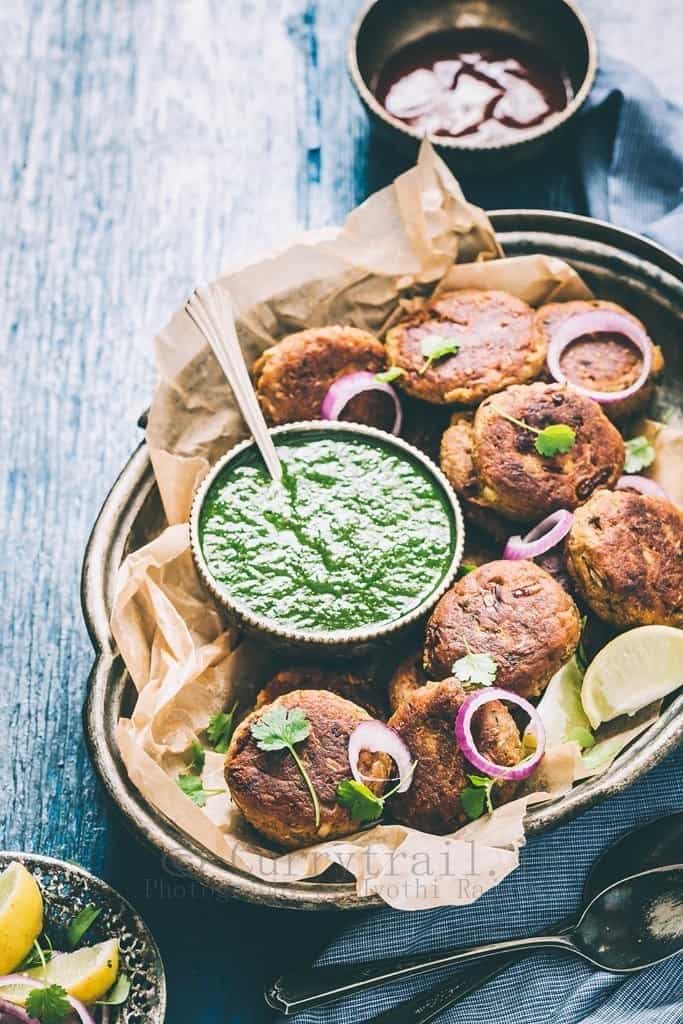 But hey, I finally gave it a try and boy-o-boy I'm already hooked to this vegetable/fruit big time. Walking through the Sunday sante market(open air market laid on a special market place which comes alive only on Sundays) a few weeks back I was over whelmed with the freshness of each and every vegetable there. I was almost like the vegetables were plucked from the ground an hour or two back and they are there sitting in the market tempting each and every pass buyers to buy it.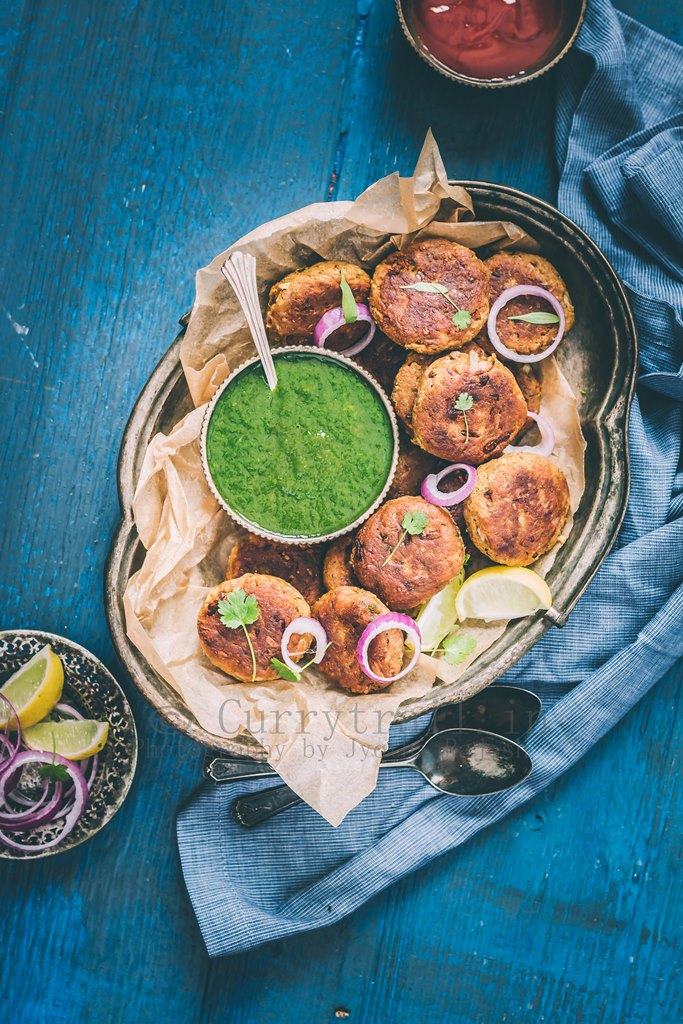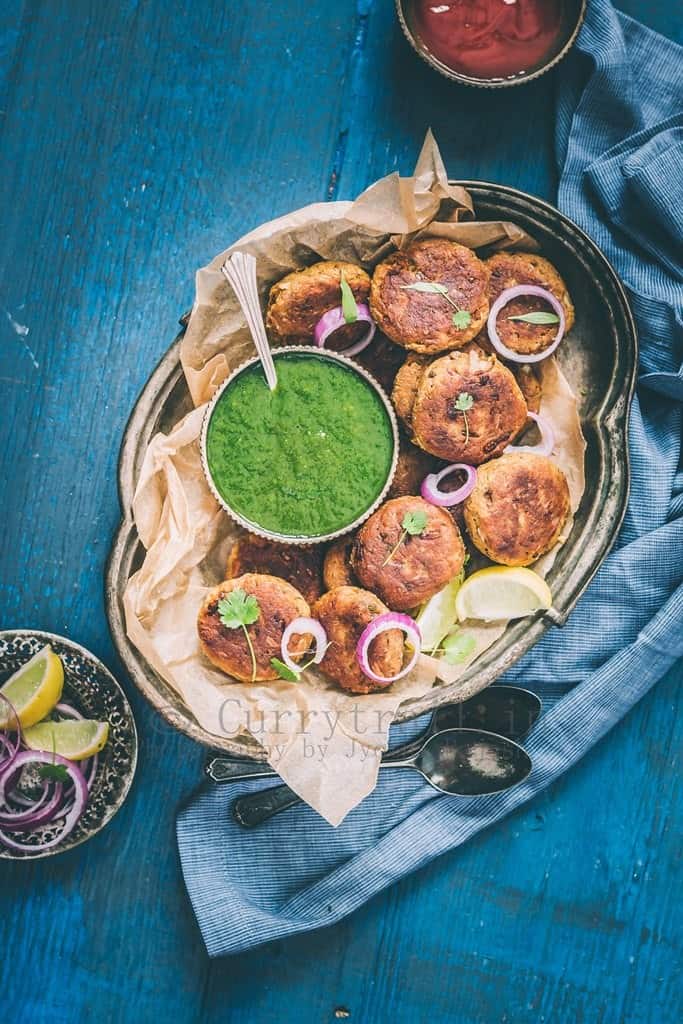 So what you normally see and get in these Sante's are vegetables and fruits that one would use in day to day cooking in Indian kitchen.
Something unusual on the second row from where I was standing caught my attention. It was raw jackfruits.
It's not that I'm seeing raw jackfruits for the very first time in my life here and that i was soo excited to see it. Nah. I have seen raw jackfruit from the time I have been shopping and cooking on my own. But never got an urge to buy it or try it.
That day on the sante, the raw jackfruit pulled me literally to it and made me buy. It was like i was destined to finally lay my hands on a raw jackfruit just that day!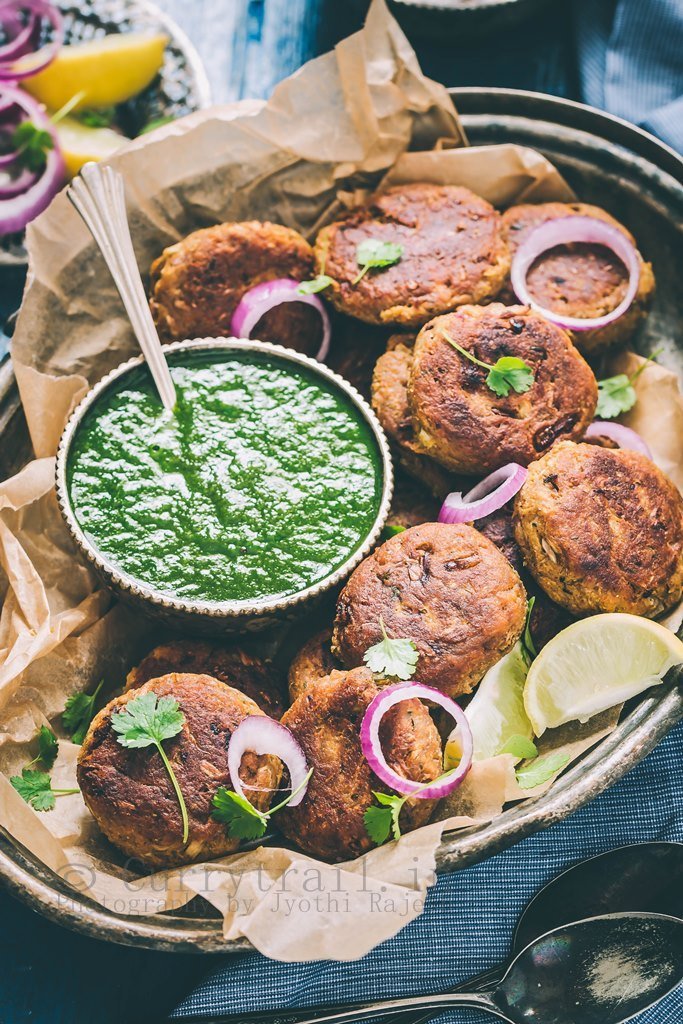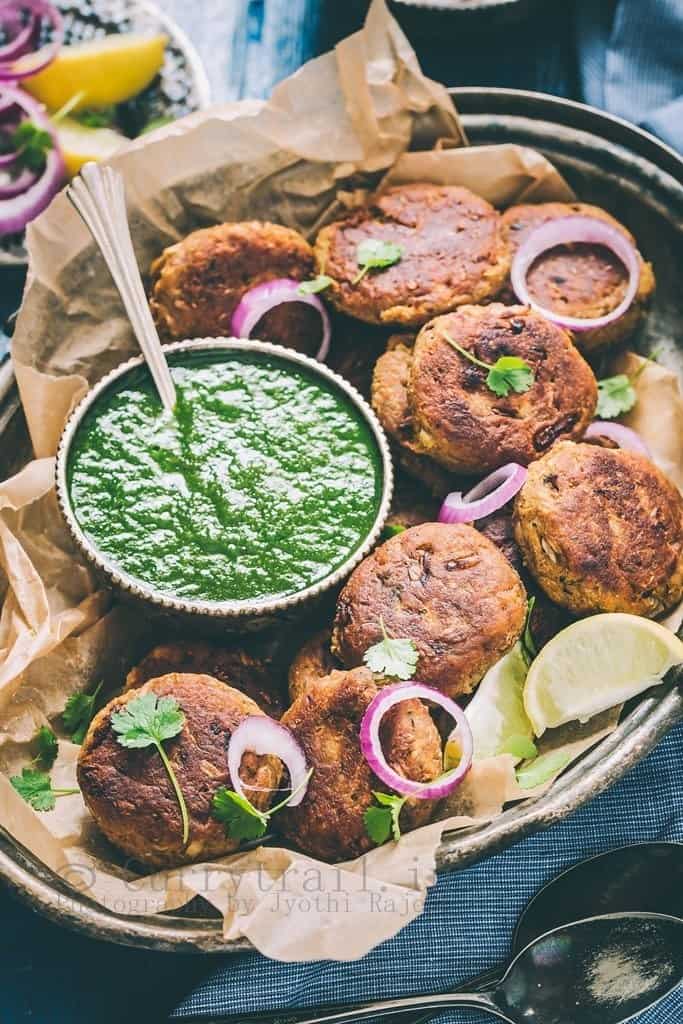 Came back home with a raw jackfruit in hand and zero knowledge hot w to use it. Google the god father came to rescue. I had to read on how to cut the raw jack fruit and get some ideas to use them. Finally decided I will make kebabs. I was trying this raw fruit for the first time and I really wanted to make something that I will be comfortable and my herd will not make any faces and fuss about it.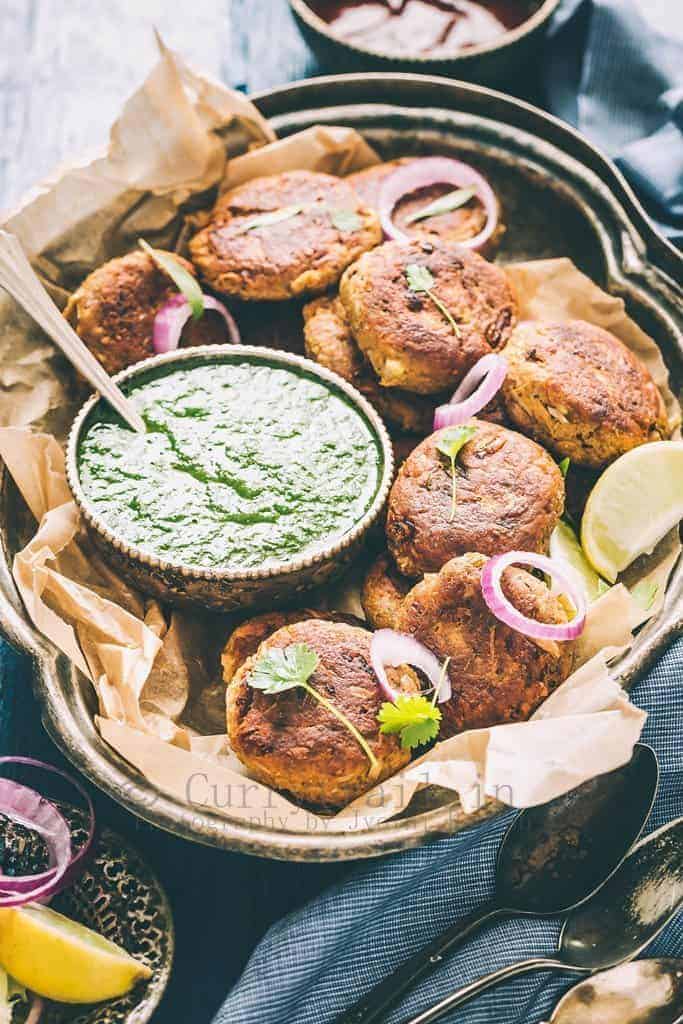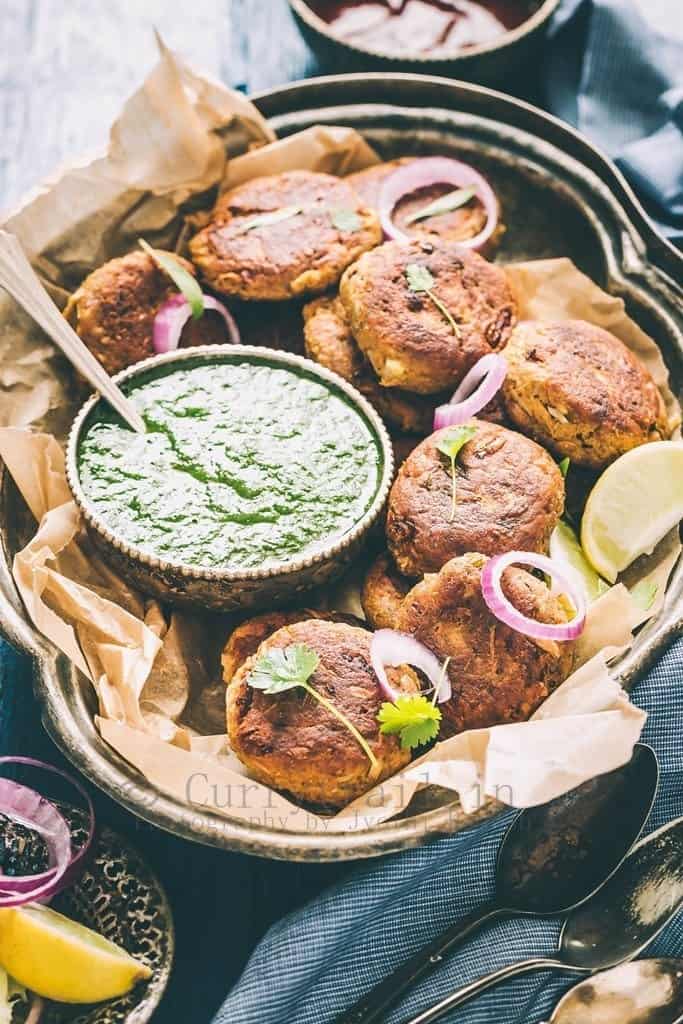 Kathal ke Kebabs are very popular dish and today we will see the Awadhi style of kathal kebabs. Kathal is jackfruit and here we will use raw jackfruit to make a delicious kebab dish. It's a vegetarian's delight! Even if you are a non vegetarian you will definitely not miss the meat with these delicious, meaty, wonderful kebabs. It's a very simple dish, all the labor involved is in cutting the raw jackfruit.Removing the skin and then taking only the meat inside flesh is a bit tricky and labor some, but the end result is all worth it.
This kebab will definitely be an unique and definitely delicious starter dish that you definitely want to give it a try.. Vegetarian or otherwise this meaty kebab will your taste buds explode with all the aromatic spices and the meatiness of the raw jackfruit. Try it and you will know what I'm talking about. My family absolutely loved it.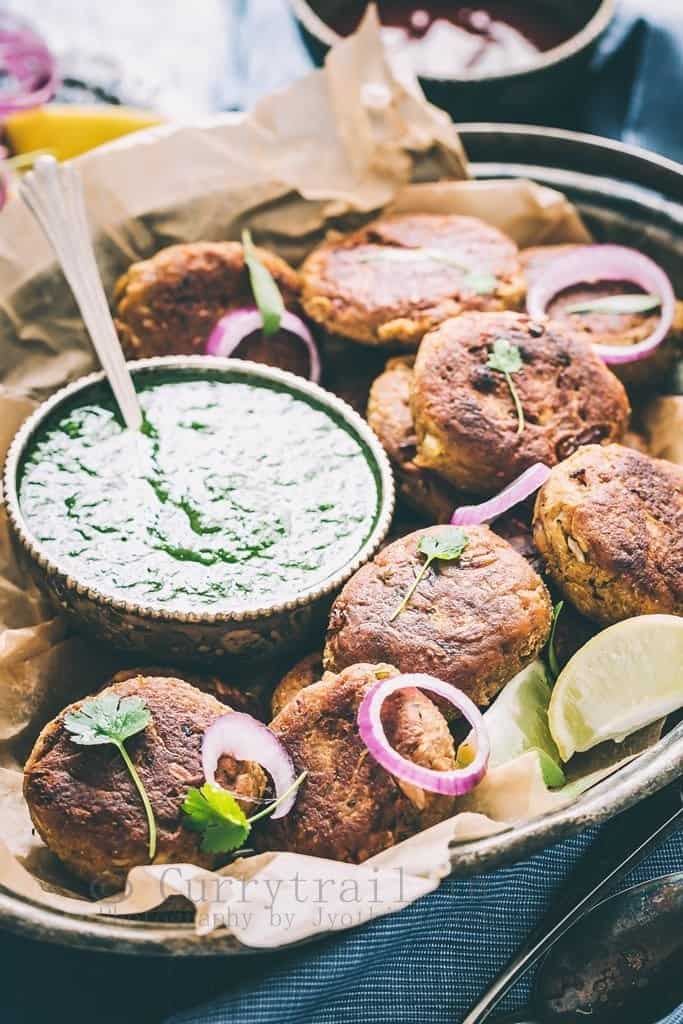 Ingredients
750 grams kathal (raw jackfruit after chopping)
3 onions, finely chopped
6 green chilies, finely chopped
3 tablespoon mint leaves, finely chopped
5 tablespoon coriander leaves, finely chopped
1 ½ inch ginger
7 cloves garlic
⅓ cup roasted besan(gram flour powder)
1 teaspoon garam masala powder
1 tablespoon roasted cumin powder
1 tablespoon roasted coriander powder
1 tablespoon fennel seed powder
1 tablespoon amchur powder(dry mango powder)
Salt to taste
Oil for shallow frying
Method
Before you start chopping the jackfruit, apply oil on your hands, this will prevent the hands turning black when the milk from jackfruit falls on your hands.
Remove the outer hard skin of jackfruit, discard it. Take the inside meaty portion and chop into pieces. Keep the chopped pieces immersed in water until use, else the jackfruit will turn brown.
Now add about 2 liters of water into a large pan. Add the chopped kathal pieces and a pinch of salt and turmeric. Bring it to boil and cook until kathal is cooked and it tender.
Now remove the kathal from water, let it cool down a bit. Add the chopped kathal, garlic, ginger pieces, all the spice powders and blitz until you get a smooth paste.
Transfer the ground paste into a Add roasted besan, chopped onions, green chilies, coriander leaves, mint leaves and salt to taste. Mix well.
Divide the mix into equal portions. Roll a portion into ball and then slightly press to make discs. Repeat this for rest of the paste.
Heat a pan for shallow frying and add little oil. Place a few kathal kebabs on hot oil and cook on medium flame until browned on both side.
Remove the fried kebabs on kitchen towel. Serve hot as a snack, or as side dish wish rice and dal combo.