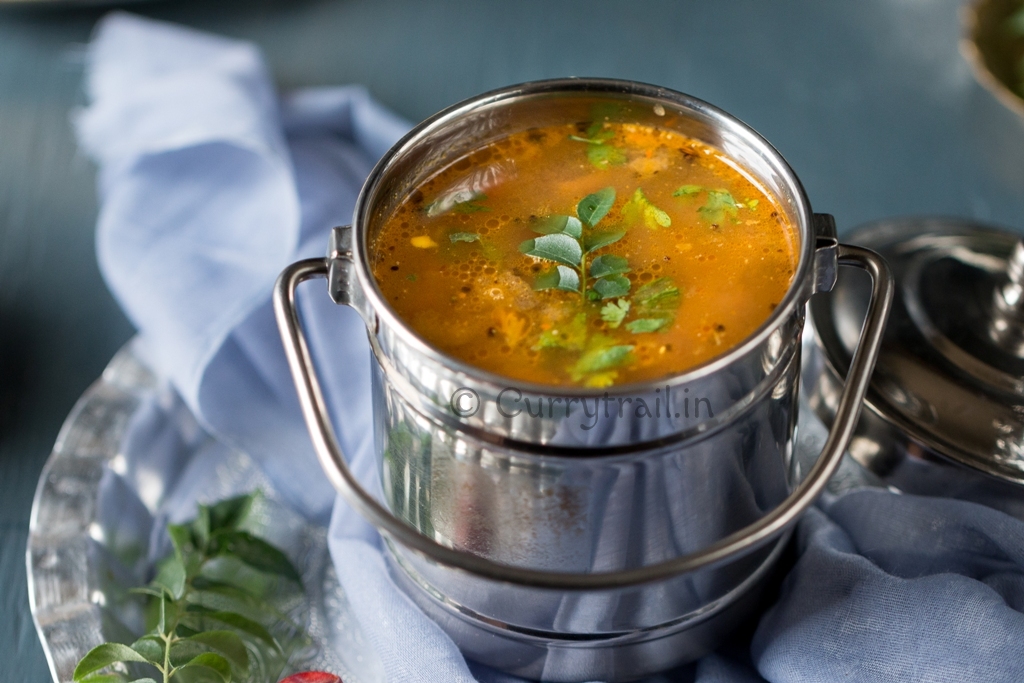 South Indian weddings are all about dressing up in traditional attire. Not just the bride, all women who go to attend the wedding drape a Kanchipuram silk sari and wear gold jewels. Every lady tries to look the prettiest at the wedding. The bride, of course, has all eyes on her, but the other ladies look beautiful too. Indian clothing, especially the sari is very beautiful. And saris are a must during weddings. When it comes to an Indian wedding the term "over dressed" is not applicable. We wear our colorful saris, sport jewels and look beautiful!
I was draped in a beautiful Kanjivaram silk sari and wearing my Temple jewelry. My hair in a braid with fresh flowers, I walked out of the room. My hubby was ready to leave for the wedding. This was the first wedding we attended after our marriage. I'm talking about a wedding that happened 8 years back. Hubby leaned close to my ears and said "You look like a bride. You look beautiful". It felt like yesterday that I was a bride and now 1 was year gone already. Controlling my blush, I walked along his side to the car. We reached the wedding hall well in time.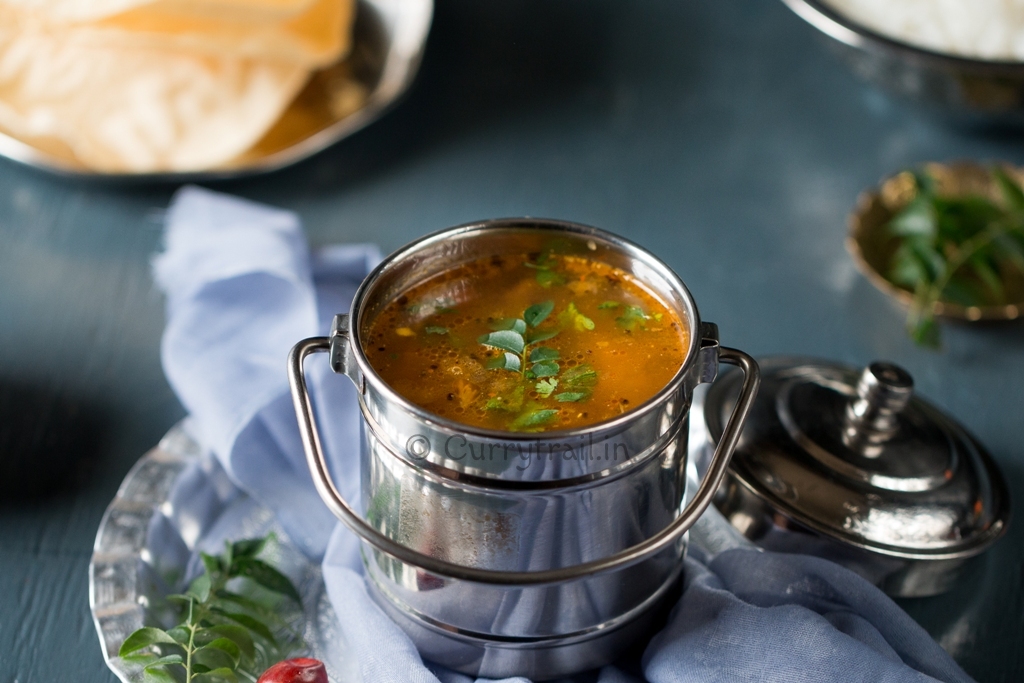 We sat on the chairs lined up in the wedding hall. We watched the bride and groom perform some rituals and the priest chant the holy vedic mantras. This takes a lot of time and it is hard to understand what ritual is actually being performed unless the priest takes the time to explain it to the bride and groom. The groom finally tied the "mangalsootra". The Nadaswaram played loud and fast so as to mute any inauspicious sounds at the critical hour. Only after the bridegroom ties the gold Mangalsutra around the neck of the bride, the marriage ceremony is considered complete. The Mangalsutra is a scared thread having an gold ornament which is worn around a women's neck denoting her marital status.
It was almost lunch time by then. The dining room was set up with rows of tables and chairs to serve the guests. After we greeted and congratulated the newlywed couples we headed to the dining hall. People sat down in a row as they walked through the tables. We were prepared to be treated with a glorious feast. South Indian Hindu weddings, are usually completely vegetarian and will sport a huge variety of different dishes. Food is always served on a banana leaf which is the plate of choice in weddings.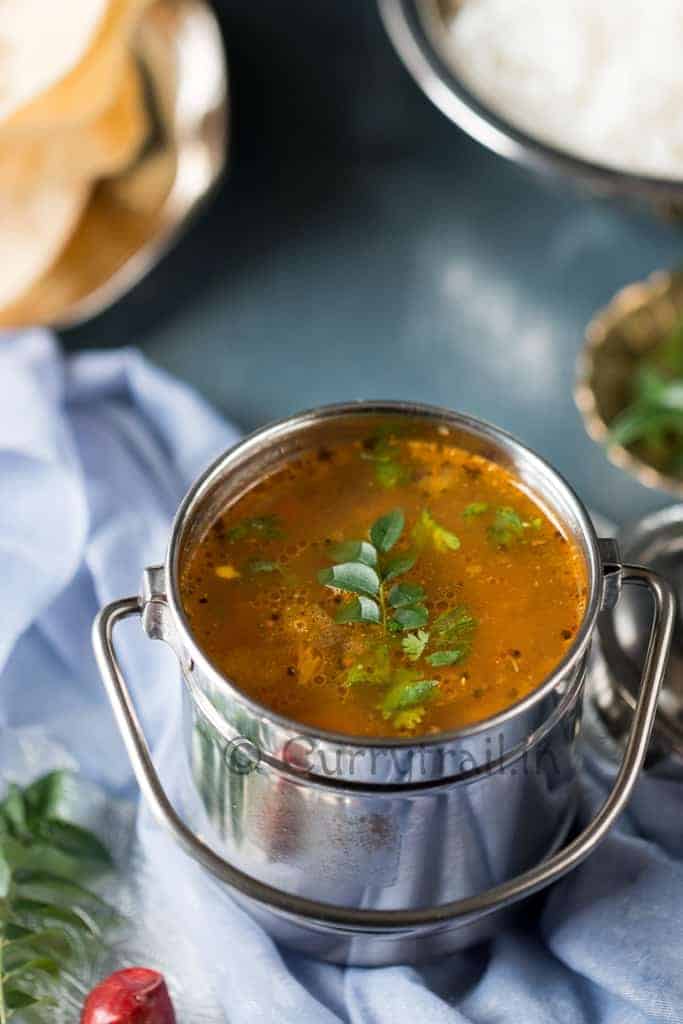 The guys who served the food were very fast. They were carrying a stainless steel buckets containing different dishes. Servers were passing by at break neck speed. It was very interesting to watch these guys serve food. The whole experience of eating in a South Indian wedding on a banana leaf is a holistic emotional experience. The famous Kalyana rasam (spicy clear soup which is served with rice) was the one I was waiting for. Piping hot rice and hot kalyana rasam along side papad is blissful. Eating rasam sadam on banana leaf is a biggest challenge. You can get it only with practice! 😀
Today's post is not about how to eat rasam sadam on banana leaf. It's about making that aromatic rasam in your own kitchen so you don't have to wait for a wedding invitation to taste this delicious aromatic flavorful rasam 😀
Ingredients
For kalyana rasam powder
1 tablespoon tuvar dal
1 tablespoon coriander seeds
1 tablespoon pepper corns
1 ½ teaspoon cumin seeds
2 red chilies
1 teaspoon oil
For making rasam
3 tablespoon tuvar dal
1 big tomato
Lemon sized tamarind ball
½ cup warm water
4 garlic cloves with skin
1 teaspoon pepper corns
1 teaspoon cumin seeds
¼ teaspoon turmeric powder
Salt to taste
Water as required
For tempering
1 ½ teaspoon of oil
1 teaspoon mustard seeds
½ teaspoon cumin seeds
1 sprig curry leaves
Generous pinch of asafetida
Coriander leaves for garnish
Instructions
1.Soak tamarind in warm water for 15 to 20 minutes, squeeze and extract the juice.
Roughly chop tomato. Add it to ½ cup water. Using your hands mash the tomatoes as much as you can. You are breaking down the tomato pulp so it releases all the juices out. You can use a mixer grinder to do this, but I prefer to do with my hands, the juices are squeezed out and tomato skin is kept as it is.
Pressure cook tuvar dal along with a ¼ teaspoon turmeric powder in ½ cup for 3 to 4 whistles. Once the cooker pressure releases, take the dal and mash it well.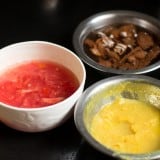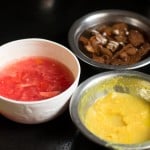 Now mix cooked tuvar dal, tomato juice and tamarind juice in a bowl. Add salt to taste and mix again.
In a mortar and pestle add garlic cloves with skin, pepper corns and cumin seeds, pound into a coarse paste.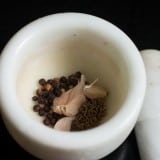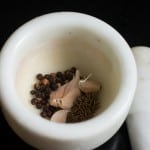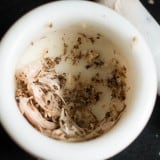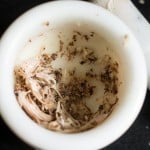 6. Heat a teaspoon on oil in a pan. Add the crushed garlic pepper mix. Saute for 10 seconds. Then pour the tomato-tamarind-dal mixture into a pan and bring it to boil. Let it boil for 10 to 15 minutes on low flame so the raw smell of the tamarind and tomato goes off.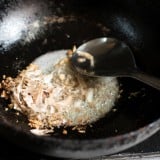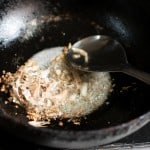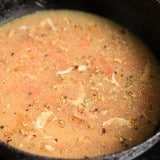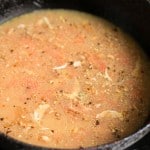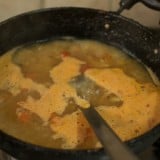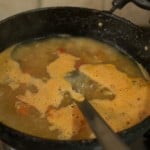 7. While the rasam is boiling you can make the rasam powder. Heat a teaspoon of oil in another pan and roast all the ingredients mentioned under the list 'For kalyana rasam powder'. Let it cool and grind it into a powder.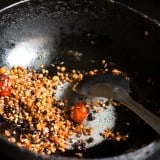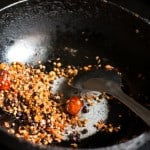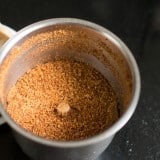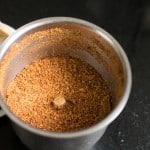 8. After the rasam has boiled for couple for minutes, you will see a frothy layer on top. That indicates the tamarind and tomato are cooked in the juices and raw smell is gone. Now add 2 heaped tablespoon of prepared rasam powder, mix well to ensure no lumps are present. Continue to cook for another 5 minutes.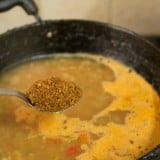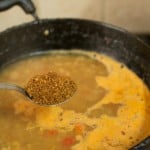 Check for seasoning. Add chopped coriander leaves.
10. Do the tempering with the mentioned ingredients. Add the temper to boiling rasam, turn off the flame.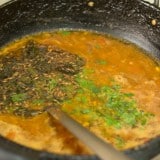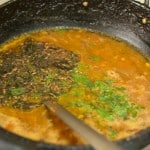 11. Flavorful, delicious kalyana rasam is ready. Serve piping hot rasam over steamed rice and papad for sides. BLISS!