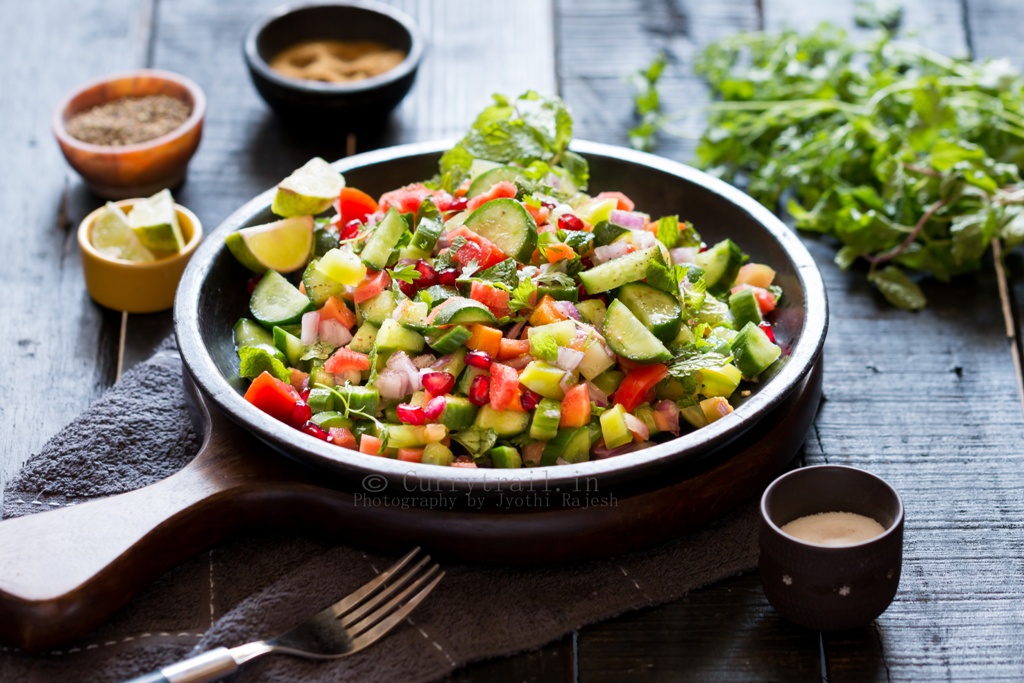 Have you ever felt so hungry that you felt like eating off any food that was in front of you? 😀 I have felt that quite a few times. And the worst part is if there is no ready food to eat. It's a painful experience when your stomach starts to eat itself and make all kind of growling noise.
Talking about stomach growling reminds me of my college days. The last periods before we break for lunch used to be the most torturing period. My 3rd year DSP(Digital Signal Processing) class was the most boring and hated subject I had. I hated DSP, I hated it because I could not understand it. On a particular day the DSP class was during the last period, just before lunch. The lecturer was busy scribbling on the black board. A lengthy formula to explain how to calculate a Fourier Transform(I just can't remember the full name of the chapter now) with all the cos, sin, tan. And then my stomach suddenly started growling so loud that the entire class heard it. Friends who sat next to me knew it was my stomach and they started giggling. The lecturer probably heard the sound differently. It seemed to him that somebody ask him a question. He turned back to us and went what? What's the doubt? Who is it? We all laughed so loud, and the lecturer was started getting annoyed. He could not understand why we were laughing. He shouted at us and continued to scribble on the black board. He did not bother much about what exactly happened. Probably his stomach must have been growling too 😛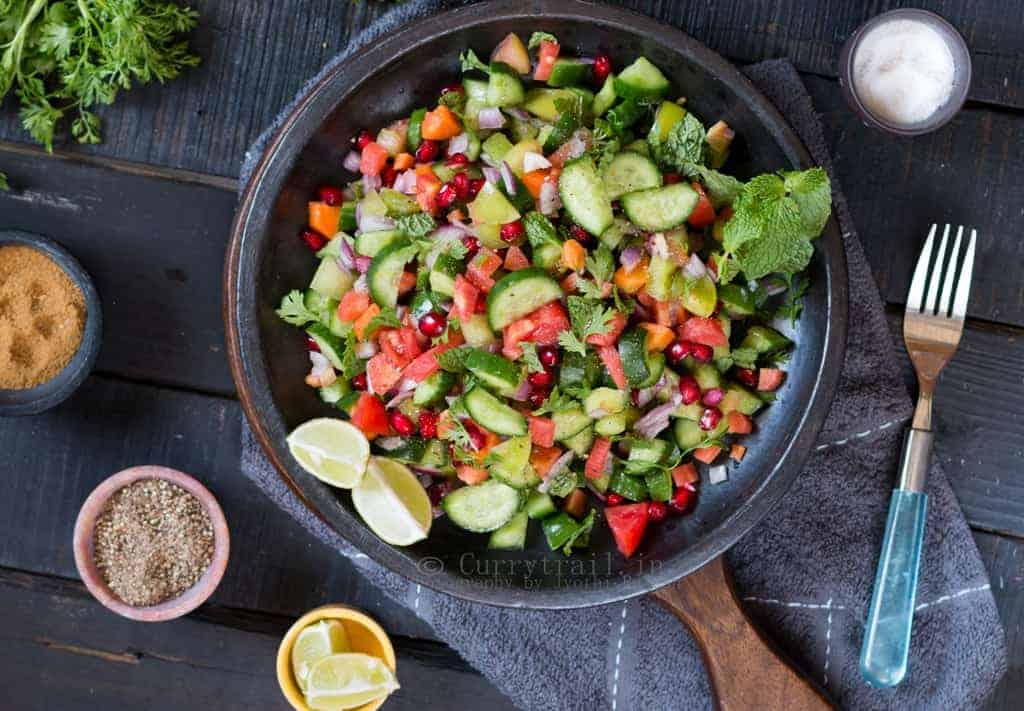 So the days you have your stomach growling and you need something, anything to soothe your stomach, this salad will come as rescue. Simply chop the veggies, rough or fine and add some seasoning and eat.
Kachumber is an Indian salad essentially made of cucumbers, onions and tomatoes. This simple salad that is very popular in every house hold. It's one of the most refreshing summer salad with has loads of cucumbers, onions, tomatoes, carrots and some fresh herbs and pomegranate seeds. Pomegranate seeds give the salad an extra dimension.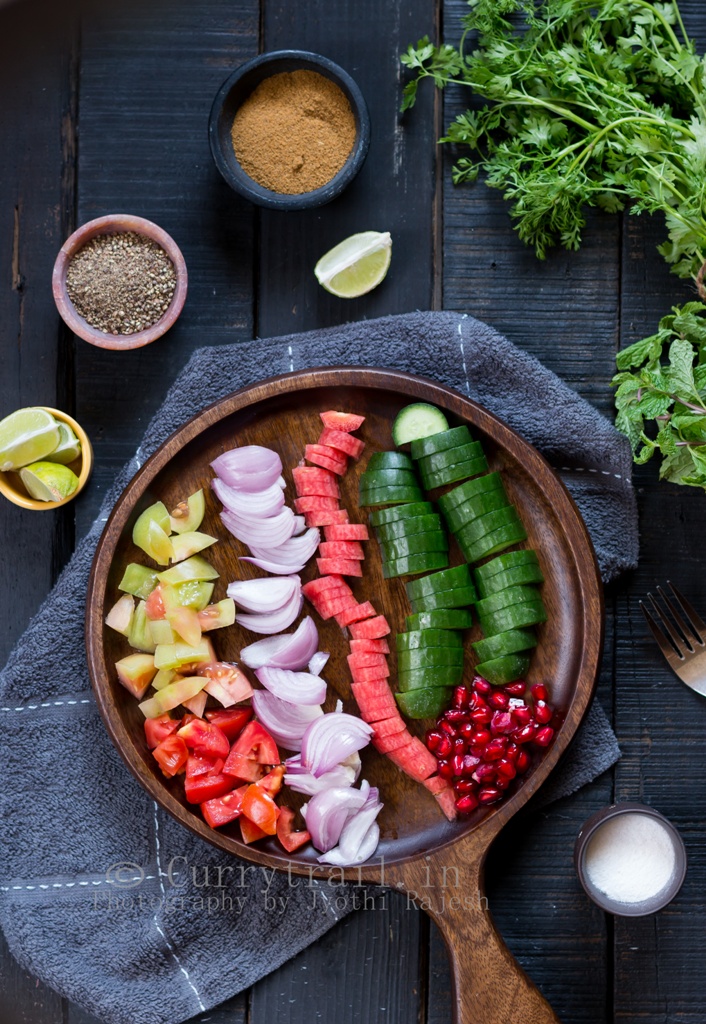 This salad is served as a side dish for almost all the meals. Serve as side dish for a meal or eat it alone as it is, it's very refreshing and delicious. The salad is dressed with the simplest dressing, lime juice. The spice from the pepper powder and the zing from the lime juice make the salad all delicious! This salad is super quick and simple to put together. Every bite is crunchy, refreshing and will make you go for more.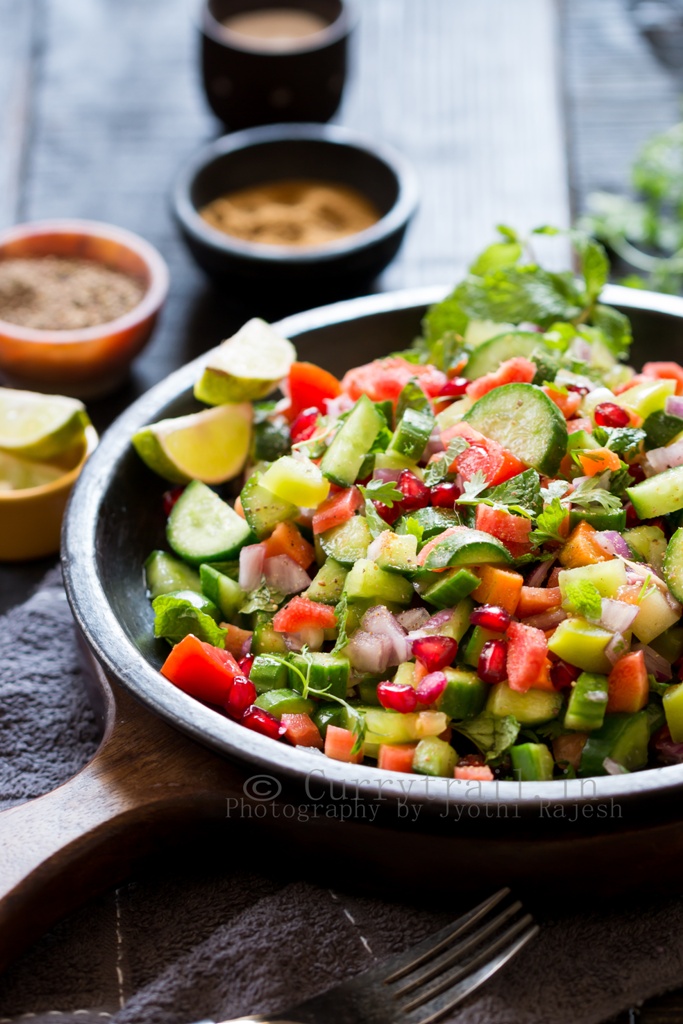 The salad ingredients are most commonly used everyday ingredients. Do not judge this salad with the ingredients; it makes a super delicious salad when all these common everyday ingredients are combined to gather. If you are looking for low calorie salad recipe, this one is for you. Season with salt, pepper powder and roasted cumin powder and add lime juice for dressing, it's an outstanding mix of salt, spice and sour.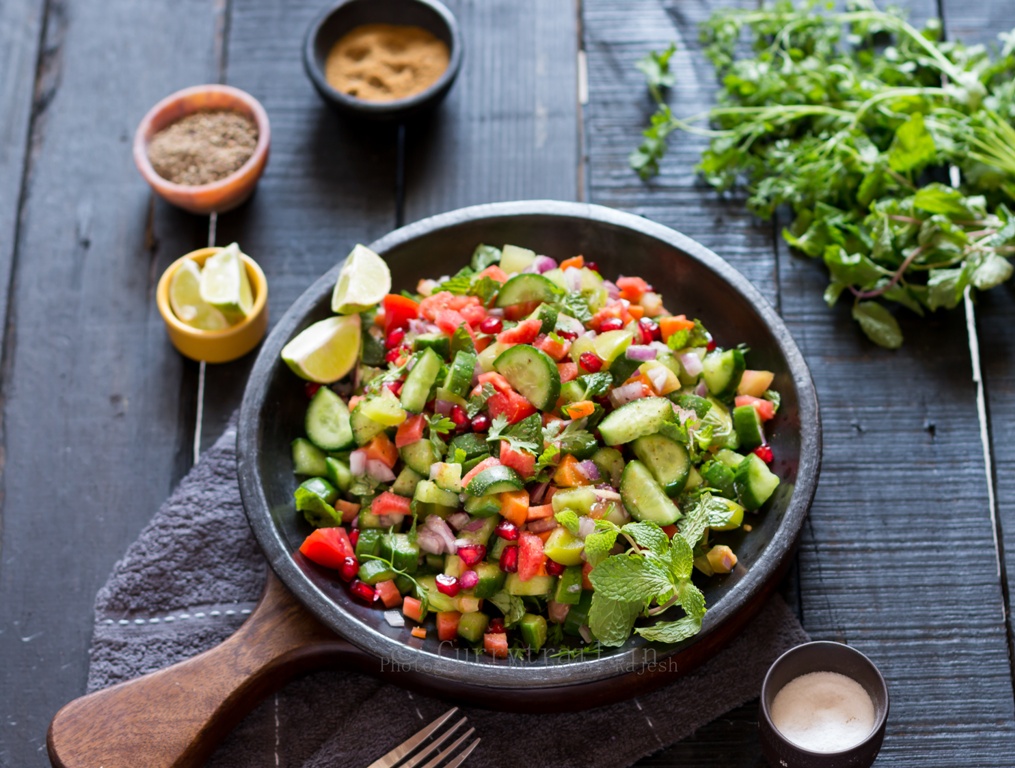 Ingredients
3 cucumbers
1 large onion
1 tomato
1 big carrot
¼ cup pomegranate seeds
Salt to taste
Pepper powder (as required)
1 teaspoon roasted cumin powder
1 ½ teaspoon lime juice
Handful of fresh coriander and mint leaves
Instructions
1.Wash and chop all the ingredients. You can chop the vegetables big or small.
2. In a large mixing salad bowl, add all the chopped vegetables.
3. Add lime juice, pepper powder, roasted cumin powder and salt and toss until all ingredients are mixed well.
4. Finally add the chopped coriander and mint leaves and give it a gentle mix.
5. Kachumber salad is ready. Serve it fresh immediately with any meals or eat it as it is alone. Either ways it tastes delicious!
Notes-
1.If you prefer your salad more spicy you can add some finely chopped green chilies.
2. In some house hold, capsicum is added to this salad. If you like to eat raw capsicum, then you can add half capsicum chopped.
3. Adding pomegranate seeds is optional, I highly recommend it. The pomegranate seeds adds a nice crunch and tartness to the salad.