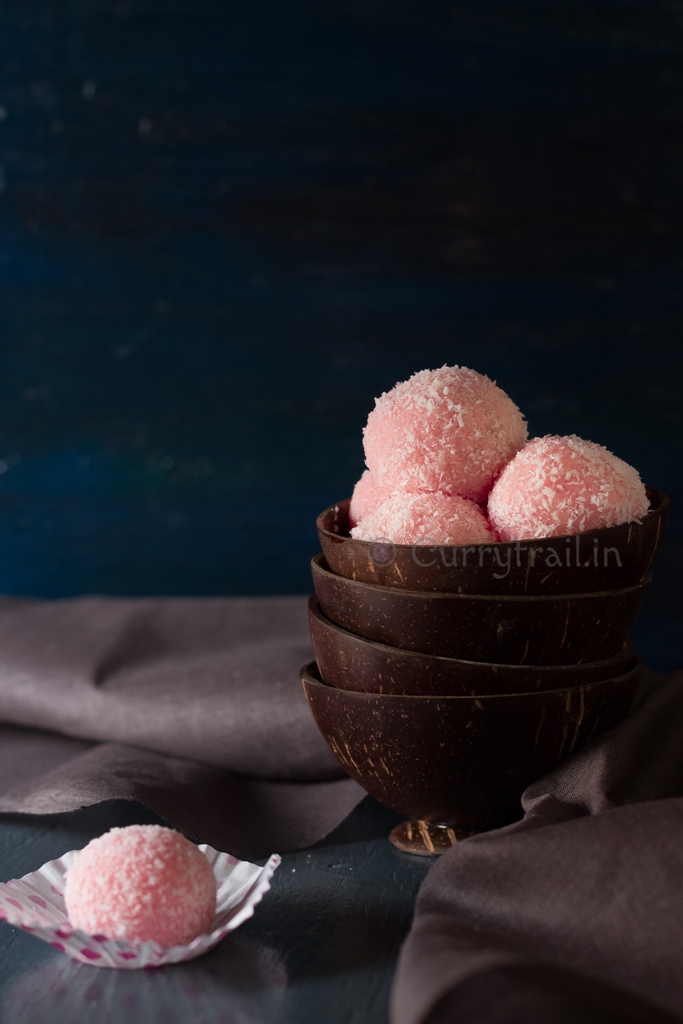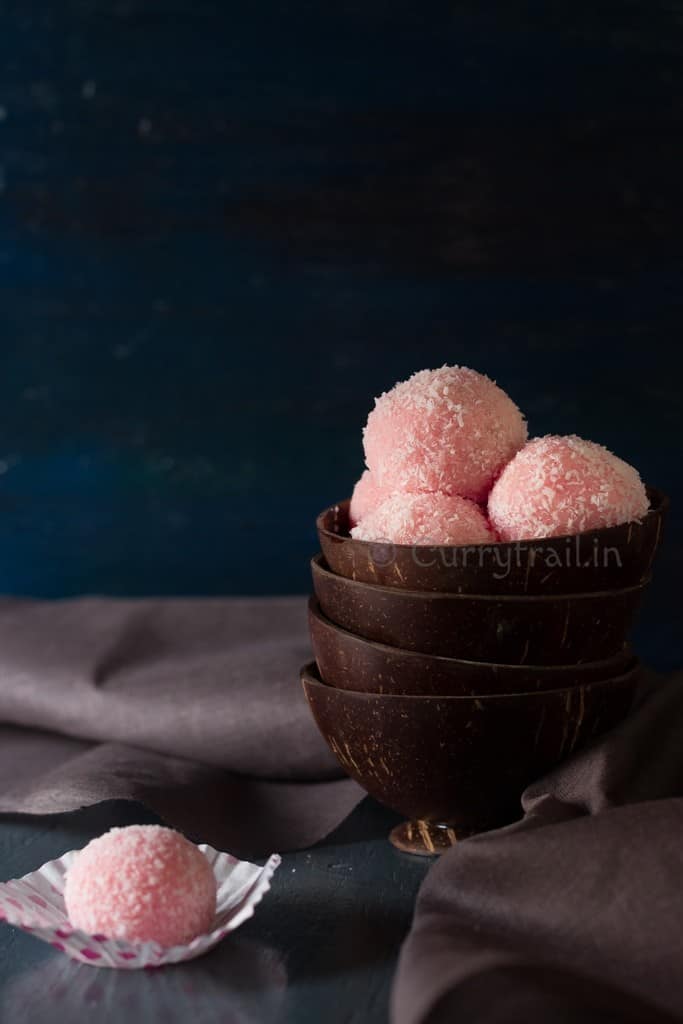 I did it again! 3 posts in a row which is about Indian traditional sweet! Well, i'm not starting to grow a liking for sweets now, no i'm really not! If you know me you would know that I dont have sweet tooth at all, rather I would say I have 'savory tooth'! 😀 Then why on earth am I posting so many sweet posts, well, I just getting ready for all the festivals that are lined up in this month and next month. If it's Indian festival – there has to be sweets! No celebration is complete without sweets, isn't it?! And when you have a herd who likes sweets then you are definitely making them at home. Though I don't like eating them I definitely enjoy cooking Sweets, it's so much fun the whole process of turning those ingredients into those beautiful, delicious sweet treats!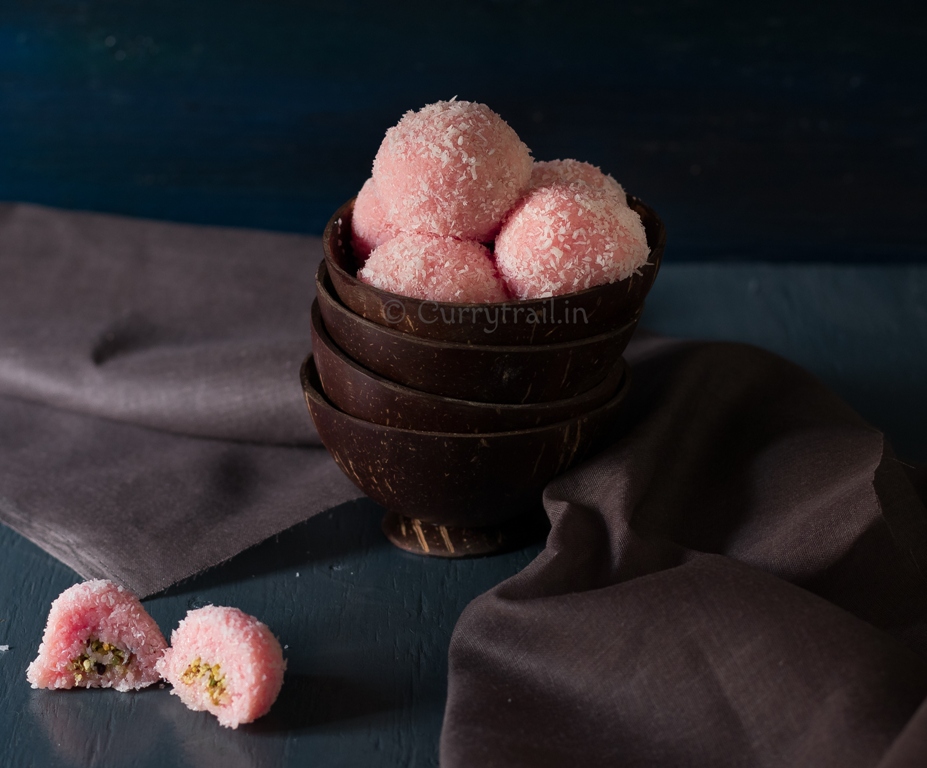 I have grown up watching my mom make Indian sweets in traditional way. She never used store bought products at all. Rice flour, wheat flour were all made at home(rather in a mill using raw ingredients). But she stayed away from those packed stuffs. Though I love to make sweets using traditional methods, there are days when I am pressed of time and I go for the short cut easy methods, using condensed milk, khoya. Sweets made using ready stuffs does come out very good and they taste very close to the ones made traditionally, yes, very close! Having said that, traditional ways of making a dish always has to be 'damn' good that the short cut methods, isn't it? Do you agree with me on this?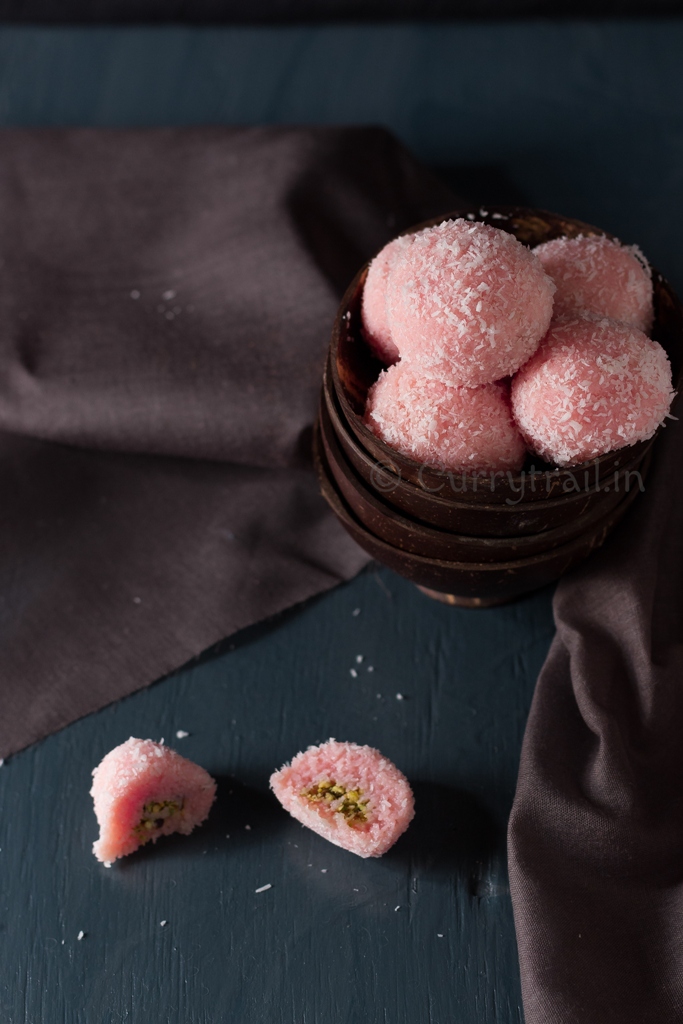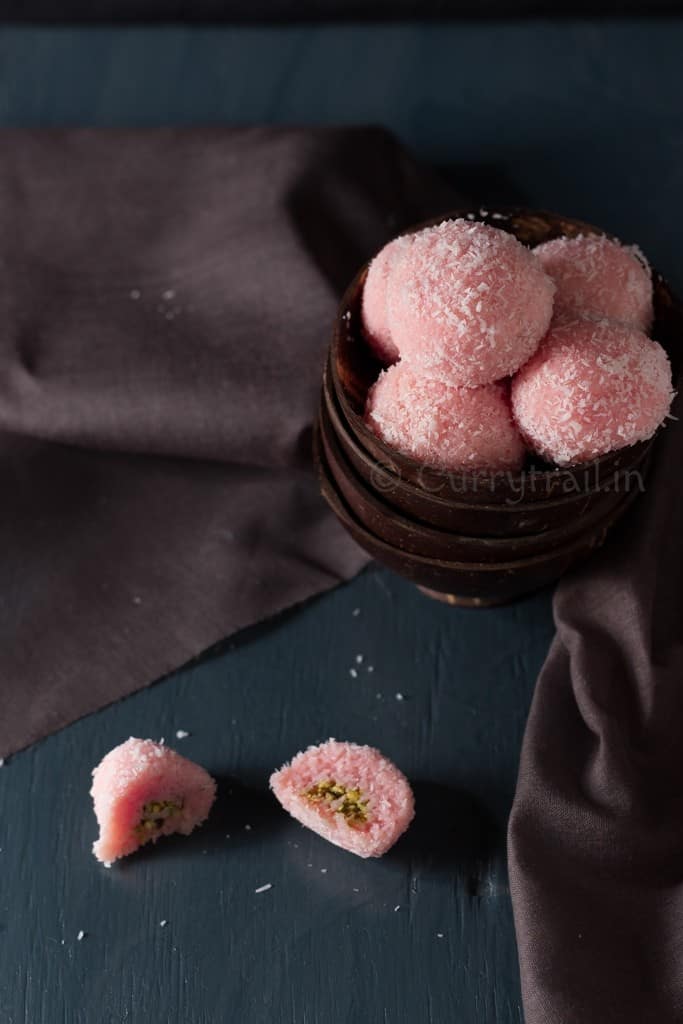 Well today i'm presenting to you a very interesting and very easy Indian sweet recipe which is usually made during Indian festivals, Easy coconut ladoo. I jazzed it up a little adding a few drops of rose syrup and stuffed it with pistachios. The end result is in front of your eyes. Don't you think these cute little ladoos look very pretty and those pistachio stuffing makes it even more special. The pretty pink color was made keeping in mind my daughter who loves pink! I mean which girl doesn't love pink ah!? 😀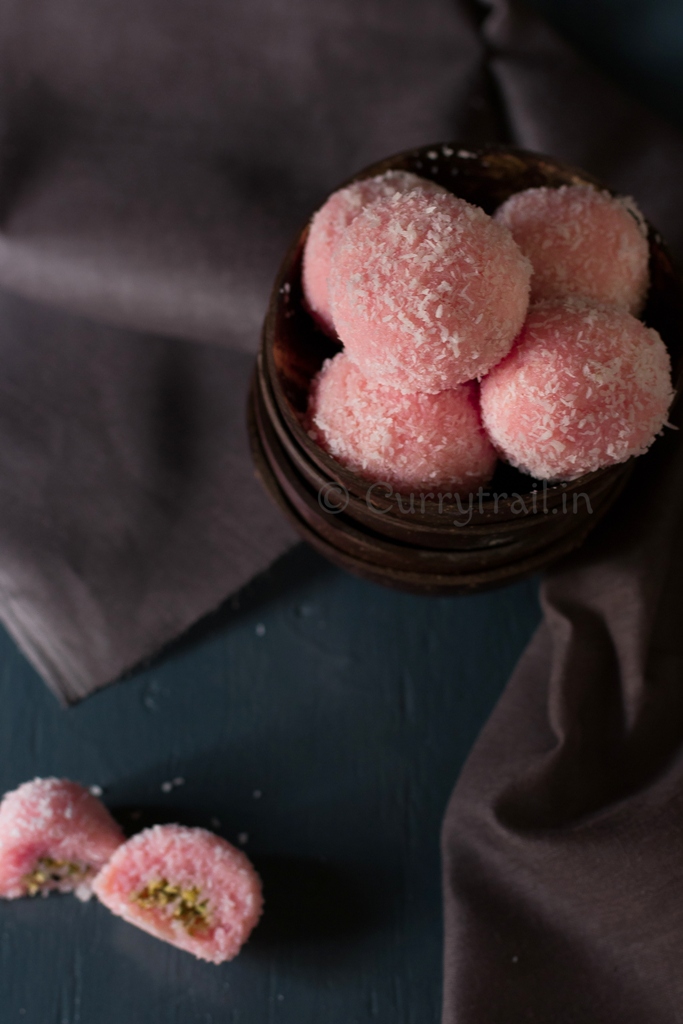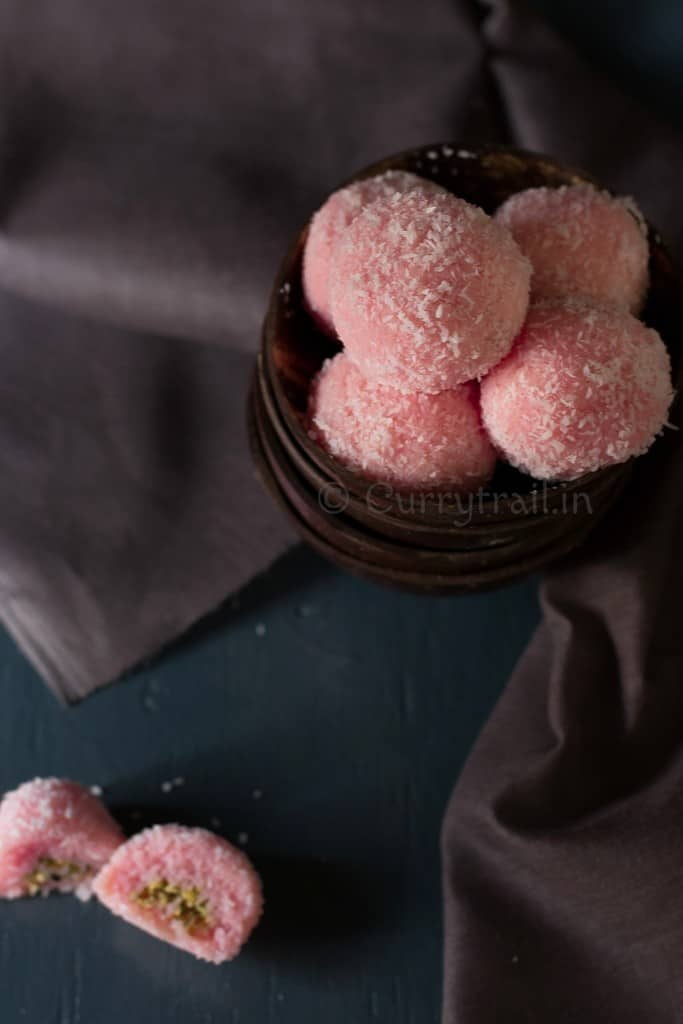 This recipe is SO DAMN easy that you would be tempted enough to try this out immediately! All it needs it 4 ingredients and 5 minutes of cooking time and 5 minutes to roll the ladoos. Can you imagine in 10 minutes you can get such fabulous dish whipped up! It's one of the must have recipes for festival if you decidce to make sweets for pooja at the last minute or if you are working and always find no time for these extra preparations during festival. Do save this recipe, you'll need it for sure! 😀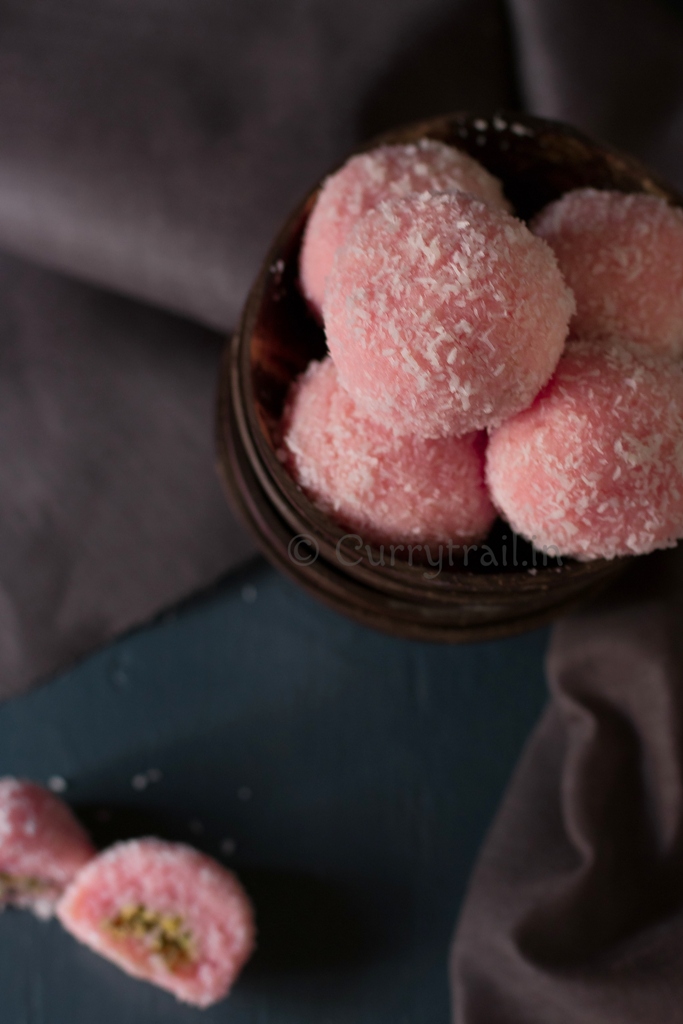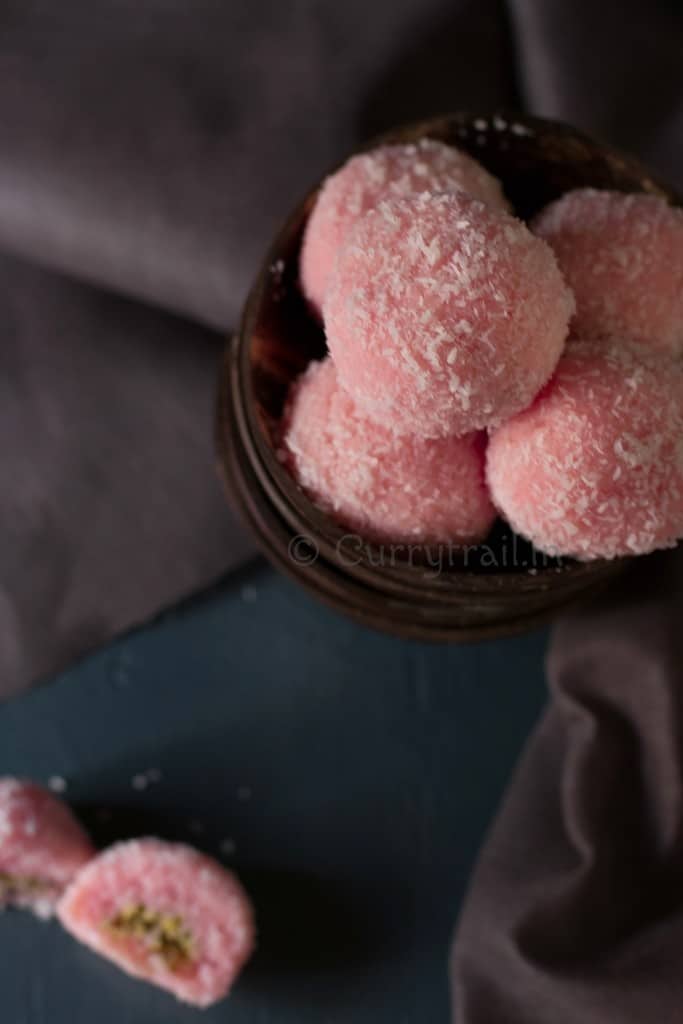 When it comes to easy Indian sweets, ladoos falls under the first priority. It wont be wrong to say there is no pooja/festival would be complete without a type of ladoo. Coconut Ladoo made with milkmaid is probably the easiest, quickest and simplest dessert to make at home.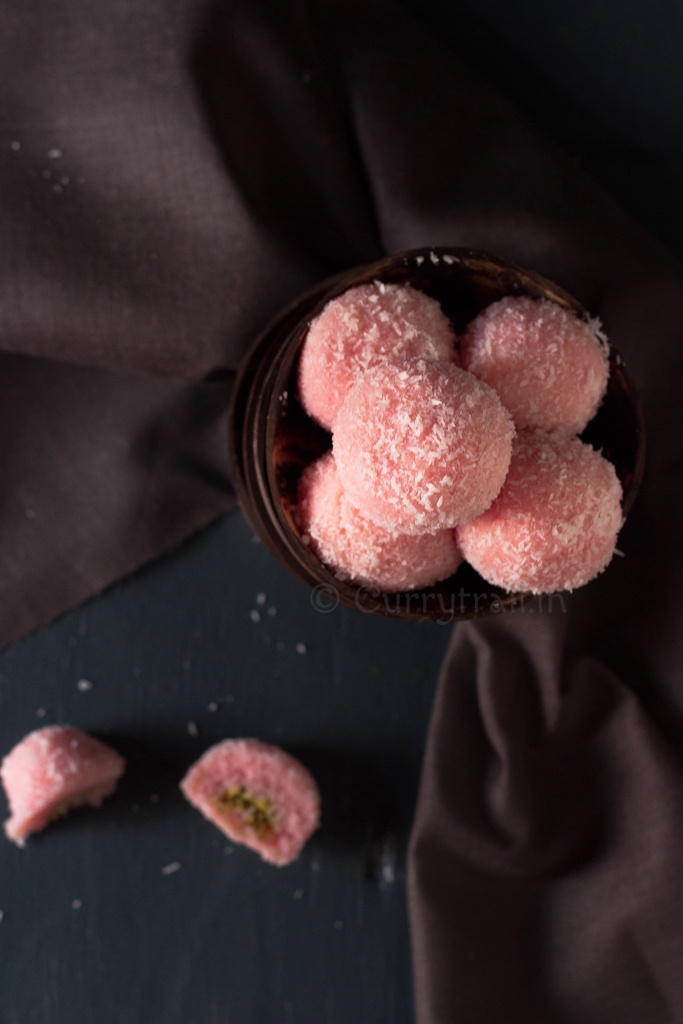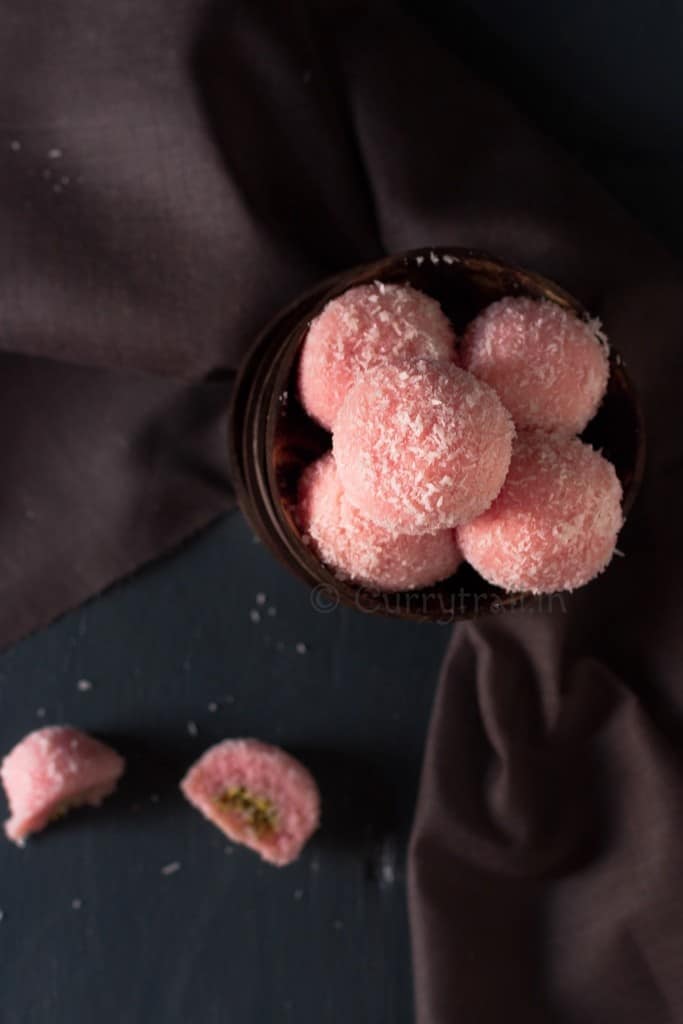 You can go ahead with just the 2 main ingredients, condensed milk and desiccated coconut. Involve you kids while making this ladoos. Children will enjoy rolling the ladoos and shaping it.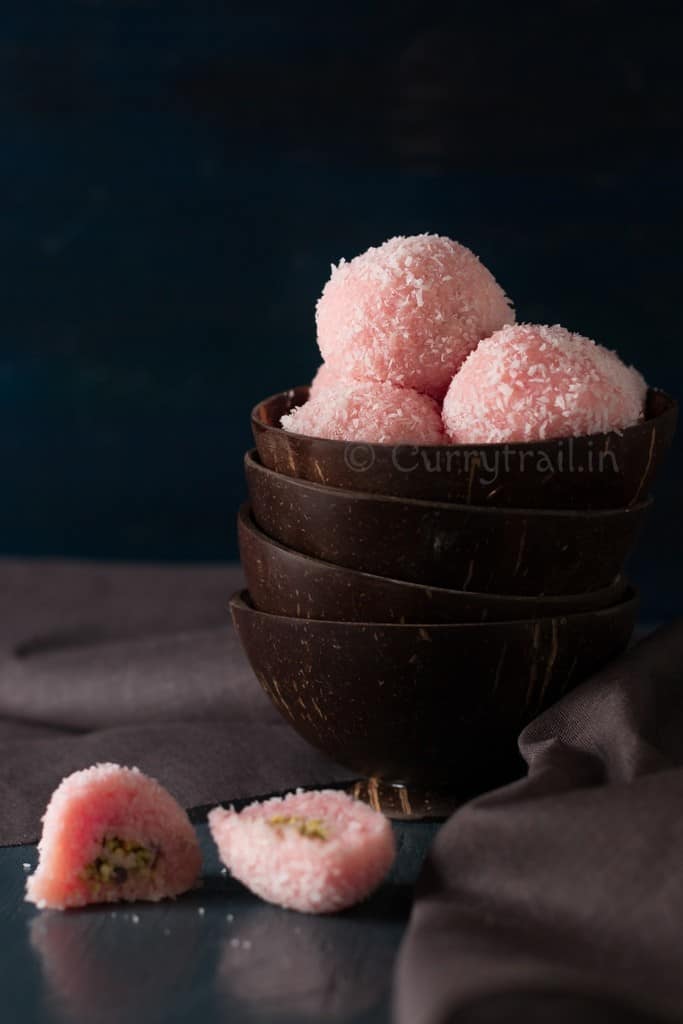 Here's Instant Stuffed Coconut Ladoo recipe-
Slightly adapted from easyfoodsmith
Ingredients:-
Makes about 8-10 medium sized ladoos
Condensed milk – 1 cup(my 1 cup measured close to 250 gms)
Dessiccated coconut – 1 cup + few tablespoons extra for rolling the ladoo
Rose Syrup – 1 tablespoon(optional)
Pistachios – 2 tablespoon, ground(optional)
Butter/ghee to grease hand and to roll the ladoos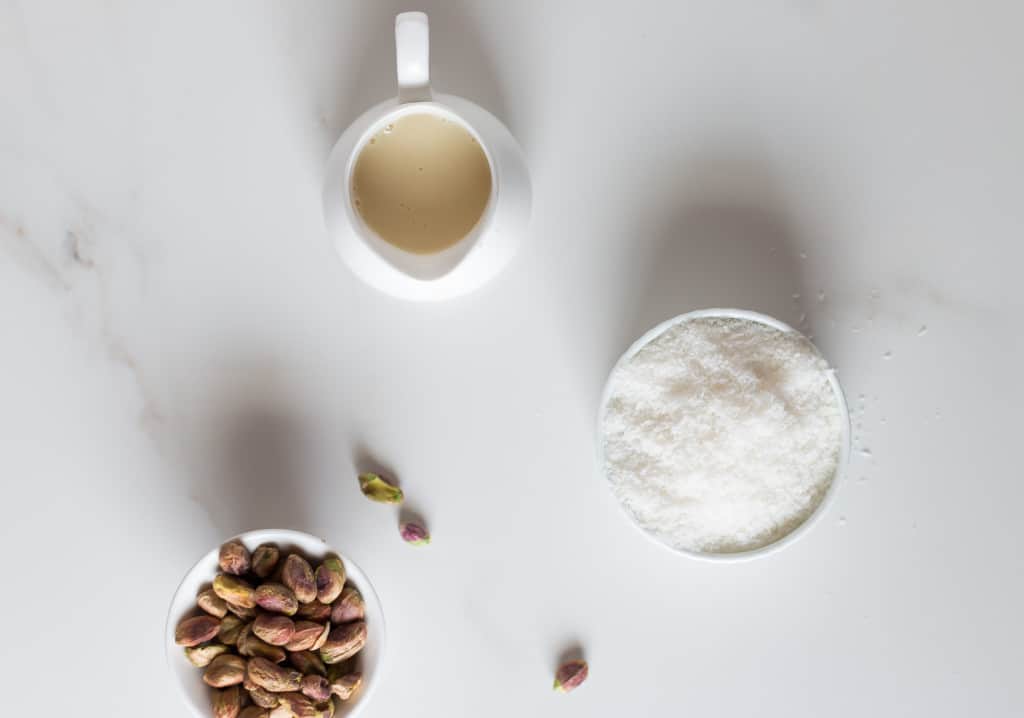 Instructions:-
1. Grind pistachios into fine powder, keep aside.
2. In a non stick pan, add condensed milk and desiccated coconut. Place the pan on low flame and cook it. Make sure to stir it constantly.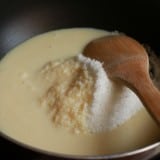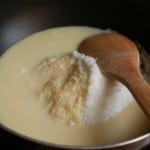 3. In less then 5 minutes the mixture would turn thick almost like a dough. Please note this again depends on the size of our pan, the heat and the quantity of ingredients used.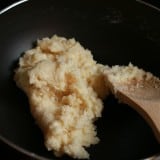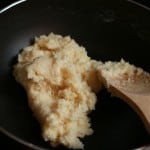 4. Once the mixture reaches dough like consistency, you can stop cooking and roll into laddos. And if you want to add syrup/color, now is the time.
5. Add rose syrup and mix well. Continue to cook on low flame with constant stirring for about a minute or two until the color spreads through the dough uniformly.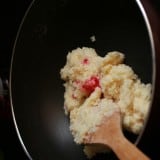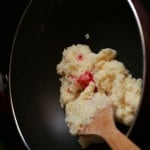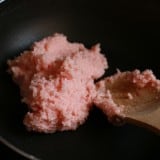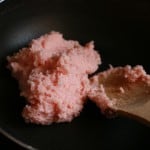 6. Remove from flame and let it sit for about a minute of two so it cools down a bit and you can handle the mixture without burning your fingers.
7. Grease your palm well with ghee or butter. Pinch a lemon sized dough mixture. Press it well and then roll it roughly. Flatten the dough and add a teaspoon of pistachio filling. Bring the ends of the dough to gather and roll them into perfect round shapes.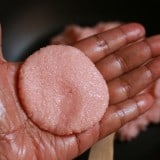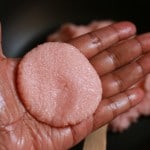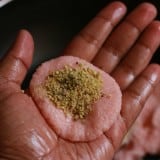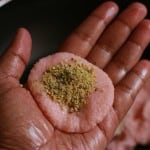 8. Now roll the ladoo in desiccated coconut. Keep aside. Repeat for rest of the mixture.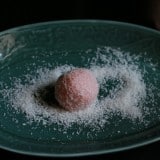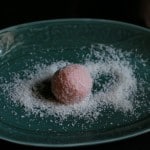 9. You easy, instant coconut ladoo with delicious pistachio filling is ready to be served. Serve immediately or you can store it in fridge for about 2-3 days.
Make these instant simple ladoo for any festival or party! Adding a hint of color makes it even more tempting to eat! Enjoy! 😀