You guys remember my last post? Mexican breakfast burrito bowls! While I was writing that post for my blog, I realized that I don't have Mexican recipes at all on my blog(except one very ooooold one). It was shocking!  It made me wonder, how come?! I LOOOOOVE Mexican food and I have to post more Mexican recipes on my blog.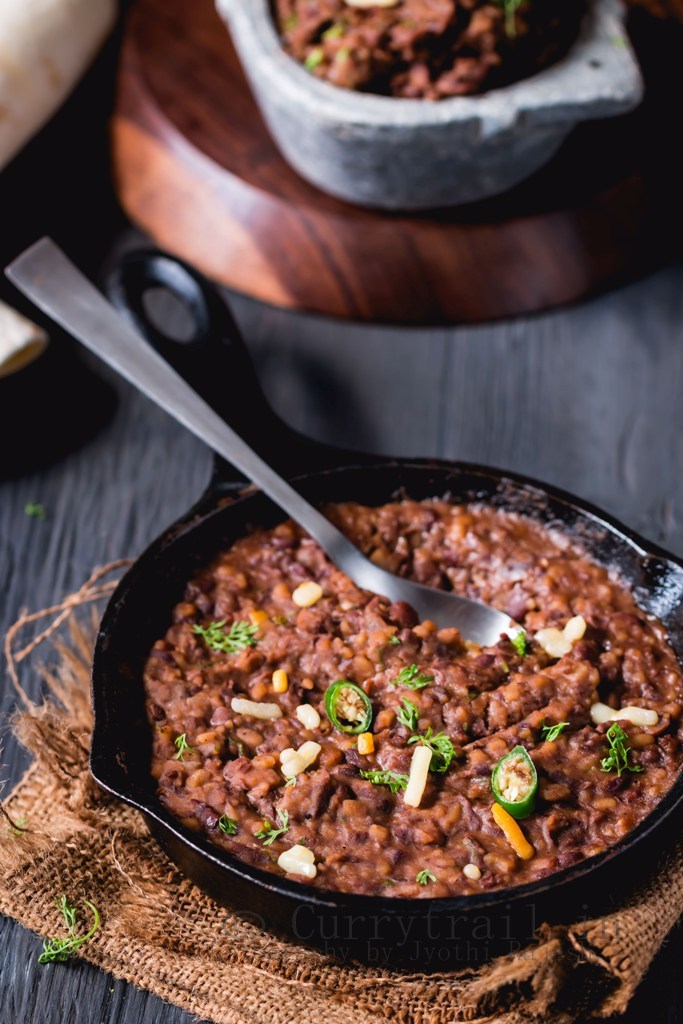 The recipes that come up on my blog fall under 2 categories. 1 – Blog what you cook, 2- Cook something special for the blog and post 😀 I balance out on both of these categories. And the category 2 has made food interesting, is what my hubby says. Making something way too often, like sambar and rice literally for everyday meal gets boring sometimes. Since I attained the status of food blogger, I constantly keep thinking of new ideas, new recipes to try in my kitchen, not necessarily for the purpose of blogging but to make dining interesting.
Folks at home look forward to dining. Most of the time I get asked this question, 'what's new for dinner?" The word "new" sometimes scares me.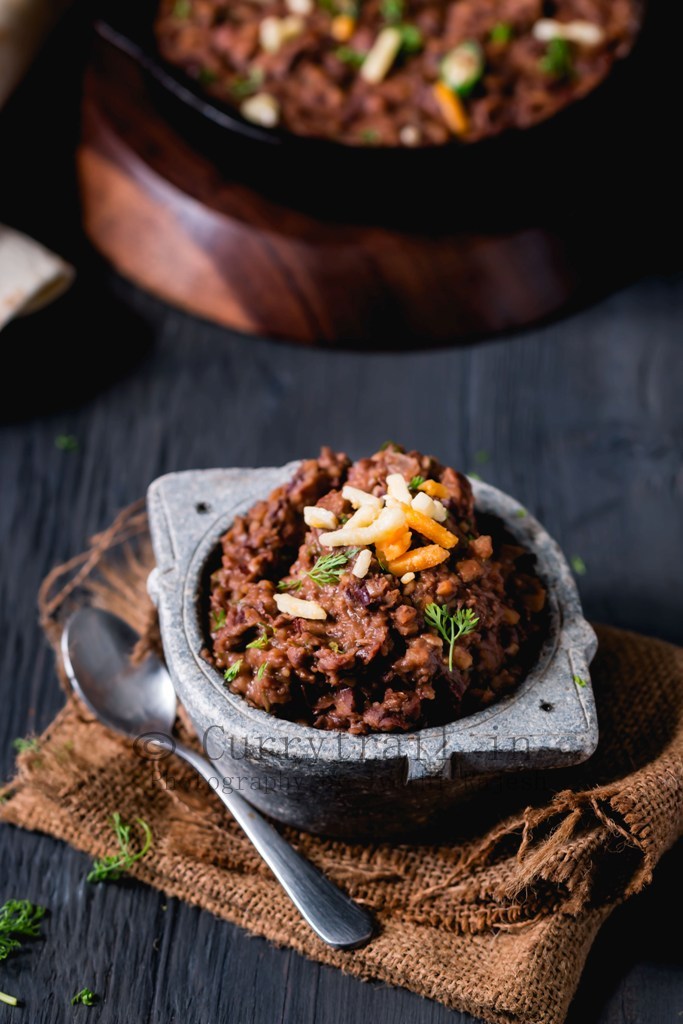 I am planning to post a couple of Mexican recipes on my blog soon. To me that one dish that is a must in many Mexican foods, the one that uplifts the taste of the dish is the refried beans. Canned foods are a easy option to many, but I never buy anything canned. Homemade, healthy, clean food is my choice any day.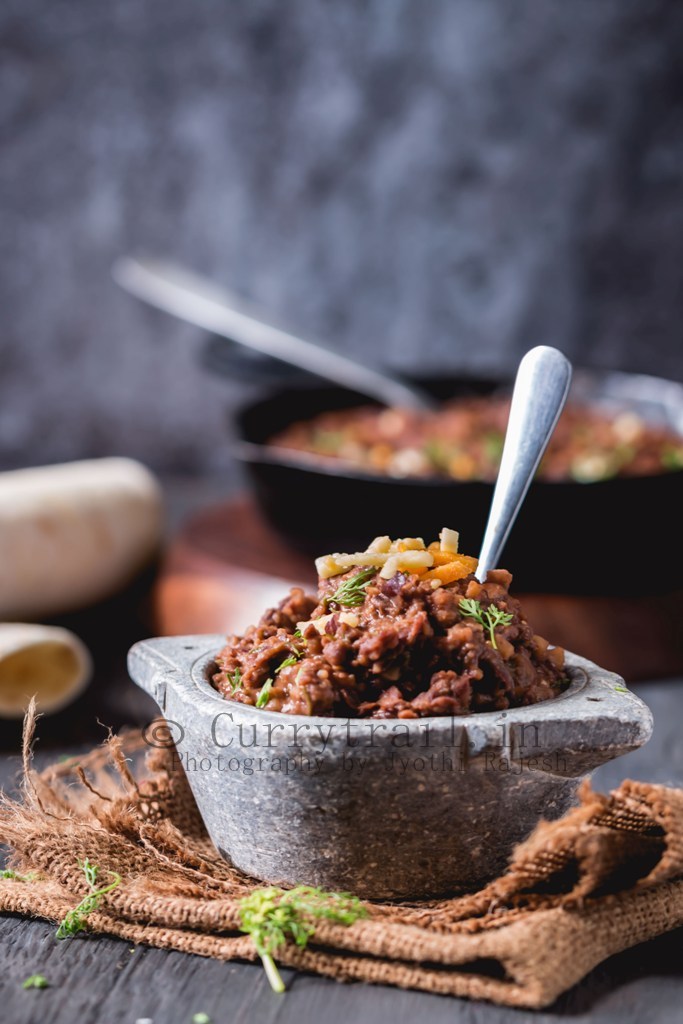 My version of refried beans does not use tons of oil and this one is actually made without the refry! Sounds interesting to you? Then go ahead and try this recipe, I guarantee you that you will LOVE this refried beans. In fact you will love it so much more that you won't wait to put in tortillas or nachos to enjoy; you will simply lick if off spoon after spoon. 😛 Well, you are right, that's what I did while cooking these refried beans, I gobbled about ¼ portion of it while cooking itself in the name of tasting and almost finished off 1 full bowl before I could use it in other recipes. So I had to do a second batch again the next day 😀 So be warned, it's very addictive.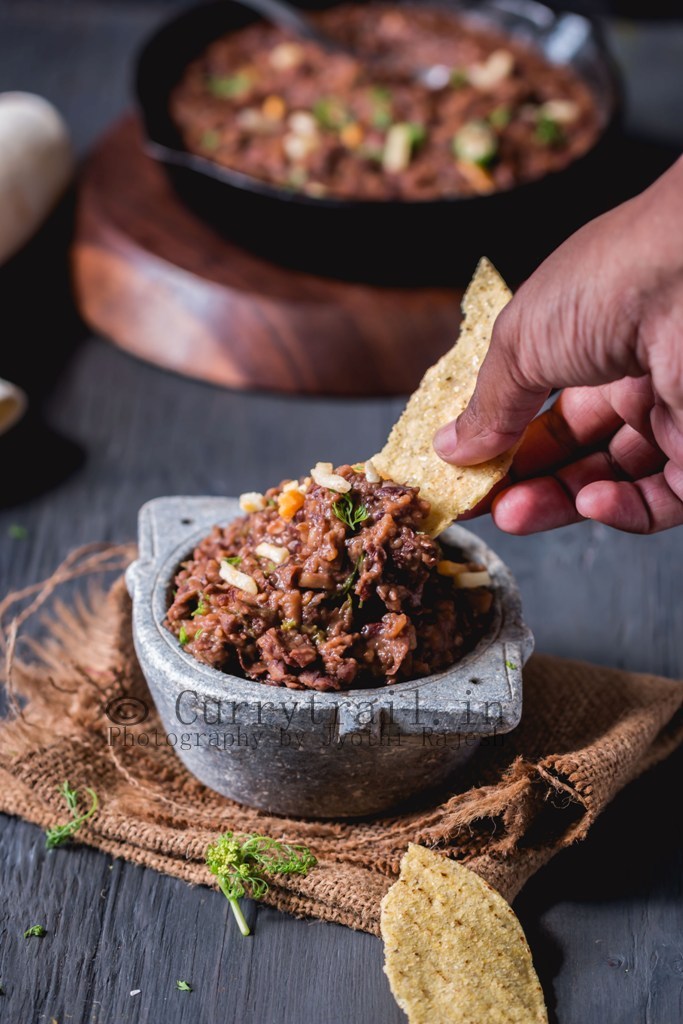 Ingredients
1 cup black beans (kala rajma)
1 tablespoon olive oil
6 cloves garlic, minced
1 big onion, finely chopped
1 or 2 jalapenos
Salt to taste
1 tablespoon paprika powder
1 jalapenos, chopped
1 teaspoon pepper powder
3 tablespoon coriander leaves, finely chopped
3 to 4 cups vegetable stock
Method
Soak beans in enough water overnight.
In a deep bottom wide pan, add olive oil. Once oil turn hot, add garlic and sauté for a minute. Then add finely chopped onions and Jalapenos and cook till onions turn soft. Add papricka powder and salt, give it a mix. Now add soaked beans and cook beans in open pot, slow cooking method in 2 to3 cups of vegetable stock. If you do not have vegetable stock use water, but I highly recommend you to use vegetable stock, for better taste purpose.
Keep mashing the beans with the back of the spoon as you cook and add vegetable stock as required. It took me approximately 1 hour to cook on low flame.
Add pepper powder, stir well.
Check for seasoning, add salt and pepper if required.
Finely stir in finely chopped coriander leaves.
That's it, refried beans is ready. Serve it as a dip for nachos, or spread on tortillas.